Best Men's Business Shoes for the Office
Are Shoes a Crucial Item of Clothing in the Workplace?
Working in a corporate environment comes with a certain set of standards. Finding the right balance between presentation and comfort can vastly improve your working experience.
The suit, the tie and even the bag are key components of proper office attire. In addition to these, the shoes are equally important.
Whatever outfit you have chosen, the shoes are not only the finishing touch, but the item of clothing that can cause the most discomfort.
For example, if you have a pair that are just too tight or don't quite fit the shape of your foot, your working day can quickly become miserable.
On top of this, shoes attract a great deal of attention. Employees who have stylish shoes that fit in with the rest of their appearance are not strangers to compliments.
And taking good care of your shoes will be viewed as a sign of self-respect. It is not often that you see a dirty pair of shoes in an office workspace, as it is one of the first things a fellow colleague will pick up on.
In this article, we will outline the 10 best business shoes for men and highlight how they can make your working life easier.
We will discuss the finest shoes in different styles and which ones are the best value.
What to Consider When Buying Men's Business Shoes
Corporate Culture
Each work environment will have different requirements.
For instance, if you have to travel as part of your job, then the best shoes for you will be different from those worn by an employee who spends most of their time behind a desk.
Practicality
With each industry, there will be a distinct design that you will need to keep your eyes open for.
If you are working on an industrial site, boots or shoes with a durable fabric will be a good place to start. Alternatively, if your job isn't based outdoors, then, stylistically, your shoes will serve a totally different purpose.
You may be in a presenting role, which means you may often speak to different corporations about formal matters. A smart shoe with standout features will be the best choice in this scenario.
Personality
In addition to this, your role may require a degree of personality and exuberance. You may want to change from the orthodox colors of black and instead consider browns and even dark greens.
The quality of your shoes is very noticeable to fellow colleagues and those outside of the workplace.
If you are willing to spend extra money on a pair that stand out from the crowd, then this may help you confidently deliver that big presentation.
Comfort
However, if you are not in a personal relations role, then comfort may be your only requirement. The shoe itself may not be a standout feature, and you may just want to wear something you do not have to complain about.
Building on this, you may have specific requirements when it comes to the shape of your foot.
A broad foot would need a completely different shoe to a narrow one. You will have to find something that fits your particular shape.
Likewise, you may not find traditional shoes to your liking. Rather than laces, Velcro or slip-ons may appeal to you more.
Ergonomics
Depending upon your physical health, certain shoes may simply be out of the picture. Issues with ankle and even knees can determine which shoe will be the best to suit an eight-hour working day.
You may also work longer hours or shift patterns that are outside the regular nine-to-five. A shoe in this case will serve a completely different purpose.
Whatever your requirements are from a shoe, it is worthwhile drawing up a list of personal and work-related factors that will determine what you purchase.
However, if you are less concerned about the shoe than other items of clothing, then the value could be your only consideration.
Our Pick of the 10 Best
Now that we have outlined the considerations you should make before a purchase, we can now reveal what the best shoes are.
Here is a list of five different styles, with two for each category. We have chosen the best luxury and the best value shoes for each type.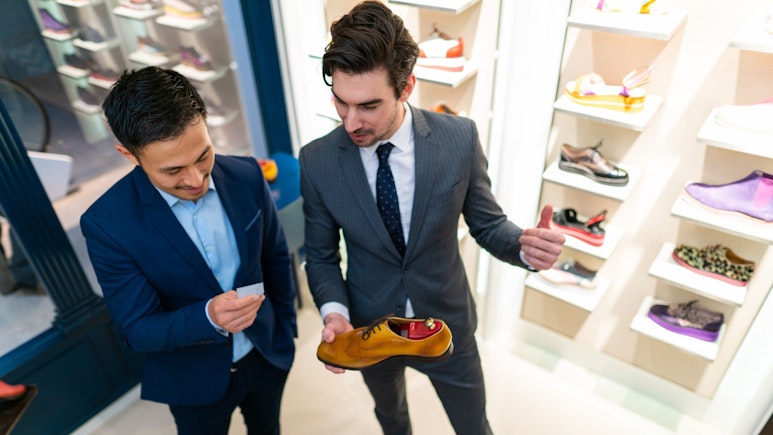 Best Men's Business Shoes for the Office in 2021
Best Oxford
The Ace Marks cap toe shoe is an Italian design that is 100% premium leather. It is priced at $299 and comes in an array of different colors.
As well as being sleek, it is lined with calfskin leather to make the fabric breathable.
The shoe is designed to go with traditional and modern suit designs, and it is a perfect fit for those wanting to really impress in the workplace.
Visit Ace Marks Cap Toe Oxford Black Antique
The Clarks Oxford design offers great value and ranges from $38 to $123, depending on your size and color preference.
Like the premium Oxford shoes, it is still 100% leather, with a synthetic to optimize comfort.
If you are on a budget but still want a shoe that stands out, then this may be a great option. It is designed to compensate for the daily eight-hour working patterns.
Best of all, these shoes can be easily replaced in the event they get damaged, but, for the price, they are very durable.
Visit Clarks Men's Derby Lace-up Oxford Flat
Best Brogue
The Ted Baker brogue comes in both brown and dark red, and ranges in price from about $88 to $120 per pair, depending on the colour.
It features all of the classic brogue features like the tightly aligned laces and pointed tip.
It's designed to be versatile in both casual and professional environments. It is made of 100% bovine leather, and the sole is a 100% resin, which will help the shoes last a long time.
If you work in a stylish environment, then this shoe will certainly fit in well.
Visit Ted Baker TRVSS Brogue Shoe
The JOUSEN shoe is unique in its lightweight design and versatility. At only $40 a pair, these shoes are great value for money, as they are made of breathable fabric and are ergonomically designed to avoid blistering.
These shoes are also stylish, but, more importantly, they are very comfortable. If you are someone who just needs a pair of shoes that will not cause any bother, then these will work for you.
This brogue design also comes in a variety colors, ranging from plain black to prince brown.
Visit JOUSEN Modern Brogue Oxford Business Wingtip Shoes
Best Derby
This Venture shoe is certainly priced on the higher scale at $345, but it is with good reason.
The insole is made of custom cork for outstanding durability, and the whole shoe has been manufactured with lightweight material to make it as versatile as possible. It is also made with weatherproof technology so that it suits any terrain.
The shoe comes in brown or black and is finished with a waxed grain leather to give it that polished touch.
If you are in an environment that requires you to work outdoors while remaining professional, then this is a must buy.
Visit Venture Weatherproof Cap-Toe Derby
The Tilden Walk Oxford is a perfect shoe for versatility and comfort. Ranging from $48 to $129, it is designed for the most practically minded individual.
It is made from 100% leather and has a soft synthetic lining so that it can compensate for the majority of foot shapes. It is also coated with a double goring across the top to maximize comfort.
With the shoe coming in nine colors, there is a choice for everyone.
Visit Clarks Men's Tilden Walk Oxford
Best Monk Strap
The Tramonto Patina is an elegant, high-end shoe priced at $425. The dual buckle closure is a unique feature, and it is accompanied with a lightly padded footbed.
It is hand-stitched in Italy and often worn for the finest occasions. For work, it suits those who are in presenting-style roles.
The shoe comes in seven variations, all with their unique touches and abilities to impress.
Visit Monkstrap Cognac Tramonto Patina
With the La Milano shoe only priced at $69, you will be getting a stylish design for a fraction of what you would be paying elsewhere.
The shoe still follows the classic cap top design and has all of the general features of the luxury alternatives.
The heel has been stacked and the insole is made with durable synthetic material to ensure longevity.
It has a slip-on design to prioritize comfort, and it can be worn in any corporate environment.
Visit La Milano Men's Double Monk Strap Slip-On Loafer
Best Loafers
Priced at $151, the Rayzia T Saddle loafer is a great choice for anyone wanting to get a luxury style on a budget.
The brown suede leather follows the classic design of all loafers, and it still proves to be one of the most comfortable fitting shoes on the market.
With the shoe made with 100% bovine on both the lining and the sock, anyone interested in it can expect high quality. The metal buckle detail is the finishing touch to really emphasize it.
The loafer is suitable for those who want to prioritize a perfect mixture of style and comfort in the workplace.
Visit Ted Baker Rayzia T Saddle Loafer
The Rockport Classic Penny Loafer ranges from $55 to $110 and shares all of the qualities of its high-end counterparts.
Its design and the choice of lightweight leather makes it one of the most relaxed-fitting shoes. If you are looking primarily for comfort, then this may be the best choice.
Its easy slip-on design gives it a casual feel, but it is a very stylish choice. There are six colors to choose from.
Visit Rockport Men's Classic Penny Loafer
Final Thoughts
Whatever your work environment, there will be many different shoes to choose from.
Our list gives you a chance to consider what these options are and how they align with your personal style.
Equally important are the demands of your workplace. Each shoe is a perfect fit for a specific environment, and you can rest assured you will always look stylish even in the most casual of offices.
---