Zoom Interviews – Top 10 Tips
The Coronavirus pandemic in 2020 has seen many businesses adopt remote working practices. Zoom has become popular as it can be used for video conferencing regardless of global location.
Zoom assists users with a variety of business communication needs. These include performance appraisals, team meetings, training courses and job interviews.
Recruiters often use Zoom interviews to screen out applicants at the start of the hiring process. Later, they use Zoom to conduct formal job interviews.
Since there is no need to meet face-to-face, it is possible to reduce travel time and associated expenses. Interview candidates may find a video interview less stressful than meeting in person.
Zoom offers a clean, easy-to-use interface. The home tab shows an overview of upcoming meetings. From this tab, users can start, schedule or join a meeting.
They can also share their computer or mobile device screen with an existing Zoom Room.
Zoom has a host of useful features:
Screen sharing
Text chat service
Mute function
Record function
Customizable backgrounds
It is possible to switch off the video function; however, recruiters will probably want to see you during a Zoom job interview.
The Zoom app is the most popular way to use Zoom. You can access it from a computer or mobile device. Both Apple and Android are available. You can also use an extension for Firefox and Chrome browsers.
In this article, you can find out more details regarding the features Zoom offers. You can also read tips on attending a Zoom job interview.
Why You Should Prepare For Your Zoom Interview
You should approach preparing for a Zoom interview in the same way as preparing for a face-to-face interview. The interview panel will assess your performance as if they were meeting you in person.
All video conferencing platforms are different. You will need to learn how to use Zoom even if you are familiar with other video conferencing services.
There are extra preparations to make before a Zoom interview.
Charge up your computer or laptop, or plug it into the mains. This will help prevent any stress if the battery runs low during the interview.
Perform an update to your computer system and ensure you are using the latest version of Zoom. This will avoid having to restart your device in the middle of the interview.
Is Zoom Highly Technical?
Zoom is easy to use. However, it is wise to discover how to use all its features before a pressured situation like a job interview. Therefore, you can use the system with confidence, helping to combat interview nerves.
A quick start guide can be accessed by new users.
There are a few things to learn that could help your interview to run smoothly.
For example, the personal meeting link and access code for your meeting could end up in your junk or spam folder.
Knowing where to look if the meeting details do not arrive means you won't waste time or energy trying to find them.
Getting to know the text chat function is useful if you struggle to hear or see the interviewer.
You can use it to let them know what is happening and resolve the issue fast and with minimal disruption.
Top 10 Zoom Interview Tips
To learn more about best practices for Zoom interviews, here are 10 helpful Zoom video interview tips.
They will help you to prepare and ensure that you feel confident about attending a Zoom interview.
1. Practice Calling a Friend on Zoom
Arrange to call a friend using Zoom. Practice using all the features, including mute, screen sharing and raising your hand.
Ask whether your friend can see and hear you, adjusting the lighting and sound settings as needed.
If they report hearing an echo, Zoom has an audio echo troubleshooting guide. This will guide you through how to fix the problem.
2. Check Your Internet Speed At Different Times of the Day
Use a website like Bandwidth Place to find out your download and upload internet speeds.
Check this several times throughout a typical day.
If your internet connection is patchy or slow at certain times, avoid these when scheduling your Zoom interview.
You may need to use an ethernet cable or sit in a room closer to the router during your interview.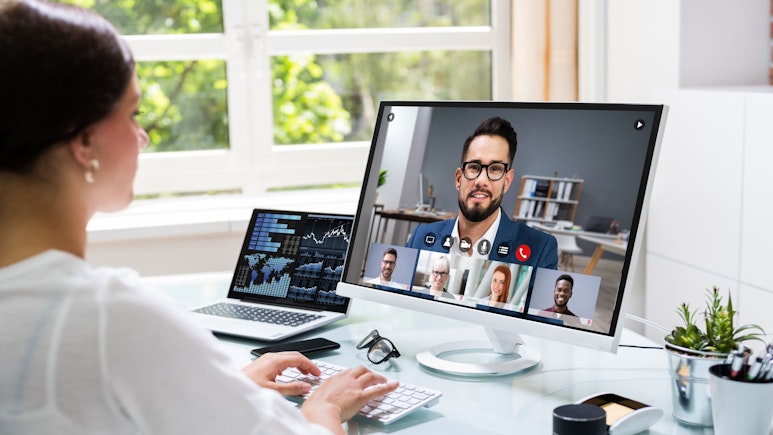 Zoom Interviews – Top 10 Tips
3. Practice Putting a Background on Zoom
If you do not want the interview panel to see what is behind you during the interview, you can use a Zoom interview background instead.
This will require some preparation.
You will need to set up your Zoom account and activate the feature in advance.
To convey a professional image, choose a plain background that is not too busy or distracting.
4. Let Your Family/Housemates Know You Have an Interview
Tell the people you live with the date and time of your interview in advance.
If they cannot be out of the house, ask them to be as quiet as possible to ensure you are not disturbed or distracted.
5. Present a Professional Image
Choose the same outfit as you would for an in-person interview.
Wearing a suit and tie or formal dress will help you to appear professional. It will also boost your confidence.
Some patterns and colors are best avoided for video calls. Stay away from stripes, loud patterns and large jewelry, as they can be off-putting for the recruiters.
Using earphones can help you to avoid delays in sound quality, a common cause of echo.
Air Pods with noise cancellation is an appropriate choice as they are discreet and will help you block out background noises.
6. Prepare Questions and Answers As You Would for an In-Person Interview
Prepare for a Zoom interview in the same way as a face-to-face interview.
Think about what interview questions you will need to answer, making notes on the key points you will include.
It may be helpful to prepare a crib sheet. This is a concise list of important topics to cover during the interview.
You could also write a list of any questions you want to ask. Only ask questions that have not already been addressed during the interview.
Examples include opportunities for career progression, day-to-day responsibilities or company culture.
Keep your crib sheet on your lap to prompt you. Try not to rely on it heavily as it could prevent you from fully engaging with the interview panel.
7. Record a Practice Zoom Interview With a Friend and Watch It Back Before the Real Thing
Once you are familiar with using Zoom, ask a friend to conduct a mock Zoom interview with you.
Search for interview questions online or think about questions that will be relevant to the job role you have applied for.
Record the interview so that you can evaluate your performance later. Scrutinize the recording, considering every detail to pinpoint where improvements can be made.
Check the audio and video quality to decide if you need to adjust any of your settings.
Ask your friend to offer honest, constructive feedback following the mock interview. Take this on board and use it to improve your performance next time.
Consider arranging a follow-up mock interview or a separate interview with another friend.
You may wish to record the real interview too. The other party can deactivate the record feature, so ask for their permission beforehand.
A recording of the real interview will be helpful when evaluating your performance. It will help you to improve and develop your interview technique for the future.
8. Use a Professional Name for Your Zoom Profile
It is best to keep this simple by using your full name. Avoid nicknames or anything that might be considered unprofessional by the interview panel.
9. Silence All Notifications on Your Phone or Any Other Applications on Your Computer
Ensure your phone is either off or switched to silent mode before the interview starts.
Close any programs you do not need to have open on your computer. They can slow down the operating system, which harms the video and audio quality on Zoom.
This will also prevent distracting notifications or popups during the interview.
If you will be sharing your screen, declutter your computer desktop. Close any social media applications and anything else that could be distracting.
10. Imagine You Are Conducting a Face-to-Face Interview
If you are not planning to use a Zoom background, ensure anything behind you that will show on camera is neat and tidy.
Make sure the room is well lit and there are no distractions. Close any open windows to minimize any noise coming from outside your home.
The etiquette for arriving at a video interview is different from an in-person meeting. The meeting room may have been shared with other interviewees, so it is best not to 'arrive' too early.
Aim to join the meeting about two minutes before your allocated time slot.
Zoom connects people across the globe. If you are applying for a position in a different time zone, always double-check the interview start time.
At the start of the interview, introduce yourself to the panel in the usual way. Remember to make eye contact by looking into your device camera periodically.
Try not to look at your own image in the corner of the screen. If you find this difficult, try switching it off.
Ensure your body language is open and friendly. Feeling nervous is normal but try not to fidget or tap your feet as this could be distracting.
If you tend to speak fast, you may need to adjust your speaking style. Practice slowing down and speaking in a clear voice.
Do not be afraid to ask the interviewer to repeat a question or provide more clarity if you do not understand something.
Show that you are paying attention and actively listening to what the interviewers say. Nod while they are speaking and ask relevant questions at appropriate times.
Remember to smile from time to time.
When the recruiter is speaking, use the mute function. This will ensure they are not distracted by any background noise. It will also prevent you from interjecting.
You should always let the interviewer finish speaking before you begin responding as delays in the audio could mean your response is misinterpreted as rude.
Final Thoughts
Zoom can sometimes seem like an obstacle to overcome in the hiring process. But it can be a useful tool for both recruiters and job seekers.
Hiring managers are expected to continue using Zoom video interviews. This means it is a skill every job seeker should commit to learning and improving.
Even if you are not technically minded, practicing using Zoom will help you become familiar with its features. This means you will feel confident to use Zoom to your advantage during a Zoom job interview.
Your objectives for a Zoom interview are the same as an in-person interview. You should aim to answer all questions competently, ask relevant questions and make a positive impression.
The only difference is making sure you can use the video conferencing technology effectively.
---