Passing the Amazon Test for Warehouse and Fulfillment
All products and services featured are independently selected by WikiJob. When you make a purchase through links on this page, we may earn a commission.
Amazon Warehouse and Fulfillment Assessment Prep
What Is an Amazon Fulfillment Center?
An Amazon fulfillment center is another way of describing the warehouse where Amazon orders are processed and distributed.
They are called 'fulfillment centers' because the whole process is fulfilled in one location, from inventory arriving to orders going out.
Fulfillment centers run multiple shifts each day, employing over 250,000 full-time staff in 175 locations across the globe.
What Does Amazon Look For in Employees?
For a fulfillment center position, Amazon doesn't have a long list of requirements.
They are very flexible in their hiring approach and are regarded as an equal opportunity employer.
This means that they employ individuals from all types of backgrounds and with all levels of ability.
On-the-job training is provided, so applicants don't even need to have experience of working in a warehouse environment, although this can be helpful.
The only requirements for applying for a position within an Amazon fulfillment center are:
Be over the age of 18
Hold a GED or equivalent diploma
Have the ability to read and speak English for safety reasons
Different positions may hold extra requirements. It is always a good idea to thoroughly read a listing before choosing to apply. For example, roles that require the use of heavy machinery such as forklift trucks may require specific licenses and training.
How to Apply for a Job at Amazon
The process of applying for a job at Amazon is relatively straightforward.
Candidates will find that the majority of the recruitment process is completed online or over the phone. Generally, the process will follow four steps:
1. Online Application
Once you have found the position you wish to apply for, you will need to complete an online application.
This will require you to submit information regarding your education, previous experience and qualifications. You will also be asked to list references which the recruiter can verify.
2. Online Assessments
If your application is successful, you will next be asked to complete a variety of online assessments.
The exact number of these will vary depending on the role you have applied for. However, most fulfillment staff will be required to complete a numerical assessment as well as a work style assessment.
3. Telephone Interview
Not all applicants will be required to have a telephone interview, but be aware that they sometimes happen.
During a telephone interview, you are likely to be asked to confirm the information given during your initial application.
You may also be asked questions relating to your availability, expectations and previous experience.
Some people will find that they receive a call or email inviting them to an in-person interview instead of a telephone interview.
4. In-Person Interview
The last stage of the interview process is attending an in-person interview. This will usually be a relatively informal conversation with your potential employer.
It is an opportunity for them to get an idea of what your personality is like and ask you questions relating to your previous experience and work ethic.
During an in-person interview, you may be asked questions relating to workplace scenarios.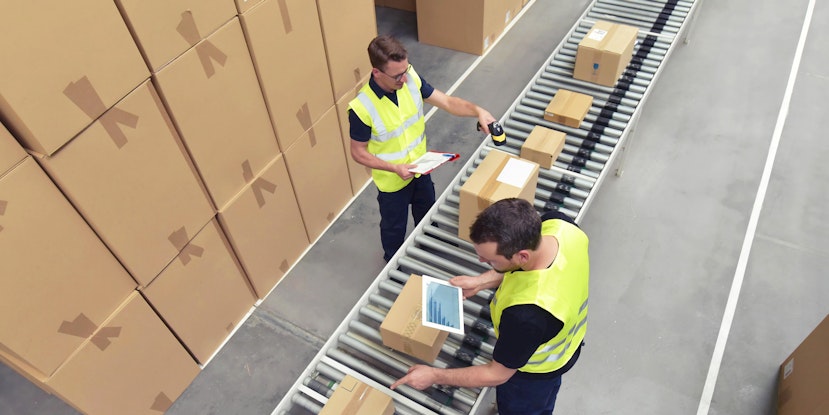 Passing the Amazon Test for Warehouse and Fulfillment
Practice the Amazon Warehouse and Fulfillment Prep with JobTestPrep
What Assessments and Tests Do Amazon Use?
For warehouse and fulfillment roles, Amazon generally uses three types of assessment designed to show employers a range of insights as to what you would be like as an employee and highlight any key skills you may have.
---