Best Careers in Human Resource Management
What Is Human Resource Management?
Companies and businesses rely on financial stability, the correct equipment, and most importantly, the right personnel.
If any of these are out of balance, particularly regarding the staff, a business is unlikely to stay afloat.
Human Resource Management (HRM) refers to the strategic operations running behind these three elements of a business.
They are often the team to approach if you have any issues at work that lie outside of your control.
General management staff may take control of a specific area, plan or operation. However, their dedication to this narrow frame means that they cannot run all of the facets that make a business fundamentally stable.
A good HRM network enables management staff and other colleagues to focus on their work.
You may have come across communications with HRM if you need to discuss a contract, any disciplinary procedures, and even acquirement of a new set of computers.
To be a success in an HRM team, you must have sharp administrative skills and organizational instincts.
In this article, we will outline how you can make a success of an HRM career.
We will also outline the ten best HRM career paths currently available.
The Strengths You Need for Success
Having a successful HRM team is reliant primarily upon your organizational abilities and patterns of logic.
Mathematical individuals are often very well suited to HRM roles.
However, you will also need good interpersonal skills to cope with the needs of the organization's staff.
Here is a quick breakdown of what you need to focus on in order to make HRM a success.
1. Administrative Abilities
Filing requests, setting up logistical systems and keeping on top of financial matters are some of the major components of HRM.
Having a degree in a relevant field is also useful for success in an HRM role.
Skillsets acquired in IT, computer science and applied-science degrees are also extremely useful in the field of HRM.
You must be willing to undergo any required training. Large corporations often have bespoke, integrated administrative computer systems.
You must also be prepared to spend a lot of your time tracking financial statistics.
2. Organizational Abilities
Keeping on top of required duties is important in most roles, and even more so in HRM.
Without strong organizational skills, a company may suffer from second-grade equipment, lose staff and even fall into liquidation.
A good HRM staff member is quick with replies, documentation and any legalities that may be needed to assist colleagues.
If you have any payroll qualifications, these will come in handy with certain HRM organizational tasks.
3. Communication
HRM employees have good communication skills, both in person, on the phone and over email.
You should keep well informed of any workplace matters, financial changes or alterations to the working structure.
A good HRM team member also has a good degree of empathy with their colleagues.
The HRM team is usually the first step in dealing with any co-worker problems, including personal issues.
You must be able to understand difficulties and act accordingly. Failure to see a co-worker's perspective may lead to negligence of some form.
4. Commitment
The HRM cohort in a corporation acts as the backbone to operations.
A poor HRM can result in poor equipment, unsuitable personnel and bad financial management.
HRM staff must remain professional in their commitment to duty. Due to matters of confidentiality and sensitive information, it is important to handle data respectfully.
An HRM team member needs to commit to high workloads. There will always be new financial matters or fresh faces to deal with. How you treat them and deliver vital information highlights your level of professionalism.
Being a member of an HRM team is stressful because of the weight it carries, but there are great rewards, both intrinsic and extrinsic.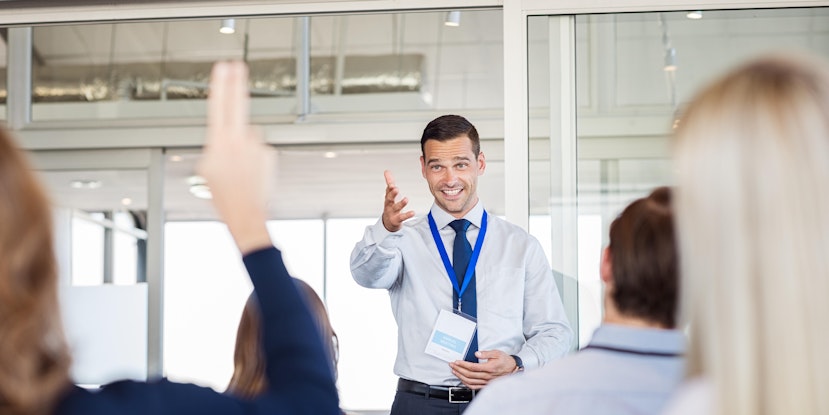 Best Careers in Human Resource Management
10 Best Careers in Human Resource Management
1. Payroll Specialist
Average salary: $70,000–$80,000
Payroll specialist jobs are very secure because of their niche specifications.
You will be in control of employees' timesheets. It is up to you to delegate hours and contracts accordingly and set leave and holidays when requested.
These elements all determine the amount of pay an employee is entitled to.
Mistakes or mishaps in these areas can be treated as gross misconduct.
The role is administrative, and it is your job to ensure that payment and payroll continue seamlessly with changes in the workplace.
All businesses and corporations need strong payroll personnel. The salary tends to increase with the size of the company.
With more staff, there is generally a bigger workload due to the increase in administrative duties.
2. HR Consultant
Average salary: $65,000. Senior positions can have salaries over $120,000.
An HR consultant monitors and assesses the performance of key individuals and the collective cohort.
You will oversee the HRM team marrying their organizational practices with the corporation's targets and values.
HR consultants are high on the career ladder, with earnings to match.
Many HR consultants are not attached to a specific corporation and work on the basis of temporary contracts.
This is because they are usually drafted in to assess performance and deliver results. They are not needed permanently if a corporation is running smoothly.
3. Training and Development Manager
Average salary: $96,000–$127,000
A company's employees can always improve upon their knowledge. A training and development manager is there to enable this.
The training and development manager implements procedures to improve the staff's ability to perform their job.
Like HR consultants, training and development managers can be externally drafted in to provide their services. However, they are more likely to be attached to a specific organization.
If you have good creative skills, an interest in workplace psychology and are analytical, this role may be for you.
4. Relations Management
Average salary: $80,000, but could be more or less, depending on the size of the workforce.
Disputes, grievances and even personal problems are to be expected in a busy workplace.
A relations manager is there to give employees someone to turn to if they need to settle any ongoing issues.
Relations managers also have a role to play with external clients. For example, if the corporation has secured a deal with another company, you will maintain the structure of this relationship on both a personal and financial level.
Good communication skills and the ability to problem-solve are key indicators of success for a relations manager.
5. Executive and Managerial Recruiter
Average salary: $91,000–$142,000
The executive and managerial recruiter identifies the correct candidates for specialized roles.
This job requires great analytical skills and patience. Executive recruiters have great leverage in corporations and large companies.
To be a successful executive and managerial recruiter, you must monitor the current personnel and understand what the workplace is lacking.
A person in this role will maintain a list of reliable contacts, initiate headhunting procedures and instigate appropriate promotions in the workplace.
6. Analytics Lead
Average salary: $68,000, depending on company size and priorities
As head of analysis in a corporation, your role is critical in financial evaluations and internal research.
This role is one of the most stressful and difficult, but it comes with good financial rewards. The analytics lead will have take a seat in the boardroom of a corporation.
They have a strong idea of the departmental procedures and the inner workings of the personnel in each department.
Analytics leads also need excellent mathematical skills to pinpoint action required from the barrage of data they receive.
Most successful corporations value their analytical team, so expect your salary to be above average if you can find your feet in the right place.
7. Compensation and Benefits Manager
Average salary: $102,000
Wages, salaries, taxation bracket and holiday fall under the remit of the compensation and benefits manager.
The compensation manager will assess what staff are financially entitled to. They may also have a say in pensions and insurance payments.
A compensation manager therefore is heavily involved in contractual matters, so they generally have good analytical skills and a keen eye for detail.
The workloads for these roles are high, and it can take several years of education and experience to reach a six-figure salary.
However, it is one of the most stable careers in HRM.
8. Labor Relations Coordinator
Average salary: $72,000
Filing contractual labor obligations and managing disputes are some of the roles that a labor relations coordinator deals with.
They are also in control of ensuring standard operations are followed in the workplace.
These roles can be thankless at times, but they reward well.
If you are assertive in leadership, then this role is a good fit for you. Furthermore, having good operational skills can be highly beneficial for success in this field.
9. International Human Resource Manager
Average salary: $81,000 (75th percentile)
Linkages with contracts and the assurances of financial contracts from global business is a complex task and often goes undiscussed.
international human resource managers deal with the correct documentation and contractual safeties for workers from other countries.
These roles are specialized and more prominent in large companies.
Having a degree in international business can facilitate a career in this field. You must also have a good knowledge of the working standards and procedural matters of other countries.
10. Retention and Workforce Intelligence
Average salary: $75,000
Finding the right staff to hire is particularly difficult. However, retaining the most productive and influential members is just as challenging.
The retention and workforce intelligence role requires great negotiation skills and attention to detail.
This role is particularly desired in corporations that suffer from excess turnover of staff. It is a highly sought-after position in today's working climate.
The role is relatively specialized, so you are likely to start with a high salary.
Having a degree in the social science field can lead to a good career path as a retention manager.
Final Thoughts
The best careers in HRM all require a good level of education and some solid experience.
Dedicating yourself to a certain career field and building up your foundational skills in both communication and organization can help you on your path to success.
The 10 roles listed above are increasingly prominent in the workplace due to the rise of multi-level cooperative models in big business.
---