Best Websites for Booking International Flights
Whether you are traveling to a long-awaited vacation destination or for business purposes, choosing the right airline can help to get your trip off to the right start.
Flying internationally often means spending long hours in the air. Therefore, it is important to make sure that you choose the best airline for your requirements.
If you are struggling to know where to start in finding the best airline for your needs, this article should help you.
Best International Airlines
We all want comfort as well as convenience when flying internationally.
Unlike domestic flights, international airlines will offer certain facilities to make the journey as enjoyable as possible.
Qatar Airways offers one of the widest ranges of locations when it comes to traveling, with over 150 destinations across the globe.
Possibly best known for their luxury business and first-class services, all passengers can enjoy a comfortable, relaxing experience during their flight.
With cabins designed to allow for lower pressure and higher humidity, many travelers find that they suffer less from jet lag. Little touches like hot towels and a welcome drink will help you to settle in your seat and enjoy the experience.
Austrian Airlines is part of the German giant Lufthansa. It operates flights to approximately 130 destinations worldwide.
With a menu provided in affiliation with a top Viennese restaurant, extensive in-flight entertainment options and comfortable seats, which can be reserved up to a year before departure, a long-haul flight needn't feel like a chore.
After becoming the first airline to offer in-flight entertainment, Virgin Atlantic has continuously offered passengers a relaxing, enjoyable flying experience.
Operating transatlantic flights, the airline offers all passengers pre-flight drinks and refreshing hot towels.
Recent improvements also mean that passengers can enjoy an enhanced dining experience with new menus across all classes.
Focusing on trans-Pacific routes in and out of Tokyo, All Nippon Airways consistently performs well in customer rating polls.
Passengers can enjoy top-quality food, friendly customer service and comfortable seating.
Those traveling business class are also able to make use of airport lounges and sleep rooms.
When it comes to awards for the best international flight providers, Singapore Airlines consistently features at the top of the list.
Best known for providing the world's longest non-stop route between New York and Changi Airport, they are industry leaders when it comes to providing reliable, comfortable flights.
They are continually upgrading their offerings across classes, with recent additions including a farm-to-plane catering program and wellness service.
The extensive array of destinations available to travelers via Emirates means that the chance of finding a flight to your chosen location is high.
Operating out of Dubai, Emirates has a reputation for providing the ultimate in luxury air travel.
Whether you are an economy or first-class passenger, you will be welcomed on board by attentive staff who are happy to help with anything you need.
The in-flight entertainment system also offers 1,800 channels to choose from and Wi-Fi connectivity.
EVA, which is based in Taipei, operates flights across the globe to most major US cities, as well as Europe and Asia.
It is probably most well known for its colorful Hello Kitty aeroplanes, which makes the airline popular with plane spotters and children alike.
Passengers particularly enjoy the spacious Premium Economy options and the Michelin-chef-inspired menu.
British Airways is known across the globe for providing quality air travel, with more than 170 destinations in 70 different countries.
Passengers on long-haul flights can enjoy a three-course meal and a light snack before landing. The generous baggage allowance means that you don't have to worry about packing light.
American Airlines offers a choice of 350 destinations across 50 countries, offering international flights across most of the globe.
Passengers can enjoy in-flight entertainment, refreshments and comfortable seating.
Turkish Airlines is fast becoming one of the most popular choices for transatlantic travelers, with destinations across Europe and the US.
Their popular stop-over program allows individuals to take advantage of vouchers for four and five-star hotels.
Passengers also enjoy the excellent menu, as well as helpful and attentive staff.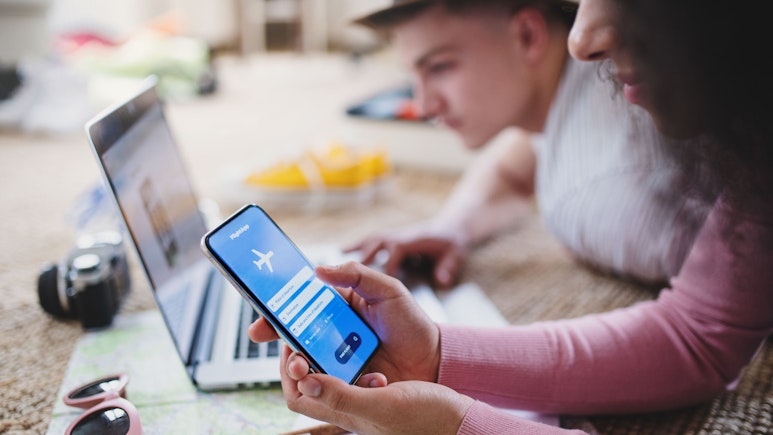 Best Websites for Booking International Flights
Best Comparison Sites for Booking International Flights
One of the easiest ways to book cheap international flights is to use a price comparison website.
Rather than looking at each individual airline, which is time-consuming, comparison sites offer a range of prices from a variety of airlines.
They are easy to use, and you can see the results almost instantly.
Most comparison sites will only require you to enter your starting location, your destination and the date you want to travel.
They will also show you options for return flights and enable you to choose whether you fly via another location.
It is worth noting, however, that comparison websites don't always have access to prices for the entire market.
Some airlines will choose to only be featured on specific sites.
It is therefore a good idea to use more than one site.
Here are some of the best flight comparison websites:
Advantages
You can set up price alerts and be notified of changes to flights you're interested in
It is easy to change the language and currency options
Disadvantages
It offers functions that are widely available on other sites
Advantages
Trends graphs make it easy to say which days and times are potentially the cheapest
Searches can be highly customised using the filters on the search engine
Disadvantages
If you are not a regular traveler or familiar with the website, it can be complicated to use
Advantages
Kayak Hacker fares give you the option of bundling flights with multiple airlines to get the best deal
The price tracker feature ensures that changes are kept up to date
Disadvantages
The site is focused on flexibility. It may not be able to offer the most suitable options for you if you need a specific flight
Advantages
Easy to navigate
The search results are easy to understand
Disadvantages
It doesn't always offer the cheapest options
Some other websites may offer a wider range of airlines
How to Get Cheaper International Flights
Flying internationally can be expensive, but it is possible to grab a bargain and save yourself some money.
As well as using comparison websites, there is a range of other things you can do to get the best possible deal.
Check the Flight in a Different Currency
This may seem unlikely to work, but it really does.
If your currency is strong compared to others, try searching for flights in a weaker currency.
Airlines will often price flights based on the affordability of that country. By comparing the currencies, you can save yourself some money on your tickets.
Book Early
Many airlines will allow you to book your flights months in advance.
It is always best to start looking as soon as you can as the prices are likely to increase if the flight is in high demand.
Look Out for Sales
Airlines will offer sales throughout the year, although this is most common in January when people start thinking about their summer holidays.
Booking your flights during a sale can mean that you are able to find a significant discount compared to the standard price.
Be Flexible About When You Travel
Certain days and times are cheaper to fly than others.
For example, it is generally more expensive to fly on a Saturday than it is on a Tuesday.
Evening flights also tend to be slightly cheaper than morning flights. Being flexible about exactly when you travel can mean that you are able to choose a cheaper flight.
Don't Fly Direct
It is often cheaper to book flights that go via another location.
This may mean a layover or time spent waiting for your connecting flight.
However, it will give you the option of switching airlines and saving potentially hundreds of dollars.
Consider Using Smaller Airports
Many smaller airports will have flights coming in and out from budget airlines.
These airports may not be the most modern or closest to your destination. However, they will be a lot cheaper than flights to more well-known airports.
It is worth seeing whether there is a smaller airport near to where you want to go.
You may need to pay for a taxi, but you will potentially save money on your flight.
Search Incognito
You may have noticed that repeated searches show increasing prices. This isn't a coincidence.
The cookies on your browser will notice when a flight or destination is searched for repeatedly, and this will lead to price increases in an attempt to get you to book quickly before it increases again.
Searching via incognito or private-browsing mode will avoid this happening as your information is not tracked in the same way it would be through your usual browsing mode.
Final Thoughts
International travel can be expensive, but it doesn't have to be.
By using some of the tips and tricks in this article, you should be able to find a deal that frees up some holiday spending money and allows you to relax, knowing you booked your flights at the best possible price.
---