Best Airlines to Fly With
All products and services featured are independently selected by WikiJob. When you make a purchase through links on this page, we may earn a commission.
Last Minute with Southwest
As one of the industries worst hit by the COVID-19 pandemic, commercial aviation has had to adapt to a new way of working.
Different airlines have done so to varying degrees, with some surpassing others regarding safety, service and flexibility.
With that in mind, here's a look at the best airlines to fly with in 2021.
What to Consider When Choosing a Good Airline in 2021
Whether you're flying long haul for leisure or domestically for business, there are things to take into account beyond just ticket cost and flight schedule, particularly in today's unpredictable world.
The usual considerations remain, including:
Baggage allowances and associated costs
Taxes
Airport location
The airline's reputation for reliability
However, in today's world, you should also look into the following:
Booking Flexibility
As the battle to control COVID-19 continues, there's a greater risk of having to change your travel plans at the last minute.
Many airlines do now provide booking flexibility; however, this typically doesn't apply to economy tickets.
Change Fees and Refunds
If flexibility is allowed, look at the associated costs.
The best airlines to fly with are those that have eliminated change fees, but be sure to read full policy terms before booking.
Refunds are usually offered by way of travel vouchers.
Safety Procedures
This applies to both pre-flight and onboard procedures. Look at the airline's measures for hygiene, face coverings, temperature checks, cabin air filtration, social distancing and more.
Some airlines have been awarded a star rating for COVID-19 safe practices, so keep an eye out for those.
Sustainability
This has become a top priority for many people since air travel is one of the biggest contributors to CO2 emissions.
Look for carriers with a more efficient modern fleet or one with a carbon offsetting commitment.
You can also look at other sustainable practices, like the elimination of onboard single-use plastic.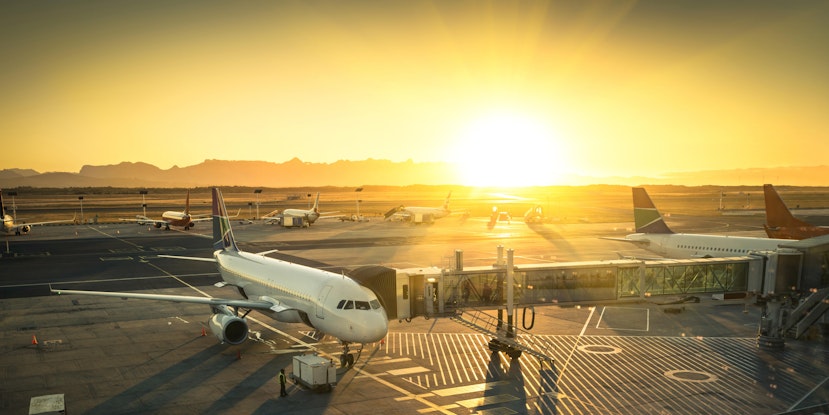 Best Airlines to Fly With
Best Airlines in 2021
A low-cost airline, Southwest is one of the most popular domestic operators in the US, serving some 120 destinations.
It also offers select international flights to the Caribbean, Mexico and Central America.
Southwest runs a no-fee policy for all changes and cancellations, as well as two free checked bags for every passenger, subject to size and weight limits.
You won't find the luxury you would get on a premium airline here, but that's reflected in the ticket price.
If you wish, you can upgrade to Business Select® for priority boarding and a complimentary drink.
Southwest's Rapid Rewards® program offers a series of point-based credit cards, with points redeemable on flights.
While not the most luxurious airline, it's a cost-effective choice for frequent domestic travelers.
Another leading name in domestic travel, Alaska Airlines, flies to around 105 airports in 36 US states.
It also operates flights to several locations in Mexico and Canada, and select routes to Costa Rica and Belize.
If you're looking for cheap airlines, this is a good option. It offers low-cost fares through its website, and if you find the same flight cheaper on any other travel site within 24 hours of booking, it will refund the difference.
The airline has also permanently dropped fees and changes to main and first-class tickets, though economy saver fares cannot be changed.
Though essentially a budget airline, safety is a top priority, and Alaska Airlines has implemented multiple procedures through its Next-Level Care program.
One of the major operators in the US, Delta flies to around 300 global destinations, including those across the Asia Pacific, Europe, Africa, Australia and Latin America.
It also operates domestically, with flights to over 60 locations across the US.
Passengers can travel economy, standard or first class, with additional upgrades available on certain routes, including the exclusive Delta One® for the long-haul and Delta Premium Select for international travel.
Tickets purchased for standard class or above come with no change fees.
If you need to cancel, your refund will be issued by way of an eCredit.
Economy tickets are non-refundable and cannot be changed.
The airline is committed to sustainable operation, proposing a $1bn investment over the next 10 years towards carbon neutrality.
Since its foundation in 1997, Qatar Airways has become a leading name in premium commercial aviation.
Its international operations serve over 130 destinations across Europe, Africa, the Americas, Asia-Pacific and the Middle East.
Travellers can choose economy or opt for business or first class for a more luxurious experience.
They can also join its Privilege Club to earn Qmiles and Qcredits, redeemable on flights and upgrades.
It's currently running a flexibility policy that allows you to make ticket changes without incurring fees. This policy will be in place until March 2022.
As part of its approach to sustainability, Qatar is a member of the IATA carbon offset program, allowing customers to make a contribution to offset emissions tied to their journey.
It's also taken great steps to ensure safety, with its procedures earning it a 5-star Skytrax COVID-19 Airline Safety Rating.
American Airlines works with several regional partners to provide domestic and international travel.
Its extensive domestic network covers 233 US airports, complemented by flights to 61 countries around the world.
American Airlines has dropped change fees for all domestic and short-haul international flights, a policy valid on the main cabin, premium and premium economy tickets.
Changes to certain long-haul tickets can also be made free of charge.
You'll find everything you need to know about American Airlines' COVID-19 procedures on its website. Domestic passengers can also download the VeriFLY™ app, a health passport app for storing proof of vaccination and negative test results, designed to speed up the check-in process.
With British Airways (BA), you can fly to the most popular global destinations across Europe, Asia, Africa, the Americas, Australasia and the Far East.
As a premium airline, BA offers passengers a choice of economy, premium economy, business and first-class travel.
Members of its Executive Club receive additional benefits, including exclusive offers, priority boarding and reward points known as Avios.
BA has temporarily waived its change fees, with this policy set to run until August 2022. In the event you need to cancel, vouchers will be issued to the value of your booking.
The airline has stringent safety measures in place, with a 4-Star Skytrax COVID-19 Airline Safety Rating.
Another premium choice, Singapore Airlines runs routes to over 130 global destinations, most these located across the Asia-Pacific.
One of this airline's standout features is its non-stop flights to Singapore, which run from various US airports, including New York JFK, San Francisco and Los Angeles.
Economy, premium economy, business and first-class options are available, with different fare types under each class.
Cheaper tickets do not allow for changes or cancellations.
More expensive Flexi tickets do, but cancellations are still chargeable. Changes, however, are complimentary.
Hawaiian Airlines runs flights to all the major Hawaiian islands and non-stop routes between destinations in Asia, the South Pacific and North America.
It has an excellent reputation for reliability, with a historically low number of flight cancellations, baggage handling mishaps and ticket over sales.
You can make changes to your flight date and destination with no costs other than any difference in the fare price.
Choose to fly economy or upgrade to Extra Comfort seats, Premium Cabin or first class.
The flag carrier airline of the UAE, and one of the largest carriers in the world, Emirates is a premium operator specializing in comfortable long-haul travel.
Its destinations span Europe, the Americas, Africa, the Middle East, Asia and the Pacific.
The tiered loyalty program, Emirates Skywards, offers exclusive benefits to members. However, even standard economy travelers receive impeccable levels of service.
It runs a modern fleet of energy-efficient aircraft and is committed to lowering its environmental impact.
If you purchase a ticket with a travel date before May 2022, you can make certain changes at no extra cost.
All Nippon Airways (ANA) is a Japanese airline serving locations in East, South and Southeast Asia, Australia, Europe and the Americas.
It offers the usual economy, premium economy, business and first-class ticket options, with premium benefits awarded to ANA members.
It has a 5-Star Skytrax COVID-19 Airline Safety Rating and implemented the ANA Care Promise to show its commitment to passenger safety.
Information on ANA's change fees isn't explicitly clear and does indicate charges apply in some circumstances.
Established in 1933, Air France is the flag carrier of its namesake country and offers passengers a fairly standard experience at a reasonable price.
You can currently fly to around 70 destinations across Europe, the Americas, Asia, the Middle East, Africa and the Caribbean.
Air France does apply change fees should you need to alter your plans. However, if you book through the website, you can hold your ticket for 14 days before paying in full, though it will cost you $20 to do so.
A notable feature of Air France is its Trip and Tree program, allowing you to make a donation towards a deforestation project as part of your booking.
Turkish Airlines is one of the world's largest mainline carriers in terms of flight destinations, running routes to over 200 airports in 120 countries across Europe, Asia, Africa and the Americas.
The airline has implemented comprehensive safety procedures both pre-flight and onboard, with Diamond status accreditation from APEX Health Safety.
You'll only find economy and business class tickets available with Turkish airlines. Still, these are offered at a reasonable price, and with such a wide range of destinations, it's a very popular carrier.
North and South America, Europe and Asia can all be accessed on flights with Lufthansa, a German carrier recognized three times in recent years by Skytrax as the 'Best Airline in Europe'.
Economy, premium economy, business and first-class cabins all offer a comfortable in-flight experience with high standards of service.
Its flexible booking policy does allow for ticket changes, but associated terms differ by booking date and circumstances, so be sure to read these prior to buying a ticket.
Lufthansa is a good option for those looking to travel sustainably, with a couple of options for offsetting your flight and an airline commitment to cut carbon emissions in half by 2030.
Cathay Pacific is Hong Kong's flag carrier and has been operating for over 74 years.
It has a global network that covers Asia-Pacific, Africa, Europe, the Americas and the Middle East, flying to more than 200 destinations.
Cathay Pacific offers free, unlimited changes for ticket flexibility, provided these are made by the end of 2021. Passengers are then given one complimentary change, which can be made at any time.
It has a loyalty program for frequent flyers – the Marco Polo Club – and is renowned for luxury in its first- and business-class cabins.
If you travel a lot for work, Cathay Pacific is a solid choice of airline.
Flydubai is the UAE's budget airline, offering low-cost fares to destinations in Europe, Africa, Central Asia and the Indian subcontinent.
It cites itself as an airline that flies to some unique locations. That, combined with low ticket fares, makes it a good option for travel enthusiasts.
As a budget carrier, it offers Lite, Value, Flex and Business options. Lite tickets cannot be changed or canceled.
Rebooking on all other ticket types is free when done more than 24 hours prior to travel.
Cancellations on value tickets are subject to a fee but are free on flex and business class.
Final Thoughts
Whatever your reasons for travel, it's more important than ever to find an airline you can trust.
You want assurance that it operates with the highest standards of hygiene and that should your plans be compromised, it will allow you to amend your schedule.
Though comfort and service remain key criteria, when looking for the best airlines to fly in 2021, it's all about those that have successfully adapted to the biggest challenges ever faced by the industry.
---