Best 10 Job Search Apps
What Is a Job Search App?
If you are looking for your next career move, there are many job search websites available to help you make the right decision.
Websites can make all the difference in allowing you to apply for jobs from the comfort of your own home and make the job market accessible to everyone.
There is an app for almost everything now, from online shopping to take out, insurance to social media – so it is no surprise that there are several job search apps available.
So, what exactly can you use a job search app for?
Some job search apps are what is known as aggregators. They find and display job adverts from online job postings, allowing you to create a profile, upload a resume and apply for jobs.
Other apps are from the major job boards themselves, and are essentially mobile versions of their website, with a few user tweaks to make it mobile-friendly.
Additionally, some job search apps are all about the app experience, making use of location, AI and even augmented reality to offer job hunters a great way to find the perfect job.
With search algorithms, you can filter results by location, job type, hours and salary – and apply directly from within the app, often with only one click.
Some of the apps featured on this list offer a little bit more:
The major draw of a job search app, however, is that job seekers can look for their next career no matter where they are.
Truly mobile options for job hunting offer more opportunities for people, with push notifications, email roundups and filtered searches ensuring that you don't miss that perfect role.
While websites have their place in a job hunter's arsenal, the app experience offers another level of autonomy and speed, getting you that perfect role, fast.
How to Use a Job Search App Effectively
When you have chosen the job search app that you want to use, there are a few ways to use it effectively.
Everything from your resume to your profile needs to be optimized for mobile use – as well as giving the best impression to potential employers.
Resume
As with any job application, when you need to send a resume via a job search app, you must tailor it to suit the job that you are applying for.
Most apps have the option to save a resume and cover letter in their system, so it might be a good idea to save a template of both that you can easily edit.
Don't ever be tempted to save one version on the app and use it for every job application. This is a sure-fire way to end up in the reject pile.
We have lots of information about resumes and cover letters to help you stand out from the crowd – but one of the best things that you can do is use the job description as a framework to showcase your skills and qualifications.
It is also good practice to save your final versions of your resume and cover letter as a PDF.
This ensures that it is print-ready, but also means that it can be easily read on a mobile screen – useful if the recruiter is using their smartphone or tablet to screen potential candidates.
Keywords
There will be certain keywords used in job descriptions that the employers will use when they are looking for candidates.
Think about your search keywords carefully to ensure the jobs that come up are perfect for you.
You should also use these words throughout your profile information and resume to help you pop up in the algorithm when recruiters are searching for candidates – make sure that they come up in your skill set and listed qualifications where you can.
The likelihood is that you will be looking for a specific type of role in a particular industry – which means that in broad terms you will know what the recruiters are looking for.
Use this information to make sure that no matter what facet of the role an employer is using as a search term, you will be in the results.
Profile
As part of the sign-up process for job search apps, you will have the opportunity to create a profile. In some apps this is quite basic, but it is still important to ensure that everything is perfect.
If a photo is needed, if possible, use a professional headshot. Using a social media photo is fine if it is clear and appropriate.
Use a compelling headline and ensure that your bio information is concise and enthusiastic.
Avoid any typos and grammatical errors.
You want to stand out from the competition in every way you can. Don't forget your keywords in your bio and headline.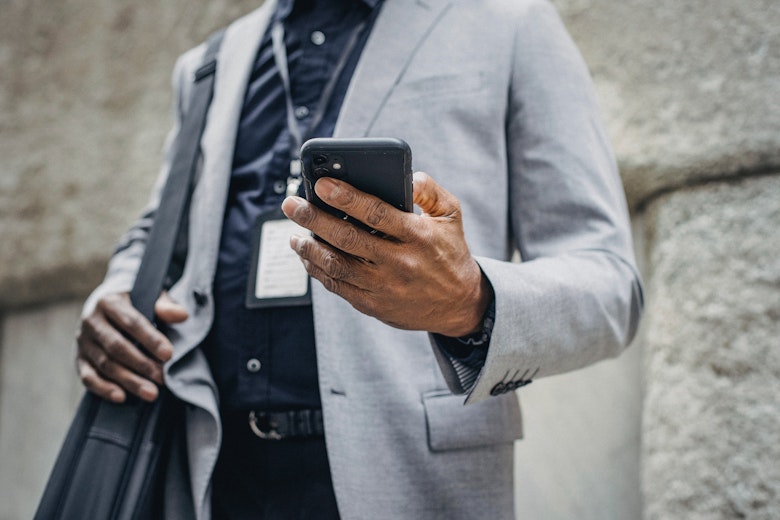 Top 10 Job Search Apps
Top 10 Job Search Apps
Here are the top apps to help you with your next job search:
Cost: Free
Platform: App and website
Mobile OS: iOS and Android
Indeed is a powerhouse when it comes to job searches.
Over 16 million jobs in more than 60 countries with postings in 28 languages make Indeed one of the top job search sites in the world.
The app is essentially an extension of the website, offering the opportunity to search and filter according to your personal preferences.
The search options include:
Role type
Permanence
Hours
Pay
Location
And with the GPS location enabled, you can see immediately what jobs are available in your local area.
Email and notification alerts can be created for keywords so that you never miss an opportunity, and you can apply directly from the app.
Cost: Free
Patform: App and website
Mobile OS: iOS and Android
SnagAJob specializes in hourly paid essential work with more than 700,000 employers in the US and Canada.
Like many job search apps, SnagAJob has been optimized to offer a seamless experience, allowing job seekers to connect with employers, apply with a single click and even arrange interviews from within the app.
Over 100 million registered jobseekers use SnagAJob, and with social profile uploads, personality quizzes and the opportunity to add a video to your profile, it is more than just a job search app.
This app does have limitations, though – there is a lack of skilled and salaried positions, focusing instead on those roles which are essential, but hourly paid and often seasonal.
Cost: Free
Platform: Website and app
Mobile OS: iOS and Android
SimplyHired is a job site aggregator, pulling opportunities from over 100 job boards across the US.
It is useful for searching within a specific location, and you can adjust the search parameters to your own needs – location/job type/hours and more.
Saved searches can be used as job alerts and search results can be filtered by the date they were posted and their relevance.
One-touch applications can make the process simple and fast – but for some roles, a resume and cover letter still need to be uploaded.
Cost: Free, although premium features are a paid add-on
Platform: Website and app
Mobile OS: iOS and Android
LinkedIn is more than a social media site for business networking – 77% of recruiters use LinkedIn when they are searching for their new hire.
LinkedIn Jobs is a part of the normal LinkedIn app and is simple to use.
You can change your status to 'looking for work', which allows recruiters to see your information when they are searching for candidates.
Using simple search parameters – job title, location, company, and salary – you can see what jobs are posted and set up search alerts.
LinkedIn Easy Apply allows you to apply for a role using your LinkedIn profile rather than an online application form or uploading a resume and cover letter.
Job seekers can undertake skills tests to prove their abilities in some of the more technical/software-related skills, which can help your application be viewed by more employers and recruiters.
With LinkedIn Premium, you can see how you compare to other applicants and get salary insights, although this does have a monthly cost.
Cost: Free
Platform: Website and app
Mobile OS: iOS and Android
CareerBuilder, as the name suggests, is more than a simple job search app – it has tools to help you attain higher paid jobs through skills upgrades.
Using AI and AR (augmented reality), search functions are quick and easy – you can scan a building in real life and learn what jobs are available there directly from your smartphone.
Aside from the geeky aspect of the app, the job search function can be used to filter results by:
Job title
Location
Permanence
Hours
Salary
Education
Experience
CareerBuilder not only alerts you when new jobs that fit your profile are posted but also lets you know when your application has been viewed.
For even more support in your career search, there is a useful resume building tool to make the most of your skills, qualifications and experience.
Cost: Free
Platform: Website and app
Mobile OS: iOS and Android
Glassdoor's website is well-known for the in-depth information it provides on companies. With insights about the company culture, reviews from current and former employees and even potential interview questions, it is a goldmine of information for job seekers.
The app itself is a mobile-optimized version of the website.
With the right app preferences, push notifications let you know when jobs are posted that match your criteria, and you can apply directly from your smartphone.
A handy 'Know Your Worth' tool lets you track your market value so you can make sure you aren't getting undersold in terms of salary for your experience.
Cost: Free
Platform: Website and app
Mobile OS: iOS and Android
ZipRecruiter is another aggregator tool that brings together opportunities from more than 100 job boards across the US.
It has a detailed search function that lets you set your preferences and set up job alerts.
Single tap applications make the process simple, and you will receive a notification when your application has been viewed by the recruiter, keeping you abreast of the situation through the initial process.
To make sure you don't miss an opportunity, ZipRecruiter also sends a daily digest of relevant jobs directly to your inbox.
Cost: Free
Platform: Web

Good&Co is all about culture fit and personality.
This site uses a series of nuanced personality quizzes to find out more about you and suggest what type of culture you would fit best according to their data.
This AI algorithm isn't created around skills and experience but is more about where people with similar personality traits work – offering a customized, advanced job search tool where you can apply for open positions in the companies that fit you most in terms of culture.
While it might not be an exact science, Good&Co can give you great insight into the philosophy and culture of a company – which might make more sense when applying for a role there.
Cost: Free
Platform: App
Mobile OS: iOS and Android
Hirewire claims that its job search app can get you a job in 24 hours.
This might seem like an outrageous claim, but as the jobs posted are mostly in the service industry, it makes a fast process easier.
To get the most out of Hirewire, you need to create an interactive profile.
Applying for jobs is just a single tap and with the in-app chat function, you can even arrange an interview straight away.
Featuring more than 5,000 employers, Hirewire is built to make finding a job in the service industry simple and straightforward.
Cost: Free
Platform: Website and app
Mobile OS: iOS
LinkUp is more than a typical job aggregator – instead of simply pulling all the information about jobs from all the boards, it indexes job openings directly from employer websites.
This means that the jobs posted on LinkUp are not duplicates, and they avoid scam vacancies that can be a problem.
LinkUp has more than two million jobs available from over 50,000 company websites and when you find a match, they invite you to apply directly on the company website – saving time by allowing employers to LinkUp with potential employees directly.
The search function is simple to use and you can save searches and jobs to save time.
Job alerts can be sent to you via email and it is simple to send a job to another email address to share the information with a friend.
Final Thoughts
When you are searching for a job, the best job search apps offer you a wide range of opportunities, with a simple user interface.
The main benefit of using a job search app is that you can search for a job and complete the application from your smartphone, meaning that you don't have to be chained to your PC to find a new role.
Although many job search apps offer the opportunity for 'one-click' applications, there is still a need to ensure that you have a relevant, up-to-date resume and cover letter available that you can edit to send to prospective employers.
Remember that crafting a resume to suit the role you want at the company you apply for will make a difference – recruiters want to see that you have the skills, experience and qualifications they have specifically asked for in the job description.
Job search apps that are mobile versions of websites might feel a little less user-friendly on a smartphone, but the ability to scroll through job postings wherever you are makes up for the sometimes unwieldy nature of the app.
There are, of course, more specialist job search apps available – but choosing one of these broader apps will help you see what other careers and job roles you might be suitable for, great for those who have a range of transferable skills.
Choosing the right app is a personal choice and depends very heavily on what you are looking for, but this list of options will help you on your way.
---