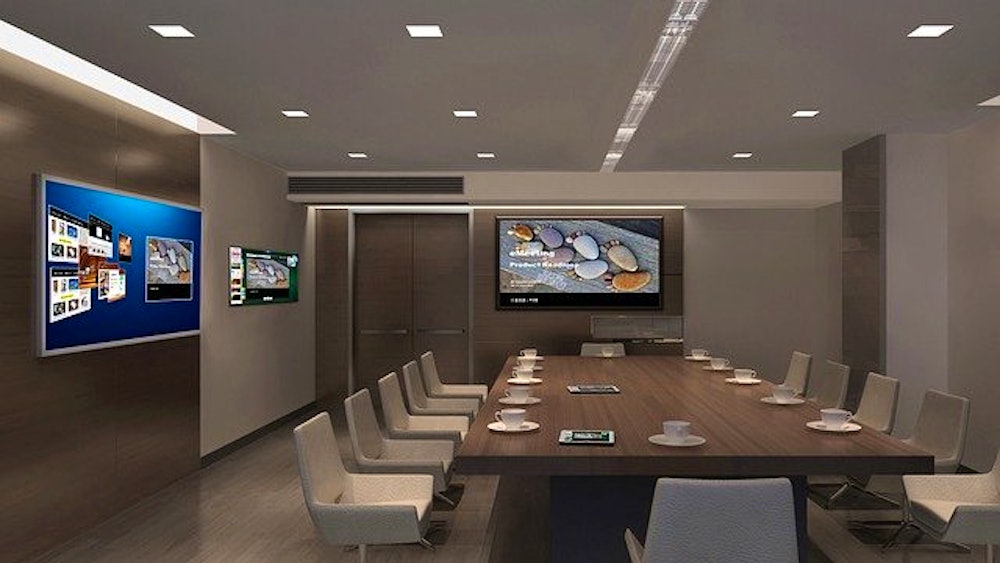 What Is a Wireless HDMI Video Transmitter?
In the most basic terms, a Wireless HDMI Video Transmitter allows you to take video (and audio) from a source, transmit it without wires and play it on another display.
When you buy a system, you will receive a transmitter that you plug into a source – whether that is a cable or satellite, a games system, a Blu-ray player, or even Netflix or another streaming service.
The transmitter usually has antennae that you can angle to improve the signal on the receiving monitor, TV or projector.
The receiver will plug into the TV and display the HD picture and sound that is being sent.
Why You Will Want One
Wireless HDMI Video Transmitters can be used in meetings or in classrooms to share screens and give instructions, teach, or go through a PowerPoint presentation.
In the home, you might want to watch the big game in your basement or transfer a movie to a projector screen for that big-screen cinema experience.
It may, of course, be just that you have your living room TV on the wall and don't want to have trailing wires – wireless living is becoming more and more popular as we become more connected to the 'Internet of things'.
Important Features to Look For
When you are comparing Wireless HDMI Video Transmitters, there are a few things that you need to consider:
Distance/Range
Some wireless HDMI transmitters claim great range capabilities, even as much as 200 metres. The distance sometimes can depend on line of sight, while others can perform well through walls and ceilings.
Frequency
Most wireless devices in the home operate on the 2.4GHz frequency. From the Wi-Fi to the baby monitor, this channel can get crowded and suffer from interference.
Some transmitters operate on the 5GHz frequency to circumvent this.
Latency
If you are watching something live, you don't want to risk being behind – especially when it comes to the big game.
If you are wirelessly transmitting a video game, latency can cause issues with accuracy and aiming too.
HD Compatibility
The best transmitters can send High Definition quality images without compression so you don't lose quality while streaming. Some are 3D capable too – giving you the home cinema feel without the wires.
Audio
Surround sound can really enhance your viewing experience – the best transmitters can send Dolby and DTS as well as beautiful High Definition images.
Power
Because of the power needed to transmit HD signals, both senders and receivers are likely to need independent mains power for best performance.
Other Things to Think About When Buying
One of the most important things to make sure of when buying a wireless HDMI video transmitter is that there is no loss of quality in picture and sound.
When you are looking for your perfect setup, be aware that the maximum distances quoted by the manufacturers often describe the range achieved with line of sight, that is with no barriers or interference.
In today's modern homes, this is not often achievable – and if you want to transmit a high definition picture through walls, floors and ceilings, you need to choose a setup that can cope.
The best wireless HDMI video transmitters can send 1080p and 3D pictures, and some are even compatible with 4k, although the performance can sometimes be limited.
The technology used in the transmitters, especially, can get hot, so it is a good idea to look for designs that dissipate heat to ensure that they last well.
Removable antennae are another good call for longevity – it is easier to replace a damaged or disabled antenna than replace the whole kit.
Other Wireless HDMI Video Transmitters We Looked At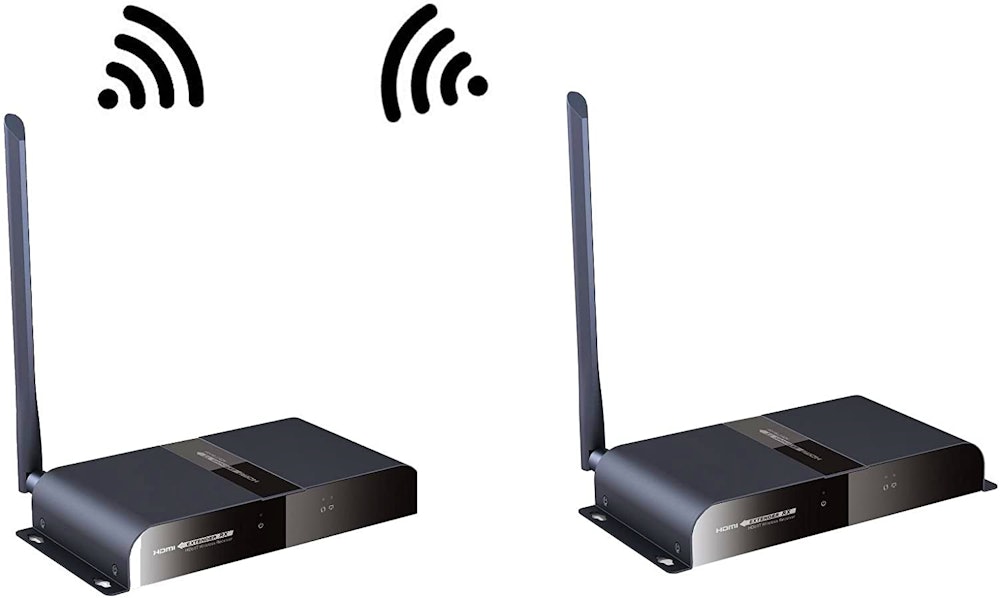 £319.97 from Amazon
Easy to use – simplicity is key. This setup has 2K/4K capabilities and claims to have a range of up to 200 metres with a clear line of sight. This long range means that it can offer full, uncompressed HD quality video through walls, floors and ceilings with zero interference.
We like this setup because you can add additional receivers – you can share the input with more than one monitor or TV, depending on what you need.
It also has an infrared extender built-in – so you can control the source from the TV you are watching using your remote control.
This transmitter is another easy to install option – just plug and play.
We found this transmitter easy to use and love that it offers a 1080p quality picture and great audio, with no noticeable sync issues.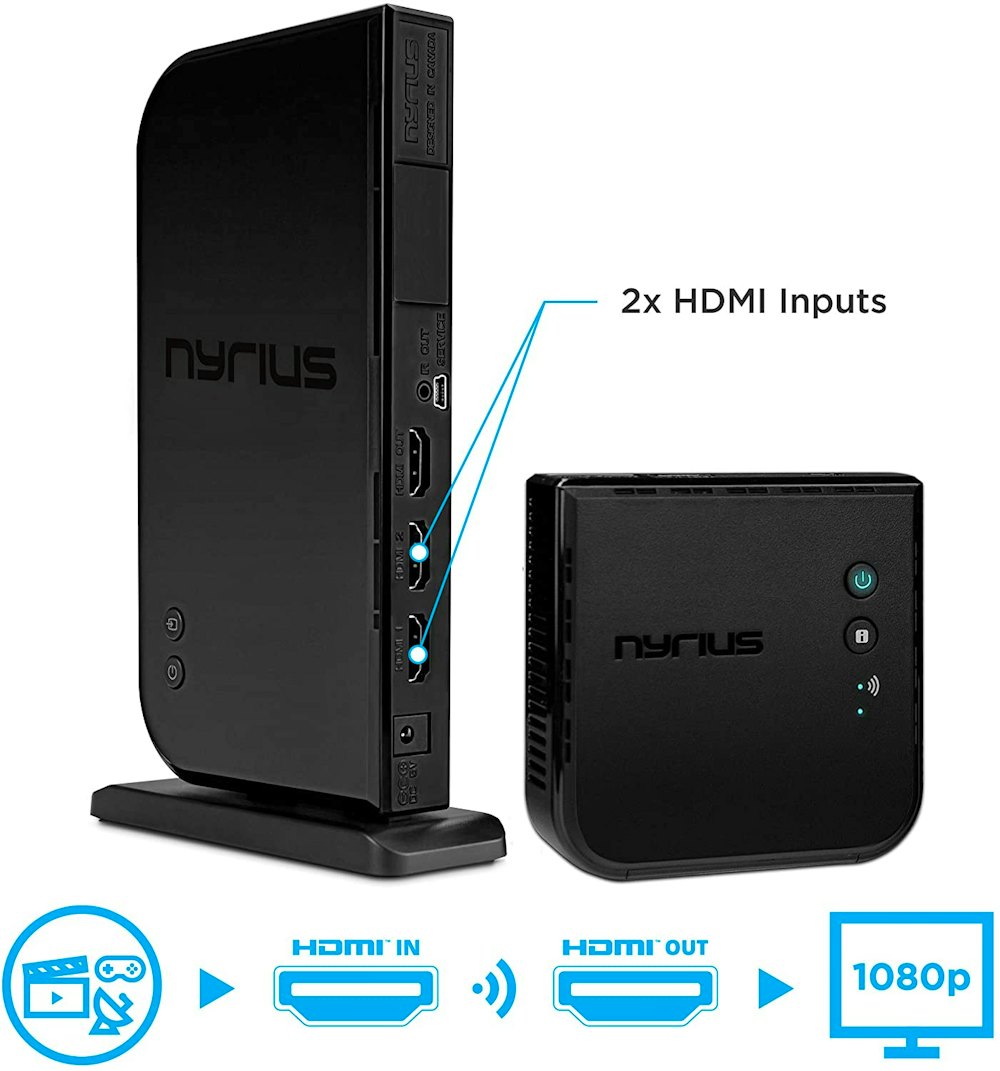 £327 from DirectNine
The Aries Home+ is a bit more expensive to get in the UK but it has some great capabilities not found in other wireless HDMI video transmitters.
With High Definition video, 3D compatible and zero latency, the Aries Home+ can send uncompressed video and surround sound through walls, floors and ceilings.
One of the main reasons this is a great option is that you can view two sources at once – a wired HDMI connection to one TV allows you to view one source (like a gaming system), while the wireless HDMI can send from another source (like your set-top box) into another room.
We loved the easy set up and the clear picture and sound, but the cost might be prohibitive.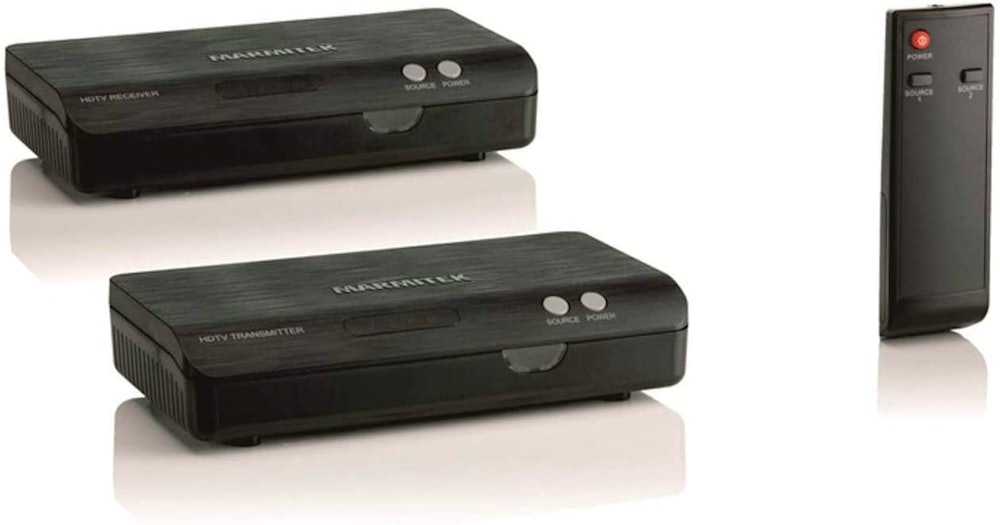 £214.98 from Amazon
We really like this option because it is so easy to use. All the usual functions on the source device can be controlled using your normal remote, making it easy to access menu functions and play/pause a movie.
The unique Smart Link technology means full coverage throughout the house, through walls, ceilings and floors, so you can stream to any TV or projector.
This isn't truly a wireless system as it connects through the mains system in the house – so it wouldn't be suitable for outdoor use. The mains technology means that you don't need line of sight for the best picture.
With the built-in HDMI splitter, you can stream from two different sources at the same time – perfect for those evenings when you can't agree on what to watch.
We found it to be quick and simple to pair, and the remote-control extender works well even from the front to the back of the house.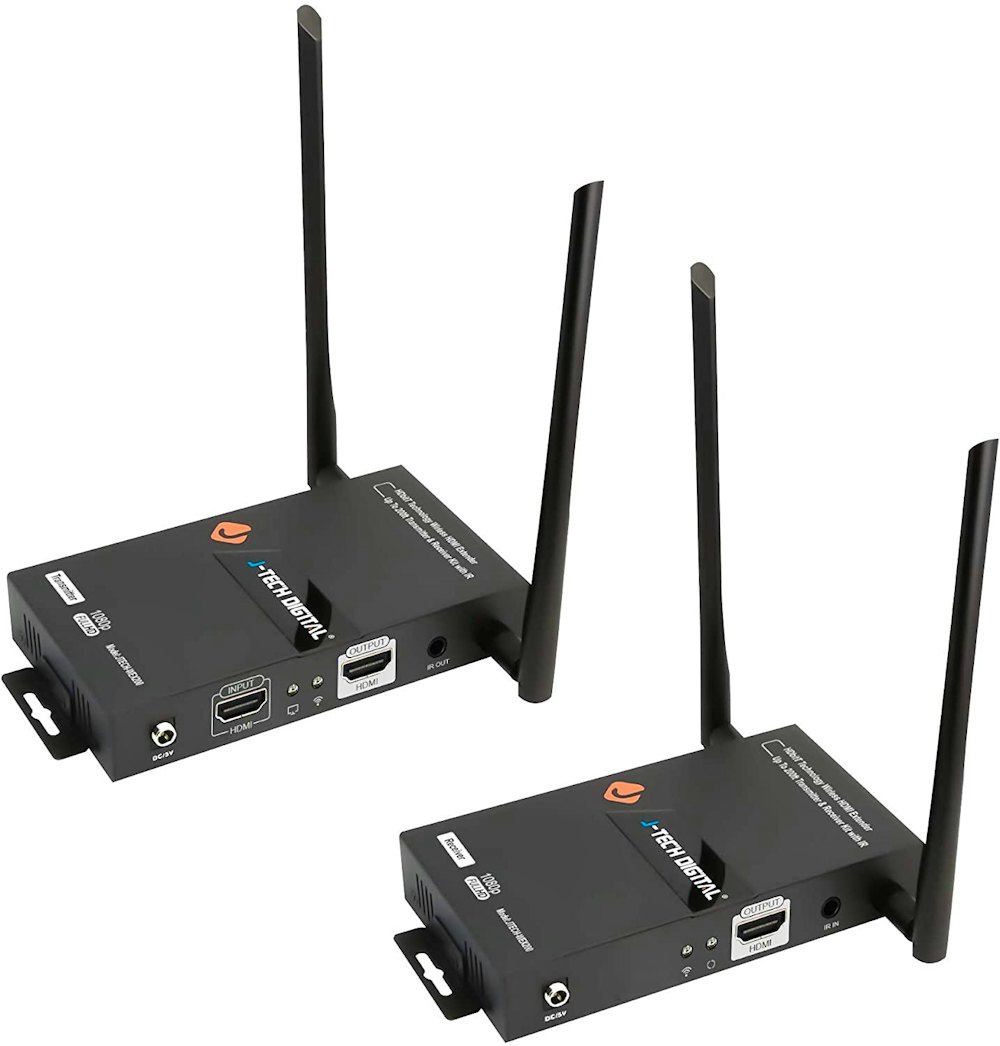 £262.80 from DirectNine
The J-Tech setup claims a range of up to 61 metres and doesn't need line of sight thanks to the dual antennae. This can send to up to two receivers (extra receivers sold separately).
We found that it worked well between floors and that it didn't struggle with interference.
It also offers an infrared extender so you can control the source with a remote control.
The uncompressed HDMI signal can handle Ultra 4K/30Hz so is perfect for use with a Sky Q box, although with the latency of 0.1 to 0.3 seconds, it wouldn't be a great idea to use it for gaming.
It doesn't get too hot thanks to the vents and metal casing.
£299 from Amazon
The Measy W2H comes in many versions, a mini, a nano and variations that claim to support different levels of HD streaming. The W2H is the top specification model of the Measy offerings.
This version operates on the 60GHz frequency, supports lossless transmission of 4K video with less than 0.5 ms latency.
With a 30 metre line of sight range and sleek looks, this is a smart piece of kit that has had some favourable reviews.
The Measy website is a bit tough to navigate, with a lack of essential information, so make sure you check out the Amazon listing for all the specs.