If you like your tech and find that there are never enough power points for all the things that need charging, the Choetech Dual Wireless Charger is a great choice.
This charger has five coils – more than double that of most wireless chargers – meaning it can charge two phones at once, or a phone and another device like AirPods, Samsung Galaxy Buds or an AirPod Pro case.
There's no compromise on speed either; the Choetech charges two phones at a top output of 10w.
There's a lot to be said for this charger even if you only ever have one device that needs charging; the large flat pad means that you don't have to think about the positioning of the phone when you put it down, you can simply place it on without much precision and the five coils do their job.
What's more, unlike so many of the wireless chargers on the market, this device comes with a quick charge (18w QC 3.0) adapter, so you're good to go with fast charging as soon as you've opened the box, rather than having to purchase a wall plug separately.
The Choetech comes in black or white and the top has a leathery feel to it. It's a bit bulkier than some of the slimline products on the market and it lacks style compared to a charger like the Moshi Otto Q.
Having said that, it's still only 1.2 cm thick – thinner than the Otto Q – so in no way offensive on the eye if placed in a prominent position. It does have a powerful green LED light which could disturb sleep if placed in a bedroom.
It ticks all the boxes in terms of practicality; it can charge through a case of up to 5 mm thick and its got a non-slip pad on the bottom to prevent it from moving around.
Built-in heat dissipation technology means charging shouldn't be compromised by overheating, although despite us not experiencing any problems with this, customer reviews online suggest devices have become hot whilst on this charger.
Choetech provides an 18-month warranty on all of its products, which is great for peace of mind.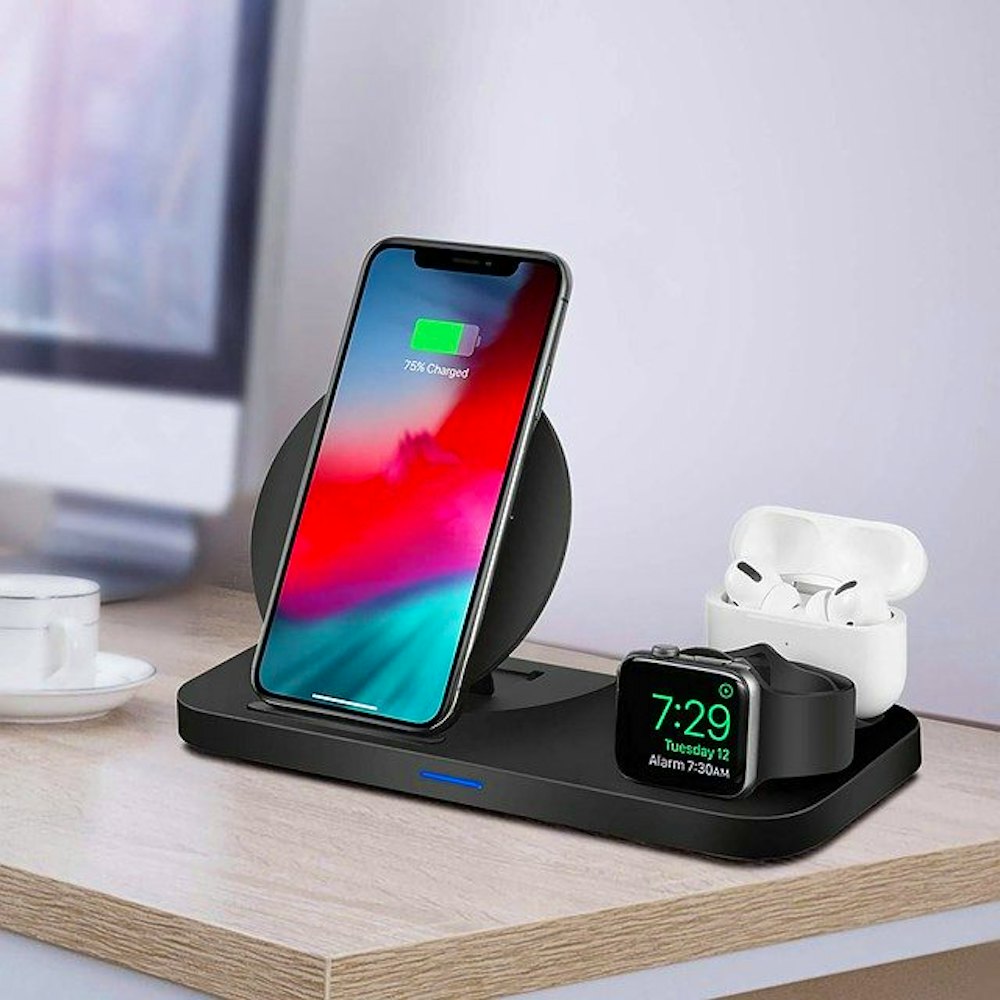 What Is a Wireless Charger?
A wireless charger is a device that enables you to charge up a phone (or another device) without having to plug the item in.
Chargers of this kind are available as pads, stands or multi-device units:
Pads sit discreetly on a table and the phone lies flat on them to charge – great for busy offices where you don't want passers-by to see your screen.

Stands support your phone in an upright position – perfect for those who use facial recognition or video calling.

Multi-device chargers can accommodate multiple devices at one – you might want to charge your phone and your Apple watch or Airpods at the same time, for example.
Why Use a Wireless Charger?
You might be wondering, what's the point of swapping your standard charger for a wireless alternative?
Here are our top reasons:
It is easier. There is no need to feel around in the dark finding a charger cable and potentially waking up a partner.

It is a safer way to charge your phone as you will never be in contact with exposed electrical connectors. You will also never again use your phone while attached to a wire.

Wireless chargers are aesthetically pleasing and will look good in any room.

No plugging and unplugging means less strain on your phone's charging port or the charging cable over time.

Depending on the charger you choose, you can potentially charge all of your devices (no matter what their manufacturer) with one charger, reducing the number of chargers and wires you will have lying around.
At the moment, a cable is usually the faster way to charge your phone, but with all the above benefits, a little less speed is easy to accept.
Important Features to Look For
Qi
The majority of chargers you come across will be 'Qi', which is good because Qi is the standard you need when it comes to charging any kind of iPhone.
The 'PMA' standard is more problematic and you'll have to do some research to ensure it will support your devices.
Make sure your phone has wireless charging capability before purchasing a wireless charger; the Qi standard has been adopted by many phone manufacturers, but budget and older models are unlikely to have it.
Note that some product descriptions won't specifically list the iPhone 8, iPhone 8 Plus and iPhone X in the list of devices the charger supports, but if it's Qi, it's highly likely it will be fine and, Apple wise, everything manufactured after those handsets supports Qi wireless charging.
Charging Speed
When reading product descriptions, take note of the wattage – you'll see, '5w', '10w' and '15w', for example, which refers to the charging speed.
Phones and other devices have a built-in charging limit – so, if you purchase a 15w charger but your phone is capped at 5w, the charger will still only charge at a rate of 5w.
You should choose a charger that best supports your phone's charging performance; to get the best performance, it's generally considered that you should go for a charger with a high wattage level, even if your phone is capped at 5w.
There are other anomalies to watch out for; some chargers are limited to 5w or 7.5w when paired with an iPhone, but support faster-charging speeds when paired with Android phones – so it's important to do some research into your specific requirements before you buy.
LED Lights
Does the charger feature an LED light on the front to show you it's working? Whilst this may be useful, some of the lights are so bright that they will disturb sleep – not so great if you're buying a charger to go on your bedside table.
Cable Length
Pay close attention to the length of the cable provided. The whole point of having a wireless charger is the convenience of having it in an accessible position; some chargers come with very short cables.
What's in the Box?
Some chargers don't come with everything you need. The majority of chargers plug into an adapter just as your phone would if you were using a cable to charge – common adapters include USB-C and MicroUSB.
Some chargers, however, don't come with the wall adapter itself. If you opt to buy a charger that doesn't come with a wall adapter, make sure you choose one that provides enough wattage (a 5w jack paired with a 10w charger will only charge at 5w).
Amazon listings are very confusing when it comes to wireless chargers. The more you search, the more you'll know what you're looking for but, essentially, if you find a charger that comes with a wall adapter and you already have something suitable, search again and you're likely to find the charger on its own a lot cheaper.
Everything Else We Looked At
It was difficult to select a top three out of all the chargers we looked at – there are so many on the market and many of the mid-range options are on a par with each other.
Here are some of the other options we looked at: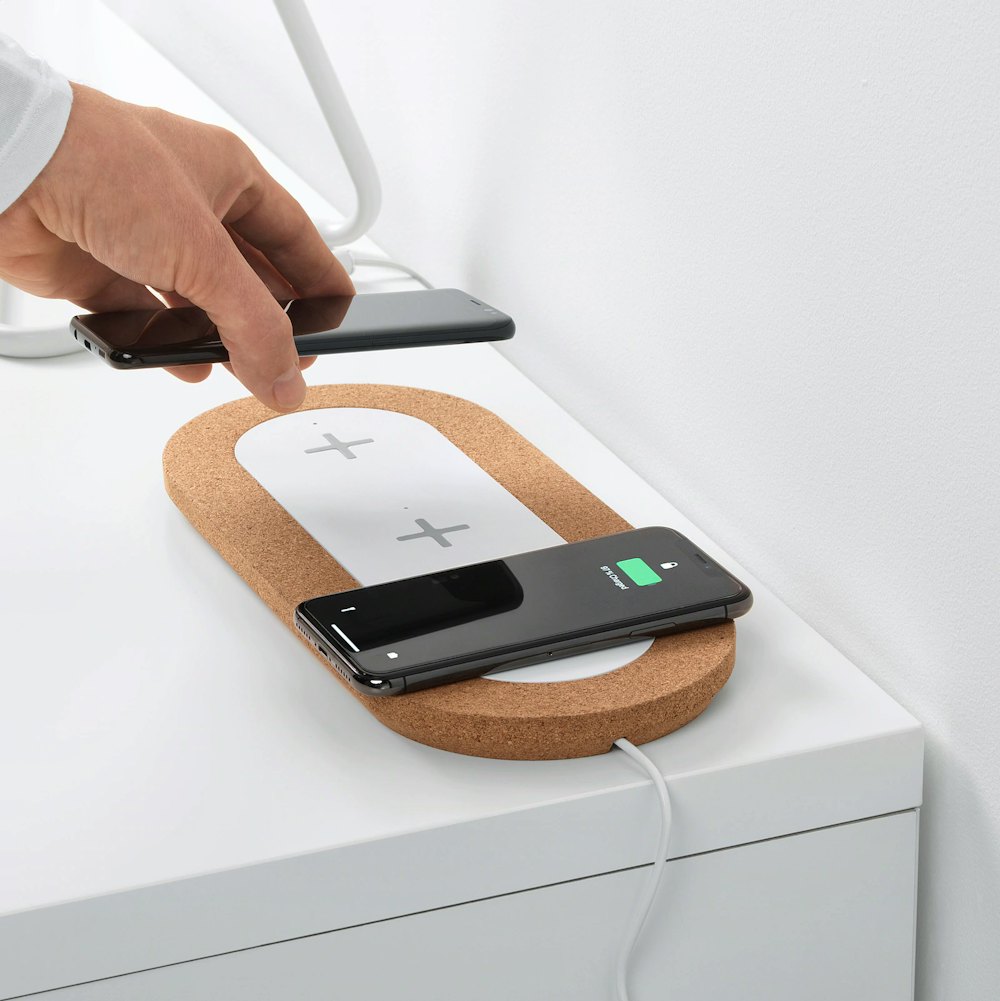 Price: £40 from IKEA
IKEA manufactures a range of wireless chargers which all have a simple design and can be embedded into a piece of IKEA furniture.
The NORDMÄRKE Triple Pad can charge four phones – three wirelessly and one via a USB port on the side.
We loved the look of this charger. The plastic inner and synthetic rubber spacer have an attractive cork surround – however, this may not be particularly practical when it comes to keeping it clean.
The charger is not USB-C compatible and a proprietary jack is included. The cable is a good length at nearly two metres.
Charging is slow with this device, maxing out at 5w. The other downside is that it's not easily available anywhere other than IKEA itself, so you could be looking at a hefty delivery charge if you're not in the mood for meatballs.
Still, if you're a seasoned dinner party host or have a house full of teenagers, this pad could be a great addition to a piece of furniture in a prominent place.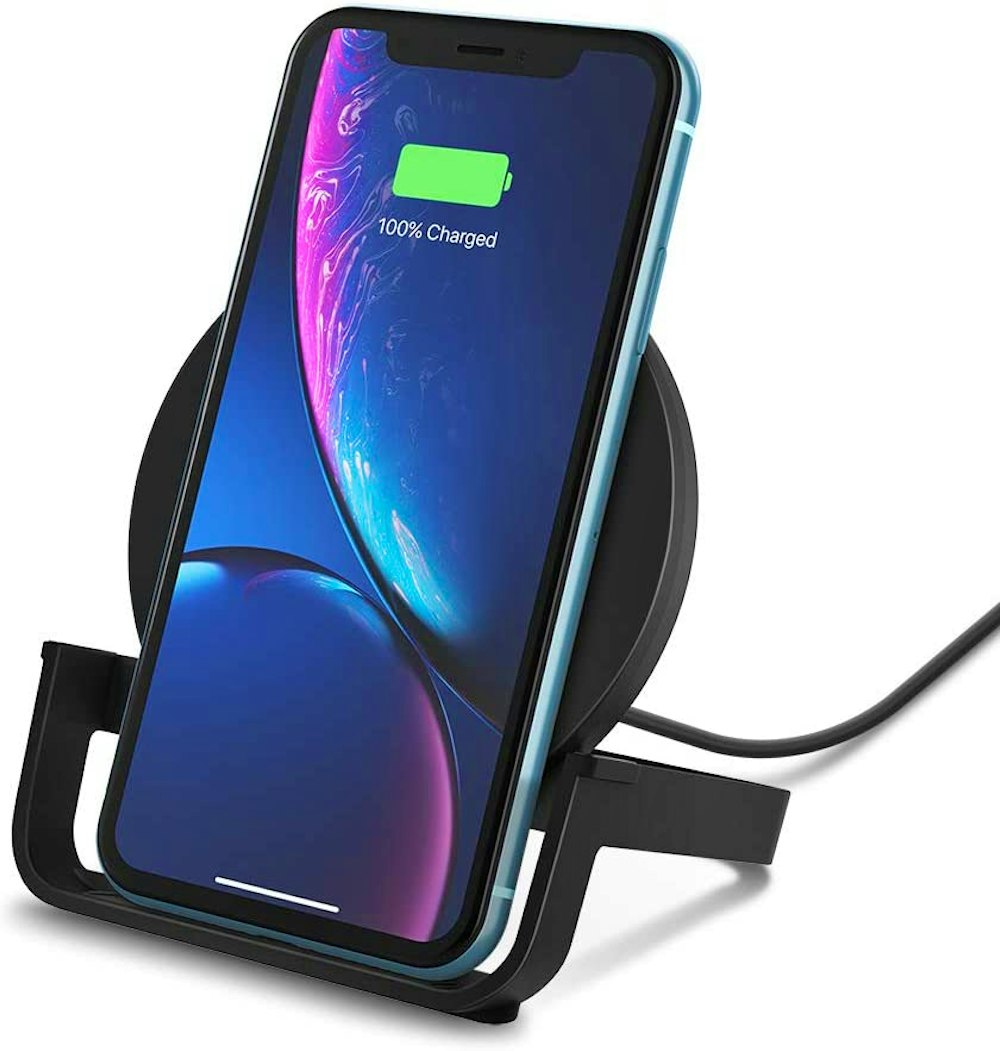 Price: £24.99 from Amazon
Design-wise, this charger is a cross between some sort of sci-fi satellite dish, and an old school stand for your Nokia 3210. Some will love it, some will hate it – but it's much sturdier than it looks and you can place your phone in a portrait or landscape position with ease.
In terms of performance, you can't go wrong. It can fast-charge at 10w thanks to a quick charge adapter which is included, and output isn't impacted by a phone case as long as it's thinner than 3 mm.
It comes with a 1.2-metre cable, which is good because it's a great stand for using when watching films on your phone, so the length gives you the ability to get the right positioning.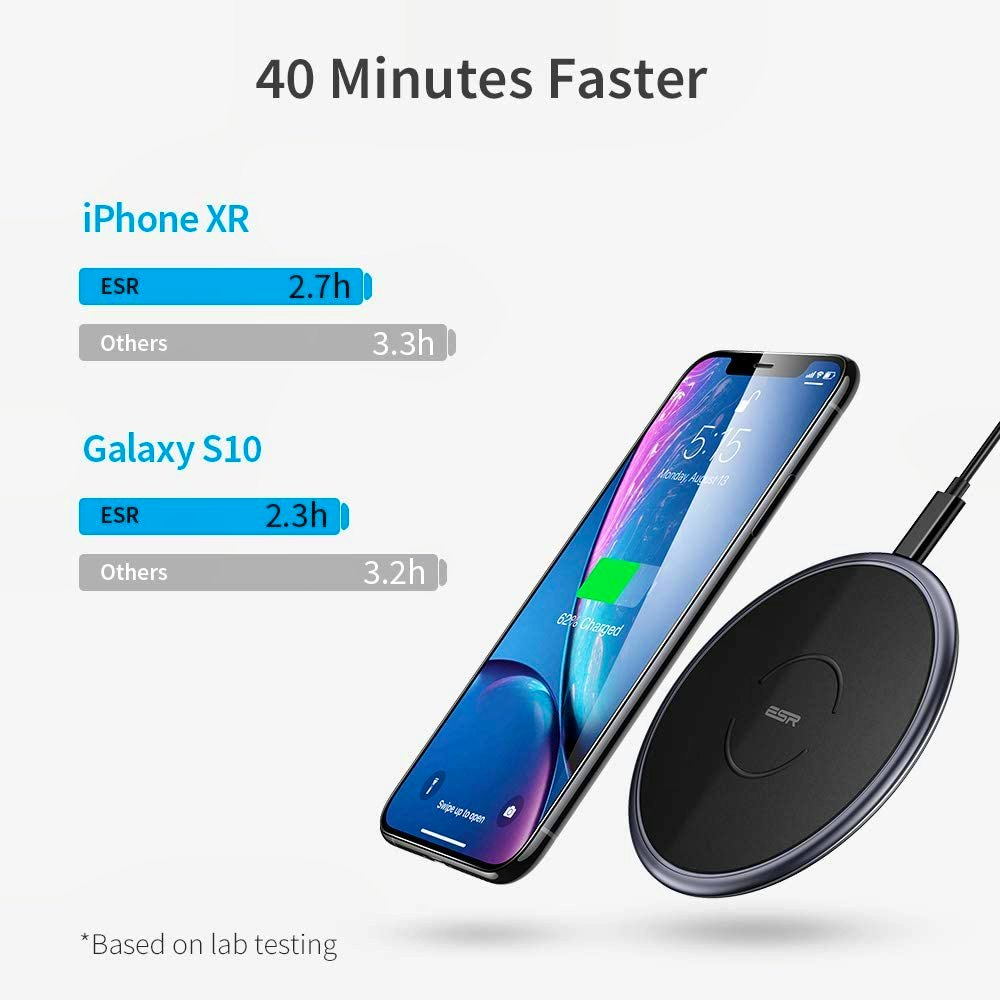 Price: £14.99 from Amazon
At a slender 5.5 mm thick, and available in pink and blue as well as the standard black and white, this charger offers style, practicality and performance.
It's capable of 10w fast charging but it doesn't include an adapter; there's an additional cost for that. Still, that doesn't seem like much of a negative when the charger itself is only £14.99 on Amazon.
Special attention has been paid to making sure this device doesn't overheat; an aluminium alloy frame is designed to dissipate heat in a way plastic can't.
We were relieved that the flashing LED light turned off after a minute to avoid disturbing sleep. However, that means you have to rely on your phone battery icon to reassure you that the phone is positioned correctly and is charging.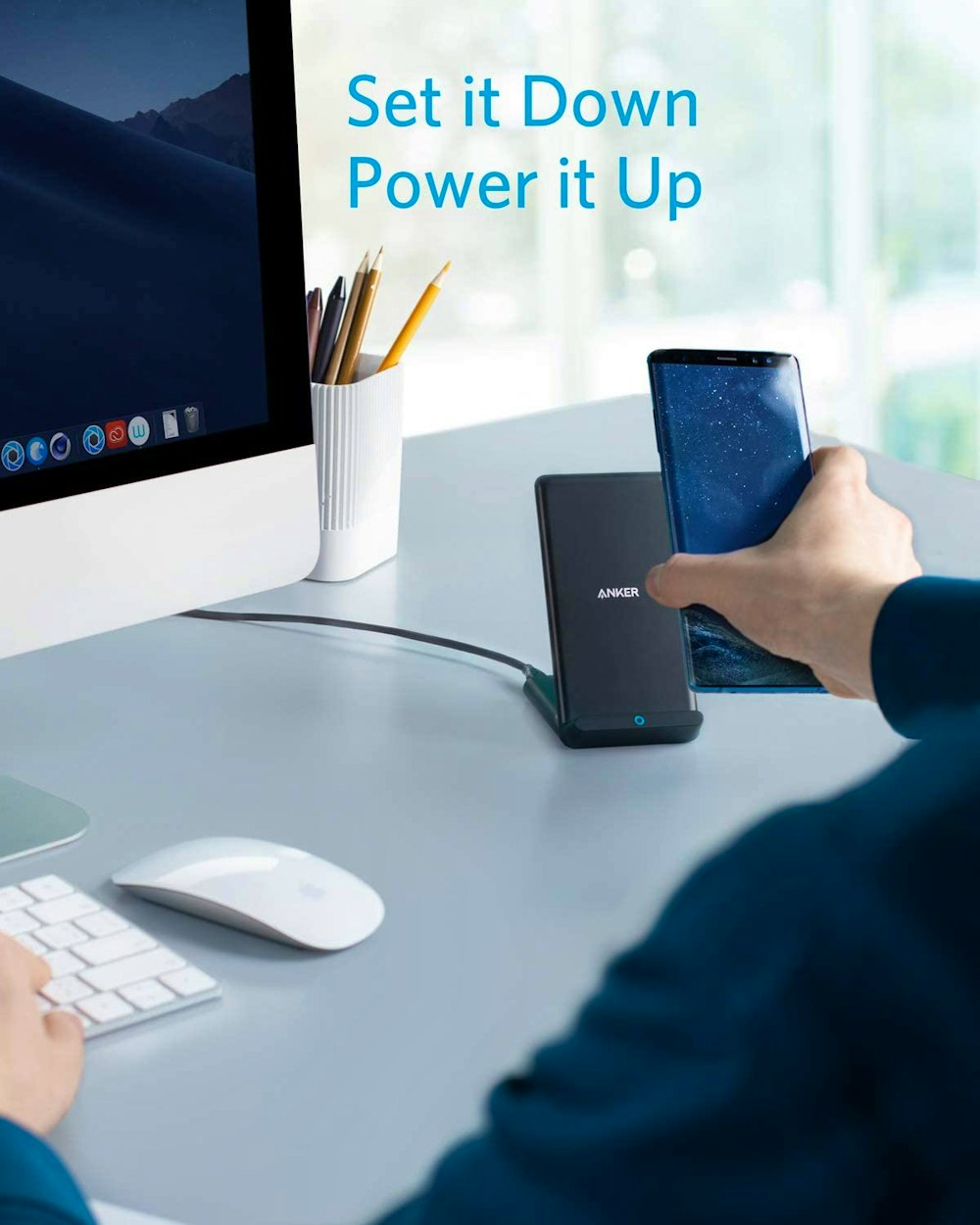 Price: £17.99 from Amazon
This charger isn't trying to be something it's not, and that's quite refreshing. It's a cheap option that will suit a lot of users who simply want a stand to charge their phone overnight, or to have on their desk throughout the day.
It has 10w fast charge potential but it doesn't come with a wall plug, so a QC 3.0 adapter is required to get the most out of it.
However, unlike many other chargers on the market, this device comes with a standard 90 cm USB cable. Therefore, if you're not concerned with getting a fast charge, you could just plug the USB cable into your computer, or a standard USB wall plug.
The stand is positioned at a steep angle which we found useful for video calling; phones can be positioned in a portrait or landscape position. It has rubber grips on the bottom to keep it still and it feels fairly sturdy.
You can charge happily with a 5 mm case on your phone and there's no stone left unturned where practicalities like anti-overheating and metal detection technology are concerned – it really is a little cracker for the price.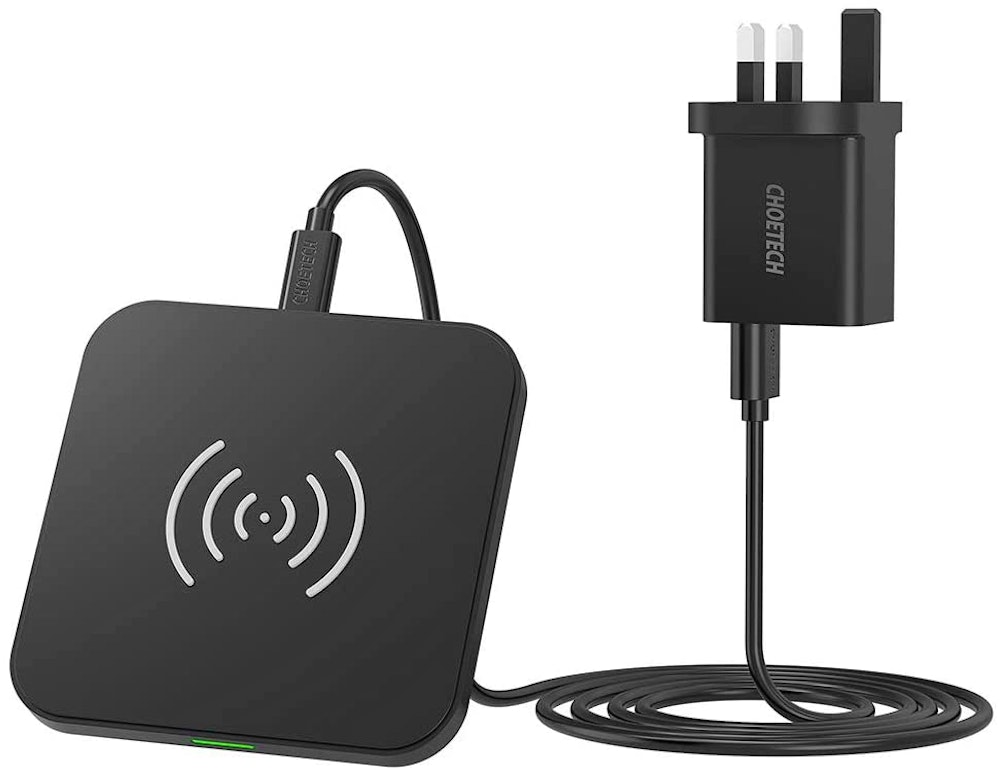 Price: £16.99 from Amazon
The T511 is the perfect charger for those who put safety and functionality over style – which is not a bad thing when it comes to a phone charger. That said, you can choose from five different colours on Amazon if you don't want the bundle with the QC adapter, so it can still please the style-conscious.
On first glance, it looks like the abstract icon on the front is just aesthetic, showing you where to put your phone. Actually, the design is raised rubber that will grip your phone beautifully, stopping it from sliding off.
As well as Qi-enabled phones, this charger is compatible with AirPods 2 and AirPods case.
There are a lot of plus points to this device considering the low cost and it's a great starting point for anyone entering into the world of wireless.