Modern computer design is all about size and weight. That's great if you're regularly travelling and taking your laptop with you, but what about connectivity?
Although we are living in a wireless world, there are still a multitude of devices that may require a USB port.
With this in mind, we review the best USB hubs and look at which products offer great value for money.
Our Pick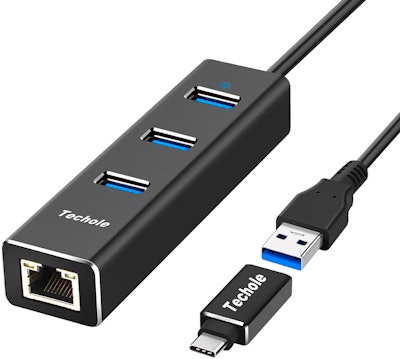 With three USB 3.0 ports and an Ethernet connection, the Techole Aluminium USB Ethernet Adaptor Splitter is a small device that will easily allow you to add a few devices to your laptop or computer.
The adaptor is data transfer only, it's not something that you can use to charge your devices, but it works well to transfer large data files in seconds.
The ports are well laid out; as it is a vertical charger, you do not need to worry about desk space.
It also has LED indicators – green to show connectivity and green/yellow to show data transfer.
The aluminium casing made the product feel far more expensive than it was, and the inclusion of a three-year guarantee offers peace of mind at a low price.
What set this product apart from other similarly-priced adaptors was the inclusion of a USB Type-C adaptor.
This means that the product can be used for devices with Type-A and Type-C connectivity.
In our view, this meant that the product had added value for money and would be a welcome addition in any business or household.
Runner Up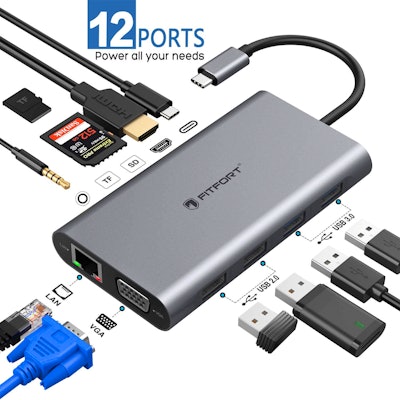 With a wide range of built-in ports, the Fitfort USB-C Hub Multiport Adapter ensures that you can add in everything that you need whilst still keeping your desk looking tidy.
We were impressed with the compatibility of the product; the adaptor easily works on Apple, Asus, Dell, Lenovo, Microsoft and HP computers. It also works on a range of Android smartphones and tablets.
We were also impressed with the wide range of ports included within the adaptor. In just one product, you can find the following:
USB 3.0 (x 2)
USB 2.0 (x 2)
Ethernet RS45
SD & RF Card Reader
4K HDMI
Audio & Mic
VGA
USB Type-C for charging devices
It's certainly an impressive list. We felt confident that the product would be able to carry us through with pretty much any gadget that we could think of.
The adaptor offers fast speed data transfer and with a superfast gigabit ethernet port available, it felt reassuring that if something happened to our Wi-Fi connection, we would easily be back online seamlessly.
Another positive aspect of this adaptor was the aluminium outer shell. With so many ports working simultaneously, we expected the device to overheat quite quickly.
However, thanks to the aluminium design, the adaptor was able to offer better heat dissipation and ensure safe use.
There was so much capability within this small adaptor that we felt it was particularly suited to small businesses who may be looking for a one-size-fits-all product, allowing them to be flexible with their needs.
Also Awesome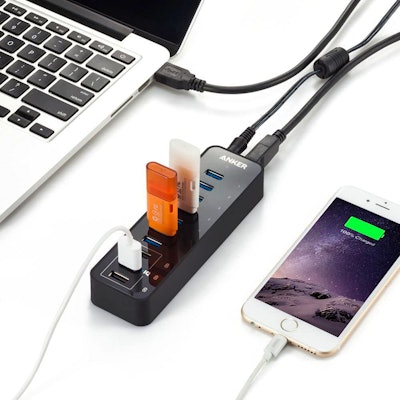 With the Anker 10 Port 60W Data Hub, Anker promises high-speed data transfer of up to 5 Gbps, and it's hard to argue with this as we were easily able to transfer large files to our laptop quickly and easily.
We appreciated the intuitiveness of the product; thanks to the 3 PowerIQ ports, it can easily detect optimum charge speeds.
This meant that we trusted that the product was working as effectively it could be.
Unlike the Anker PowerExpand+ 7 in 1 USB adaptor, this product offers vertical connections. This may seem superficial, but it makes it far more attractive and saves space because your chosen devices won't need to be fanned out across your desk.
It doesn't have the variety of ports that can be found in other products, this is simply a USB 3.0 port hub, but it works well and does the job that it should.
If you are looking for something simple, then we would highly recommend this product.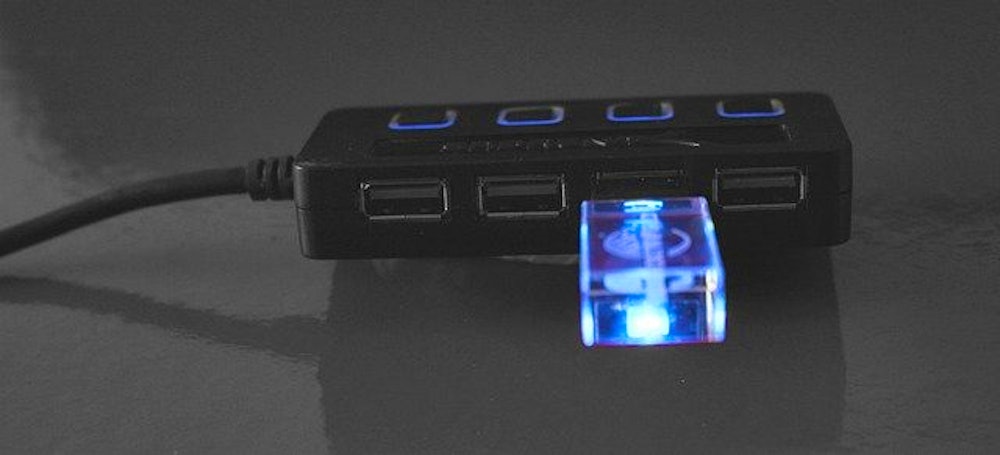 What Is a USB Hub?
Typically, most computers may only feature two or three USB ports, which could be located in hard-to-access areas.
Although many computer manufacturers may believe that we operate in an entirely wireless world (some lighter laptops come with just one USB port as standard), there are many reasons why you may need additional connectivity.
A USB hub is a handy little gadget that allows you to plug in several devices into your laptop or computer. For example, you may need to plug in your printer, your mouse, your keyboard or even an external hard drive.
But before diving in and buying the cheapest option you can find, it's beneficial to spend some time researching the different powered USB hubs to ensure that your device or computer is working as effectively it could be.
What Is the Difference Between USB-A and USB-C?
The first thing you need to consider is what type of USB device you may need.
As technology has progressed, so too has the type of connector that we use.
Traditionally, USB-A was considered the standard USB connection. However, it was big and bulky. The size meant that connections needed to be large, which limited the ability to reduce the size and weight of laptops and computers.
In recent years, USB-Cs have taken over in popularity.
USB-Cs offer faster download speeds, better audio and improved power connectivity than traditional USB ports.
These connectors are much smaller than the USB-A. They have a much smaller physical connector which is approximately a third of the size of the traditional USB-A port.
This means that more devices are choosing to incorporate USB-C plugs as the new standard connection.
Are There Any Other Types of USB Hub?
If you're not a tech-fan, it can be hard to keep up to date with the different types of USB available on the market.
Here is a handy little glossary to help you understand the different terminology:
| | |
| --- | --- |
| USB Type | This is a catch-all terminology. It can refer to either the types of connector at the end of a USB cable, the ports that the cable can plug into or the cable itself. Sometimes, the type may refer to the specific size and shape of the connector. |
| USB 3.0 | This is the third variation of the standard USB port. It is often referred to as a SuperSpeed USB that can transfer data at up to 5 Gbps. This is approximately 10 times faster than the USB 2.0 standard |
| USB – Type-A | USB Type-A is the most common variation of USB port and connector. They are typically used by all devices including laptops, computers, TVs, games consoles, DVD and Blu-ray players, and memory sticks. |
| USB Connectors | Typically, a USB connector is 'male' and will plug into a 'female' port. |
| USB Type-A Mini | These mini connectors were originally designed to allow devices such as smartphones or tablets to work with keyboards and mice. |
| USB Type-B Mini | This is an updated version that has taken over from Type A Mini. Generally, these connections are found on devices such as digital cameras, external hard drives and USB hubs |
| USB Type-A Micro | These are connections that can be found on smartphones and tablets. These are outdated and are rarely seen in modern technology. |
| USB Type-B Micro | These took over from the Type A micro. This is the sort of connection that is commonly found on Android devices as the standard charging port. |
| USB – Type B | These are USB ports that are larger than the Type A plug. You may find these on larger gadgets such as printers, scanners or external storage devices. Most USB Type B cables will have a Type A connection at one end, allowing you to plug your device into your laptop or computer. |
| USB – Type C | This is the newest type of USB connection. It offers faster speeds, better audio and is a smaller connection, making it an ideal standard for newer, lightweight computers and devices where space is at a premium. Type C can be used with mini-USB ports. |
What Devices Can Work With a USB-C Hub?
If you are looking to invest in an external USB hub, you must first consider what you plan to plug into the new external socket.
As we've just referenced, different types of technology use different USB connections. Some connections may be based on age, others may be on size or type of device.
Some USB-C connections are merely about power charging, whilst others are also used to transfer data.
For example, you may want to ask yourself if you are planning to merely charge your phone battery or if you want to upload your photos and videos from your phone to your computer via your USB hub?
It's important to understand the distinction and you should include this within your research when choosing an external hub.
Broadly speaking, the following devices can plug into a USB-C hub:
Modern desktop and laptop computers
External battery packs and power adapters
Smartphones and tablets
Wireless mice, keyboards and speakers
Smart home devices
It should be noted that not all Apple products fit into a USB-C connection.
What to Look for When Purchasing a USB Hub
If you know what type of connection you need and how you plan to use it, you can start shopping for your USB hub.
To help you narrow your choice down, here are a few things to think about:
What Are You Trying to Connect?
As we mentioned earlier, different gadgets and devices have different types of USB connections.
In newer computers and laptops, manufacturers are increasingly reducing the number of connections to aid style and weight. For example, many laptops don't have ethernet connections.
Therefore, think about what types of connections you need on your USB hub. Do you need Type-A ports or Thunderbolt ports? Are you trying to use a USB simply to provide power capabilities or to transfer data? This will impact your final choice.
Amount of Ports and Port Spacing
How many ports do you think you'll need?
This is a personal choice. Some may want something small and easy to store when not in use, whilst others may be looking for a heavy-duty hub that can incorporate a wide range of connection types.
The number you choose will impact the price; a smaller four-port dock will be much cheaper than a larger hub.
You should also consider the spacing between ports; if you can't fit your plugs in comfortably then you won't be able to make use of its full capabilities.
Dedicated Power
Does your hub have its own power connection?
You may think that it will easily run off the battery power from your laptop but unfortunately this can cause significant IT issues, especially if each port on your hub is being used.
Let's imagine that you have a seven-port USB hub running via your computer battery.
If each of the seven ports is running an additional device, then that is seven distinct devices operating on the power of just one.
It shouldn't be a surprise if this causes your computer to crash and burn.
If you are purchasing a USB hub for continual use then you need to think about choosing an option with its own distinct power connection.
LED Indicators
Some USB hubs have LED indicators. These are useful because they can tell you if a connection is working or not.
If you have a large hub with multiple connectors and you discover a fault, it can be handy to know if it's just one port that is broken or the entire hub.
Reliability
You may want to think about how reliable your gadget is – will it always work when you need it?
Read customer reviews to see what other customers have to say about your chosen product.
Size/Portability
Many people choose to invest in USB hubs because they need something extra when they travel.
It's a reason why smaller, four-port hubs are popular; they are often used by travelling business people who may need to have a portable external drive.
Think about the size and weight of your hub; is it going to add weight when you travel or be cumbersome on your desk when it's in use?
You should also consider the location of each port. We recommend ports that incorporate vertical connections; that way, the various devices that you connect will not fan out and take precious desk space.
Transfer Speeds
If you are using a USB hub to transfer data from your external device through to your laptop or computer, how quickly will the data move across?
If you are transferring large amounts of data, you need to be confident that your USB hub has the processing capability to do so easily.
Warranty
How long is the warranty on the product? If you are investing in an expensive product, the aftercare and customer service should be a key factor here.
Everything Else We Looked At
To help you in your research, we've taken a look at some of the most popular USB-C ports available on the market. Here's a quick overview: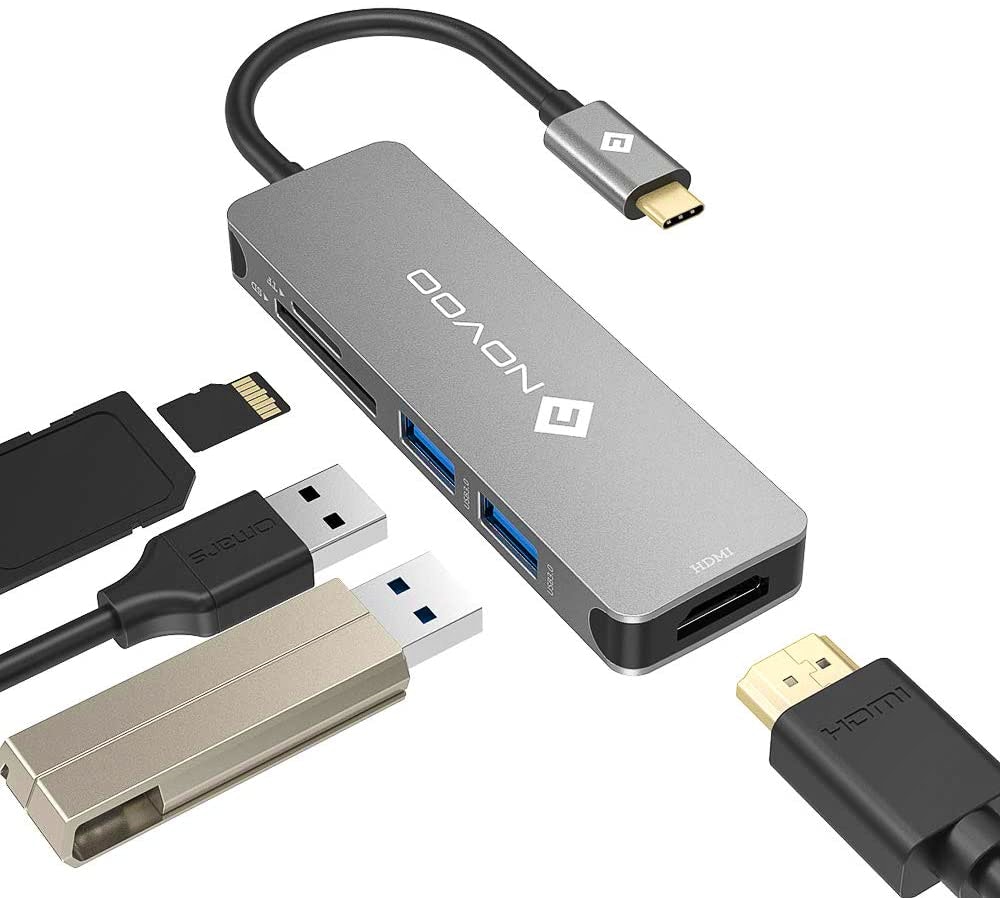 RRP: £19.99
As a more budget option, we were unsure what to expect from this adaptor. However, we were pleasantly surprised by its capabilities when transferring images to TVs or projector screens.
With a 4K Ultra HD resolution, the processing power was sharp.
There is good compatibility; it can be used with any laptop with a USB-C connection including Mac/MacBook, Huawei Matebook & Huawei Mate 10 Pro, Lenovo Yoga 900/910 & ASUS Zenbook 3, and HP Spectre X360, HP Elite x 2 1012 & HP TPN-Q178.
However, it should be noted that it can't be used with Samsung devices.
There are five ports available, including 2 x USB-A 3.0 ports (support maximum current up to 0.9A, data transfer rate up to 5 Gbps), 1 x HDMI Port, 1 x SD Card Slot and 1 x microSD/TF card slot.
This means that there are plenty of choices available, but you may find that if you're looking for something specific, you may require an additional USB port which has greater variation available.
Another thing to consider is that we were unnerved by how hot the product gets during long-term use; in fact, the manufacturers make it clear that when used for prolonged amounts of time, the shell can get as hot as 52 degrees.
In our view, this product is better for short-term or temporary use rather than something which will be used continuously.
For the price point, it's an effective entry-level adaptor. We felt it could be better used by students or those carrying out short pieces of work rather than businesses requiring a more sophisticated product.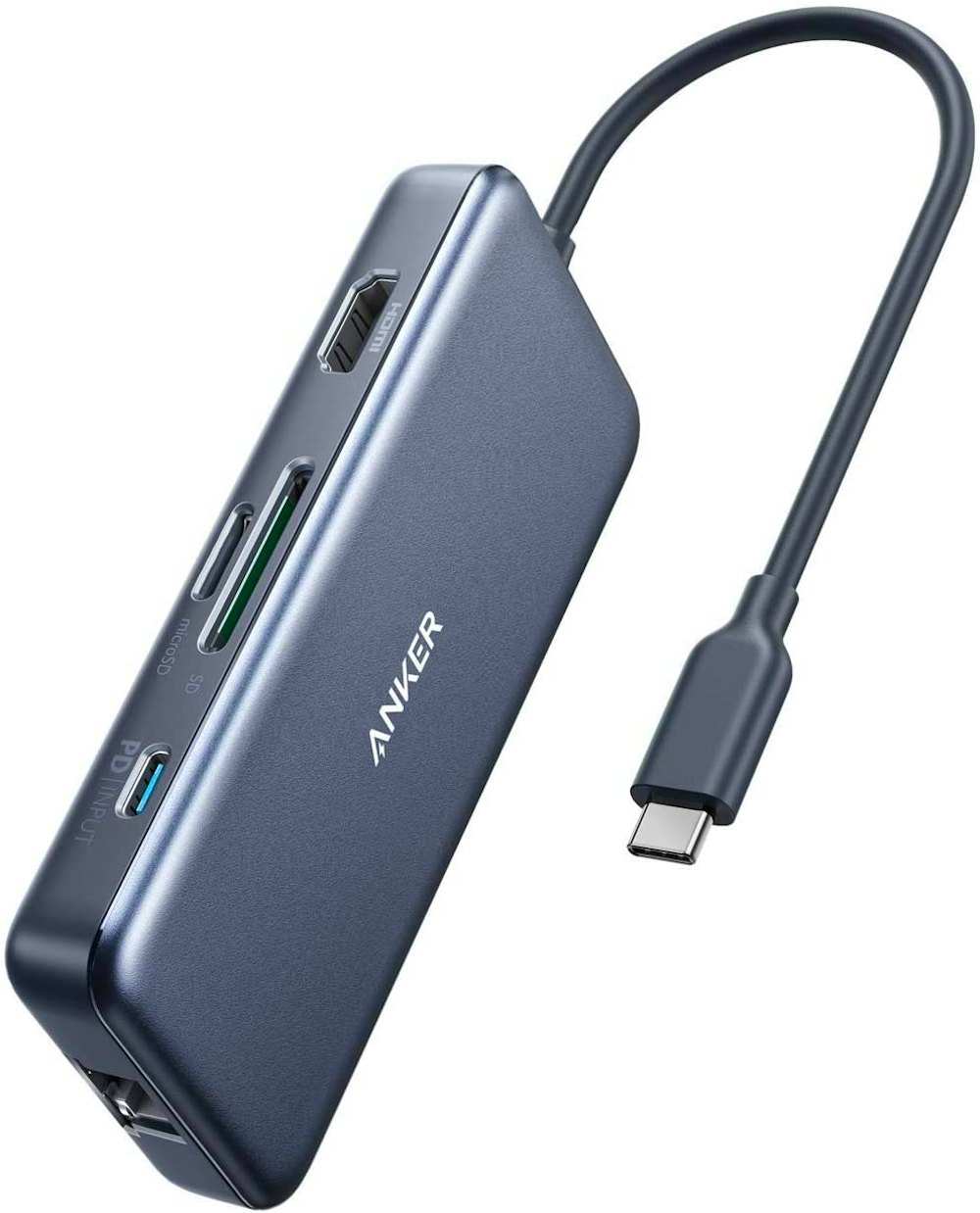 RRP: £36.99
This is a good mid-price product that has effective functionality as well as usability.
With seven different ports available (including 2 x USB 3.0 ports, Ethernet, HDMI, MicroSD card, SD card and power delivery), it has almost everything that you would need, at an affordable price.
Functionality wasn't compromised; with an external wall power adaptor, it felt safe to use for continuous lengths of time.
The 4k UHD streaming and ethernet port connectivity means that it's a great travel item; for those who need to make presentations or travel for work, this is a handy little device that is likely to have everything that you need in one place.
However, it does fall down in terms of compatibility. It's predominantly designed for MacBook so if you are working on a Windows-based system, you may find limitations. It also isn't suitable for pass-through charging of tablets or phones.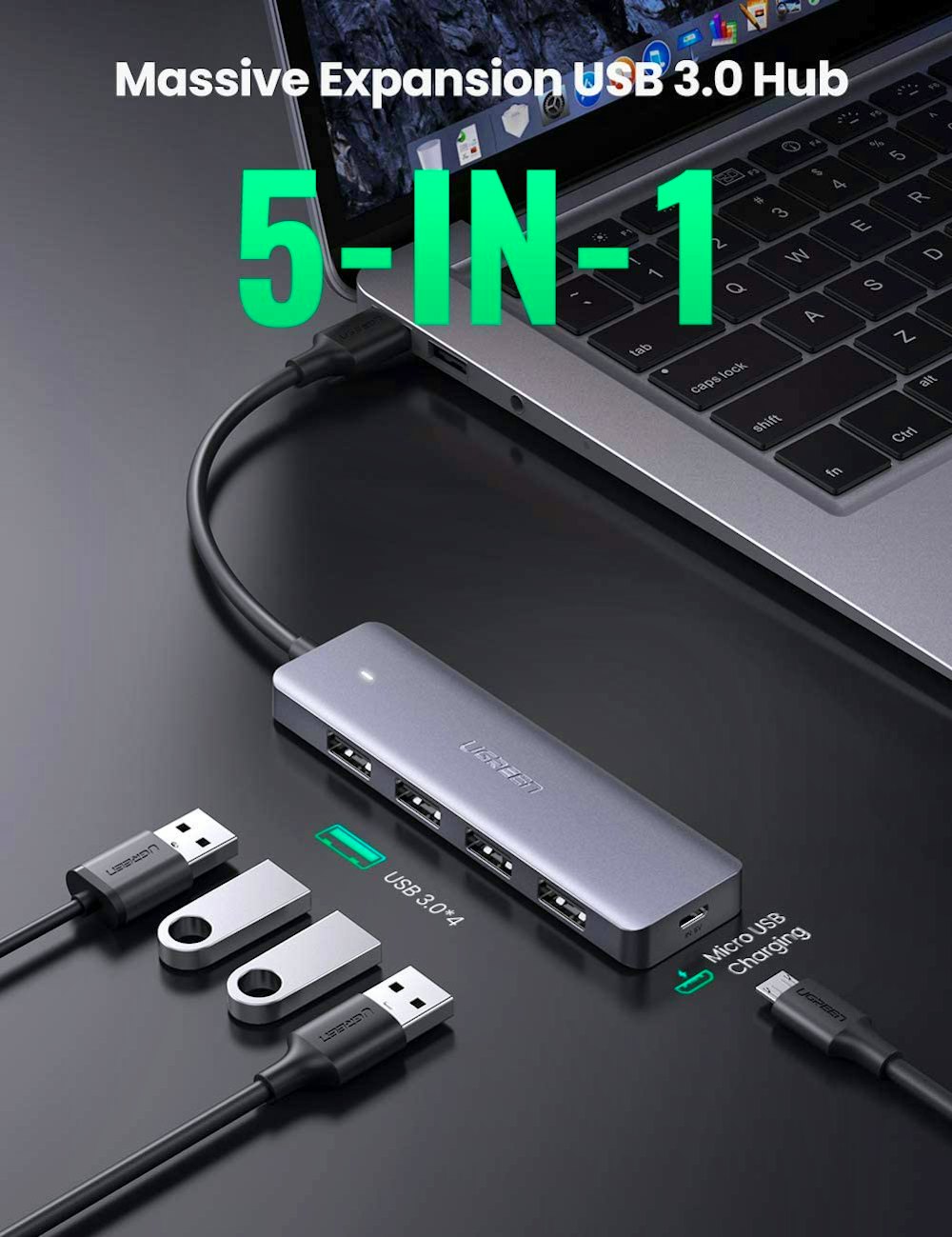 RRP: £13.99
We know that not everyone needs a high powered USB hub; some people prefer to have something simple and affordable.
For those people, the UGREEN 4-PORT USB hub is a great choice.
It only focuses on USB 3.0 ports, so it is lacking in variation, but if you just need one small space to be able to plug in a mouse, a keyboard and possibly a printer, then this will do the job nicely.
This product is a great choice for home users; the affordability and ease of use is testament to this.
As a USB 3.0 port hub, it can transmit data at up to 5 Gbps, allowing you to easily transfer videos and high definition movies in seconds.
We like the LED light display which tells you which port is currently working, but we felt that the cord length could have been a bit longer.
At only 16 cm, at times it felt like we wanted to push it away to make room on the desk. But that's a minor niggle and something which others may not mind.
Another issue we found was that the USB ports are close together; it took a bit of jiggling to be able to use all four ports simultaneously.
However, if you are looking for something to use in a low-key way, and you're more concerned by affordability than something which has all the bells and whistles, this could be a good choice.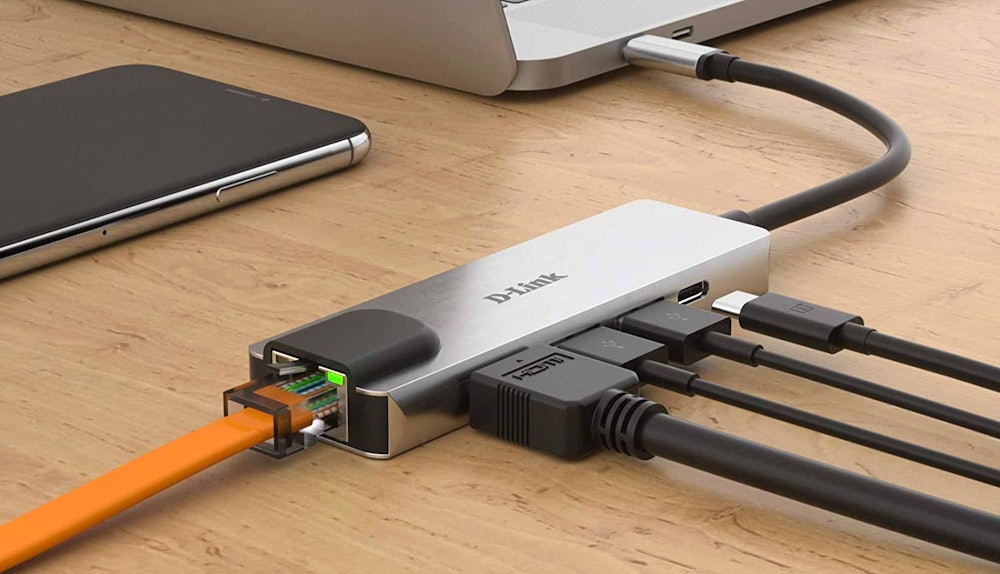 RRP: £57.99
This is an effective product for helping you to update your computer systems at little cost.
Perhaps you need higher speed internet connectivity, or want to add in a second computer screen – this handy little gadget will let you do that, and more.
Like other USB hubs, the D-Link DUB-M520 5 in 1 allows you to make the most of USB 3.0 ports, offering high-speed data transfer.
The power delivery feature means that you can charge your devices whilst simultaneously using them; allowing you to work easily and effectively.
The HDMI port allows you to transfer 4K UHD images to another TV or screen, and we liked the 'plug and play' convenience. It was simple to use yet provided everything that we hoped for.
Although we enjoyed using this product, we felt that we preferred the Fitfort USB-C Hub Multiport Adapter, which, at just £10 more, offered considerably more functionality.
This is a good, solid product and is carefully thought through, but we felt that other products may be better value for money.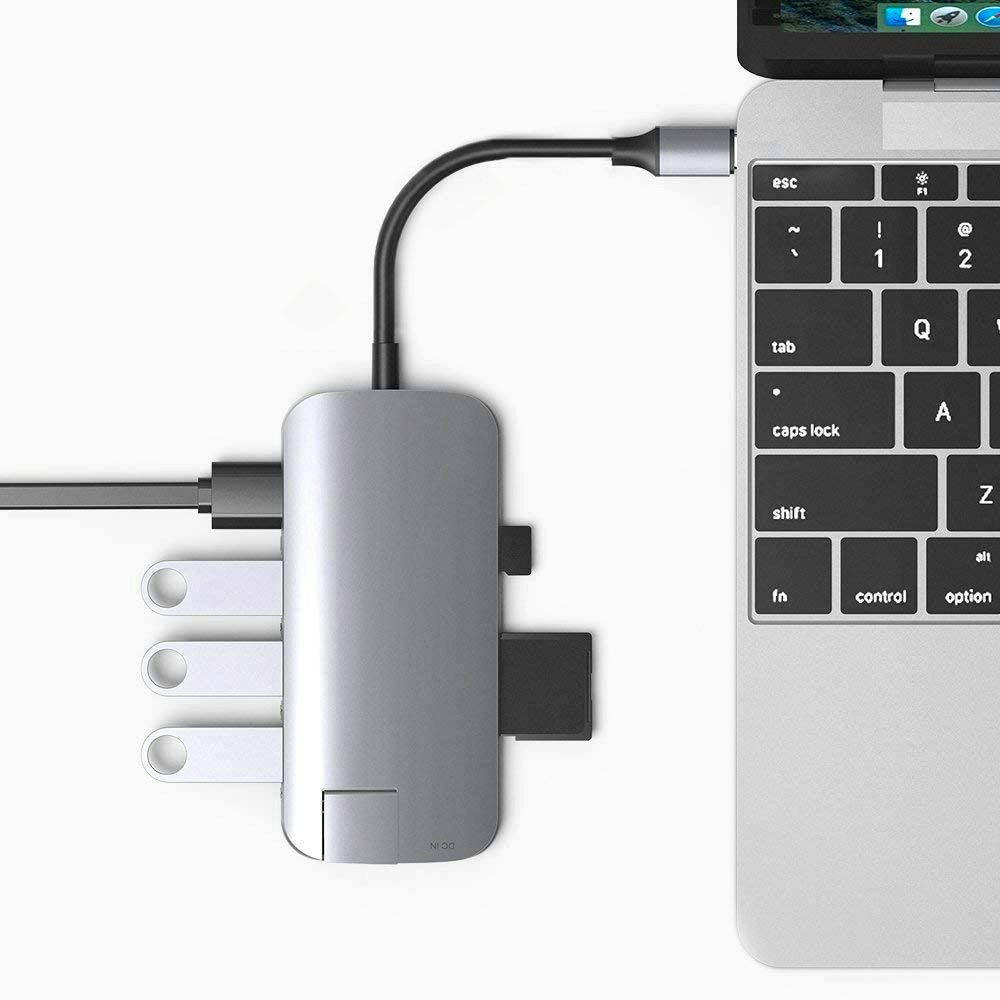 RRP: £43.99
As an 8-in-1 adaptor, the VAVA USB-C Hub offers more variety than some of the other products that we tested, within a mid-range budget.
Users can choose between an ethernet port, a charging port, an HDMI port, an SD card reader, a TF card reader and 3 x USB 3.0 ports, giving great choice and functionality.
The hub is compatible with both Mac and Windows, giving peace of mind that this is an adaptor for everyone.
For such a large adaptor, we would have liked to have seen an external wall charger included within the pack.
However, the aluminium casing has been designed to disperse heat carefully, easing any concerns we had about overheating when using the 8 ports simultaneously.
In our view, if you want a product that has flexible functionality but you have a mid-priced budget, this is a great choice. It offers everything that you need without breaking the bank.
At a Glance Comparison
Choosing a USB hub can be quite technical so we've comprised a handy comparison guide to help you compare the different types of USB hub:
| Product | Price (RRP) | No. of Ports | Port Types | Power or Data Transfer | Product Features | Warranty |
| --- | --- | --- | --- | --- | --- | --- |
| UGREEN 4-Port USB 3.0 Hub  | £14.99 | 4 | 4 X USB 3.0 | Data transfer | LED lights |   |
| NOVOO USB-C Hub 5 in 1 Aluminium with HDMI 4K Adapter | £19.99 | 5 | 2 x USB-A 3.0 port (support maximum current up to 0.9A, data transfer rate up to 5Gbps); HDMI Port (supports video resolution up to 3840X2160P/30HZ, backward compatible with 2K/1080p/720p/480p/360p); SD card slot; MicroSD/TF card slot | Data transfer |   | 1 year |
| Techole Aluminium USB Ethernet Adapter Splitter | £25.99 | 3 | 3 x USB 3.0; Ethernet | Data transfer | Aluminium shell – designed to dissipate heat evenly; built-in surge protection | 3 years |
| Anker USB-C Hub, PowerExpand+ 7-in-1 USB-C Adapter | £36.99 | 7 | 2 x USB 3.0 ports; Ethernet; HDMI; MicroSD card; SD card; power delivery | Data transfer | External wall charger; carry pouch | 18 months |
| Anker 10 Port 60W Data Hub | £39.99 | 10 | 7 x USB 3.0 ports; 3 x PowerIQ Charging Ports | Both | External wall charger; LED lights | 18 months |
| VAVA USB-C Hub 8-in-1 Multiport Adapter with 4K HDMI Port | £43.99 | 8 | 3 x USB 3.0; 1 x Ethernet port; 1 x 4K HDMI port; 1 x SD card reader; 1 x TF card reader; 1 x Type C PD charging port | Both | Aluminium shell – designed to dissipate heat evenly |   |
| D-Link DUB-M520 5-in-1 USB-C Hub with Power Delivery | £57.99 | 5 | 2 x USB 3.0; 1 x USB-C; Ethernet; HDMI | Both |   |   |
| Fitfort USB-C Hub Multiport Adapter | £69.99 | 12 | 2 x USB 3.0; 2 x USB 2.0; Ethernet RS45; SD & RF card reader; 4K HDMI; Audio & Mic;  VGA; USB Type-C for charging devices | Both | Aluminium shell – designed to dissipate heat evenly | 2 years |
Final Thoughts
Our research has shown us that to find the best USB hub for your needs, you need to think carefully about what you plan to use it for.
Your biggest consideration is whether you require something which allows you to transfer data or something which can be used to charge devices (or both).
As technology develops, you will find that more adaptors are USB-C; these are designed to allow faster transfers as well as smaller connection points.
If you're working from an older laptop or tablet, you need to feel confident that your new adaptor will be compatible.
If you only seek a USB hub to allow you to plug in a mouse or keyboard, then we would recommend investing in an affordable option such as the Techole Aluminium USB Ethernet Adapter Splitter.
It had everything that we were looking for (such as vertical connections and LED indicators) and had the bonus of the ethernet connection and USB Type-C adaptor. It offered great value for money.
We were interested to discover the variety of ports available on the USB hubs we reviewed and it appears that there is no standard choice of ports. Each product differed in functionality.
That is why we highly recommend the Fitfort USB-C Hub Multiport Adapter.
Although it was our most expensive product – with 12 ports available, it had everything that you could need in an adaptor.
The ports were carefully thought through and it could be used for a variety of devices.