Mobile phones have become an extension of our lives; we pay for things with them, we rely on them when it comes to meeting up with friends, and we feel safe with them.
Being out and about and realising your phone battery isn't going to get you through the day can be at best just plain annoying, and at worst extremely unsettling or even dangerous.
USB battery packs or 'power banks', are small devices that hold battery power so that you can charge up your phone on the move without the need for electricity. They are also suitable for use with iPads, games consoles and even laptops.
Small and lightweight, USB battery packs are designed to fit into a pocket or handbag.
There's a wide range on the market – some are small but not mighty, some are very powerful but you'd be hard pushed to fit them in a pocket, and others are somewhere in between.
They vary in power, starting with 5,000 mAh, which is a single-use (will give you up to one full charge) power bank designed to get you through the day.
A 10,000 mAh device will be able to charge up your phone a couple of times over, making it great for short trips or getting you through a busy week where you're hopping from meeting to meeting.
A 20,000 mAh power bank won't fit in your pocket, but if you're frequently away from mains power for long periods or need to charge several devices at once, this is the power level you should be looking at.
Our Pick
On first glance, the iMuto 20,000 mAh power bank doesn't look like a USB battery pack that is going to deliver fast charging and a range of great features, but it's a fantastic mid-range option.
The two colour options completely change the look of this power bank. The white and pink model feels fun and the black colour model transforms the device, putting it on a par with other stylish models on the market.
It has a fantastic digital display that gives charge capacity as a percentage. It also has a built-in LED flashlight – we're not sure why, but it could come in handy when trying to connect a phone in dim light.
There are two USB ports which can charge two phones or gadgets simultaneously. Great, considering it's compatible with a wide range of other devices like Playstation controllers, Kindle, MP3 players, digital cameras and the Nintendo Switch.
It will charge almost all smartphones out there and has a combined output of 2.4 amps across the two ports. An iPhone 11 can be charged up 4.4 times before the iMuto needs to be recharged.
Size-wise, it's at the heavier end of the scale compared to other 20,000 battery packs – and it's 3 cm wide which, again, puts it in the bulky category compared to other models we've featured. However, it doesn't feel boxy and overly big – it's still comfortable to hold.
Runner Up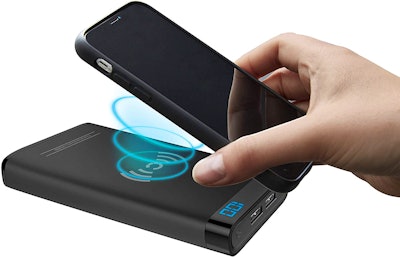 The Cygnett ChargeUp Swift Wireless is not the slimmest or trendiest of power banks, but the fact that it is long and thin with smooth lines means it doesn't feel bulky.
Offering wireless and USB charging, this isn't a power bank that's USB first with wireless as an afterthought – it has got Qi wireless charging so performance on that front is as good as you'd get on a mid-range wireless charger, giving iPhone and Samsung users 7.5 and 10 watts of fast charging respectively.
In addition to charging wirelessly, it has two 2.4 amp USB-A output ports and performs well when charging one device wirelessly whilst another charges via USB. It can charge an iPhone 8 a total of 3.8 times on one charge, or wirelessly 2.8 times.
The digital display is great on this power bank, giving users a percentage to show how much charge they have left. This display automatically switches off when not in use.
Also Awesome
This powerful 20,000 mAh, 4.8 amp USB battery pack supports high-speed charging and can give an iPhone 8 a full charge a whopping seven times before it needs recharging.
When it finally does run out of charge, it only needs 10 hours (with a 2 amp charger) to be back up and running to do it all again. The device has two USB ports and can give up to 2.4 amps per port, fantastic if you need to dual charge.
It comes in a range of different colours and includes a micro USB cable, but you need to buy a USB-C cable and lightning cable separately if you have an iPhone/iPad.
For such an impressive power bank, it's a shame it doesn't have a digital display to show you exactly how much battery power is remaining. Instead, it has four small LEDs.
For a 20,000 mAh power bank that's not much bigger or heavier than 10,000 mAh models, the price is brilliant.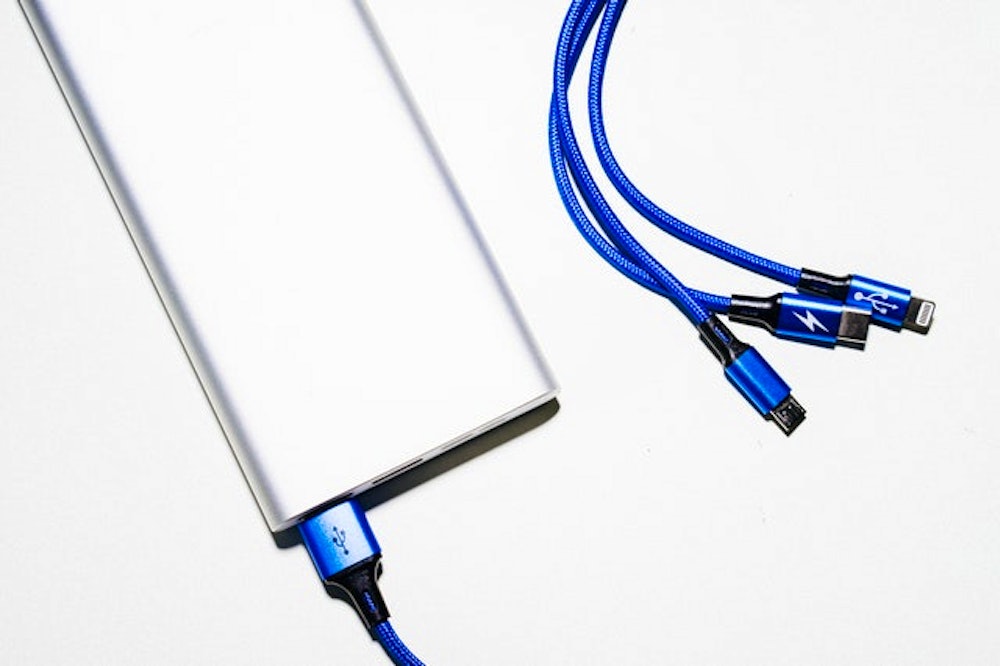 What Is a USB Battery Pack?
A USB battery pack – sometimes called a power bank – is a portable device that holds charge so you can use it to charge up your phone or other device when you don't have access to electricity.
Battery packs come in all shapes and sizes and have various features:
Multiple charging ports mean you can charge more than one phone at once via a wired connection for a single battery pack.

Wireless battery packs work in the same way as a wireless charger. Instead of being plugged in by a cable, a phone can just sit on the top to receive charge.

Solar battery packs can charge up using the sun's rays, so there's no need to have to go back to a wall adapter when the charge on the battery pack is low.
Why Do I Need a Battery Pack?
If you're away a lot with work, planning to go travelling or even just have an old phone that loses charge quickly, a USB battery pack will give you great peace of mind.
There's no danger of running out of phone charge when you have an additional device to keep your phone going for what can sometimes be several days.
On a day-to-day basis, they can be useful for business professionals in back-to-back meetings who find themselves left without charge for the boring commute home. Or to reassure parents that their children will always have enough charge to get in touch if they run into trouble on the walk home from school.
Key Features to Look at When Buying a USB Battery Pack
Capacity Rating
Power banks have a capacity rating listed on the back which indicates roughly how much power the device can hold.
Power bank capacity can be anything from 1,000 to 10,000 mAh (that's milliampere-hours – how the electrical capacity of small batteries is measured).
The higher the capacity, the more charge the power bank can hold.
Essentially, you should buy the highest capacity you can within your budget.
Technically, if your phone is 4,000 mAh, you should only need to have a power bank with 4,000 mAh capacity to get a full charge; but power banks don't operate at 100% capacity, so you'd want to go for something 6,000 mAh and above (they come in 5,000, 10,000 and 20,000 mAh).
Weight and Size
If you're looking to purchase a power bank, it's more than likely to be because you want something for when you're on the move.
For this reason, weight is a huge consideration; the last thing you want is to have a power bank that's heavier than your phone and feels bulky in your handbag or laptop case.
An iPhone 11 weighs around 194 grams, so aiming for a power bank under 300 grams is advisable to be sure it won't weigh you down.
Input and Output
When researching power banks, you'll probably come across information about input and output, you might even see some equations.
Input refers to charging the actual power bank itself. Some power banks take 12 hours or more to charge, so this is something you need to be aware of when purchasing.
If you're likely to be charging the power bank overnight then this won't be a problem, but if you are constantly on your phone for work and need to charge the power bank up again when you're in a meeting, a 12-hour charge won't suit.
The input charging speed depends on which wall charger you're using. Power banks support different inputs – 1 amp is common, but some devices support 2 amps. A wall charger that provides a 2 amp output will charge a power bank twice as fast as one that provides 1 amp, but the power bank must support 2 amps for this to be possible.
Output refers to the power bank's performance when charging a phone or other device. If a phone that charges with 1 amp is paired with a 1 amp output power bank, great. However, if that 1 amp output power bank tries to charge an iPad, for example, it will take twice as long.
Power manufacturers don't tend to publish the speed of output in watts – they use amps. To work out the rating in watts, multiply the amps by 5 (voltage rating).
For example:
2 amps x 5 = 10 watts
Digital Display
Many power banks out there show you how much charge is left by simply lighting up dots (or similar).
Unless you know your power bank inside out, this is a risky way of judging how much charge you have left.
Some models feature a digital display which tells you exactly how much charge is left.
Passthrough Charging Technology
This is built into some power banks. It allows you to charge both the power bank and connected devices at once, via one wall adapter.
Cables, Cables, Cables
Pay close attention to which cables are included with the power bank, and if there aren't any, pay close attention to what the manufacturer suggests you use.
If you're an iPhone user, you could opt for a USB battery pack with a lightning port that will serve input and output so that you don't have to buy any additional cables.
Quick Charge
You might see 'Does not support Qualcomm charging' or 'Fast charging for phones with Quick Charge 3.0' when browsing power banks.
Qualcomm's charging technology is one of the most frequently used because of its fast recharge speed. Phones with Qualcomm Snapdragon built in only need five minutes of charging to regain five hours of battery life.
Other fast charging technologies you might come across include PowerIQ, Voltage Boost (Anker) and USB-PD.
Air Travel
For many, travelling requirements for work or pleasure influence the purchase of a USB battery pack.
Beware – a USB battery pack must be kept in your hand luggage when travelling on a plane and anything over 27,000 mAh needs special approval from the airline.
Everything Else We Looked At
For this review, we've focused on the mid-range power banks that are designed for phones – rather than more powerful devices like laptops.
Here are some of the other options we looked at: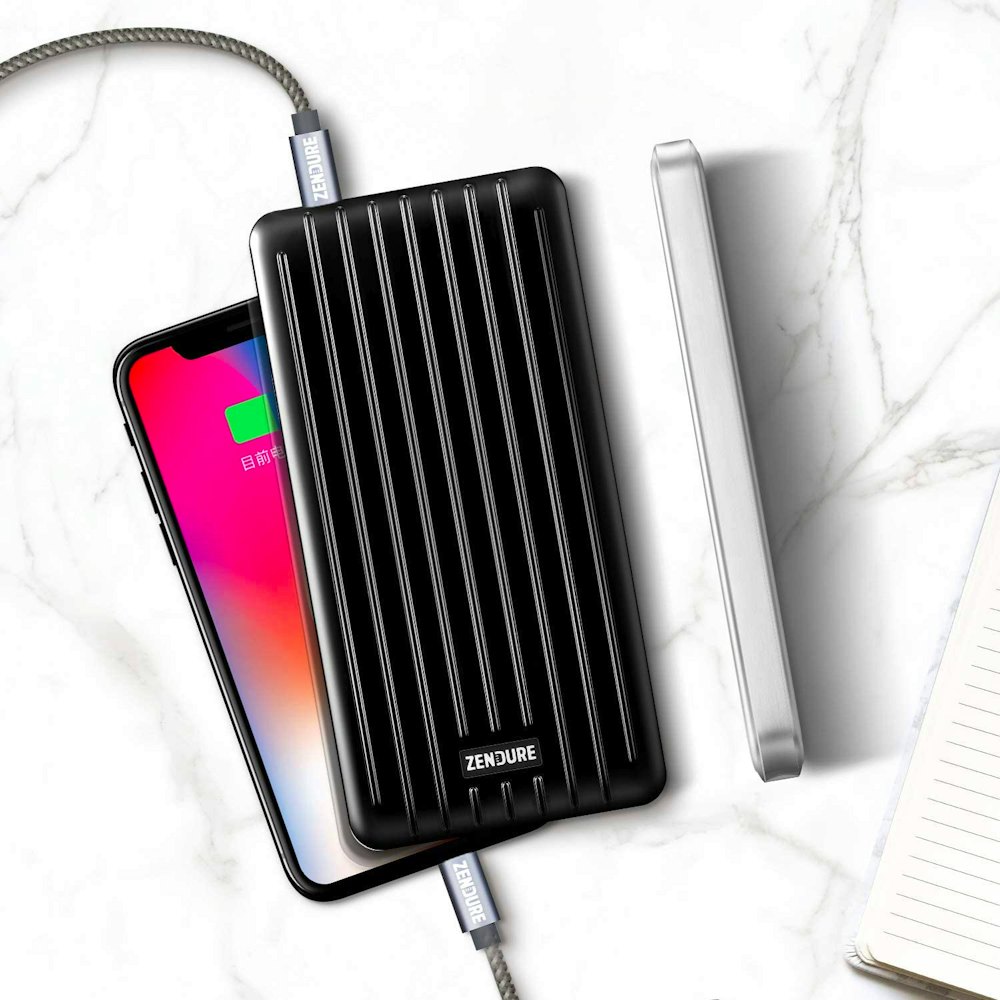 RRP £42.95 (Deals available from Amazon)
Zendure's Slim power bank is not the prettiest on the market but it's lightweight and has an air of sophistication to it. The defined lines on the front are reminiscent of a pinstripe suit and they run to a smooth curve at the end.
It really is slim at a mere 15 mm and weighs just 229 grams.
Despite its sleek appearance, this is a robust power bank with crush-proof (according to Zendure) casing. A sensible choice for those who are likely to have it rolling about in the bottom of their bag next to keys and a heavy drinks bottle.
For a power bank that's powerful and well thought out, it's a shame it can only show battery capacity in the form of four LEDs. It's also on the pricey side for a 10,000 mAh power bank.
However, the above does seem to pale into significance when you're getting USB-C PD charging technology compatible with almost any phone, passthrough charging enabling you to charge the power bank and your phone at the same time, and up to 18 watts of power delivery for phones that support QC fast charging.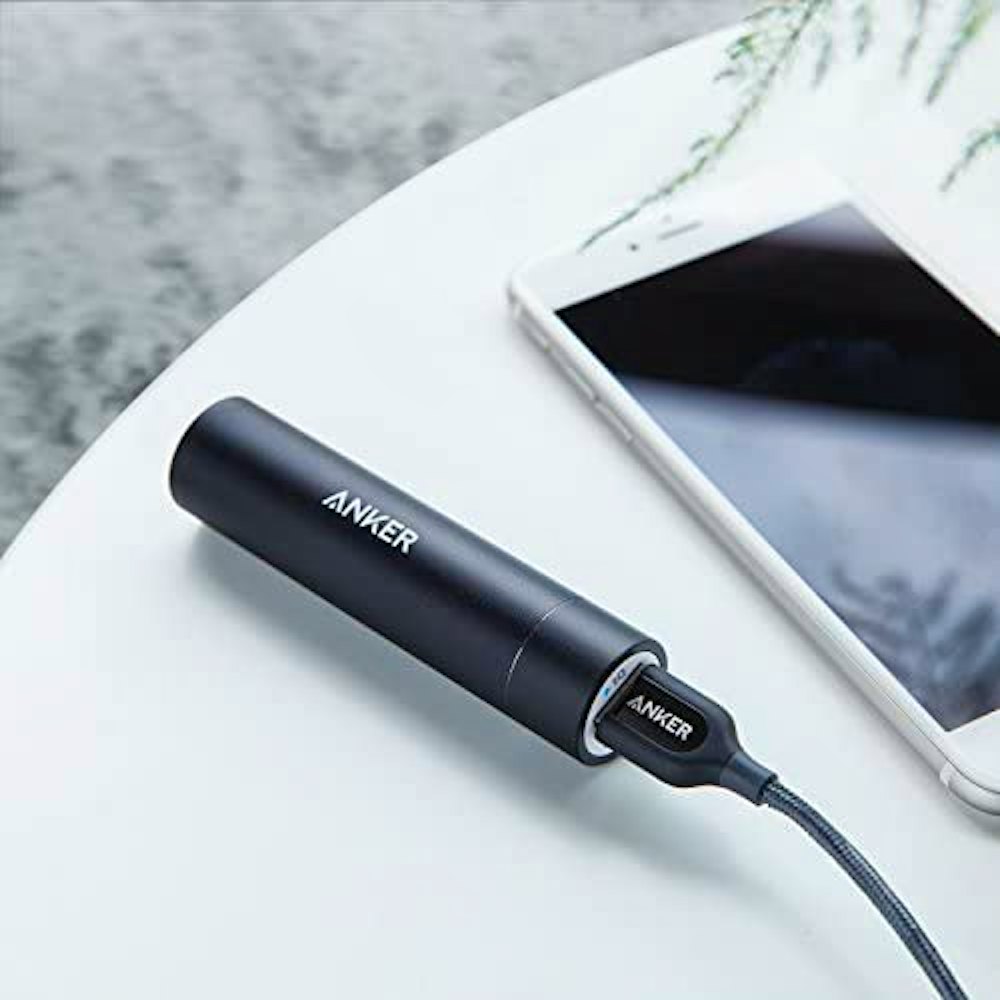 £12.99 from Amazon
Let's get one thing straight, this is certainly not the right power bank for a businessman who's away all week and has back-to-back meetings and late dinners.
The Powercore+ Mini gives one full charge to the majority of phones – iPhone users may get slightly more and Samsung users, slightly less.
However, if you're looking for a low-cost power bank that slips seamlessly into a pocket or handbag, this is a great choice.
Lipstick-shaped power banks are often produced cheaply with a focus on appearance rather than the technology inside. With the Powercore+ Mini, however, the only thing it has in common with other power banks of this kind is its shape.
The technology inside is the same as you would find in many mid-range power banks.
It has high-speed charging and will detect your phone and deliver its fastest possible charge speed (up to 1 amp). It comes in four different colours and is just 3.7 inches long, 0.9 inches wide and weighs a feather-like 85 grams.
There's no denying that this is a well-made piece of kit for the £12.99 price tag, however, it comes with a micro USB which doesn't fit any Apple products and doesn't come with a wall adapter either.
So, there are a couple of additional costs to consider and it could be argued that these will take you near models like the Powercore 20100 price-wise.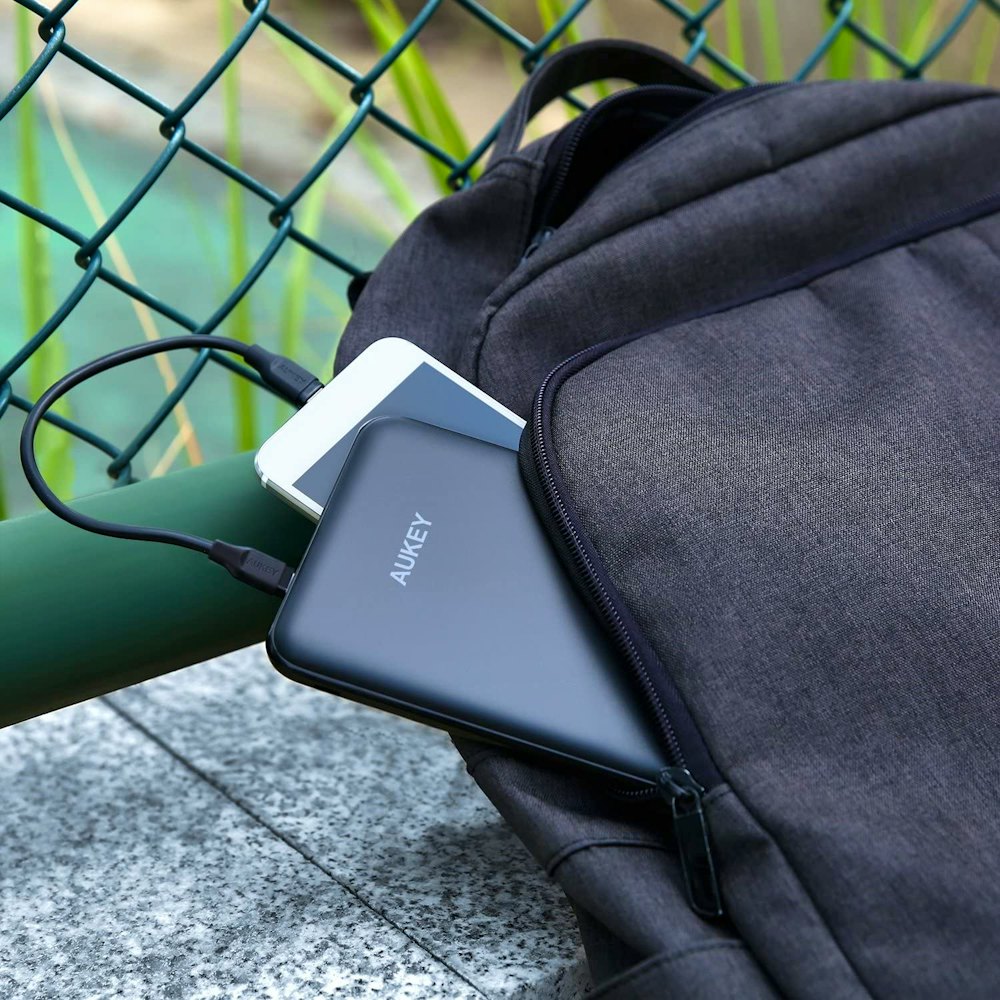 RRP: £58.99 (Deals available from Amazon)
This is a great power bank for those who need to charge multiple devices at once and don't want to have to buy lots of different cables.
The Aukey 20,000 can charge via USB-C and USB-A – in fact, it can charge four devices at the same time.
When it comes to recharging the power bank itself, you can choose to do so via USB-C or a micro-USB port.
Its got great power behind it with 20,000 mAh, and the USB-C port alone is capable of supplying 3 amps.
We like the look of this power bank – it is long and slim with a matte finish, although too big to fit in a pocket.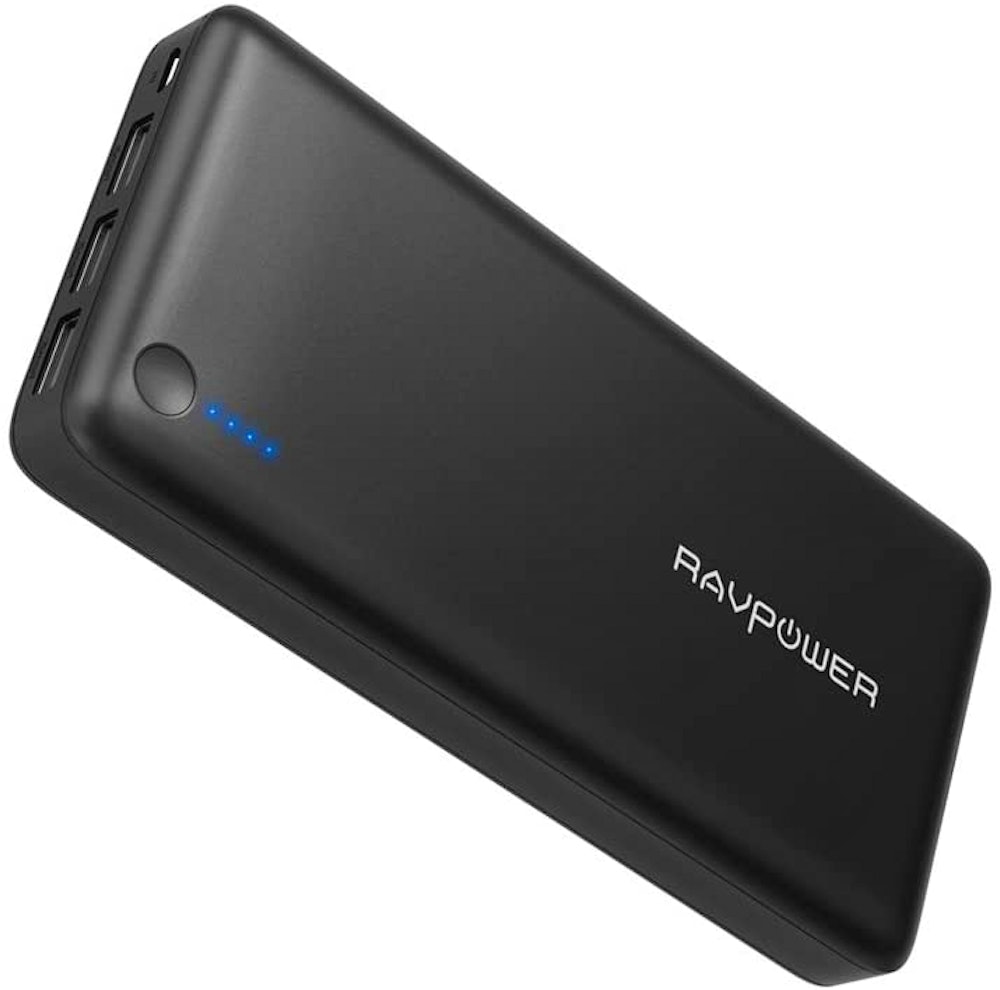 RRP: £31.99 (Deals available from Amazon)
The word 'portable' is pushed to its limits with the RavPower 26,800.
At 17 cm long and 8 cm wide, you can just about get your hand around it, and at over 450 grams, it's a weighty piece of kit.
However, with great size comes great power and there's no denying that, if you can get past the dimensions, this device will serve you well.
The 26,800 can charge three devices simultaneously and dishes out a total of 5.5 amps, providing fast charging even when all three USB ports are in use. An iPhone 6 can be charged up a staggering 10 times before the power bank needs recharging.
You need 14 to 15 hours using a 2 amp charger to recharge once it runs out of battery, which is a lot, but given its power, you won't have to do that very often.
Beware – using a 1 amp charger bumps that charge time up to 23 to 24 hours.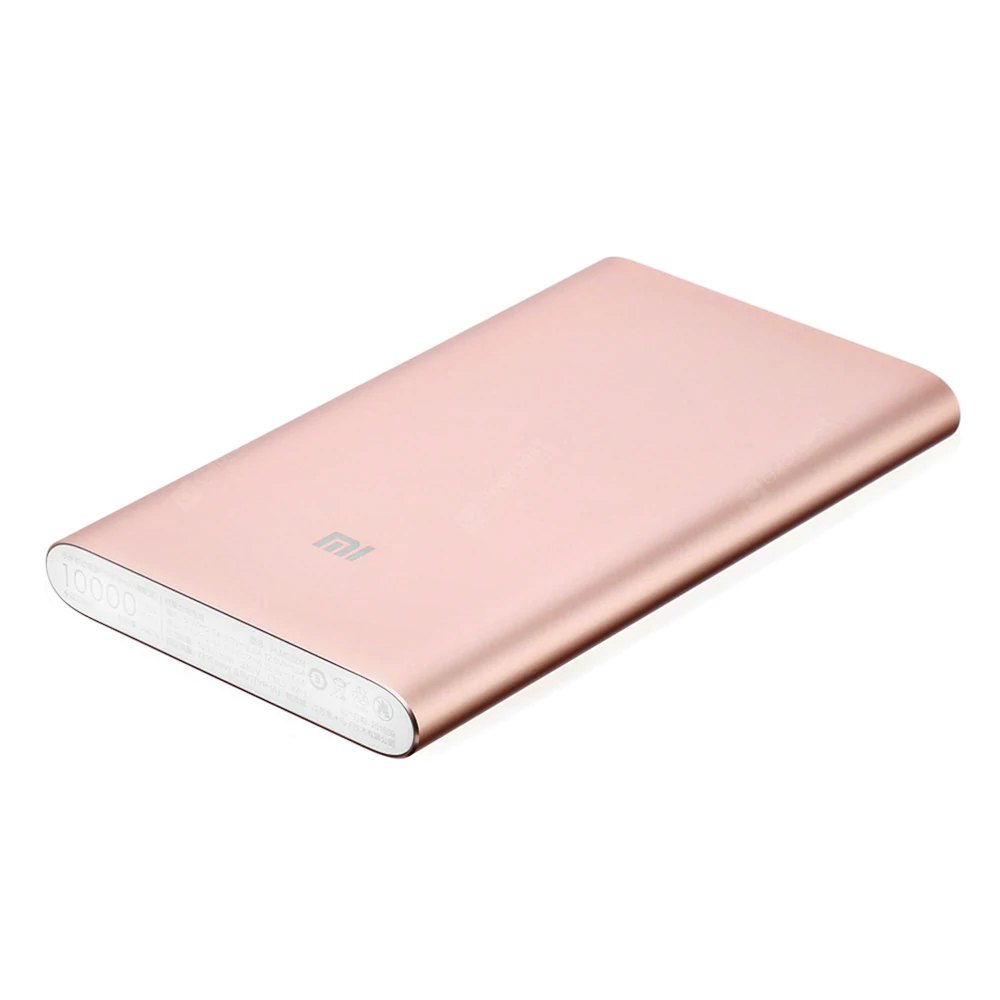 £30.15 from Gearbest
The Xiaomi Mi Pro is an attractive power bank that's practical too. This is not the latest model, but the newer models offering two and three USB ports for simultaneous wireless charging are much bigger in size, and it's the size that's a big plus with this model.
It's slim at just 1.25 cm deep and is comfortable to hold. The aluminium alloy shell looks luxurious but it has been designed to protect the device from impact and to make the surface resistant to corrosion, sweat and general wear.
It seems on the pricey side for a 10,000 mAh battery pack, but it's full of great features.
It gives you bidirectional 18-watt quick charging – which means it can charge a phone and itself at a fast speed. It takes just over three hours to fully recharge once it runs out of battery power, which is fantastic.
The micro USB cable includes a Type-C adapter so there's no need to worry about sourcing the right cables either.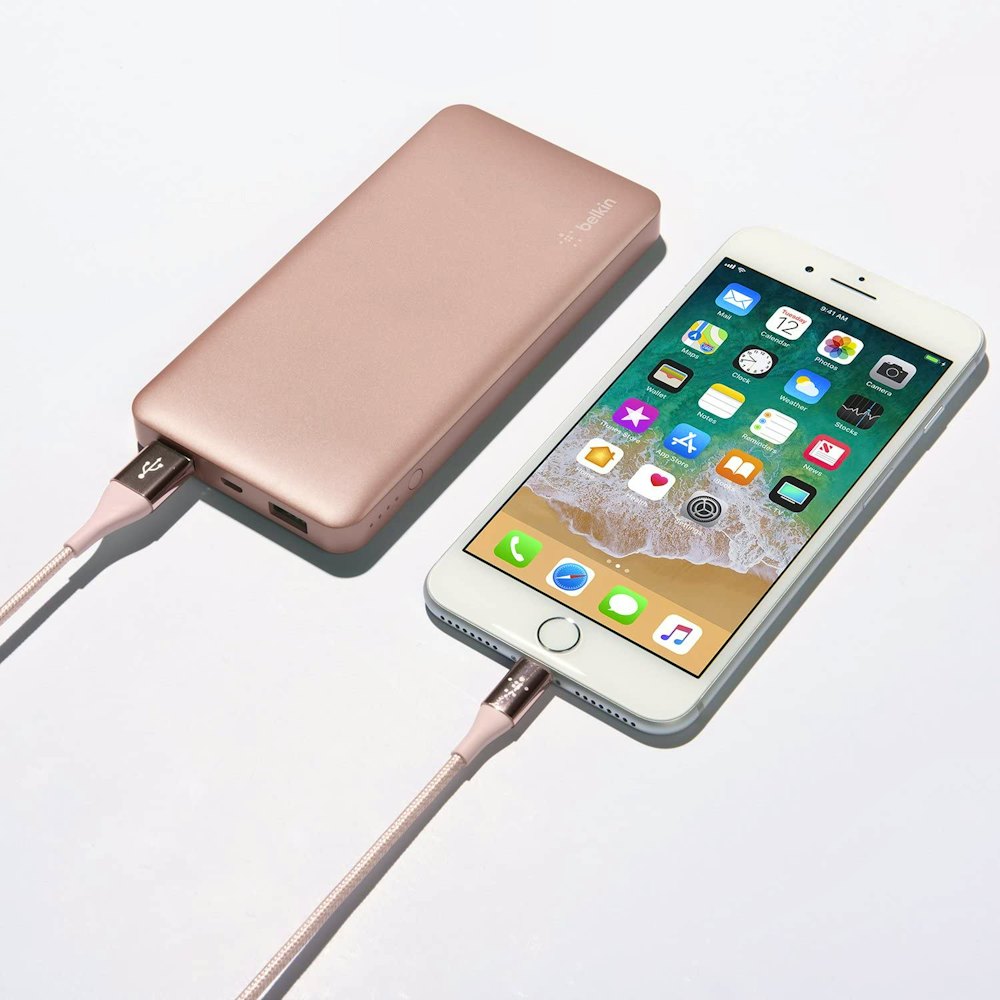 RRP: £34.99 (Deals available from Amazon)
Perhaps a more apt name for this power bank would be 'pocket rocket' – it's a little gem that looks good, performs well and costs the same as some 5,000 mAh devices.
The design is simple yet sleek and stylish. The pink and rose gold don't look cheap like other models in these colourways. The black and silver look expensive and wouldn't look out of place next to the latest iPhone.
It can fast-charge at 2.4 total output which can be split to charge two devices simultaneously using USB-A cables, and it comes with a micro USB cable for recharging.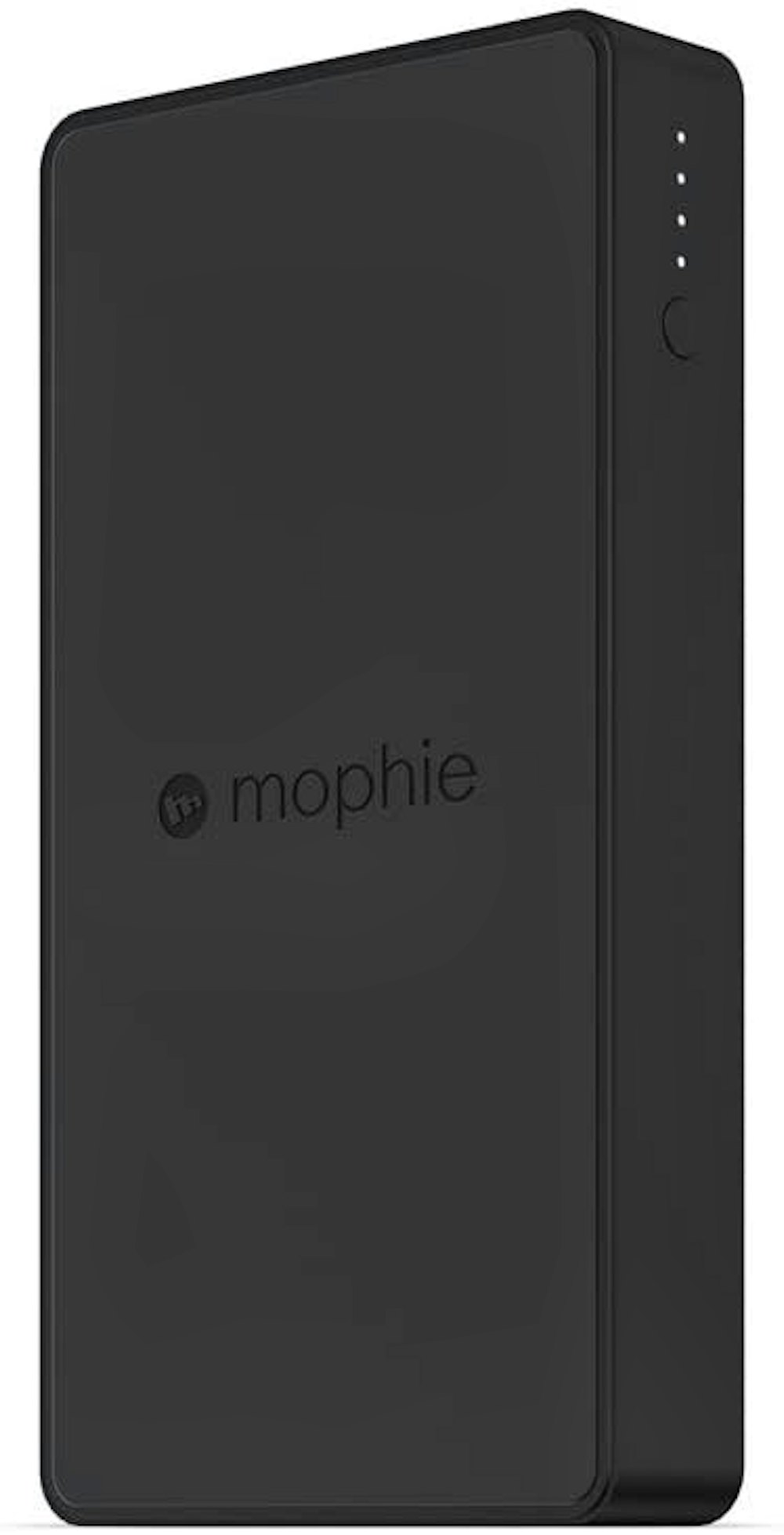 £89.95 from Apple
The Mophie Powerstation is a step up in price compared to the mid-range items we have featured so far, but it's also a step up in appearance and technology.
For Apple users who need to charge their latest iPhone with something just as beautiful, this is the power bank for you.
It oozes style with its Apple-esque design.
The price is a little painful and it's fair to say you're partly paying for the look – especially when you realise this is only a 10,000 mAh device. However, it does have some excellent features that other mid-range power banks don't have.
It can recharge a phone wirelessly as well as charge itself wirelessly, which could come in handy if you've got a wireless charging pad at home or in the office. It can even charge a phone wirelessly whilst it's recharging wirelessly – so phone > on power bank > on wireless pad.
If iPhone users want to recharge using a cable, they can do so using the lightning cable that came with their phone – another plus. It can also charge one device via USB whilst another charges wirelessly.
The USB-C PD port offers 18 watts of power so charging (and recharging) times are fast. It's certainly not all show and no substance.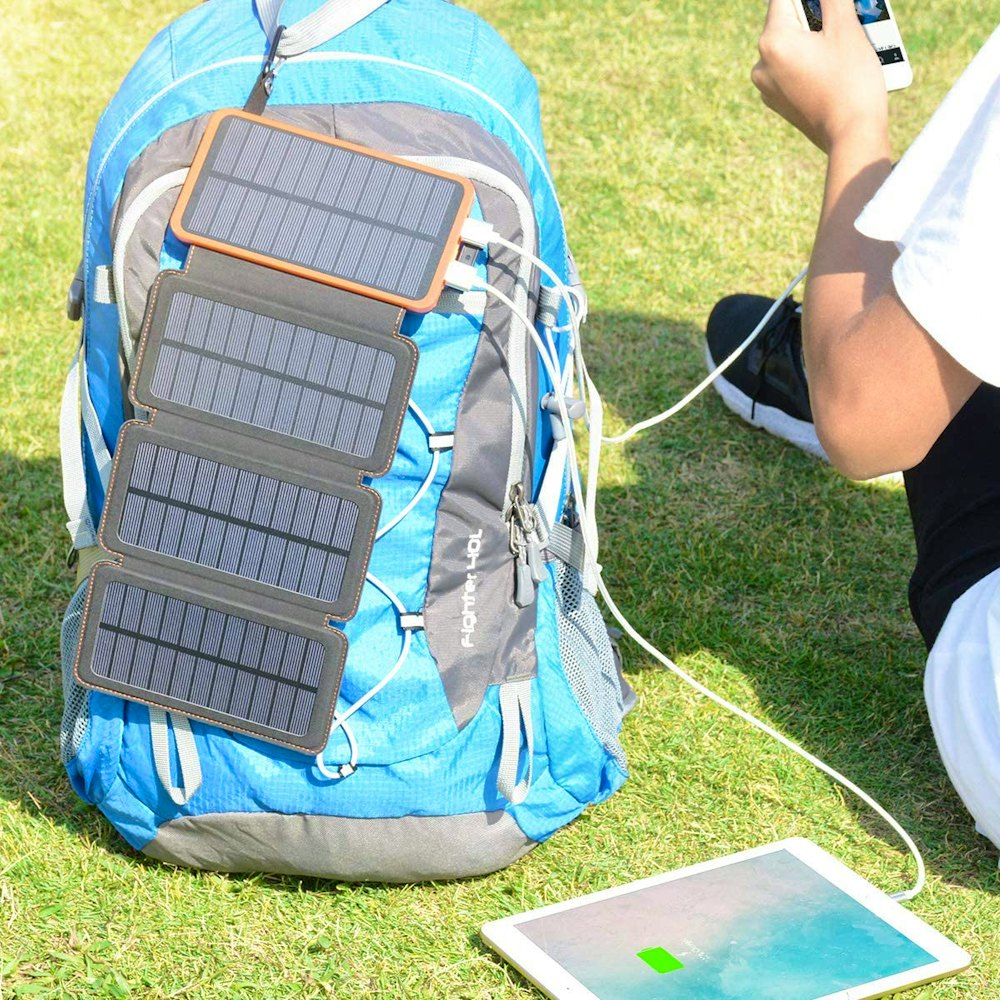 RRP: £59.99 (Deals available from Amazon)
Now for something completely different; a USB charger that uses solar power to keep you charged up. It's not for everyone, but it's not meant to be.
This power bank is designed for those who enjoy getting away from civilisation; it has got nine LED flashlights including SOS and strobe mode, it's dustproof, shockproof and waterproof.
This needs to be a power bank you can rely on and with a capacity of 25,000 mAh and the ability to charge two devices at once, it certainly has the makings to provide excellent fast charging.
The majority of smartphones can be charged to full capacity around eight times before the ADDtop needs to see some rays; however, it's advisable to keep unfolding the device whenever you can to keep it topped up rather than letting it run out of charge completely.
Perhaps this is not for those who want to use it camping in the UK or similar where the sun isn't strong; we found it a little feeble at charging using solar power here.
Yes, the solar panels fold down neatly but it's a hefty piece of equipment when unfolded. It needs to be considered as another piece of camping equipment, rather than something that you can slip in your pocket.
Still, when used in the right circumstances, it is an extremely impressive USB battery pack.
At a Glance Comparison
Here's a comparison table of all the models we've reviewed:
| Name | mAh | Example of charge capacity (according to website listing) | Total number of ports | Cable | Price (RRP) Check Amazon for deals | Weight (g) | Length (cm) | Depth (cm) |
| --- | --- | --- | --- | --- | --- | --- | --- | --- |
| Anker Powercore 20100 | 20,000 | Charges an iPhone 8 about 7 times | 2 | Micro USB cable included | £34.99 | 331 | 16.6 | 2.2 |
| Cygnett ChargeUp Swift Wireless | 10,000 | Charges an iPhone 8 about 3.8 times or 2.8 times wirelessly | 2, plus wireless charging | USB to lightning included | £50.69 | 200 | 14.1 | 2.2 |
| Zendure Slim | 10,000 | Charges a smartphone up to 3 or 4 times | 1 | USB-C Cable 2 in 1 included | £42.95 | 229 | 11.17 | 1.52 |
| Anker Powercore+ Mini | 10,000 | Charges an iPhone 6 just over one time | 1 | No cables included | £12.99 | 85g | 9.4 | 2.3 |
| ADDtop Solar Charger | 25,000 | Charges most smartphones 8 to 10 times | 2 | USB charging cable included | £59.99 | 531 | 15.5 | 3.5 |
| RAVPower | 26,800 | Charges an iPhone 6 up to 10 times | 3 | 2 Micro USB charging cables included | £31.99 | 458 | 17.2 | 2 |
| iMuto 20,000 mAh | 20,000 | Charges iPhone 11 around 4.4 times | 2 | Micro USB included | £25.99 | 408 | 13 | 3 |
| Belkin Pocket Power 10K | 10,000 | Charges iPhone 7 up to 3 times | 2 | Micro USB cable included | £34.99 | 222 | 14.6 | 1.57 |
| Xiaomi Mi Pro Power Bank | 10,000 | Charges an iPhone 6 up to 4 times | 1 | Micro-USB/Type-C two-in-one | £30.15 | 219 | 12.8 | 1.25 |
| Mophie Powerstation Wireless XL | 10,000 | 50% charge in 30 mins on an iPhone | 1 plus wireless charging (and recharging) | USB-A to USB-C cable | £89.95 | 300 | 14.4 | 1.9 |
| Aukey Power Bank USB-C 20,000 | 20,000 | Charges an iPhone 7 around 6.8 times | 4 devices at the same time | USB-C and USB-A | £58.99 | 435 | 20 | 1.4 |
Final Thoughts
There are a multitude of different variations to consider when choosing a USB battery pack, some of which are complicated and confused online.
On Amazon especially, you'll find that starting with one device can lead you to another. Many of the power bank manufacturers make minor adjustments to a single model and change the name slightly (mark #2 or #3, etc) to offer something for everyone.
The best method for choosing your new power bank is to consider what is important to you – is it size? Power? Speed of recharging the device itself? Ability to charge several devices at once?
Whatever your priorities, this article will have given you some great options to get you started.