This is an affordable but solid entry-level desk which offers an array of options. Made with a mild steel frame and a laminate desktop available in 4 colours, this desk is designed for offices of all sizes.
There are four different size options (from 120 cm to 180 cm) with a roomy 80 cm depth, but what sets this desk apart from others is the extended height.
Whilst most competitor products reach around 120 to 125 cm as an extended height, the Series 2 Dual Motor Sit-stand desk Square leg reaches an impressive 130 cm. For taller office workers, this additional height can make a big difference.
The extended height capacity doesn't impact the desk's effectiveness. Even when at full capacity, the desk remains sturdy thanks to the quality frame.
Like many other electric standing desks, this has a programmable memory. However, it can preset three different height settings (competitor products having only two) and there is also a digital display which comes as standard.
As well as fast adjustment, the manufacturers have considered the desk's impact in a busy office. The motor runs at a quiet 38 dB which ensures that users won't distract other workers when changing the height during a busy working day.
We view this as a great product which offers similar options to higher-priced models, whilst remaining affordable for businesses of all sizes.
As more businesses turn to their 'green' credentials, it makes sense that they may extend their thoughts to office furniture. And this is where the Jarvis desk stands apart from others.
Manufacturer Fully describes the desk as 'tough, beautiful, active, earth-conscious—a sit-stand desk built for you and the planet' and it's hard to disagree with that statement.
The desk is manufactured with a high-density particleboard core which is made from recycled wood fibre. It's coated with a scratch-resistant laminate and joined with a certified low-VOC, zero urea-formaldehyde water-based adhesives.
This means that users can feel confident that their new standing desk will add to any green credentials.
But that's not the only thing that this desk has in its favour. The Jarvis is also fully adjustable up to 127 cm, has a lifting capacity of 158 kg, and an operating noise of less than 50 dB.
The resulting impression is that this is a desk that is built to last and offers a wide range of optional extras including programmable memory handsets, wire management grommets and clamp mounted power strips.
What Are the Health Benefits of a Standing Desk?
Whilst it may seem odd to type whilst standing up, standing desks can bring a wide range of health benefits.
Those who spend considerable time sitting down may be at risk of illnesses and diseases such as Type 2 diabetes, heart disease or back problems caused by poor posture.
Alternatively, standing up whilst working can make a huge difference to your overall health and wellbeing.
Simply standing up at work for a minimum of 30 minutes at a time can help to reduce back pain, improve circulation and even burn more calories.
Over the course of a week, standing up for 30-minute increments can add up to 4 hours a day, 20 hours a week or 100 hours a month – proving how making a small change can make a big difference.
What Are the Key Considerations When Choosing a Standing Desk?
Height-adjustable desks are becoming increasingly mainstream and, as a result, options are available for all budgets.
To help you decipher which is the best type of standing desk for your needs, here are some key considerations which you may wish to think about:
User height. It stands to reason that people of different heights may need different desks; after all, someone who is only 5 ft may struggle using a colleague's desk if they are 6 ft3. Although adjustable desks can differ, it's worth considering the maximum height capabilities. You will also need to factor in stability; the higher the desk is set, the less sturdy it may be. The last thing you want is something which could wobble as you work.

Size of the desk. It's not just the height you need to consider, it's also the desk dimensions. There is a wide range of standing desks available on the market, from small to large. You may need to factor in what you plan to have on your desk before making your decision. If you constantly work across two screens, it stands to reason that you may need more room. You may choose to benefit from an option with plenty of added-on features such as wire control, privacy screens or even power plugs.

Functionality. Some sit to stand desks require manual adjustments, whilst others are electric and can change at the push of a button. If you're working in a busy office environment, you may need to consider the functionality of the adjustment – will it take a long time or make a lot of noise? Is it possible to adjust the height with all of your equipment on top? Will your computer wires get in the way? Many standing desks incorporate a memory function, allowing you to pre-set your preferred height settings. This not only ensures a consistent height pattern but could be a beneficial asset if you are sharing a desk with a colleague.

Style vs substance. It may sound shallow, but looks do count for a lot, particularly when it comes to the look and feel of your office. The growth in popularity of standing desks means that more options are available than ever before. You can choose your colour, your choice of frame, the material of the desktop… the options are endless.

Assembly. Many standing desks require tricky assembly due to the electrical components. Some manufacturers or distributors may offer installation at a fee, whilst others will rely on your knowledge and capability. You may wish to consider this as a factor – particularly if assembly requires a team of people.
Other Standing Desks We Reviewed
Although we've already listed our three favourite standing desks at the top of this article, we know that different people require different functions. Here are a few other popular standing desks which have been highly rated by users: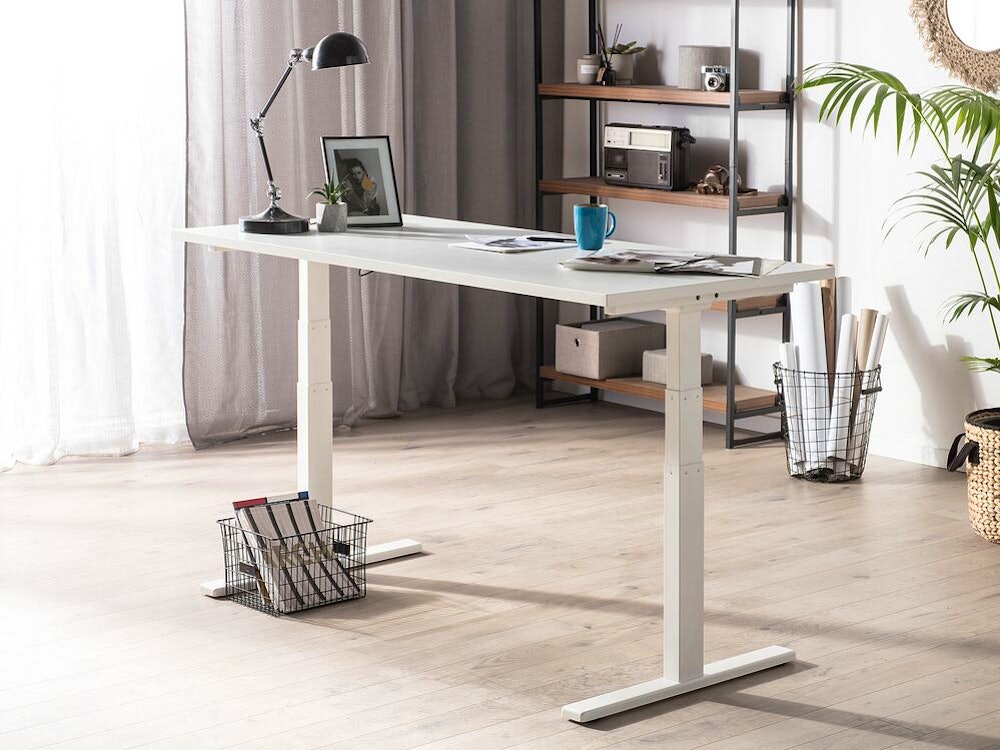 Starting price: £479.99
The Uplift II combines stunning style with functionality.
With a choice of dimensions ranging from 130 cm to 180 cm, this desk offers a large workspace with plenty of room for those working with multiple screens.
With options in black, dark wood and white, there is a choice for users to find the right solution for their office space and with a programmable memory setting for two different height positions, users can choose their preferred sit or stand desk heights.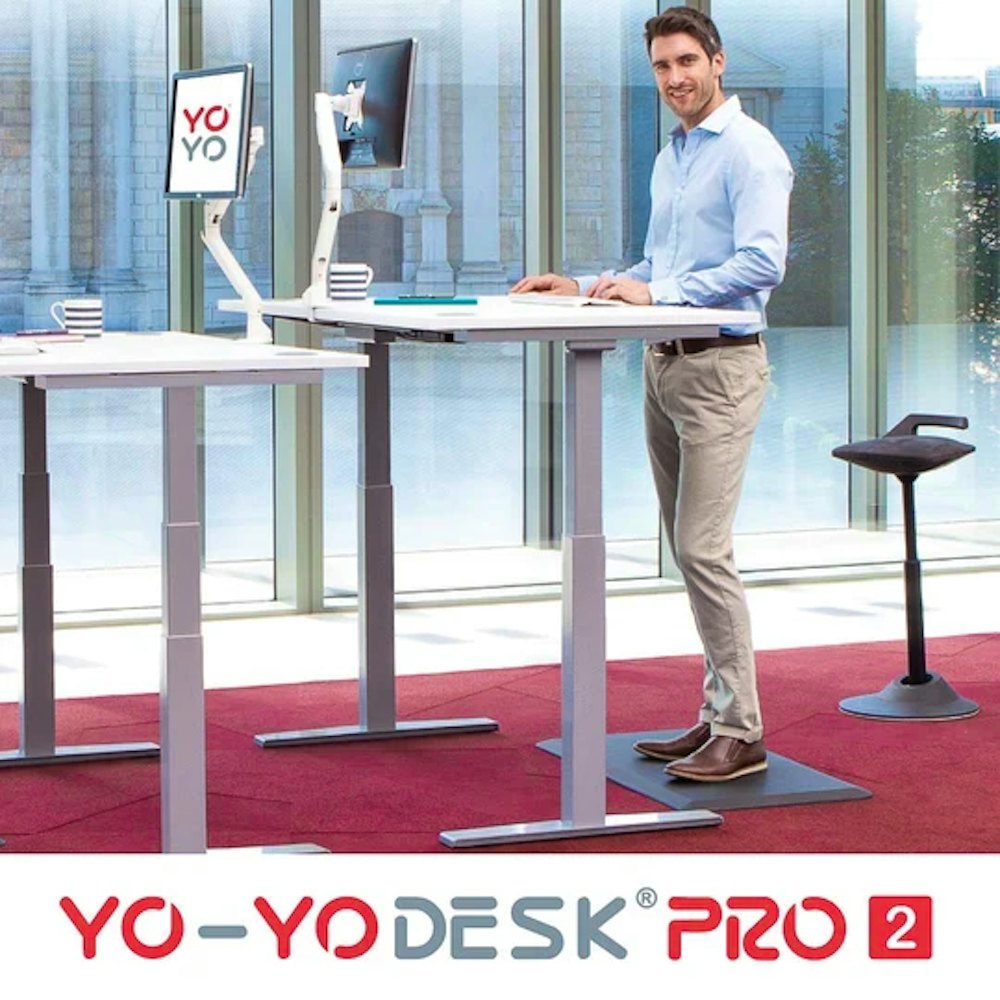 Price: £299.99
The Yo-Yo Desk combines comfort and style with practicality. With a split level worktop, this standing desk is ideal for users who are looking to transform their existing workspace into a standing desk.
Despite its small width size – the Yo-Yo desk ranges from a mere 68 cm through to 120 cm – the Yo-Yo desk packs a punch and users can choose between stylish black or white options.
The Yo-Yo desk was seen as so effective, it was featured on the BBC documentary, How to Stay Young.
With a background in ergonomic design, Yo-Yo understands that for a desk to be used effectively, the comfort of the user needs to be at the forefront of its design. That's why they have created a desk that is not only affordable, but it's core functionality as an adjustable height desk is designed to be as easy as possible. With a dual gas-spring, the desk can transform its height in just a few seconds.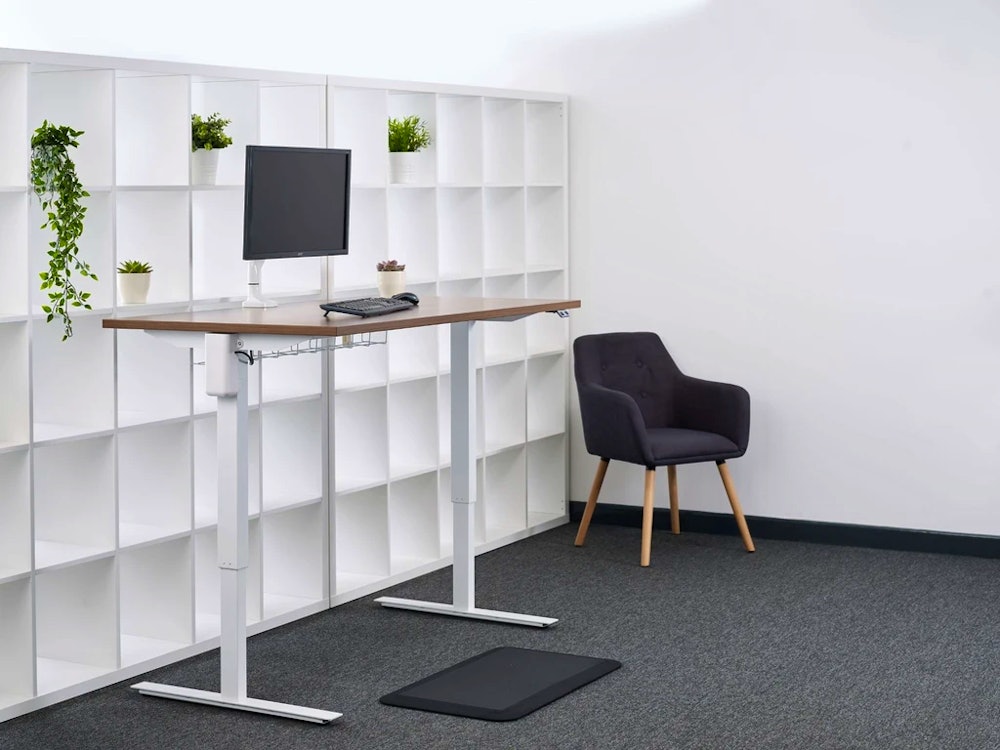 Starting price: £569
Another mid-price option for standing desks, the SitStand Core Electric Standing Desk is the perfect option for those on a limited budget.
Operating a simple motor system to keep pricing low, the desk is available in sizes ranging from 120 cm to 180 cm. This is an ideal entry-level desk – although it has a variety of colour options (including beech, walnut, maple and grey), it doesn't have a wide range of functions that other desks have such as the programmable memory heights.
We would recommend this desk for those who want to invest in something which will last several years but who aren't looking for anything particularly innovative.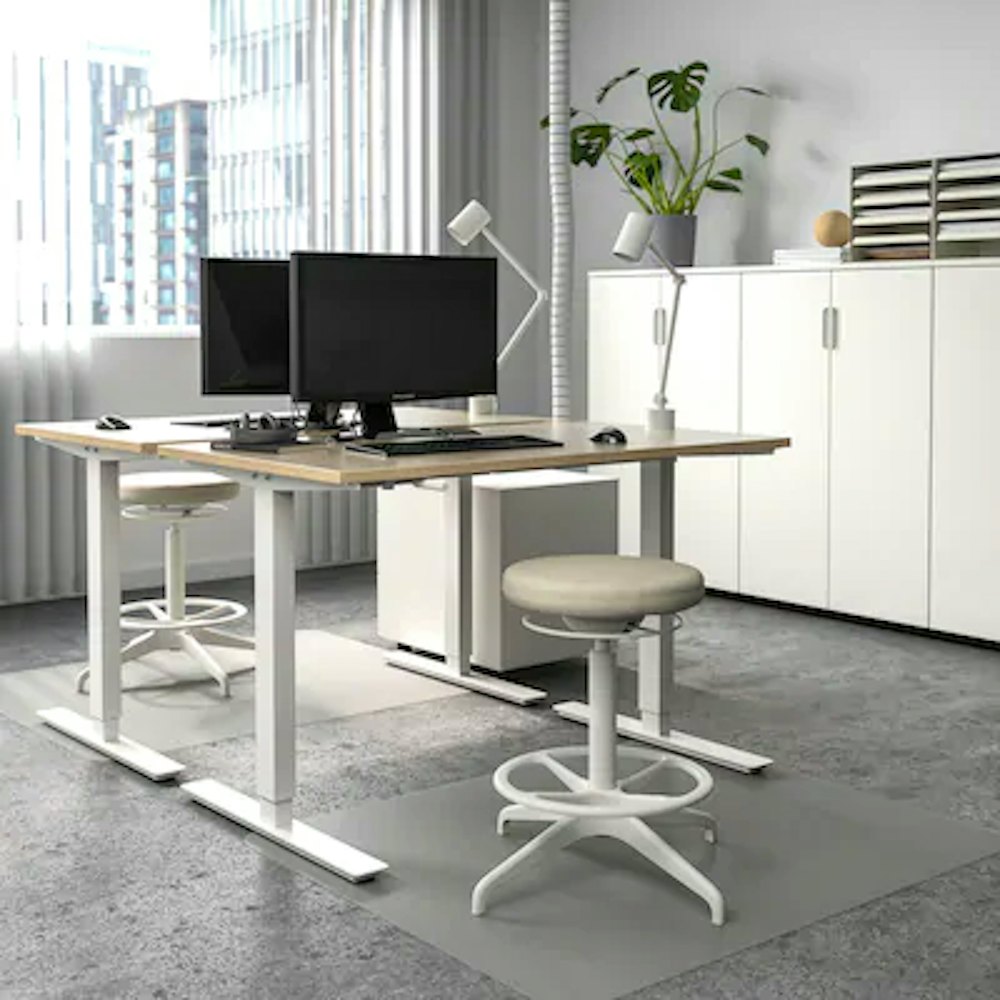 Starting price: £195 to £215
If you're looking for a low budget alternative, then why not look at the range of sit to standing desks available at IKEA?
Whilst they clearly won't offer the same options as the costlier models, an IKEA desk could be a great introduction to standing desks.
Top of the pile is the SKARSTA – an incredibly low-cost option, with prices for a 120 x 70 cm desk starting at just £195, whilst the 160 cm v 80 cm comes in at £215.
Although this is a manually adjustable desk (you change the height via a crank handle), it may be an option if you are looking to see whether standing desks are worth investing in.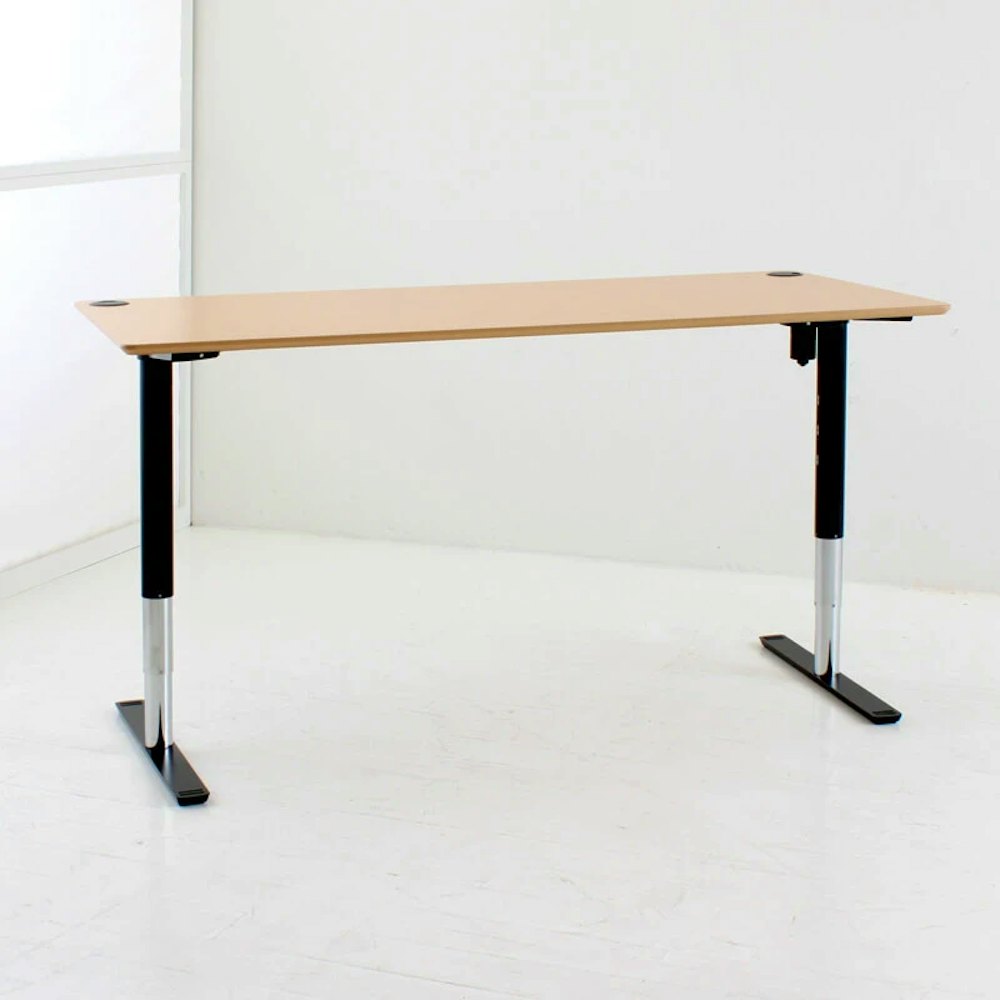 Price: £728
If you have room for a large desk, then look no further than the SitStand Pro Electric Standing Desk.
With options ranging from 120 cm to 200 cm, this adjustable desk offers slightly larger desk space than competitor products. However, it is a more expensive option than other desks.
With three frame colours and five desk options to choose from, the SitStand Pro Electric Standing Desk may not offer as many colour choices as others, but it is designed to offer a contemporary feel.
The height extension is up to 125 cm and there is plenty of space for under desk storage, not to mention ample legroom.
Final Thoughts
As you can see, there is a range of standing desks available for every budget. From extension desks designed to transform an existing workspace through to technical revelations that comprise functionality with style.
In our view, we appreciate the Go Stand Series 2 Dual Motor Sit-stand desk Square leg. The wide range of options and affordability-factor make it a popular choice within the WikiJob office. It has all the features that you would want, combined with a greater height and lifting capacity compared to others.
We would also like to recommend the Furna E2 Electric Standing Desk as an alternative.
We appreciated that both desks had a comprehensive preset memory feature.
It shows that when deciding which desk to invest in, you may need to think about how you plan to use it. If you think that you may be regularly switching between heights, then a programmable option is worth its weight in gold. But if you're unsure if standing work is the right solution for you, then you may want to consider investing in a desk extension or a low-cost alternative such as IKEA's SKARSTA.