Whether you are a complete beginner or an experienced marathon runner, a running watch is an essential piece of kit.
With prices and features ranging wildly within the most popular brands, choosing the right running watch for you can be a minefield.
This article will help you narrow down the features you need the most and choose the right watch, within budget.
To start, here are our top three picks:
Our Pick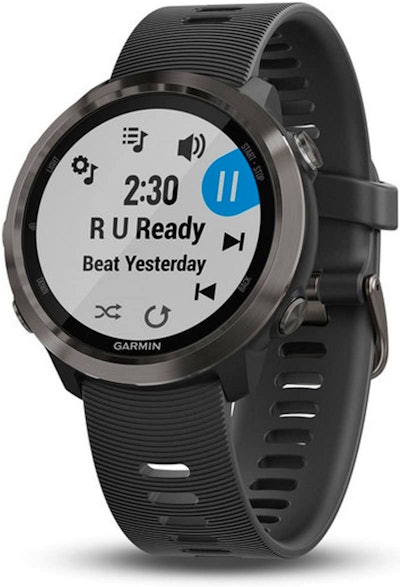 Also available for £319 or £349.99 at Wiggle (depending on colour choice) or for £349.99 direct from Garmin.
The Garmin Forerunner 645 has all the tracking metrics you'd likely desire, along with bonus features such as phone notifications, Garmin Pay and music storage.
The Forerunner 645 can store up to 500 songs – and connect to your Spotify account (not something all watches with music storage can do). We found the ability to head out on a run with your favourite energising playlist, but without the extra bulk and weight of your phone, to be a major selling point.
Whilst beginner runners may not feel the need to use all the run tracking features to begin with, it is a watch that you can grow into as you progress on your fitness journey.
The Forerunner 645 has four run modes:
Running
Treadmill running
Indoor track
Trail running
Selecting the mode and starting a run is easy and you can save your most popular activities so they appear at the top of the mode list.
The display design is clear and run metrics are easy to read on the move. The Garmin Chroma Display is clearly visible even in direct sunlight.
The watch is controlled using five buttons around the edge of the casing. Whilst it might take you an extra five minutes to learn which buttons lead to which menus and control different features, it's not difficult to pick up. We found the buttons to be easy to use, even during exercise and preferred them to a touchscreen display.
You can use the bottom-left buttons to scroll through the metrics:
The first screen displays distance travelled, time elapsed and your pace
The second displays current lap metrics (distance, time and pace)
The third screen shows your heart rate zone
The fourth, the current time and date
Turning on the Audio Prompts feature means you receive handy lap by lap pace updates through your headphones during your activity, helping you keep to your goal pace. You can set the motivational status announcements to include the lap number and lap time, pace or speed, and heart-rate data if desired.
You can also 'Set a Target' for your run, either for distance, distance and time, or distance and pace – a feature we valued.
The watch tracks more advanced fitness aspects such as training effect and VO2 Max. This gives recovery time recommendations, which come up on the screen once you have completed your run alongside more standard information on time, pace and calories burned.
All the data from your run can be viewed on the Garmin Connect app once your watch has synced the activity to your phone. This usually takes less than a minute.
All activities can also be set up to sync to your Strava account, a handy feature particularly for those who have an established Strava community.
In terms of heart rate (HR) monitoring, the Forerunner 645 tracks HR zones and maximum HR during exercise – you can check out your HR graph in the Garmin Connect app. You can also add resting HR as an easily viewable widget on your watch.
Other run metrics we found interesting to look at were cadence (real-time number of steps per minute) and performance condition (which compares your current performance condition to your average fitness levels).
The watch is Performance Optimization Device (POD) compatible, meaning that you can purchase a running POD to analyse more advanced metrics such as vertical oscillation and ratio, ground contact time and balance, and your stride length.
This watch isn't available in a bundle including sensors like some others, but a running dynamics POD is available separately from Garmin.
The Forerunner 645 supports 19 different sports modes, so it is great for tracking your other activities too.
It can comprehensively track not only your running but cycling and swimming (this watch is water-resistant up to 50 meters). It has gym activity and outdoor recreation profiles which cover all the popular sports including yoga, strength training, elliptical training, rowing, skiing and stand up paddleboarding.
In the pool, this watch will track swim metrics such as lengths, distance and pace, alongside stroke count and swim efficiency (SWOLF).
Note though that the Forerunner 645 only supports pool swimming. If you're a triathlete or a keen swimmer as well as a runner, you'd be better of with a watch with an open water swimming mode such as the Garmin Fenix 6, Garmin Forerunner 945, COROS Apex or Polar Vantage V.
Although the 645 lacks the extensive mapping features of the Suunto 9 Baro, Suunto 7 or COROS Apex, there is a 'breadcrumb trail in real-time' feature available in the outdoor recreation mode for sports like skiing, snowboarding, cross-country skiing, stand up paddleboarding and rowing.
The battery life of the Forerunner 645 is great, we found it to last around five days with one GPS activity daily (sometimes two activities a day). Music was used for around half of these activities.
We were also very impressed with the charging speed. The 645 took only around 30 minutes to full charge, extremely quick compared to the Apple Watch's 2.5 hours.
Unlike some of the other cheaper Garmin models, the Forerunner 645 – with its stainless-steel bezel – is aesthetically pleasing and has the merit of not looking too much like a sports watch.
Whilst some online reviews report that the Forerunner 645 is bulky on your wrist, we found it to be the perfect size for a female with small wrists and not bulky in the slightest. We were surprised by just how discrete this watch was, particularly when compared to the Suunto 7, which is much bulkier and heavier.
The silicone strap – that comes in either black, cerise or sandstone – is very comfortable, though it can be swapped if preferred by purchasing a new strap (available in nylon, suede, leather or Milanese) from the Garmin site.
Of all the watch brands we looked at, we found Garmin to have the widest range of different strap materials and colours for customisation.
Features: Navigation (GPS, GLONASS, GALILEO); accelerometer; barometric altimeter; wrist HR monitor – HR zones; intensity mapping; activity measurements: step counter, calories burned, floors climbed; training effect; training load; V02 max; recovery time; cadence; Garmin Coach; message notifications; Garmin Pay; menstrual tracking; safety & tracking features; syncs with Garmin Connect app, Garmin Connect IQ Store, links to third-party apps (for example, Strava, TrainingPeaks).

Battery Life: 7 days in smartwatch mode, up to 5 hours in GPS mode with music, up to 14 hours in GPS mode without music.
Runner Up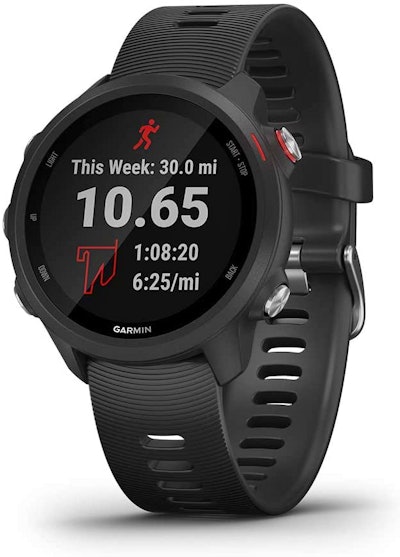 The Garmin Forerunner 245 Music is the sibling model of our top pick – the Forerunner 645 Music – and is, for the most part, a very similar watch.
As an updated version of the Forerunner 345, which was a solid favourite amongst runners in 2015/16, the Forerunner 245 is a reliable and feature-packed running watch with added music storage capacity.
Specification wise, the cheaper Forerunner 245 lacks the heart rate accuracy of the 645 and its GPS signal location is slightly poorer, but it records distance just as accurately.
It is worth noting that the accuracy of heart rate monitoring on any watch will be vastly improved by the additional purchase of a chest strap (most watches are compatible with this accessory and a connecting band will be sold on most brand websites).
Like the 645 model, this watch is great for tracking much more than just running. It tracks cycling and pool swimming in detail and has gym activity profiles.
Unlike the Forerunner 645, this watch doesn't feature outdoor recreation activity modes like skiing, cross-country skiing or rowing and it also doesn't count floors climbed.
It also lacks the barometric altimeter of the 645 model, which helps to give more accurate elevation and stairs climbed readings and doesn't measure lactate threshold.
Unless you are a more experienced runner and specifically looking to track these metrics, though, these omissions are unlikely to be deal-breakers.
This watch does, however, use heart rate, stress and activity data to estimate energy levels in its Body Battery energy monitor feature – something that the 645 model lacks.
It also has a Pulse Ox feature which measures blood oxygen saturation, not found on the 645.
This watch does look cheaper than our top pick, largely down to its fibre-reinforced polymer case, without the stainless-steel bezel of the 645. For a price mark of £299, the much cheaper look is a slight bugbear.
We like that fact the Garmin Connect IQ store allows you to download watch faces, add data fields, and additional apps and widgets to customise your watch – this is also the case with the 645 model.
Ultimately, the choice between the Forerunner 245 and the Forerunner 645 will come down to personal preference regarding the differing features. There is not a massive difference, though, and both watches are excellent choices for tracking and improving your running fitness.
Features: Navigation (GPS, GLONASS, GALILEO); accelerometer; Body Battery energy monitor; Pulse OX; wrist HR monitor; step counter; calories burned; training effect; training load; V02 max; Garmin Coach; message notifications; menstrual tracking; safety & tracking features; syncs with Garmin Connect app & Garmin Connect IQ Store.

Battery life: 7 days in smartwatch mode, up to 6 hours in GPS mode with music and up to 24 hours in GPS mode without music.
A quick note about purchasing watches from Garmin.com:
When selecting the watch, ensure you have clicked on the 'Music' or 'No Music' version depending upon your choice. The two options have different prices, so you'll need to click 'Yes' or 'No' to see the correct price listing and purchase your intended product.
Also Awesome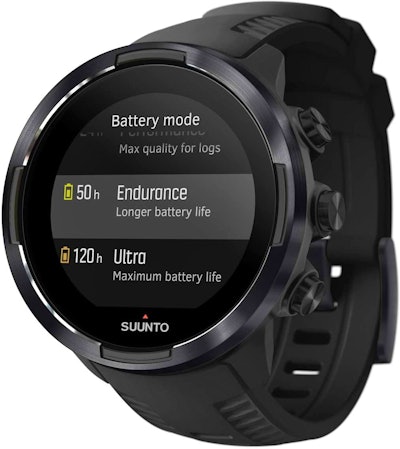 Suunto 9 Baro
The Suunto 9 Baro is a high-quality multisport GPS watch which will withstand extreme adventures. Best for long-distance and trail runners.
This Suunto offering is an advanced-featured, quality watch which will become a reliable training companion for all your activities.
£449.04 direct from Suunto
The long battery life on the Suunto 9 Baro is great for long-distance running and the inbuilt barometer is perfect for trail runners (or hikers) who would like to keep track of their altitude gain/loss.
The accuracy on this watch is amazing; it uses five different satellite systems (GPS, GLONASS, GALILEO, QZSS and BEIDOU) to track your movements as closely as possible.
It also uses Suunto FusedTrack technology, which combines GPS and motion sensor data to improve track and distance accuracy.
This allows extended battery life through lowering GPS power without too much compromise to accuracy.
It might not be the most exciting feature, but we particularly like this watch for its multiple battery modes. You can switch between Performance, Endurance and Ultra, which provide between 25 hours and 120 hours of GPS tracked recording time.
The watch also uses your previous activity to estimate your power usage and gives you helpful notifications to switch mode during exercise.
The Suunto 9 Baro has lots of additional mapping features which are useful for hiking and all-terrain running, such as showing a breadcrumb trail in real time, heatmaps to browse and navigate during exercise, and route planning with altitude profile or heat map.
We particularly liked how you can view popular routes via the heatmaps. This is a feature which would be especially useful when travelling and running in new areas.
Outdoor maps are available in satellite, terrain and topography by Mapbox and Google Maps. You'll have all the information you need about your route right at your fingertips.
In terms of mapping features, the Suunto watches far exceed the others on this shortlist.
If mapping capability is a feature high on your priority list, then the Suunto 9 Baro is the watch for you. If it isn't a priority for you, then there are other cheaper (yet still excellent quality) choices.
With over 80 sports modes and water resistance up to 100 meters, the Suunto 9 Baro is much more than just a running watch.
We do feel that beginner runners would not initially require the full functionality of the Suunto 9 Baro, but this is a fantastic future-proofed feature-rich watch, perfect for more experienced endurance runners and adventurers.
Features: Multisport; GPS; mapping: offline satellite, terrain and topographical maps, altitude maps and heat maps; battery modes: Performance, Endurance and Ultra; barometer; altimeter; weather information; call and message notifications; connects to the Suunto app; compass; sleep tracking.

Battery life: 14 days in time mode, 7 days with 24/7 tracking and mobile notifications, 25h/50h/120h (depending upon battery mode selected) in training mode with GPS.
Note that Suunto watches, except for the newest Suunto 7 smartwatch model, do not have music storage capabilities.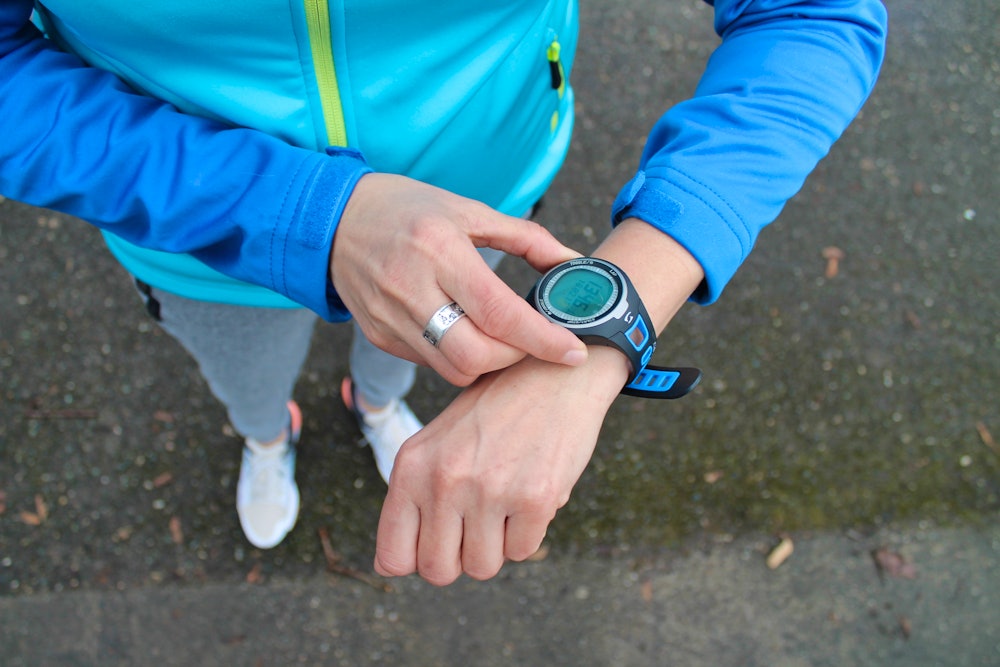 What Does a Running Watch Do and What Will It Measure?
A running watch is a wrist-worn device which will track and analyse data about your daily activities. The features and measurements recorded by a running watch will vary greatly according to the price point.
The more basic watches measure your distance and pace whilst running and have other inbuilt activity trackers which measure your daily steps, calorie intake and floors climbed.
All the running watches included in this article contain a heart rate (HR) tracker. This monitors your resting and active heart rate. Some watches track heart rate zones and provide you with a HR intensity map after your workout, which can be used to indicate fitness improvement.
The more advanced running watches provide technical detail such as your VO2 Max, aerobic/anaerobic training effect and estimated recovery time.
For more accurate measurements of your running dynamics, higher-end watches can be paired with a corresponding Performance Optimization Device (or POD).
For running, these local sensors will measure elements such as your ground contact time (and its balance), cadence, stride length, vertical oscillation, vertical ratio and running power.
Top-end running watches – such as the Suunto Baro 9 and the COROS Apex – also have comprehensive mapping features.
Features available include route tracking and offline satellite, topographical and terrain maps, along with heat and altitude maps for planning the best new routes.
Some watches have a barometer, provide weather information and track acclimation. These ensure adventurous runners are ready to tackle even the most extreme trail adventures.
Music storage capability is an issue that divides runners – is it worth the extra cost or not?
Several of the watches we reviewed provide you with the ability to download your playlists to the watch, whether via Spotify, Apple Music, Deezer or another music app.
The ability to go for a run without the extra weight and bulk of your phone is a great bonus to have but, if you are used to taking your phone along, it may be an expensive feature you can skip.
Other extra features include sleep tracking, which is an interesting feature that tracks the amount of time you spend in light, deep or rapid eye movement (REM) sleep and, therefore, shows the overall quality of your night's rest.
Increasingly, sports watches also have menstrual tracking.
Running watches with smartwatch capabilities can also receive phone notifications and some make contactless payments.
The many features on offer may seem overwhelming, so we give a detailed rundown of all the different features to look for in our Key Features section below.
How Much Should I Spend?
The cost of running watches varies greatly. Whilst a very cheap watch is available for around £60, an investment of around £100 to £200 will secure you a solidly performing running watch that tracks all the basic metrics.
Watches with more advanced run tracking features cost around the £300 to £400 mark, whilst a cutting-edge technical tracking product with all the newest features will set you back a hefty investment of up to £750.
The amount you should spend depends upon your comfortable budget and the features you are looking for the watch to offer. You should buy for your own needs and try not to be swayed by additional features that you will not end up using in your weekly exercise routine.
As needs and budgets differ, we have selected and reviewed running watches at a variety of price points to provide solid recommendations to suit all.
Whilst you can get your hands on very cheap sports watches, we would recommend investing in a watch with inbuilt GPS, as otherwise, accuracy will be poor.
GPS is a vital feature to elevate watch performance above that of phone running apps. All the running watches we reviewed have this feature.
Take a look at the key features explored below and decide which of these are important to you.
This will help you to get an idea of the specification level you are after and the amount it will set you back. The more technical features on your priority list, the greater investment the watch will be.
Key Features
When investing in a brand-new sports watch to track your activities, there are a few different function and style elements worth considering to ensure you are making the best selection for your needs.
To help demystify the various features – which can at first glance seem overwhelming, particularly if you are new to the world of activity tracking – we're going to run through what you should look for in terms of practical and technical features:
1. Practical Aspects/Features
Cost
We touched on this above, but the largest influencing factor when selecting a running watch is likely to be cost.
Think about what it is you want to get from the product and choose one that matches your needs and budget. Don't get tempted by snazzy features if, realistically, they're not essential for your use.
Some people will be better off opting for a cheap watch; whereas for others, an investment in a higher-quality watch with detailed monitoring features will be worthwhile.
Battery Life & Charging Time
As most sports watches are designed to be worn 24/7 to track a whole host of activity data such as heart rate, step count and calories burned, having a watch with a long battery life is a huge bonus.
GPS features will drain the watch battery, as will any music capabilities. Therefore, perfectly logically, the more you use the watch to track activities, the faster the battery will run out of charge.
Most watches quote their battery life for use in GPS tracking mode and smartwatch mode. Some also quote it with or without music streaming.
As a guideline, a single charge of a running watch tends to last for around 12 hours of GPS mode or a week of smartwatch use. The battery life with GPS and music is around an average of five hours, long enough for all but the longest endeavours such as ultra-marathons.
Remember, though, that switching off your music for a few kilometres can help to preserve battery life – whether you have just forgotten to recharge for your 10k, or are an athlete pushing the 8-hour mark in an ultra-marathon.
Ultimately, if your watch matches the specifications above, battery life is unlikely to cause you any issues.
Regarding charging time, faster is better to avoid having gaps in the ongoing data the watch collects.
A short time to full charge allows you to replenish your watch battery during a time when you would likely be removing it anyway; for example, when you're taking a shower and getting ready for the day.
Note that water-resistant watches can be worn in the shower if you fancy it.
Not all watches note charge time but, as a rule of thumb, if battery life is good, charge time is usually quick. The Garmin Forerunner 645, our top pick, has an amazingly fast charge time of approximately half an hour.
Display Size
The size of the watch display varies considerably between brands and models.
Whilst having a screen that is large enough to make data visible whilst active is important, it is also worth considering comfort.
If the display size is too big, this will impact how comfortably the watch sits on your wrist. Whilst this may not be a problem for all, if you have smaller wrists it is well worth considering.
Some of the watches have sleep monitoring capabilities. If you want to make the most of these features, the watch needs to be unobtrusive enough to wear in bed.
The display size is also likely to impact the weight of the watch, which leads us on nicely to the next point.
Weight
Weight is another element that is important to consider but is often overlooked.
The weight is impacted by both the size of the watch and the materials used in the design.
Particularly if you are not used to wearing a heavy watch, pay attention to the weight listed in the specifications and check that it is around what you would expect. If you have a smaller frame and thinner wrists, a heavy watch will be cumbersome.
42g is ideal for a lightweight watch – you hardly notice you are wearing it.
We would say that around 70g is at the top end for watch weight, but this is ultimately a personal preference which will differ depending on your frame.
Durability
As your sports watch will be worn on all the occasions you'd usually remove any other kind of watch, it needs to have a durable design.
Take a look at the materials used, as these will need to withstand any accidental knocks or scrapes the watch might encounter in sporting activities.
Ultimately, the extent of the durability required will depend on the activities you perform.
A strong, durable watch brings peace of mind, as many sports watches are considerable investments.
Ease of Use
There is no point having a watch with lots of features if they are impossible to use whilst active. Below is a handy list of things to consider in terms of the ease of use of your running watch:
Display size (as mentioned above) – This will impact usability, weight and overall product size.

Screen layout – You will want an uncluttered and logical data layout. Are the key data values like time, distance and average pace easy to view whilst in motion?

Touchscreen/buttons – Does the watch only have a touchscreen or are there buttons too? A touchscreen can be tricky to operate with sweaty fingers so you may want to see if the watch also has operational buttons around the casing. Some watches, such as those in the Garmin Forerunner range, are solely controlled by buttons along the side. It is worth considering which type of interface you prefer to use.

Watch setup and feature operation – Look for a watch with a simple and intuitive setup process and a clear, quick interface for operating its features.
It is worth checking out the starter guide or instruction manual provision before purchasing. Lots of these are available online.
If you look at the user guide and it is rather inaccessible and confusing, the chances are you may struggle to easily use your watch to its full extent.
We don't always think about this dry aspect when selecting a product but, once you've unboxed your new watch, you'll want to be using it as soon as possible – not pouring over how to work its multiple features for days.
Bluetooth and/or ANT+ Connectivity
This functionality will enable you to connect your watch with external sensors, or Performance Optimization Devices (PODs), for a more detailed data picture.
These are additional products such as heart rate straps (different style straps are available for different sports), bike cadence sensor bands, speed sensors, golf swing sensors and running dynamics PODs.
Running dynamics PODs provide serious runners with information on their ground contact time and ground contact balance, their cadence and stride length, and their vertical oscillation and ratio.
Local sensors can also measure running power, which complements heart rate data to give a more accurate overall picture of performance level.
A watch alone will not be able to provide the level of data accuracy given by these products as they are worn locally on the body. They send their data back to the watch and all additional insights will appear in the activity summary.
Bluetooth is also vital for connecting your headphones to the watch. Any watches with music storage capabilities will have Bluetooth, however, it is worth checking that all your existing devices are compatible.
Companion App
Running watches link with a companion app which is downloaded to your mobile phone.
More detailed data – that the watch collects but is unable to effectively display on the watch screen – can be accessed through the app interface.
These are applications such as Garmin Connect, Polar Flow, Suunto app and Google Fit.
It is worth looking into the usability of these apps as you will be using them regularly to view and analyse your data.
Many of these apps also provide extra features such as the ability to manually add a workout/activity or track your hydration.
If you want to use the watch to track a particular workout routine, you can often set this up in the app. There also tends to be a list of pre-designed workouts from which to choose.
A quick note on operational usability – These companion apps tend to take up a fair amount of storage space. They can make your phone system sluggish if space is lacking, so ensure your phone has the capacity needed for the app to work correctly. You may also find they drain your phone battery faster than before – something to watch out for.
Connectivity with Other Sports Apps
If you've been using a different platform to track your activities thus far, such as Strava or Nike Run Club, you may want to look for a watch which can connect to these and continue to upload your activity data.
The best watches have connectivity with a wide range of online sports communities such as Endomondo, TrainingPeaks, Wikiloc, Redpoint and GoSUP.
2. Technical Features
GPS
Running watches use GPS to track the route and distance of your run, and to measure your running pace.
Having a watch with highly accurate GPS is important as a runner, so check the navigational provision of the watch. As mentioned above, we would recommend choosing a watch with inbuilt GPS as a minimum.
Some watches offer GPS tracking alone, whilst others offer GPS (US), GLONASS (Russian) and Galileo (European) satellite navigation in tandem.
Having multiple navigation systems is preferable to consistently give high accuracy across all terrain.
Accelerometer
Cheaper watches, which do not have inbuilt GPS, either link to the GPS signal from your mobile phone and use that to track or use an accelerometer.
An accelerometer provides a less accurate measurement than GPS as it estimates the distance covered. Look for a watch which has both an accelerometer and inbuilt navigation.
Heart Rate Monitoring
Another feature common to sports watches is heart rate tracking.
This means the watch can track you resting heart rate, the changes to your active heart rate during exercise and your recovery heart rate after an activity.
Your heart rate changes are an indication of your fitness, so tracking your heart rate helps to provide a better picture of your overall health and gives another metric against which to measure improvement.
A heart rate monitor also helps some watches to recommend workouts tailored to your fitness level.
Although wrist-based heart rate monitors have improved over the years, bear in mind that they are not going to be as accurate as a locally worn chest strap.
These can often be purchased on brand websites and paired with your sports watch for more accurate HR measurements.
VO2 Max Estimation
Your VO2 Max is your maximal oxygen uptake.
Knowing your score helps to monitor the efficiency of your running training and pushes you to improve your maximal aerobic performance.
Training Effect Feedback
Some of the more advanced watches give training effect feedback, measuring the impact of individual activities on your aerobic and anaerobic fitness.
This measurement is determined by your profile information (such as age, height and weight), training history and heart rate, along with the intensity and duration of the particular activity.
Aerobic Training Effect uses heart rate to measure the impact of the activity and assesses your excess post-exercise oxygen consumption (EPOC).
The aerobic score is often accompanied by a 'maintaining' or 'improving' label to indicate the impact on your fitness level.
A high Anaerobic Training Effect is only achieved through high-intensity vigorous exercise.
This measurement uses your heart rate and speed during the workout to calculate how the exercise has contributed to your ability to perform at an extremely high intensity.
It is reached based on the anaerobic contribution to EPOC and will vary greatly depending on activity.
Training Load
A Training Load Indicator is a handy measurement of your training volume (likely, over the last seven days).
It uses your excess post-exercise oxygen consumption (EPOC) measurements to ascertain the impact your activity has had on your fitness.
From this, it categorises your efforts into either low/detraining, maintaining or optimal for improving fitness.
As you increase activity and intensity, you will increase your training load measurement.
It is extremely useful for getting an idea of whether your current training load is suitable for reaching your goals.
Recovery Time
After completing an activity, some watches provide an estimated recovery time.
This is a useful feature to ensure you are pitching your exercise routine at the right level and not over-exercising or exerting too soon.
Sleep Tracking
Watches with sleep tracking capabilities track the quality of your sleep by analysing your heart rate and movement throughout the night.
They measure the amount of time your body spends in the different phases of sleep; light, deep and Rapid Eye Movement (REM). The watch will also know if you were awake for any period during the night.
Whilst it is interesting to have an insight into the data of your sleep, it may not be a feature you deem essential to your running watch and most likely falls into the 'nice to have' box.
Swim Tracking
Some watches are water-resistant, most often up to around 50 meters. This means they can be used to track your lengths, overall distance and pace in the pool.
Note that wrist heart rate monitoring features will not be available when you are submerged in the water. If your device is compatible, it is possible to purchase a separate swim HR monitor and connect it to your watch.
Some watches also have open water swim modes – essential if you are an amateur or professional triathlete.
Music
Some watches can store music for offline listening whilst on a run. Some connect to your Spotify account (though note that a paid Premium account is required), whilst others play tunes through a music app or by linking with Google Play Music.
Having music storage increases the price of the watch, so think about whether it is a feature you require.
When I was choosing a sports watch, this point was a deal-breaker as I wanted to be able to download music to the watch, connect my headphones and run without needing to take anything else.
If you are not a music listening runner or are more than happy to take your phone along, skip the music storage and save some money.
As an example, our top product the Garmin Forerunner 645 is available for £299.99 without music compared to a price tag of £349.99 for the same watch with music storage.
Payment App
Some of the smarter running watches have a payment app which stores your credit or debit card details so you can make contactless payments on the go.
Alongside Apple, whose Apple Pay provision is well known, some Garmin and Fitbit watches also have the capacity to make NFC payments.
For this to be a successful or sort-after feature, however, Garmin and Fitbit need to sign up a greater number of banks to the scheme.
For example, in the UK, the only well-known bank that works with Garmin Pay is Santander.
We expect that provision will improve but, currently, it does not seem like this feature is worth forking out extra for.
Phone Notifications
Running watches further towards the smartwatch end of the spectrum can receive phone notifications.
Note that this feature only works on most if your phone is nearby.
Whether this is an important feature for you will depend on whether you are looking for a focussed running watch, or wider smartwatch capabilities.
4. Aesthetic Considerations
Watch Strap
A watch strap is an important decision as it can have much more than just a visual impact.
As well as looking at the colours the strap comes in, check the material. You will likely be wearing the watch 24/7 (aside from charging) so the strap needs to be comfortable.
Common materials available are silicone, nylon, suede and leather. Some watch brands also offer a metal/Milanese strap.
Whilst it is good to have options to suit every occasion and purpose, for running and sports use, we would recommend a silicone strap.
It is waterproof, sweat-proof and wipe clean, making it the most practical option.
You may, however, wish to purchase a second strap so you can customise your watch.
Many brands sell additional straps separately, often in a wider range of colours and materials than were available with your initial purchase.
Colour Options
Most watches are available in a few different colourways. These tend to be a black/silver/grey/white watch casing with different coloured bezels of black/silver/grey/bronze/gold. Some brands offer brighter blue or red casing.
Remember you will be wearing the watch all the time, so choose a watch face in a colour and material you are happy with.
Like with mobile phones, sometimes more popular colours are a little more expensive.
Within reason, it may be worth paying a little extra (we'd say up to £15) to purchase your chosen watch in the colourway you find most appealing. Particularly with watches that are a larger investment.
We see no point in splashing out over £300 for a product you will constantly wish was a different colour.
This may seem superfluous and it depends on whether the aesthetics are important to you – but remember, you will spend a lot of time looking at your watch.
Everything Else We Looked At
Alongside our top three picks, we reviewed a selection of other high-quality running watches that deserve a mention.
All the watches featured are tailored to different levels and preferences, so have both strengths and weaknesses.
Choosing a watch will ultimately be a personal choice depending on your priorities (both needs and wants) and your budget.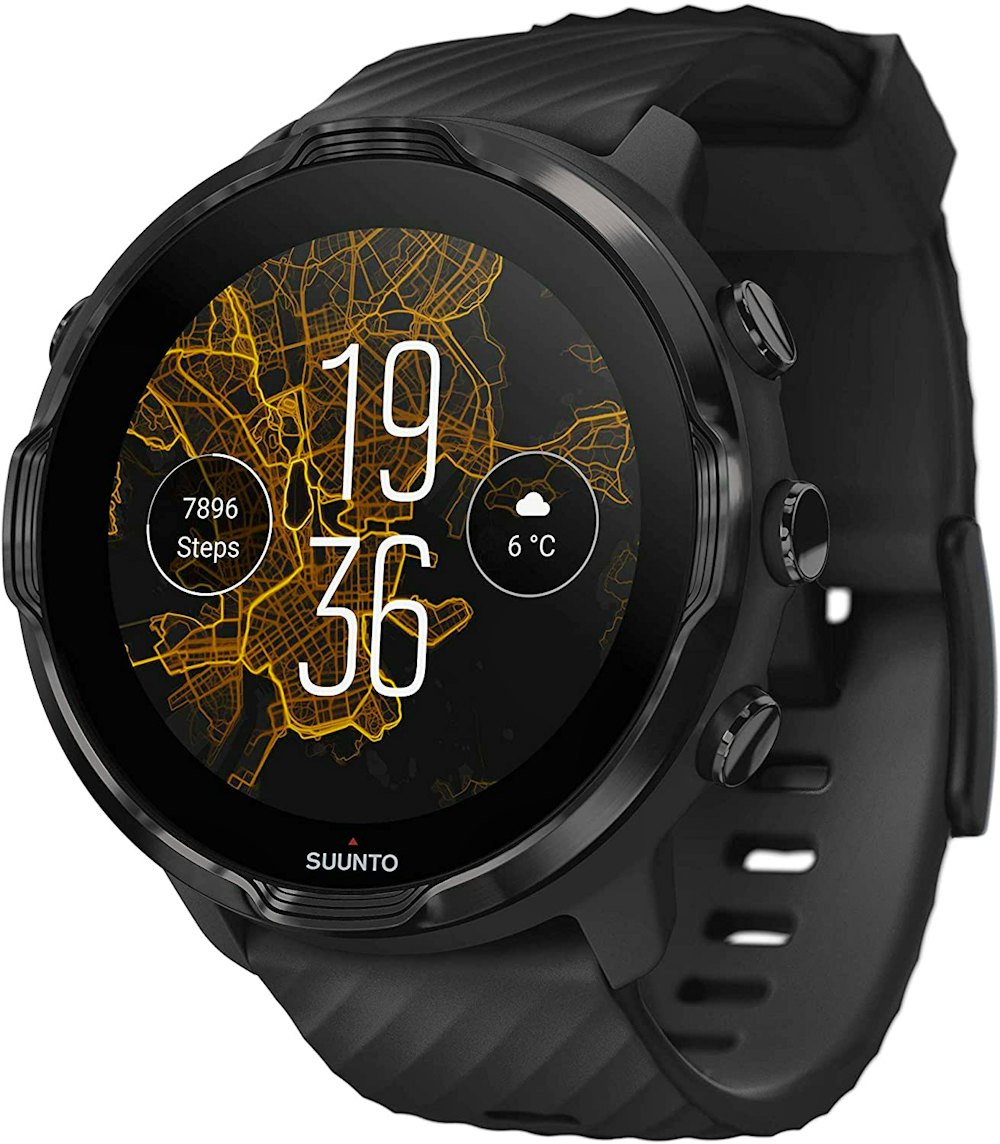 Price: £429 direct from Suunto.
The Suunto 7 model is Suunto's first sports watch to include smartwatch features, such as music storage, alongside Google Pay, Google Assistant and Google Fit (through connectivity with Wear OS by Google).
There is no denying it, this watch looks good. It's a quality build and the display design is appealing across all of the feature screens and widgets – something which Garmin sometimes lacks.
At a weight of 70g, though, it is considerably heavier than our top pick Garmin and the screen display is considerably larger. Be wary of this if you have small wrists.
The mapping features on this watch are comprehensive, just like on the Suunto 9 Baro. We enjoyed the ability to view maps on the watch and see your mapped route progress as you are running.
One of the drawbacks with the Suunto 7 is the need to download three apps – Suunto, Google Wear OS & Google Fit – for all the features to operate. Having more than one app makes the setup and ongoing operation a little confusing.
We also found that the battery of the Suunto 7 drained at an incredibly fast rate – even when just being used to track steps and calories.
For example, in testing, we found that the Suunto 7's battery almost fully drained after just a day of use. The battery life expectations outline that two days of smartwatch use should be possible from one charge cycle.
We love the stylish, quality look of this watch and think it is great that Suunto has brought out a watch with music storage capacity.
It is a watch on the right track and we highly rate the other Suunto models. However, due to the high price tag, we would recommend keeping an eye on the development of this watch to see if the kinks are ironed out before investing.
Ultimately, if you are looking for an endurance sports watch at a similar price point to the Suunto 7, you may prefer the performance of the Suunto 9 Baro.
Features: Navigation (GPS, GLONASS, QZSS, BEIDOU); offline maps (satellite, terrain & topographical); heat and altitude maps; altimeter; music storage; 70 pre-installed sports modes; open water swim; interval training; training recovery; training load; Suunto FusedSpeed; Running Power with Stryd sensor; sleep tracking; phone notifications; Suunto app.

Battery Life: Up to 12h in training mode with GPS, up to two days with smartwatch use and up to 40 days in time mode (battery saver mode).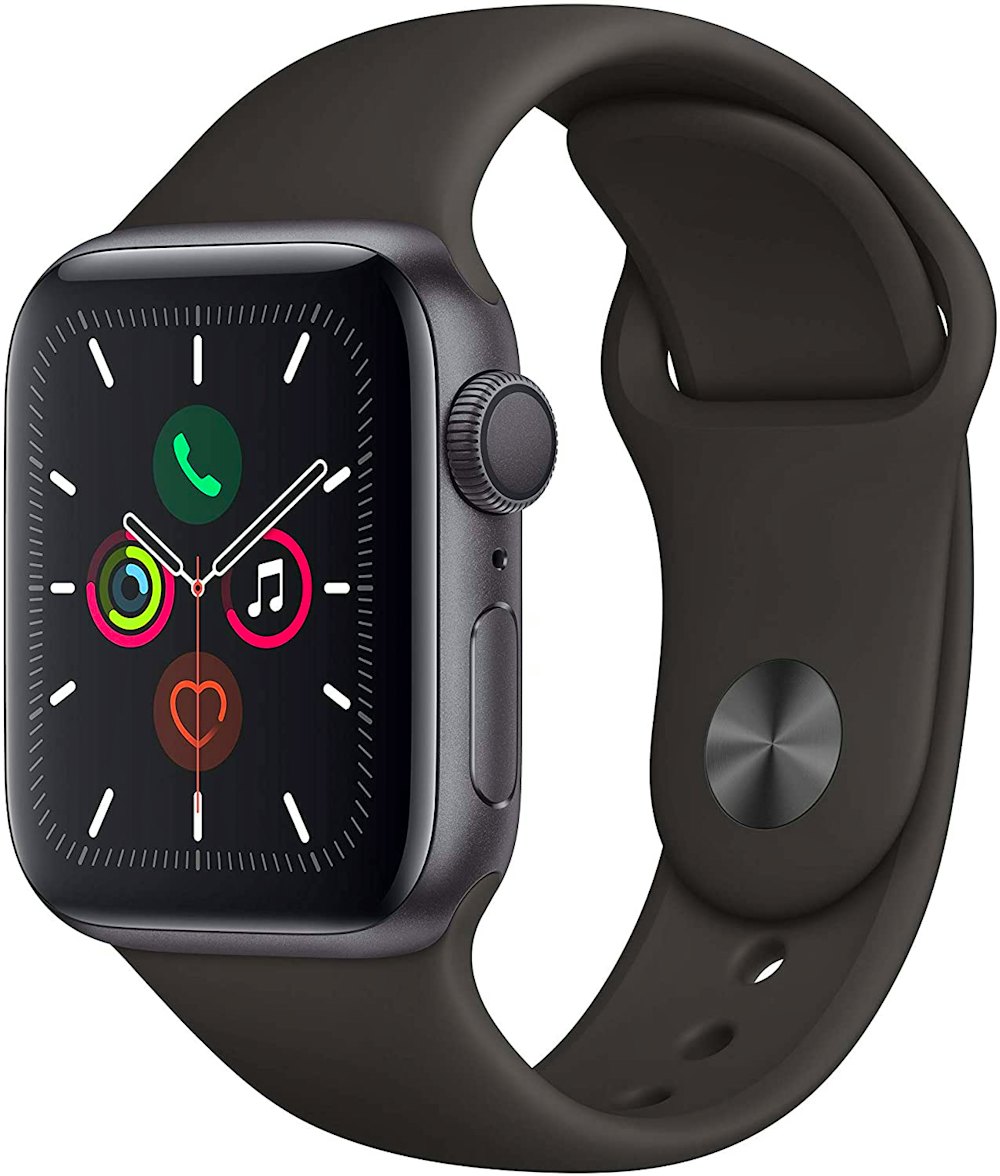 Apple Watch Series 5
Price: Available for £399 at Amazon, or direct from Apple for the same price.
Note that £399 is the cost of the aluminium cased version, the stainless-steel case options are priced at £699 or £799 depending on the strap.
The Apple Watch is not first and foremost a running watch, but a smartwatch with run tracking ability.
In addition to tracking your sports data, you can make payments with Apple Pay, take calls and reply to messages (with voice dictation), stream Apple Music and get Siri to answer your questions.
With the high price tag, this means the Apple Watch is likely overkill for those who are just looking for a dedicated running watch, without smartwatch features.
Also, in terms of technical running data, other Garmin and Suunto options outperform Apple's offering.
However, it is easy to select an indoor or outdoor run activity on your Apple Watch and you can customise the data you view on the display whilst exercising. There is an option to view up to five metrics at once or to scroll through them.
We disliked the use of the touchscreen for the controls. You have to tap or press the digital crown and the side button simultaneously to pause the run and swipe the screen to end it. With sweaty hands, it is easier to simply press a side button, like on the Garmin models.
We also found the lack of immediate start (with a countdown of 3–2–1) irritating, but this is a minor observation.
The Apple Watch Series 5 does have one of the features we found most useful across all the watches – pace updates. If you connect your headphones via Bluetooth (or take along your phone), the watch offers useful audio pace updates during your run to help you stay on target.
We like the unobtrusive style of the watch and the option to purchase extra wrist straps to mix up your look. Connectivity with Nike Run Club and Strava is also convenient to have, as it links your watch to your running community.
Whilst the GPS and heart rate monitoring of this watch is accurate, it lacks some of the more advanced training metrics and running dynamics of other dedicated running watches.
Ultimately, if you are looking solely for a running watch, it's not worth splashing out on an Apple Watch. If you are creating your own Apple ecosystem, this watch is a nice addition.
Features: ECG app; noise alerts; barometric altimeter; menstrual tracking; activity rings and challenges; water-resistance up to 50 meters; streams the Apple Music library; fall detection; international emergency calling; Apple Pay; wide connectivity to third party apps (for example, Strava, TrainingPeaks, Nike Run Club, Wikiloc, Redpoint, GoSUP).

Battery life: Up to 18 hours (smartwatch use), up to 10 hours (indoor workout), up to 6 hours (outdoor workout with GPS) and up to 5 hours (outdoor workout with GPS and LTE). 2.5 hours charging time to full charge.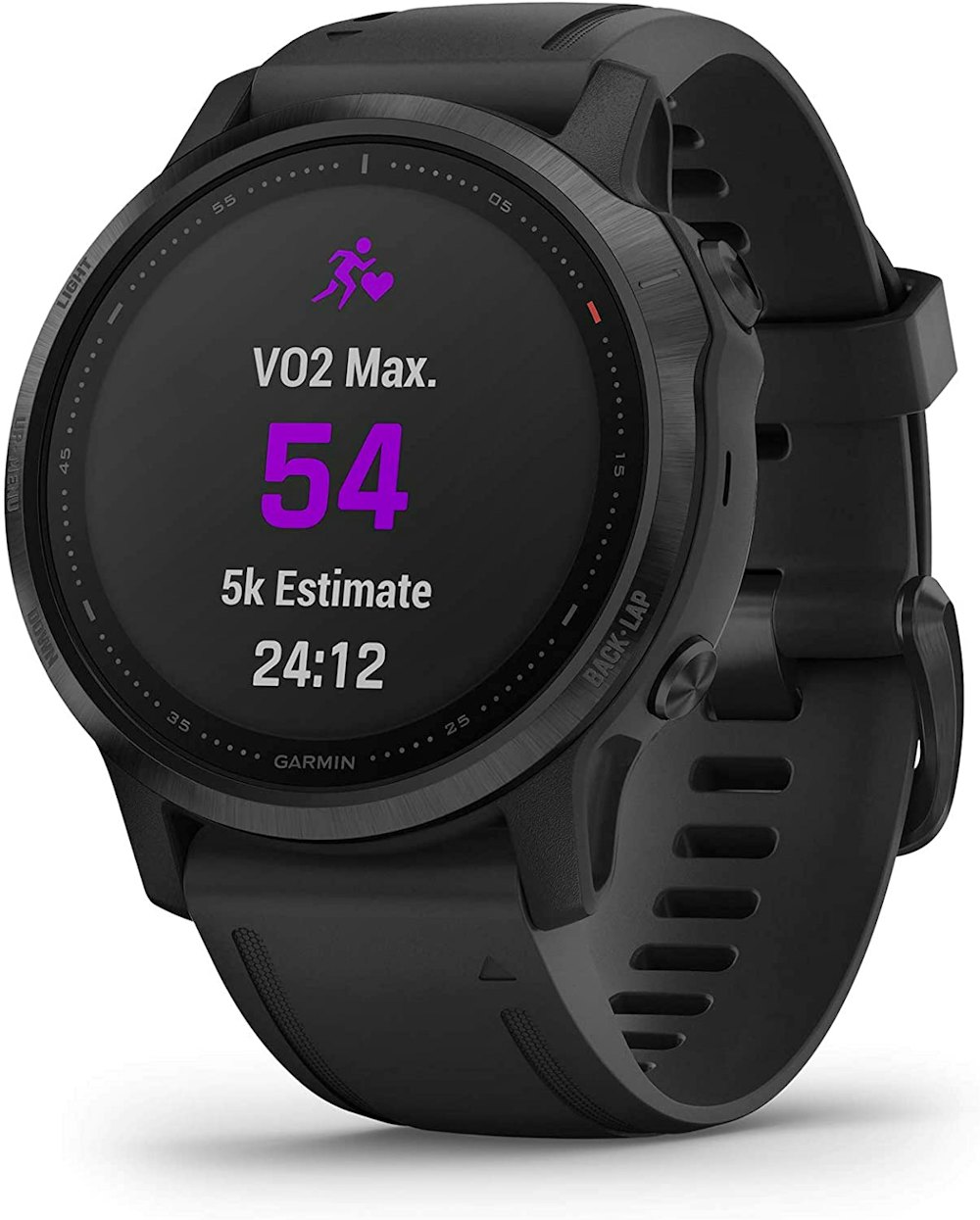 Garmin Fēnix 6 Range (available in Standard, Pro, Sapphire or Solar)
Price: Available from £599 direct from Garmin or from £533.80 at Amazon (for the Fēnix Pro version).
The Garmin Fēnix range is Garmin's newest multisport offering. It is available with or without music, maps and WiFi; with or without solar; and in a Sapphire Pro version, but even the most basic form of this watch will set you back £529.99.
The highest spec model – the Fēnix 6 Pro Solar Edition – costs a hefty £739.99. At either price, it is an investment piece, and therefore best suited to dedicated runners.
Particularly good for triathletes and trail runners, the Garmin Fēnix comes with the reliability, durability and quality we have come to expect from Garmin – and a whole host of extra features.
Garmin's PacePro provides running pace guidance that takes terrain/grade into account and you can bring up TopoActive Europe maps on your wrist.
You can also use turn-by-turn navigation to ensure you stay on the right trail.
Round trip routing handily suggests circular map routes if you enter the distance you wish to run.
Garmin's ClimbPro ascent planner can be used to view real-time information on gradient, distance and elevation gain.
The Pulse Ox2 sensor monitors your altitude acclimation by using light beams to gauge your oxygen absorption. Respiration tracking monitors your breathing rate.
The solar version has a 'Power Glass' solar charging lens and customisable power manager modes, so you will never run out of power.
There is no doubt that this watch displays the best technology Garmin can offer.
The Fēnix 6 has so many niche features – including points-of-interest navigation (for urban areas) – that you would be highly unlikely to ever use them all, particularly if you are a mid-level road runner.
The Fēnix is a rugged watch but, at around 50g, it is thankfully not as heavy as some of the other watches we reviewed. Whilst its display size is larger than the Garmin Forerunner 645, it is smaller than the rather chunky Suunto 7.
The user interface of the Fēnix 6 is intuitive, and the display design is great. This means we can do away with one of our old Garmin qualms – the look of the watch now reflects its quality performance.
The different Fēnix 6 options can seem a little confusing at first, and it is worth carefully researching which Fēnix is best suited to your needs.
We did not have a Sapphire version to test out, but the sapphire lens is Garmin's most scratch-resistant watch face. Note, however, that the Fēnix 6 Sapphire does not have solar charging capabilities like the Pro Solar.
Features: Navigation (GPS, GLONASS and Galileo); wrist HR recovery time; interval training; VO2 Max; and all the usual Garmin features PLUS acclimation features; PacePro; TopoActive Europe maps; round trip routing; golf maps and ski maps; ClimbPro ascent planner; Pulse Ox2 sensor; and respiration tracking.

Battery life: Up to 14 days/16 days with solar in smartwatch mode, up to 36 hours/40 hours with solar in GPS mode and up to 10 hours with GPS and music.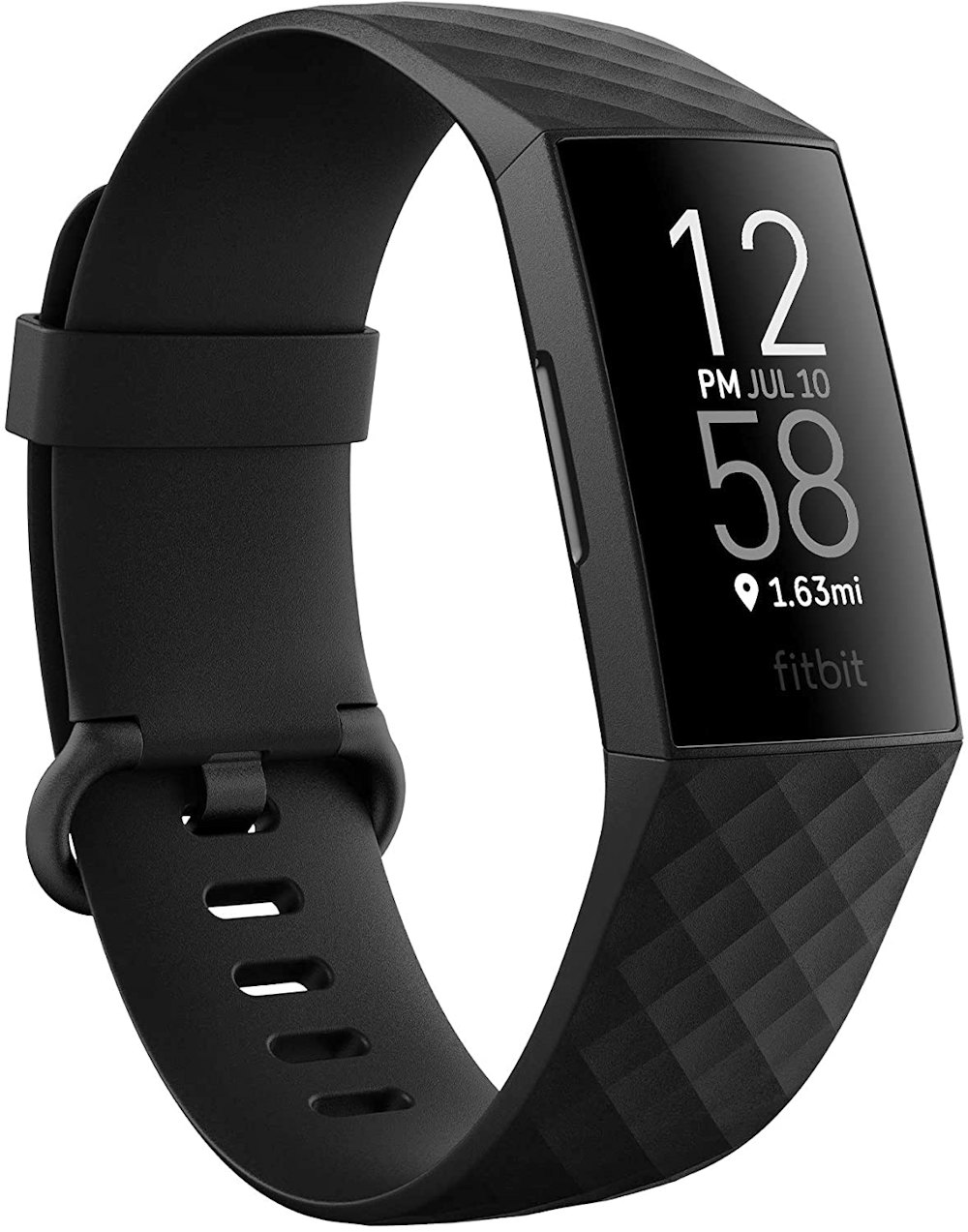 Fitbit Charge 4
Price: Available for £124.99 direct from Fitbit.
Unlike the earlier models which piggybacked off your mobile phone's GPS signal, the Fitbit Charge 4 has inbuilt GPS. This means it now more accurately tracks your running distance and calculates pace.
Like others in the Fitbit brand, it has all the well-known basic activity tracking features (such as steps counted and calories burned).
It monitors your heart rate and gives information on resting HR, HR zones and provides workout intensity maps based on HR for each activity.
Extra features include sleep tracking, menstrual tracking and Fitbit Pay.
You can control your Spotify music from your Fitbit band but, as it does not have music storage capability, you'll still need your phone on your runs.
Whilst the Fitbit Charge 4 does not have the technical run tracking features of the more expensive watches, it doesn't have the steep price tag either.
If you are a beginner runner, the capabilities of the Fitbit will likely be well suited to your needs.
This watch band provides the basic information you want to know, such as heart rate, distance and pace, without overwhelming you with data.
Features: Wrist HR; HR zones; workout intensity mapping; step counter; calories burned; menstrual tracking; sleep tracking; Fitbit Pay; Spotify control.
Battery Life: Battery life up to 7 days, or up to 5 hours with GPS.
Polar Vantage V
Price: Available from £439 direct from Polar, or around £336.69 at Amazon.
The Polar Vantage V is a top-range watch – with matching price tag – designed for people who aspire to train like pro athletes.
It has a range of advanced run tracking features such as VO2 Max, running power and the creation of tailored running programmes.
After every run the Polar will give you a Running Index score to help you understand and track the efficiency of your running training.
Alongside heart rate, it monitors running power from the wrist – a claim that is unique to this Polar – using its proprietary algorithm and your GPS and barometer data.
Running Power is usually only tracked with the addition of a Running Dynamics POD.
Your Running Power is then used to calculate your muscle load – the load and stress a workout puts on your joints, muscles and bones.
Handy recovery feedback is given through the Recovery Pro feature, ensuring that you do not overwork yourself.
Aside from running, you can use your watch to track just about any activity. The Vantage supports tracking for over 130 different sports.
The Polar Vantage V is probably the most durable of all watches on this list, having passed military-standard tests (including how the device deals with extreme temperatures and humidity).
Whilst it is unlikely the average amateur athletes will use the watch in these extremes, it is good to know it's a tough watch.
The Polar Flow app displays all your data visually and intuitively.
A nice bonus feature is the free Polar Flow for Coach service which allows you to plan your activities with your coach and get instant feedback.
It has sleep tracking and a Nightly Recharge feature – again unique to Polar – which lets you know how well you've recovered from exertion the previous day.
Features: Military-grade durability; Recovery Pro; Running Power measurement; Muscle Load measurement; V02 Max; Running Index; Polar Flow app; connects to Strava and Training Peaks; phone notifications; sleep tracking.
Battery life: Up to 40 hours in training mode (GPS and wrist-based heart rate), or up to 7 days in watch mode with continuous heart rate tracking.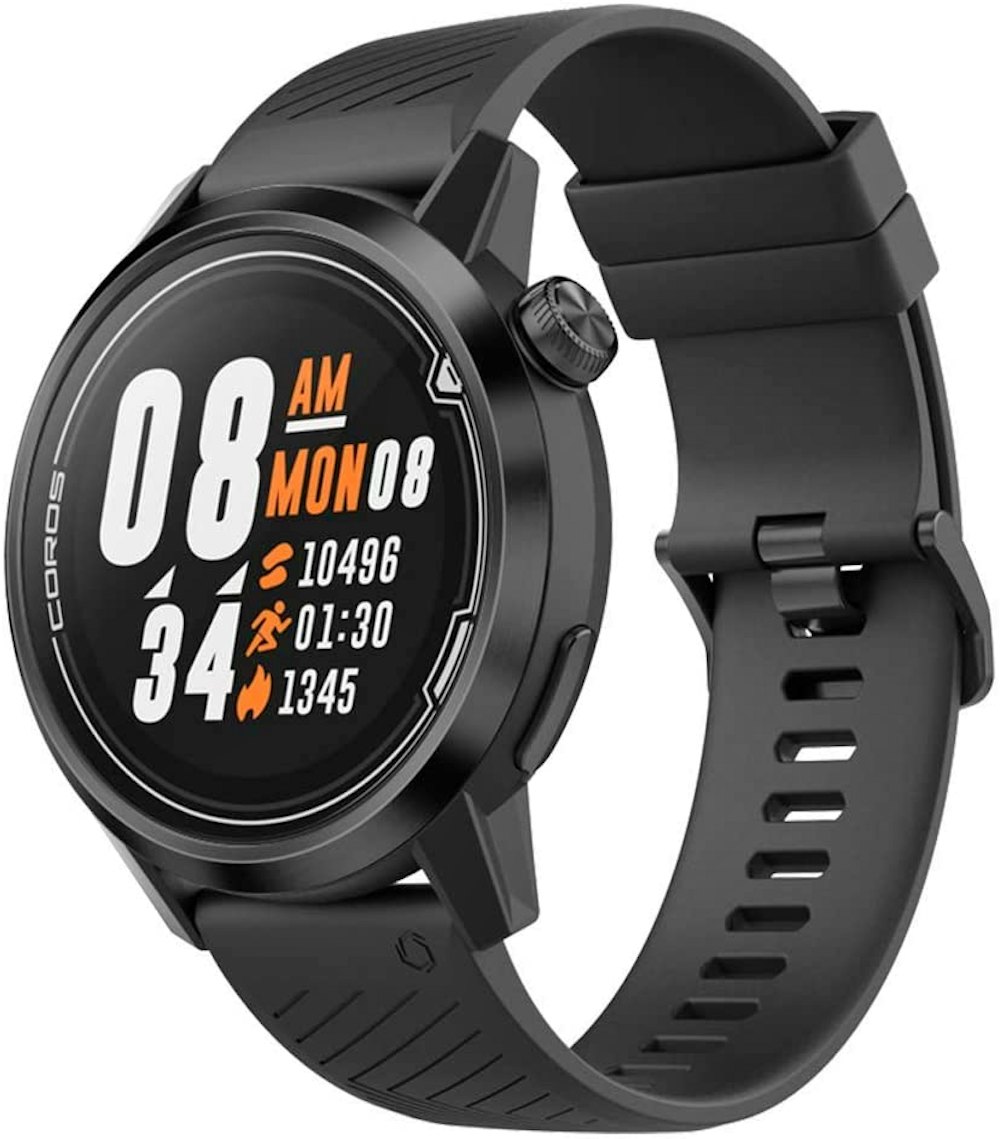 COROS Apex
Price: Available for between £293.49 and £340.99 on Amazon, depending on size and colour choice.
A major selling point of the COROS Apex is its incredible battery life, which far exceeds any other watch reviewed.
If you regularly run long distances or simply hate having to charge devices almost every day, this watch is a perfect choice – and for below £300 (depending on size).
The COROS Apex has a standard sports watch aesthetic (without looking cheap) and handily comes in two sizes, 46 mm and 42 mm.
It has running, swimming, cycling and multisport modes but does not track any other sports or have the function to create your own workouts.
For runners, however, this watch has all the features you need and is a solid performer.
Instead of buttons, the COROS Apex has a digital dial to navigate through the watch controls. Whether you get on better with this or simple buttons will be down to personal preference.
Like the Suunto watches, the Apex has mapping capabilities, with your uploaded route displayed as a bread crumb trail.
It provides real-time route information, such as elevation, and alerts you if you are heading off course.
Whilst not essential for shorter distance road running, these mapping features are very useful when trail running (particularly when travelling or in new areas).
When relying on Strava and phone GPS alone, having gaps in my route due to weak signal was a major pet-peeve. The Apex combats this not only by tapping into multiple navigation systems (GPS, GLONASS, BDS) but with its Intelligent Stride algorithm.
This helps to fill in weak signal gaps (such as tunnels or areas of heavy tree cover) by using the information it has gathered in your stride model.
The watch has an accurate track run mode, which many sports watches lack, and can be combined with a COROS Performance Optimization Device (POD) to track more advanced running metrics in real-time.
Features: Wrist HR monitor; stamina monitor; training effect measurement; suggested recovery windows; Intelligent Stride algorithm; VO2 Max; route mapping/uploads.

Battery life: Up to 100 hours using GPS on Ultra Max setting, up to 35 hours with GPS in Normal mode and up to 30 days with regular usage.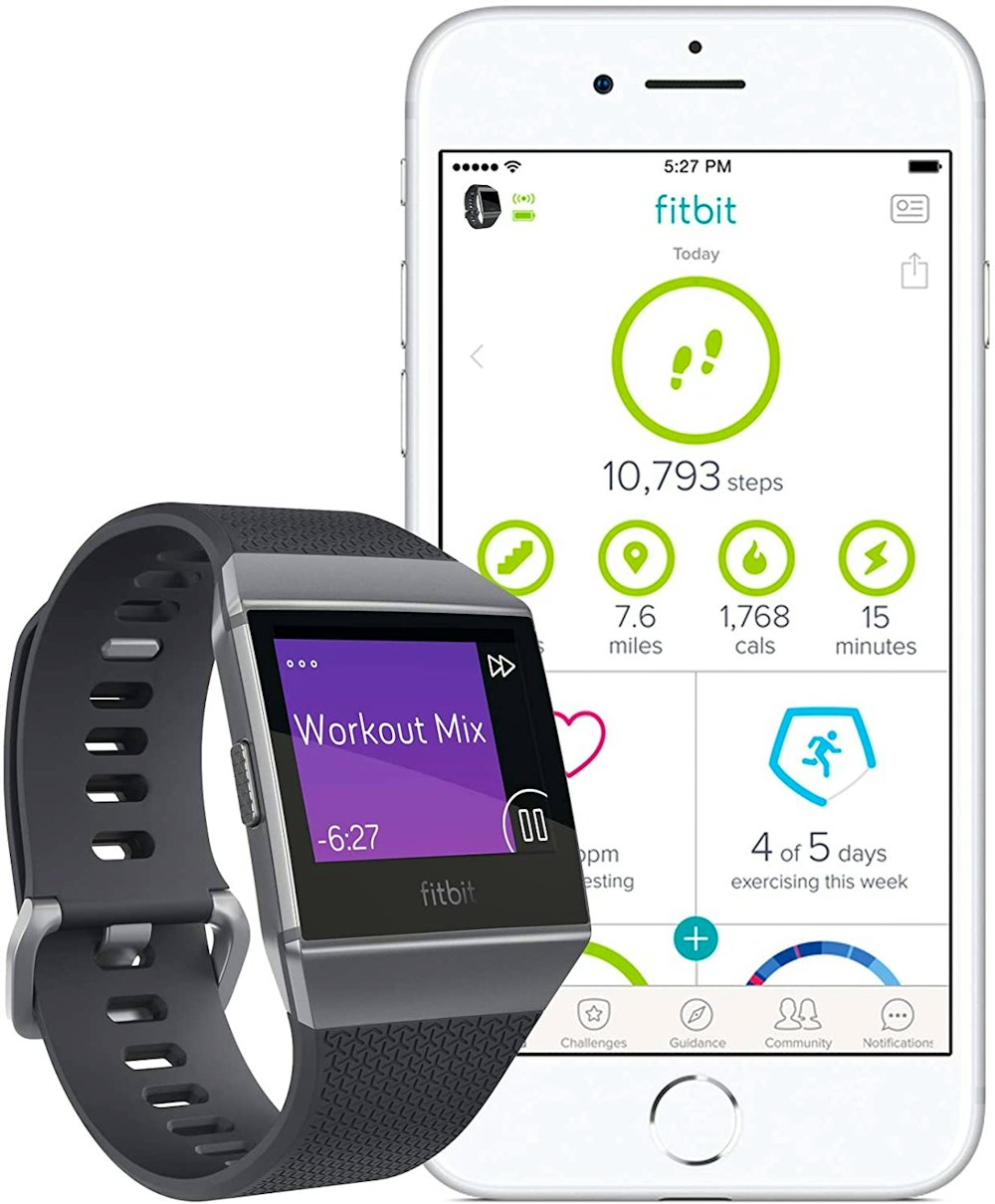 Fitbit Ionic
Price: Currently available for £179.99 at Amazon and direct from Fitbit.
The Ionic is Fitbit's first smartwatch offering. Whilst it lacks some of the app functionality of the more expensive smartwatches, it is a well-priced all-rounder.
It has inbuilt navigation – not previously a given with Fitbit as other older and cheaper models use the GPS signal from your phone.
The Ionic has good distance, route and pace accuracy as it uses both GPS and GLONASS navigational systems to track movement.
It is attractive, slight in appearance and the bands can be swapped out to re-customise the watch when you feel like a change.
The Ionic has all the features expected from a Fitbit; counting your steps, calories burned and flights of stairs climbed, alongside sleep tracking (split into light, deep and REM sleep). It also alerts you if you have been sedentary for over the amount of time it deems to be healthy.
It has a heart rate monitor which tracks resting heart rate and provides heart rate zones and tracking when exercising.
It has been found, though, that the Ionic's heart rate monitor is less accurate at rest or low intensity than at high intensity.
This probably is not a deal-breaker as you will most likely be more interested in your heart rate data during vigorous exercise, but it is worth mentioning.
The Ionic also has a Run Detect feature which is unique amongst the watches we reviewed. Run Detect automatically triggers GPS and run recording when it senses that you have started running.
The Ionic also has another valuable feature that many lack – music capacity. It can store over 300 songs, meaning that you can go for a run without taking your phone.
As it is water-resistant up to 50 meters, you can also take the Ionic swimming to track your lengths and pace in the pool.
Features: HR tracking; basic activity tracking; touchscreen; music; built-in workouts; Fitbit Pay; Run Detect.
Battery life: Up to 10 hours in GPS mode or up to 4 days in watch mode.
At a Glance Comparison
Watch Brand/Model
Cheapest Available Price
Navigation
Battery Life
Music
Sports Modes
Fitness Features
Connectivity
Other Features
Garmin Forerunner 645 Music
£319
GPS
GLONASS
GALILEO
Between 14 hours and 7 days
Yes (up to 500 songs)
4 run modes; 7 gym activity profiles; 5 outdoor recreation modes; run, cycling & swim tracking
VO2 Max
Training Effect
Training recovery
Bluetooth, ANT+, Wi-Fi
Garmin Connect
Compatible with online sports communities (e.g. Strava)
Garmin Pay
Menstrual tracking
Safety & tracking features Barometric altimeter
Garmin Forerunner 245 Music
£299.99
GPS
GLONASS
GALILEO
Between 6 hours and 7 days
Yes (up to 500 songs)
4 run modes; 6 gym activity profiles; Comprehensive run, cycling & swim tracking
Pulse Ox
VO2 Max
Bluetooth, ANT+, Wi-Fi
Garmin Connect
Safety & tracking features
Menstrual tracking
Suunto 9 Baro
£449.04 direct from Suunto

GPS
GLONASS
GALILEO
QZSS
BEIDOU

Between 25 hrs and
14 days
No
80 plus pre-installed. Run, cycling & swim tracking (including open water swim)
Training recovery
Training load
Interval guidance
Suunto FusedSpeed
Running power with Stryd sensor
Bluetooth
ANT+
Suunto app
Compatible with online sports communities (Strava, TrainingPeaks, Endomondo, etc.)
Mapping: offline maps (satellite, terrain & topographical), heat and altitude maps
Breadcrumb trail in real-time
Barometer
Altimeter
Suunto 7
£429 from Suunto

GPS
GLONASS
QZSS
BEIDOU

Between 12 hrs and 40 days
Yes
70 pre-installed sports modes; comprehensive run, cycling & swim tracking (including open water swim)
Interval training
Training recover
Training load
Suunto FusedSpeed
Running power with Stryd sensor
Bluetooth
ANT+
WiFi
Suunto app
Compatible with online sports communities
Mapping: offline maps (satellite, terrain & topographical), heat and altitude maps
Breadcrumb trail in real-time
Altimeter
Apple Watch Series 5
£399 at Amazon or direct from Apple
GPS
GNSS
Between 5 hrs and 18 hrs
Streams the Apple music library
Run, cycling & swim tracking (including open water swim)
Activity rings and challenges
Set workout-specific goals
Bluetooth
WiFi
LTE and UMTS
Wide third-party app connectivity
ECG app, noise alerts, menstrual tracking, fall detection, international emergency calling, Apple Pay, barometric altimeter
Garmin Fenix 6 Range
From £599 from Garmin or £533.80 at Amazon
GPS
GLONASS
Galileo
Between 10 hrs and 16 days
Yes (with the Pro & Sapphire editions)
Tracks running, cycling & swimming; 13 outdoor recreation modes; 8 gym activity features;
Golfing features
Pulse Ox2 sensor, respiration tracking, recovery time, interval training, VO2 Max

Bluetooth, ANT+, Wi-Fi

Acclimation features, PacePro, TopoActive Europe maps, round trip routing, ClimbPro ascent planner, golf and ski maps
Fitbit Charge 4
£124.99 from Fitbit
GPS
Up to 7 days, or up to 5 hours with GPS
Has Spotify control, but no music storage
Tracks activities but lacks specific modes with specialised sets of features
Basic activity tracking features
Bluetooth
Menstrual tracking, Fitbit Pay, touchscreen
Polar Vantage V
£439 from Polar or £336.69 at Amazon
GPS
GLONASS
Galileo
QZSS
Between 7 hrs and 40 hrs
No
Great for triathlon training; tracks open water swimming; supports over 130 different sports
Recovery Pro, Running Power measurement, Muscle Load measurement, V02 Max, Running Index
Polar Flow app, connects to Strava and Training Peaks
Military-grade durability
COROS Apex
Between £293.49 and £340.99 on Amazon
GPS
GLONASS
BDS
Between 35 hrs and 30 days
20 supported workout modes
Stamina monitor, training effect measurement, suggested recovery windows, Intelligent Stride algorithm, VO2 Max
ANT+/Bluetooth
COROS app
3rd Party Integration (Strava, TrainingPeaks, etc.)
Route mapping/uploads
Barometric altimeter
Fitbit Ionic
£179.99 at Amazon and direct from Fitbit
GPS
Between 10 hours and 4 days
Yes. Stores more than 300 songs
Suitable for running, cycling and swimming (water-resistant up to 50m).
Built in workouts, run detect
Bluetooth
WiFi
Connects to popular apps like Strava
Touchscreen
Fitbit Pay
Free shipping, 45 day money-back guarantee and 2 year limited warranty from Fitbit.com
**All watches above have a wrist heart rate monitor (providing resting HR, active HR, HR zones and workout intensity HR mapping).**
**They all have inbuilt GPS.**
Final Thoughts
You do not have to be an experienced runner to gain value from the insights given by a running watch.
Whilst accurate distance and pace measurements are the first port of call, tracking metrics like Training Effect, VO2 Max, Run Power and cadence can help take your performance to the next level.
A running watch makes this data accessible and understandable, helping you to increase the efficiency of your training and reach your goals.
As they often support a multitude of other sporting activities – some with up to 130 different activity modes – running watches are flexible investments likely to see varied use.
They can comfortably be worn to track most aspects of your active life – and even your sleep.
There are many great quality watches in this list, with an amazing range of both technical fitness and smartwatch features.
Your choice of watch should reflect your sporting interests and tracking priorities, but also your ambition.
Each person will have a slightly different wish list when investing in a running watch.
The good news is, as illustrated through the comprehensive selection above, there are combinations of features out there to suit all preferences and abilities.