There's no denying that mobile phone companies like Apple, Samsung, Huawei and Google continue to produce exceptional devices. But they're fragile gadgets and most people have either suffered a cracked screen themselves or know someone who has.
Screen protectors provide a layer of protection which should prevent a phone screen from being cracked or scratched.
Just like buying any accessory for a mobile phone, there are budget options and premium options.
Common issues with screen protectors include 'bubbling' between the protector and the phone and misalignment.
Screen protector technology has vastly improved in recent years and there are now additional features like privacy filters and self-healing technology that make choosing a protector for an expensive phone a big decision in itself.
In this article, we have compared screen protectors for the iPhone 11, iPhone 11 Pro, iPhone X, XR and XS. All of the screen protectors we have featured have other listings on Amazon for other models of iPhone and other brands at varied prices.
Let's take a look at some of our favourites:
Our Pick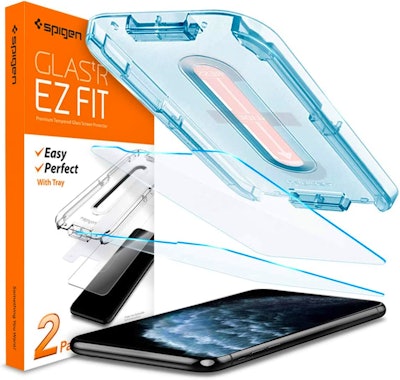 The Spigen EZ Fit GlastR Premium Screen Protector feels like a premium product. The accessories included (black rubber squeegee, lens and screen cleaning wipes, dusting cloth, and dust removal stickers) are good quality and are very effective at getting the phone ready for the protector.
Not only did the glass protector go onto the phone in the right position, but we also didn't experience any bubbles appearing – no smoothing out of the screen protector was needed at all.
If you do have any issues once the protector is on, you can use the rubber squeegee provided to smooth out any problem areas.
What's great about this model in comparison to Spigen's Alignmaster, is that the EZ Fit has an oleophobic coating which protects against fingerprints.
The EZ Fit is a glass screen protector, but the layers that make up the protector aren't just glass. Layers include anti-dust nano-coating, an OCA layer to help reduce reflection, a PET base and a layer of silicone resin.
The good thing about getting a Spigen protector is that Spigen makes a lot of different cases which are all compatible with its protectors.
Given that this screen protector doesn't cover the curvature of the iPhone screen, getting a Spigen case is a good idea to make sure the entire phone is protected.
If we had to find a negative (and we have to work hard to find one) it would be that there isn't any privacy protection, but for £11.99 and the impeccable positioning, this can be forgiven.
Runner Up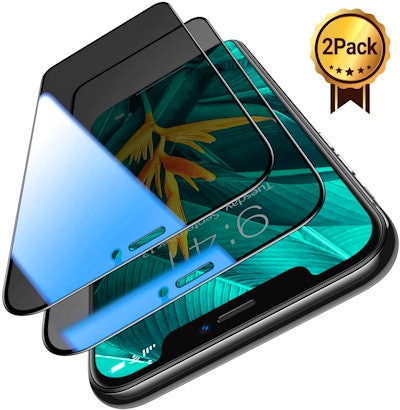 The Torras Privacy Screen Protector is great for commuters who want to shield their screen from passengers sitting close to them, or perhaps a teenager who doesn't want their parents to know they're not researching their homework.
This screen protector is tinted and the screen's contents are only visible to those who are looking directly at it – any kind of angle more than 28 degrees makes the screen appear dark.
Torras claims its protector is an incredible 10 times stronger than 'normal' screen protectors on the market.
Though we're not sure how this is tested, the glass itself is the highest military-grade, explosion-proof 9H toughened tempered glass which is certified by SGS (the world's leading verification, inspection, testing and certification organisation). So, a very good quality material that will be super strong.
The company also states that the screen protector gives 100% ultra-clarity and anti-glare – a big plus if that's true, it does seem very clear.
There are a lot of great plusses to this product – an anti-blue light coating to prevent eye strain and dizziness, a nanostructured coating to help keep the screen clear from smears and fingerprints, and a 3D curved, all-around edge.
This screen protector was easy to install thanks to an alignment tool. We were left with a few bubbles at the end but they were smoothed out effectively with the squeegee tool provided.
It's at the higher end as far as price is concerned but you do get two in the pack.
Also Awesome
Glass protectors aren't for everyone and if you're a fan of PET alternatives, Tech Armor HD Clear Plastic Film Screen Protector is a great choice.
First thing's first, it's likely you're going to get some bubbling with this kind of screen protector once it's on but the box contains four which is amazing when you consider each one is costing less than £1.50.
It's back to old-school application with a dust wipe, labelled tags to pull off and a bubble removal card, which does make the heart sink a bit. Still, the installation was fine when we tried it – there were limited bubbles and those that were there were smoothed out very easily.
Despite the low price, the screen protector is well made and even has an oleophobic coating which is great for maintaining clarity, especially with a plastic protector.
Once the protector is on the phone it's hardly noticeable, and the touch and transparency are brilliant.
Why Do You Need a Phone Screen Protector?
Phone screens are fragile and expensive to replace. A screen protector doesn't make the phone invincible but it provides an extra layer of protection – the idea being that if the phone is dropped or scratched, the protector takes the impact rather than the screen.
Some protect the phone against liquid as well; if something spills onto the phone, the screen will not be affected.
There are other benefits depending on which screen protector you choose.
Some have a privacy filter which shields the contents of your phone from prying eyes. Others have a blue light filter which helps with dizziness, blurred vision and prevents you from being wide awake after checking something on your phone in the middle of the night.
What Are the Different Kinds of Screen Protector?
Screen protectors are produced in three different materials:
Polyethylene Terephthalate (PET)
Thermoplastic Polyurethane (TPU)
Tempered glass
Budget screen protectors are often made from PET, which is a type of plastic. These protectors are far more likely to get scratched than harder materials and don't protect the screen from cracking if the phone is dropped.
However, they are cheap enough to be replaced frequently and some people prefer the light, film-like texture, which is the least visible option.
TPU is also plastic but it's very flexible. Installing a TPU screen protector can be difficult and involves wiping the screen with a solution before smoothing out bubbles. There are some benefits, however:
Its flexibility means that, unlike PET which is more rigid, it can curve with your phone and be fitted edge-to-edge.

It is also 'self-healing', which means the material gets rid of small scratches without you having to do anything.
Glass protectors offer the best protection for a phone – if you drop the phone or something falls on it, it's more likely that the glass of the screen protector will crack than your phone screen. They are much thicker than a plastic protector and usually very noticeable, sitting on top of a phone screen.
Important Features to Look for When Buying a Screen Protector
Strength
The strength of a phone screen protector is often measured against the Mohs Scale of Mineral Hardness. This is the same scale used to grade diamonds.
On this scale, diamonds are 10H, a fingernail comes in at 2.5H and talc is 1H.
It is not advisable to go for anything less than 9H when choosing a screen protector.
Material
As mentioned above, there are three types of screen protector on the market:
Thermoplastic Polyurethane (TPU)
Polyethylene Terephthalate (PET)
Tempered glass
Tempered glass protectors offer the best protection. A high-quality tempered glass screen protector has shock-absorbing silicon as one of its layers.
Phone Case Compatibility
Finding a phone case to fit can be problematic when your phone has a screen protector on.
Some screen protectors sit within the edges of the phone and don't affect the fit of a case, but will leave a small amount of phone screen exposed. Others go edge to edge with the curvature of the screen, protecting all areas of the screen but increasing the dimensions of the phone which might mean a case won't fit.
To help with this, many brands make screen protectors which are compatible with their own cases.
If you want to use a different case, it pays to do your research.
Phone Compatibility
Many of the brands produce one type of screen protector and adapt it for different phones. Amazon listings should specify which phone the protector fits.
You might find what looks like the same listing for two different prices. In this case, you can likely get more screen protectors in the pack for slightly more money but make a saving on the price per protector.
Ease of Fitting
Lining up a screen protector correctly can be difficult to do. Many of the screen protectors available now come with an alignment tool which helps to ensure accuracy when positioning the film or glass.
Coating
Hydrophobic coating protects the phone against water and other liquids. Water on a phone screen coated in hydrophobic material won't spread, it will just bead and roll off.
Oleophobic coating creates an oil-resistant surface which will protect the screen against fingerprints, dust, dirt and oils.
Often, a listing will note that the protector has either oleophobic or hydrophobic coating when in fact it has both.
Screen Sensitivity
Read through reviews to see how the protector performed over time where screen sensitivity and clarity is concerned.
With a touch screen and facial recognition being paramount to user experience, the screen protector mustn't get in the way of a phone's technology.
All the Other Phone Screen Protectors We Looked At
We looked at PET, TPU and tempered glass screen protectors.
Whilst glass screen protectors will always be the most reliable when it comes to withstanding impact, there are some great PET and TPU products out there that use cutting edge technology to give fantastic protection.
Here's the full list of everything we looked at in our search for the best screen protector: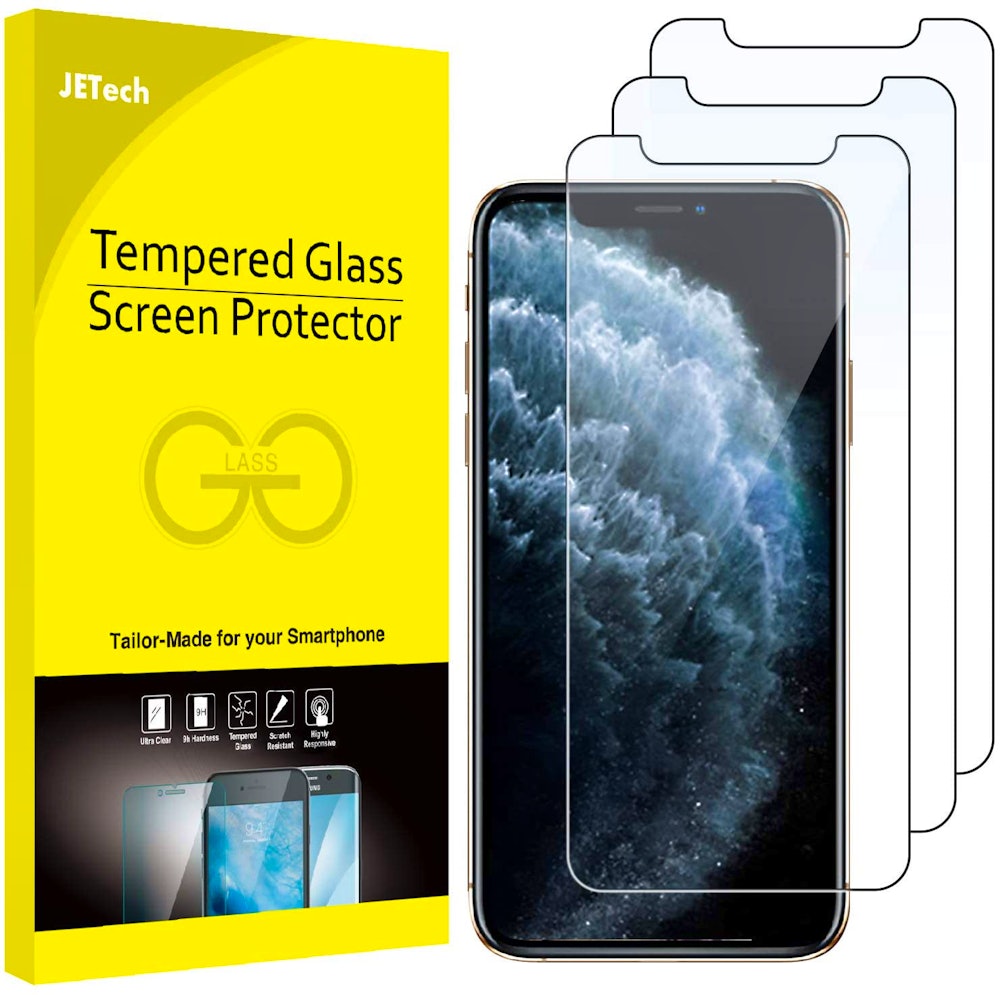 Price: £6.99 from Amazon (iPhone X, XS and 11 Pro)
The JETech Screen Protector is available for the majority of iPhone models. It's made with high-quality tempered glass, 0.33 mm thick, with 2.5D rounded edges and is resistant to scratches up to 9H.
It's a basic glass screen protector – there's no privacy filter and it doesn't curve around the phone. However, it's an amazing price when you consider what's in the box.
Installation isn't particularly straightforward – different stickers go on different places to help position the protector. We found it a bit clumsy, and there was room for error which would lead to the protector being misaligned.
We recommend turning the screen off when you do it – it makes it much easier to put on.
If it all goes wrong with the first one, you can try again with another protector knowing that you still have a third in the box – incredible considering the price.
We had a couple of bubbles, but they were easily smoothed out.
Over time, one of the edges started to lift slightly; if we had only received one or two in the box, this would have felt like a negative, but considering there are three protectors and it's such a low price, it didn't feel like a huge issue.
We were impressed with the transparency of this protector as well as the sensitive screen response despite the layer of glass.
It also has an oleophobic and hydrophobic coating to prevent fingerprint marks and liquid settling on the phone – a great plus considering the price.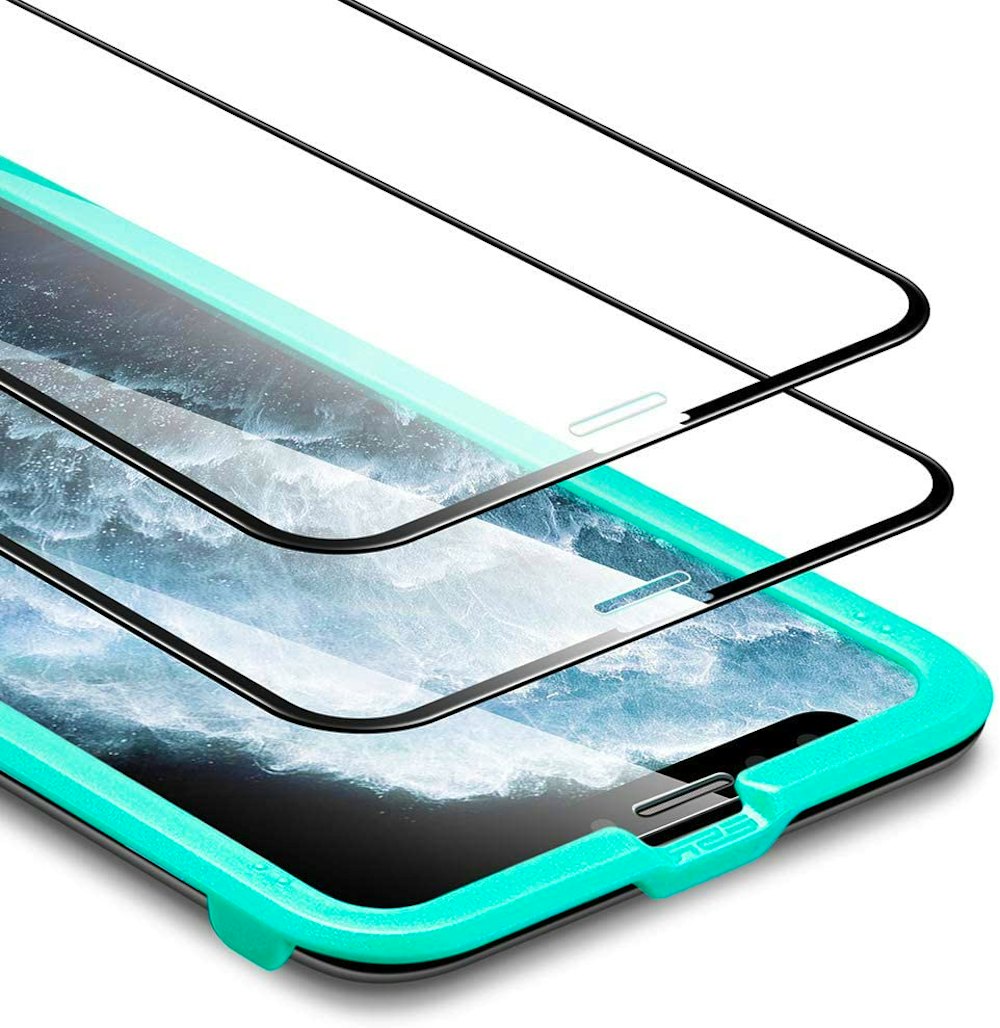 Price: £10.99 from Amazon (iPhone X, XS and 11 Pro)
ESR's Full-Coverage Tempered-Glass Screen Protector curves with the iPhone so that the edges are not exposed. This is a rarity with low-cost screen protectors – most of them leave a proportion of the screen and the sides of the phone vulnerable to knocks and scrapes.
A downside of the full coverage is that you might struggle to find a case to fit the phone once the protector is on. However, ESR cases fit well with their screen protectors.
This screen protector comes with a range of accessories and an installation case.
Installation is very straightforward – simply put the case over your phone and drop the screen protector onto it. You see one big bubble quickly disappear as the protector settles on the phone, and then it's just a case of smoothing out.
There is little room for error as long as you line up the screen protector with the case in the first place and don't place it down on an angle – then you could be in trouble.
ESR claims this protector can withstand up to 10 kg of force – quite something. On this basis, the two provided should last a very long time.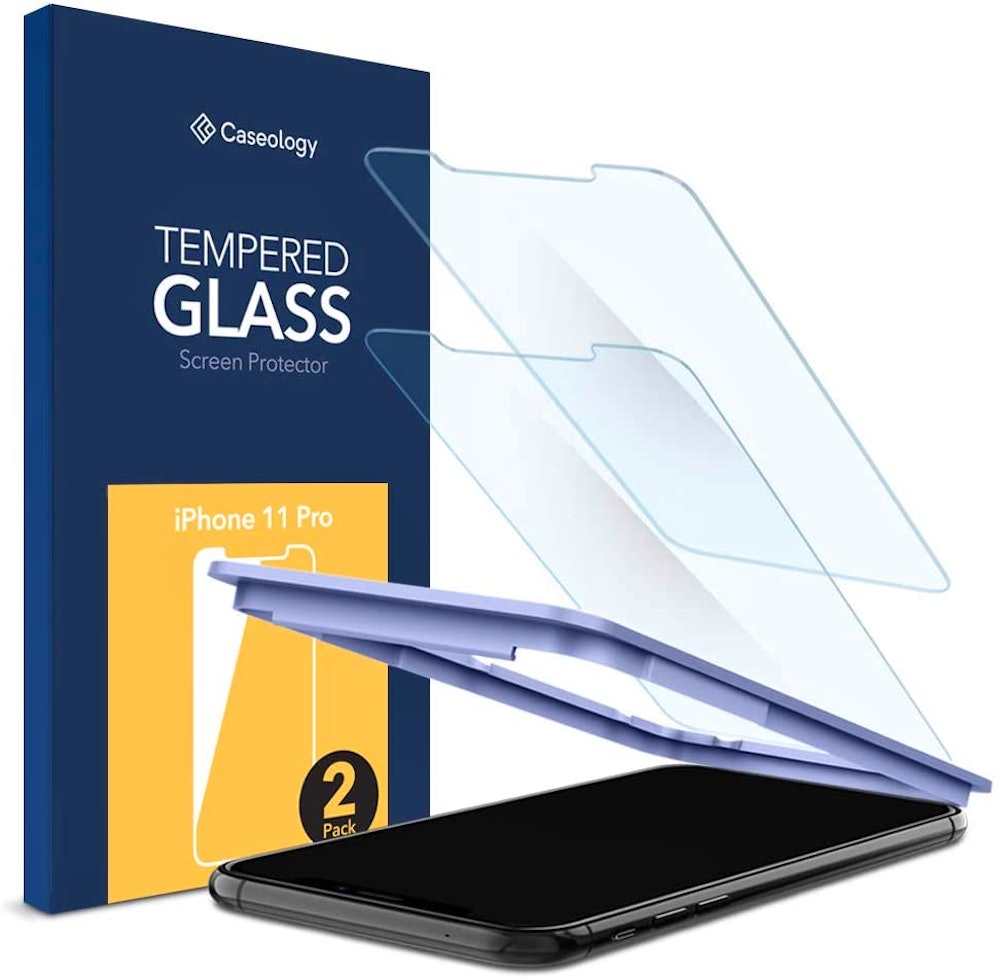 Price: £8.99 from Amazon (iPhone X, XS and 11 Pro)
The Caseology Tempered Glass Screen Protector is thin compared to other tempered glass protectors, so if you're not a fan of glass protectors because of the way it sits on top of your phone, this would be an excellent choice.
This protector was very easy to install. The frame clicks over the iPhone and you simply place the glass onto the frame and slide one finger down the middle, following the arrow icon.
Unlike the Spigen protector, the work wasn't over once we had moved a finger down the arrow – some smoothing needed to be done.
Even though there were a few big bubbles at first, they were very easily smoothed out using the squeegee provided.
It felt strange to be smoothing out the glass protector itself without there being a film which is peeled off right at the end – but it does have a hydrophobic and oleophobic coating which is waterproof and protects against finger marks, so it doesn't matter in this case.
The company boasts 99.9% clarity and we agree – it's very transparent and doesn't feel like it will obstruct vision or affect facial recognition.
The great thing about this screen protector is that it not only fits all Caseology cases but all iPhone cases as well.
Price: £22.99 from Amazon (iPhone X, XS and 11 Pro)
Rhinoshield is so confident in the strength of its Impact Protection Screen Protector that it boldly states the protector absorbs over five times the impact energy of Gorilla Glass 3.
Despite its strength and six-layer protection, this plastic protector is only 0.29 mm thick – excellent for those who like their screen protectors to be inconspicuous.
The price stings a bit considering there is no alignment tool and it's a plastic protector. The biggest issue, though, is that there's only one screen protector in the box – so if it all goes wrong, you're stuck.
Essentially, you're paying for Rhinoshield's shock-damping technology. It's fair to say these protectors are in a different league to lower-priced protectors when it comes to durability.
It's topped with an oleophobic coating, especially useful on plastic protectors which can get covered in fingerprints and smudges.
You're also getting fantastic Ultra HD clarity with Rhinoshield, which means a very clear screen and compatibility with touch sensitivity, 3D Touch and pressure sensitivity.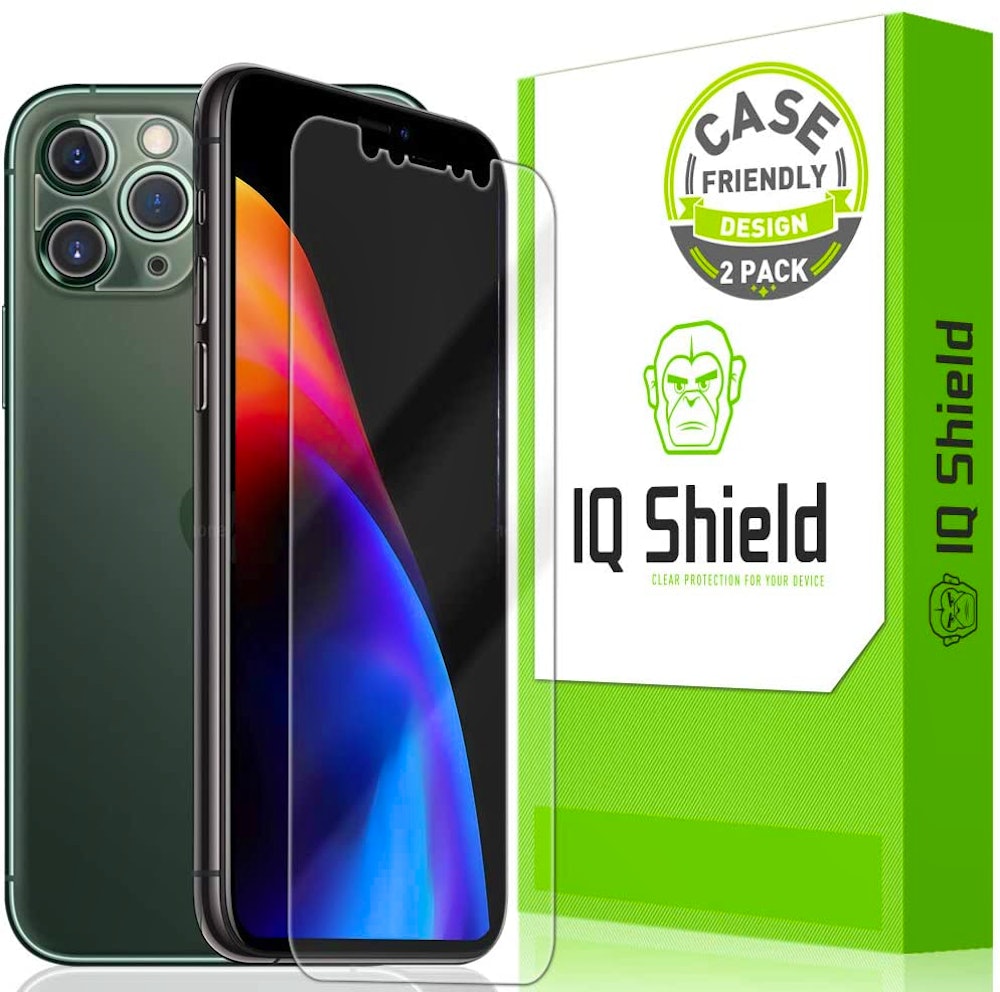 Price: £6.32 on Amazon (iPhone 11 Pro Max)
IQ Shield produces a screen protector made from TPU rather than glass. Great for those who don't like to feel something is sitting on top of their phone, but not so great for those wanting easy 'click' installation.
Installing this screen protector is quite an undertaking. After wetting your fingers with the solution provider, you then peel off the backing paper (like a car sticker) and wet the screen protector itself, sticking it onto the phone.
Due to the wet solution being trapped between the phone and the protector, it moves around.
This is as technical as it gets when it comes to positioning the screen protector – you simply slide it around until it looks ok.
You then have to draw out the solution by dragging a squeegee across the phone, being careful not to get any drips in the device itself. It gets worse – you have to wait between 12 and 24 hours for it to finally stick down solid.
If you can bear to avoid touching your phone for the best part of a day, there are a lot of positives to this screen protector.
The thin smart film is optically transparent once applied, meaning crystal clear vision and 'true-feel' touch – it doesn't feel like there is anything on the phone at all. The film is self-healing as well, so reverts to its original state after receiving knocks and scrapes.
One of the layers making up the film is a UV protective layer to prevent yellowing – something which isn't mentioned in any of the other products we've looked at for this review.
Despite the slightly clumsy installation method, this feels like a premium product that's very well made with the technology to back it up, so the £6.32 price tag makes it extremely appealing.
Price: £12.90 from Amazon (iPhone X, XS and 11 Pro)
Tech21's Self Heal screen protector is a protective film which features the materials used in bulletproof glass.
It comes with a small tray which fits at the bottom of the iPhone to help with positioning. Installation was straightforward but required heavy bubble smoothing to get the perfect finish.
Once the film was on, we felt that the ease of swiping was affected negatively but this did seem to get better over time.
Tech21 claims the screen protector will stay in place and stay bubble-free for two years. If its self-healing technology will also get rid of all scratches that occur over those two years, then the £12.90 price tag doesn't seem so bad.
If not, this does seem very expensive for what we feel is a mediocre product.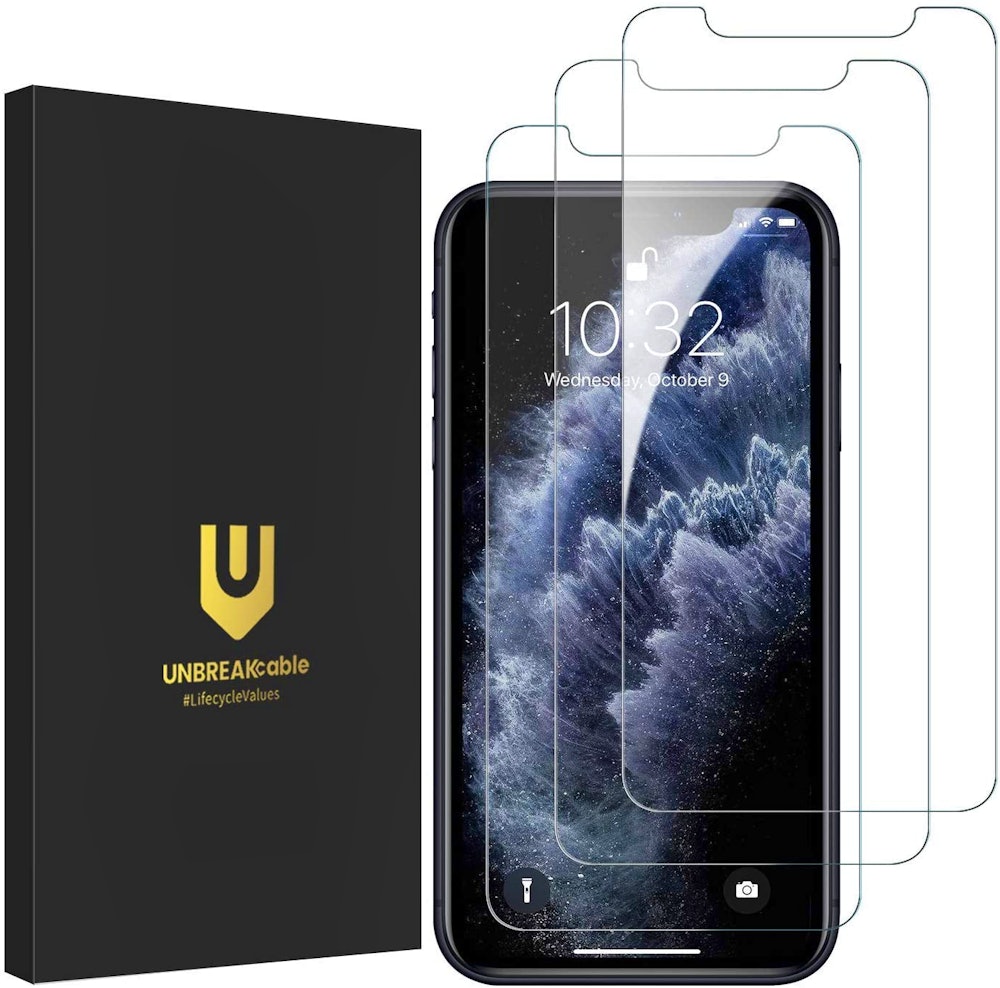 Price: £7.98 from Amazon (iPhone X, XS and 11 Pro)
UNBREAKcable's screen protector might not appear to be anything special, but it's a great price and has some great features.
The tempered glass is topped with a layer of oleophobic and hydrophobic coating.
UNBREAKcable states that after a year the coating on this protector remains flawless, whilst other similar products lose the oleophobic and hydrophobic protection over time.
Installation was straightforward and an alignment tray is provided to help position the protector correctly.
Not only does this product come with a 36-month worry-free warranty, but there are also three screen protectors in the box.
However uninspiring this screen protector seems, you can't argue with a coated glass protector for under £2.70.
At a Glance Comparison
| Name | Price | How Many in Pack? | Material | Curves Around Phone? | Alignment Tool? |
| --- | --- | --- | --- | --- | --- |
| Spigen EZ Fit GlasstR Premium Screen Protector | £11.99 | 2 | Glass | No | Yes |
| Torras Privacy Screen Protector | £19.99 | 2 | Glass | Yes | Yes |
| Tech Armor HD Clear Plastic Film Screen Protector | £5.95 | 4 | Plastic | No | No |
| JETech Screen Protector | £6.99 | 3 | Glass | No | No |
| ESR | £10.99 | 2 | Glass | Yes | Yes |
| Caseology Tempered Glass Screen Protector | £8.99 | 2 | Glass | No | Yes |
| RhinoShield Impact Protection Screen Protector | £22.99 | 1 | Plastic | No | No |
| IQ Shield Screen Protector | £6.32 | 2 | Plastic | Yes | No |
| Tech21 Self-Healing Screen Protector with BulletShield | £12.90 | 1 | Plastic | No | No |
| UNBREAKcable iPhone X Screen Protector | £7.98 | 3 | Glass | No | Yes |
Final Thoughts
As you can see, it's not all about price when it comes to screen protectors.
Some low-cost protectors are made using the company's own tried and tested technology which is often more effective than standard tempered glass.
Many of the screen protectors out there are on a par with each other and it all comes down to how easy they are to fit.
If you have the patience to sit in a quiet room, clean the surface of the table and begin a lengthy positioning process with the screen protector, you can be more open to budget protectors which have great reviews but are difficult to install.
If you're the type to pick up your new iPhone in town and fit a screen protector in a coffee shop before your bus comes five minutes later, it might be better to opt for a failsafe option like Spigen's EZ Fit.
Lifestyle comes into it as well; maybe you travel a lot and need a privacy filter, or perhaps you check social media in the middle of the night whilst feeding a baby and would benefit from a blue light filter.
Think about what a screen protector can do to make your phone even more suited to your needs before choosing which one from this list will suit you best.