The Best Office Chairs
When it comes to office work, we spend approximately 75% of our time sat down at our desks.
This means that it's vitally important to invest in a good office chair.
Sitting correctly can make a huge difference to our overall health. A good chair will reduce the prevalence of back and neck pain, ensure that blood circulation is flowing and help ensure that your posture is correct when looking at your computer screen.
It's no wonder that many occupational health experts will immediately make suggestions for a new chair when conducting assessments.
But what separates a good chair from a bad one? Many of us will choose a chair based on price or style. But here at WikiJob, we know that there's much more to it.
Here are some of our suggestions for top office chairs, as well as some insights into what you should look for in your next chair.
Our Pick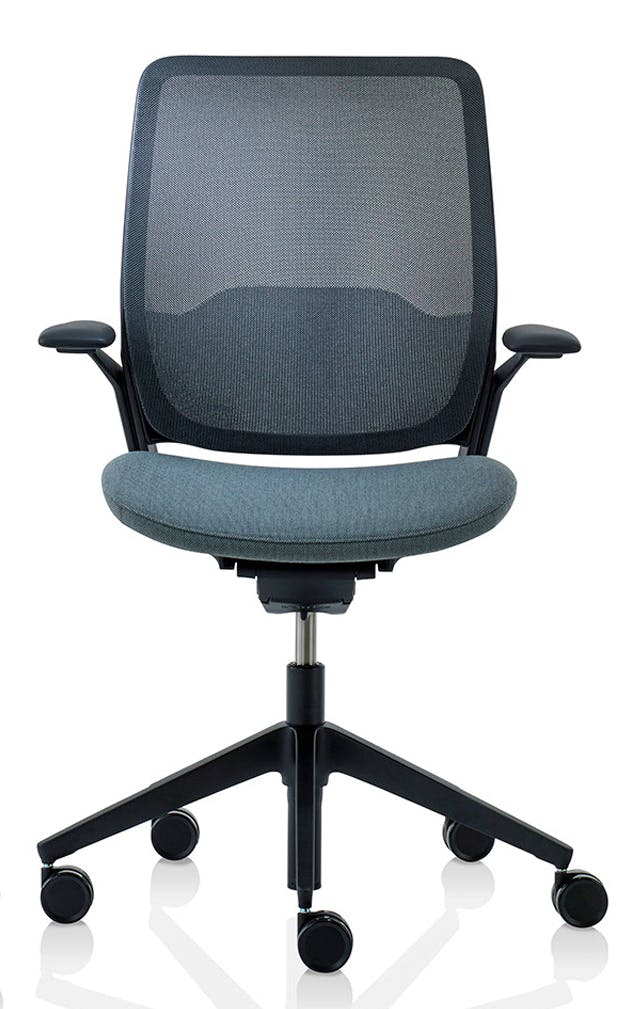 Orangebox Eva
Truly a luxury chair that lives up to the price tag
It's hard not to be impressed by the Eva chair. Not only is it designed with user comfort in mind, but its eco-credentials are impressive – at least 50% of the chair is made from recycled materials.
£488 from Think Furniture
The Orangebox Eva is a significant investment – at almost £500, it won't be an impulse buy – but we think that this office chair lives up to the hype.
Let's start with user comfort.
Every aspect of the Orangebox Eva has been designed to make the user experience as positive as possible.
The lumbar support is second to none.
The adjustable dial allows you to adjust the height of the lumbar support (up to 8 cm) as well as the depth (up to 2 cm). This means that you can feel confident that you can find the right support for your body type.
As well as having an adjustable seat height (42 cm to 57 cm – making the Orangebox Eva compatible for a wide range of height-adjustable desks, you can also adjust the height of the armrests by a staggering 10 cm. You can even adjust the rotation of the armrests from 15° inward to 170° outward.
But the user comfort doesn't end there. Orangebox has carefully considered the seat.
Not only is it contoured to provide optimum levels of comfort, whether you are sitting for 30 minutes or seven hours, but the dual-zone seat profile incorporates a 7° downward slope. This means that you can prevent thigh pressure and boost your circulation.
In addition to this, the chair is beautiful. This is a chair that combines substance with style.
Orangebox makes these products to order so you can choose a chair which suits your office aesthetic. From the colour of the mesh fabric through to the aluminium trim and the base, the chair is fully customisable.
There's even a wide range of added extras including colour matching headrests and even coat hangers to make you feel like you've bought a one-of-a-kind chair.
Runner Up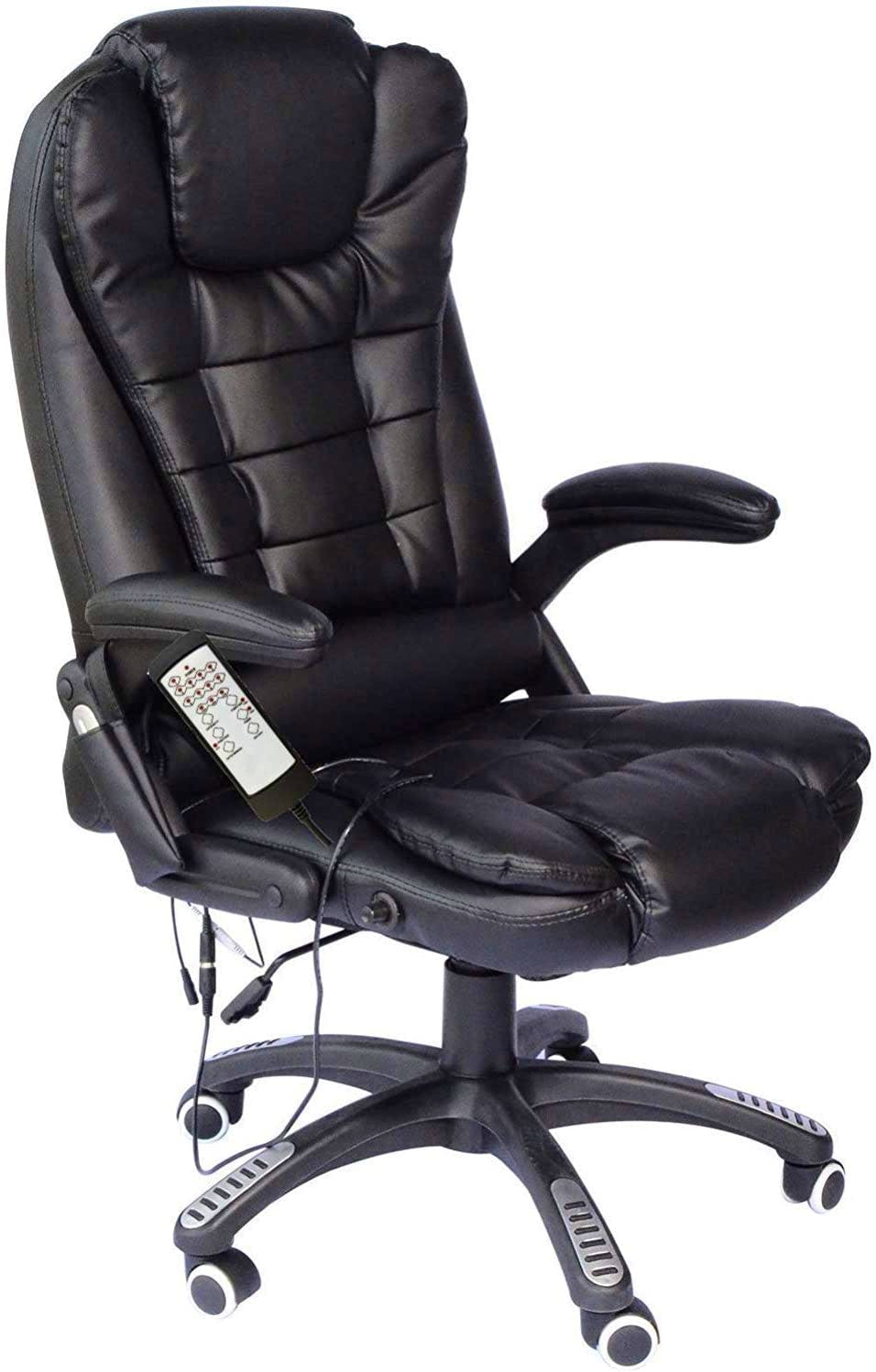 Cherry Tree Furniture Executive Recline Extra Padded Office Chair
An office chair with an in-built massage function
At the opposite end of the pricing scale to the Orangebox Eva chair is the Cherry Tree Furniture Executive Recline padded office chair. Although this is far more affordable, it has hidden extras including an in-built massage function that can get you through those stressful moments.
£96.99 from Amazon
Whilst it may seem luxurious to incorporate a massage function into an office chair, you will have to consider if this feature is right for you.
The motor is loud and could be disruptive to others – particularly if you are working in an office with lots of other people.
However, for those working from home, the six-point multi vibration massage function can feel like a real treat when you are stressed (although we wouldn't recommend having it turned on whilst you're on a phone call).
But what about the rest of the chair functionality?
Well, to start with, as an executive padded chair, it certainly has an impressive look and style. It's incredibly comfortable to sit on, and thanks to the washable PU leather upholstery, it's easily cleanable, keeping it looking smart.
The Cherry Tree Furniture office chair has a recline function and can be locked in a tilted position. It also has a height-adjustable seat that can be adapted for different users.
It doesn't offer the same levels of flexibility as others, but at such a low price point, this can be overlooked.
Ultimately, we would recommend this chair for home workers looking to invest in a comfortable and stylish option without breaking the bank.
Also Awesome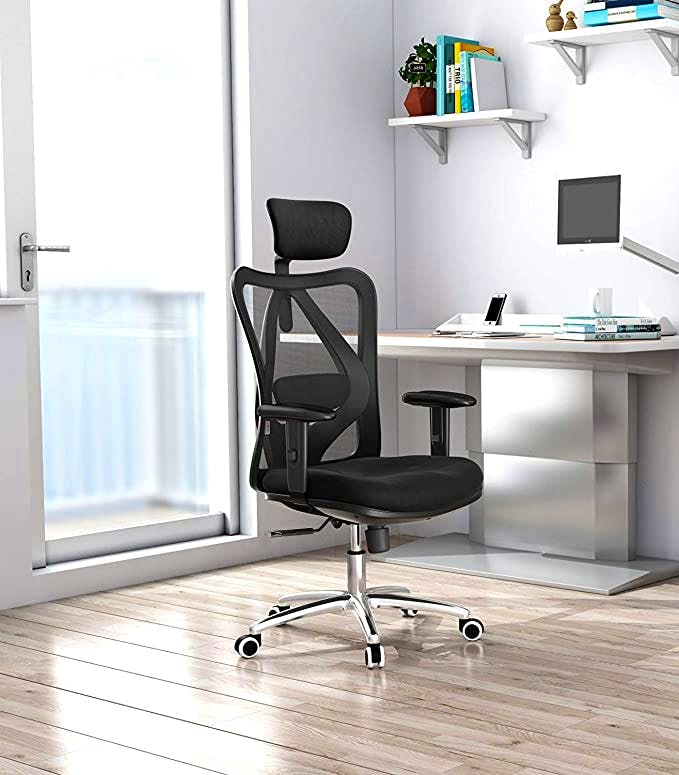 SIHOO Ergonomic Office Chair
A great mid-priced office chair
As a mid-way option between the Orangebox and Cherry Tree Furniture chairs, we would like to give a special mention to the SIHOO Ergonomic Office Chair. Available to purchase via Amazon with fast delivery, this is a chair that offers a wide range of ergonomic functions as well as looking stylish in any office.
£179.99 from Amazon
First, let's take a look at the mesh design.
The breathable mesh allows you to sink back, whilst incorporating good airflow and reducing sweat and moisture.
If you work in a hot office environment, you don't want to feel like you're getting stuck to the back of your chair, feeling sticky and sweaty.
Like Orangebox, SIHOO has developed a 'waterfall' seat which reduces pressure on the legs, improving circulation. The chair also has adjustable lumbar support, headrest, armrests and seat height which means you can tailor the chair to your preferred specifications.
The seat height varies from 41 cm to 51 cm, so whilst it's a great choice for taller users, it doesn't quite reach the same heights as the Orangebox.
The WikiJob team loved the comfort of the SIHOO and we loved the fact that you can purchase the chair in a choice of black or burnt orange. The orange provided a pop of colour to the office – making it an ideal choice for brands who are looking to incorporate their brand personality into their décor decisions.
Ultimately, we think that this chair is a great investment for those looking for the features of the Orangebox Eva but who may not necessarily have the budget.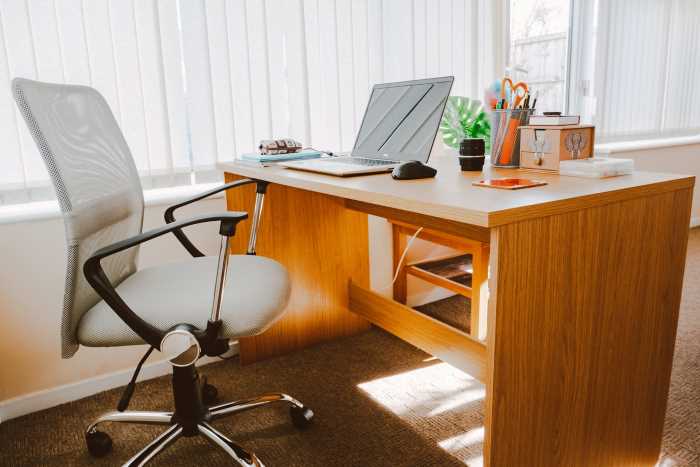 Why Is It So Important to Have a Good Office Chair?
It may be easy to dismiss the role that an office chair plays but when you spend more than seven hours a day sitting at a desk, having the right chair can be crucial to your health and wellbeing.
Many of us complain of lower back pain or neck pain without realising the link between the way we sit and the way that we work.
Those of us who are set up incorrectly at our desks may find ourselves hunched over or continuously looking down. If you consider the amount of time we spend working at our desks, your body's natural posture could soon start to be affected.
It's easy to think that you can counteract the way you sit with regular movement. But even if you put a reminder on your phone to move around every 30 minutes, the reality is that you'll start to ignore your alert and remain inactive.
Investing in the best office chair that you can afford should help you sit correctly and enhance your posture.
A good office chair should provide you with effective support for your lower back and must have an adjustable seat that fits your body, whatever your height.
It should also be comfortable. If you find that you're starting to fidget throughout the day, or that you are starting to develop aches and strains, you may need a new or better chair.
Save or Splurge – Should Your Office Chair Be Bought on a Budget?
This is a huge question and one which should be considered carefully.
If you work at home alone, you may not have the budget (or office space) to incorporate an all-singing-all-dancing office chair. Likewise, if you are considering fitting out an entire office with new furniture, you may want a selection of the best office chairs which remain affordable.
But, there is an argument that the more you invest in your own comfort (or that of your staff), the more this investment will repay itself through increased productivity or a reduction in staff sickness.
It is thought that, at any one time, up to three million people in the UK may be off work with back pain. And this can largely be caused by incorrect work stations within the work environment.
Many large employers provide occupational health assessments in a bid to ensure that desks are set up correctly – and this includes the seat height of office chairs.
Staff sickness levels can be extremely costly for employers. Therefore, investing in the best office chair possible could negate some of the costs of staff sickness, as employees are better protected against minor niggles which could develop into significant health issues.
However, at WikiJob, we are realists. We know that there are very few businesses that can afford to invest approximately £500 in a single chair (as much as we adore the Orangebox Eva). That's why we've used this article to review a wide range of office chairs designed to suit almost every budget.
Key Features to Look for in an Office Chair
We've pulled together a list of the key features that you should look for in an ergonomic office chair:
Lumbar Support
If you are looking for an ergonomic design, you should be looking to see what lumbar support is available. This is the support provided across the lower back when you are seated.
Some office chairs will allow you to tilt back and recline, whilst others will also incorporate a tilt forward function.
In our view, the best office chairs will have adjustable lumbar support. After all, people are different heights – what works for someone who is 6ft2 will feel different from a 5ft co-worker.
You should be looking for a chair that has adjustable lumbar support. Not only should the correct set up support the curve of your spine, but it should also prevent you from slouching after you've been sat down for several hours.
Seat Height
You should be looking for adjustable seat height.
Once you've started changing the way you sit, you may find some heights are far more comfortable.
Strictly speaking, if you are working at a desk, your computer should be within your eye line.
Many of us work on a laptop and tend to look down at the screen. If you can adjust the height of your seat, you can lower it down, allowing you to reduce how much you are hunched over. This can help you to reduce neck and shoulder pain.
Chair Material
Whilst this may be a matter of preference, the choice of chair material is far more important than simple aesthetics.
Many office chairs are made with a mesh material. This is because it is breathable and allows air to circulate between the chair and the user – reducing sweat and stickiness.
You also want to look at the chair's padding. You need something which is going to be comfortable to sit in for hours at a time.
Some of the cheaper chair options may look nicely padded but will quickly show signs of wear and tear.
As you sit down, you don't want to feel each individual screw or feel reliant on extra cushions to increase your comfort levels.
Another consideration is maintenance.
If you are working from home, you may want a chair that is easily cleanable. We like chairs which are made from PU upholstery – you can simply wipe them over with a damp cloth to have them looking like new.
In a home environment, where you may have small children sitting at your desk, having an easily cleanable option can be a big plus.
Adjustable Armrests
Your armrests should allow your shoulders to relax. If you feel hunched up, you will start to develop shoulder, neck and upper back pain.
Many office chairs have adjustable armrests that can be suited to your body type. Some have inward rotation; others have outward rotation.
They are designed to allow you to rest your arms in the most natural place for your body – whilst retaining comfort and support as you work at your desk.
Swivel/Castors
If you are investing in a new office chair for your home office, you need to consider the swivel of the chair and the choice of castors.
You need to have a chair that will allow you to move around your office easily, but also one which will not ruin your flooring.
Many of us working from home will have adapted a spare bedroom into an office space. Therefore, it's highly likely that you will have carpeted or laminated flooring. If you choose the wrong footing for your office chair, you will quickly damage your floor or create holes in your carpet.
Sometimes a quick fix will do – you may be able to replace the castors in your chair to find a more suitable option or you could invest in flooring protectors such as IKEA's KOLON floor protector.
Style
You will need to think about what styles you like and dislike. If you're investing your hard-earned money into a new office chair, you need to like it.
Think about your office décor and what you want your office to look like. If you're a 'girl boss' and you're looking to create a feminine office environment in your home, a large executive recliner may look out of place.
Thankfully, these days, there are many options available to suit all preferences. You can find office chairs in different colours, different styles and materials, and in every price range. This means that you should easily be able to find the best office chair for your workspace.
Other Office Chairs We Reviewed
Although we've already listed our favourite office chairs within this article, the WikiJob team has tested a wide variety of office chairs, with a range of budgets in mind.
Here are a few of our other top picks: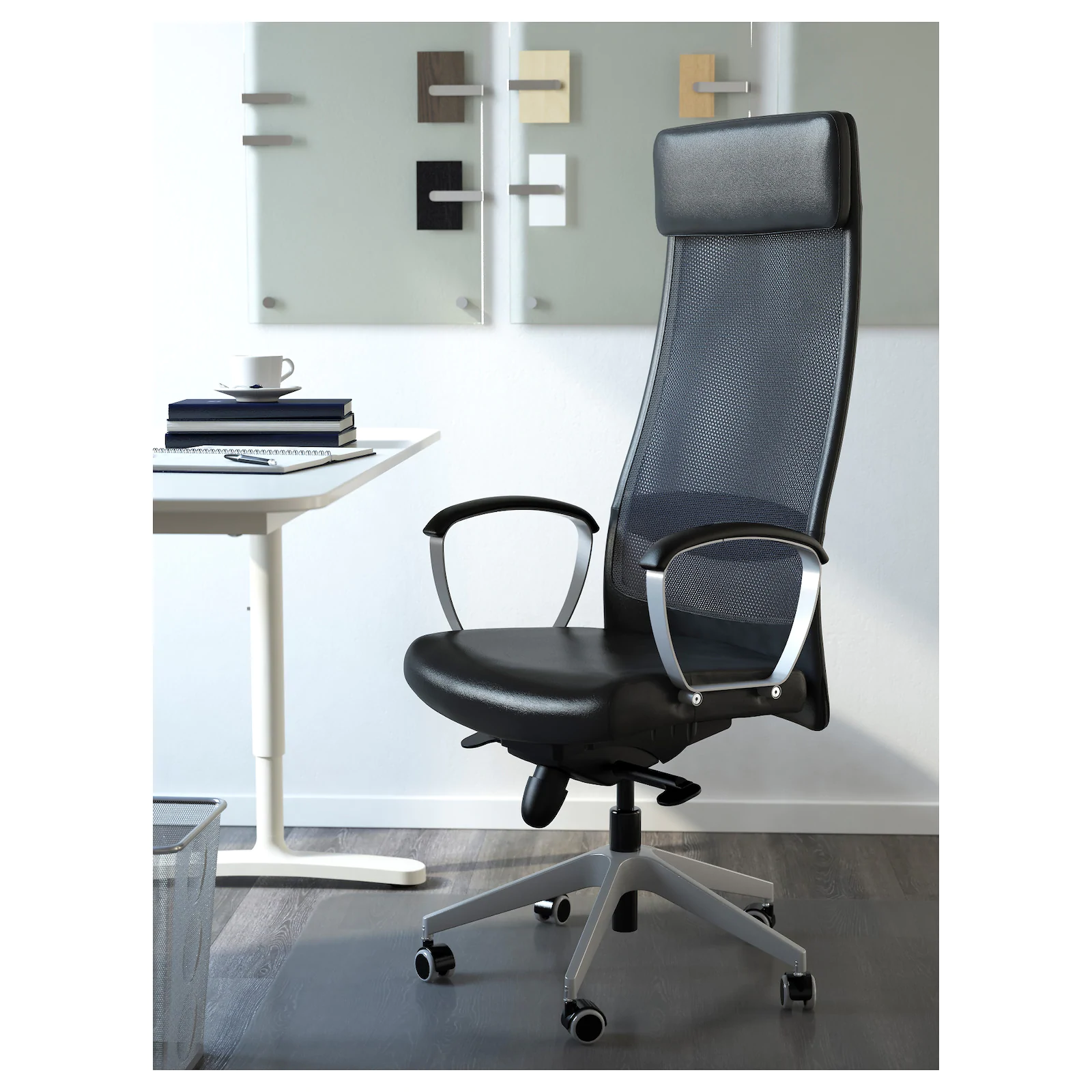 Price: £179
If you've read any of our other reviews of office furniture, then you'll know that at WikiJob, we love the variety of products available from IKEA. They combine style with substance and affordability; it's a winning combination.
The Markus is a mid-range office chair. Priced at £179, it's affordable yet retains the high-end look and feel of something more expensive.
Ergonomically, the Markus is a winner. With adjustable seat height, armrests and built-in lumbar support, you can find a setting that suits you. It also has a comfortable seat which allows you to relax fully into the backrest.
Looks-wise, the IKEA Markus looks sleek and professional. It also felt very sturdy for the price. We think that this is an office chair which could have staying power.
An added feature that we liked was the automatic staying pressure within the castors. This means that the brake mechanism allows the chair to remain in place when you stand up, and releases when you sit.
We liked this feature because we felt more confident that the chair wouldn't move around unexpectedly.
IKEA has a strong range of products designed specifically for office spaces – both commercial and home offices. We like the ease of purchase; you can easily find the items that you're looking for and move everything into one easy-to-manage delivery.
For those who may be kitting out a home office for the first time, this is a chair that we would recommend.
Price: £826
This chair was far and away the most expensive office chair that we've ever sat in.
The Herman Millar Mirra 2 is ergonomically designed for those in a 'constant state of motion'.
If you're working across multiple computers or switching between desks, it's important to have a chair that allows you to move quickly and easily.
Like Orangebox, the design team at Herman Millar focuses heavily on their eco-credentials. Environmental responsibility is an important element of the design and each component is designed to use, and reuse, existing materials.
There's no doubt that this is a stunning looking chair. The Butterfly back gives the chair a truly luxe feel, and we appreciate that it comes as standard with castors suitable for both carpeted and hard floors.
Ergonomically speaking, the Mirra 2 comes as standard with adjustable arms, seat, tilt limiter and lumbar support. It has a seat height ranging between 40.6 cm and 52.1 cm.
However, as nice as the chair is, we found it difficult to get past the price. Whilst it was comfortable to sit on, we think that you may be able to get similar ergonomic benefits from a much cheaper alternative.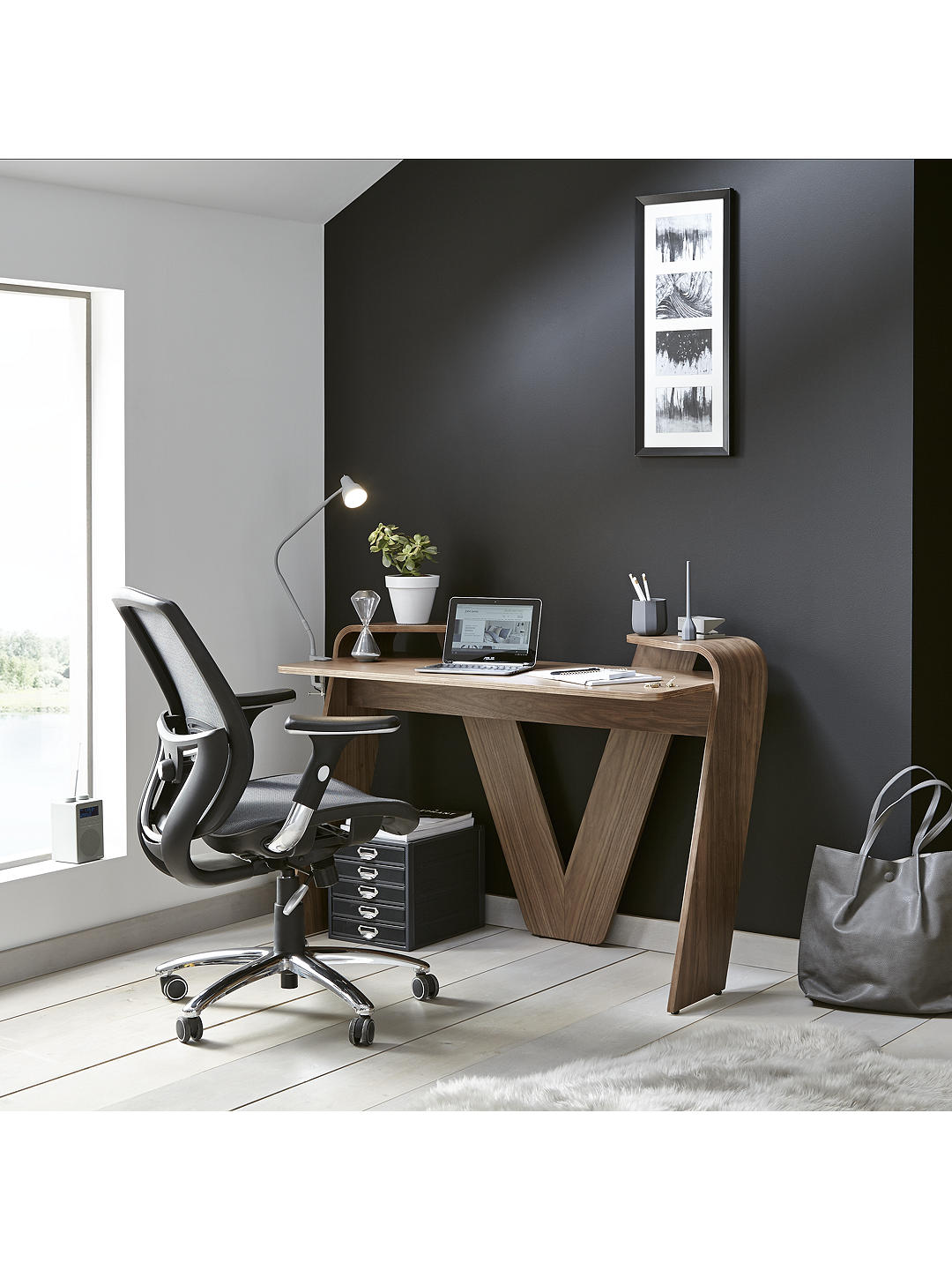 Price: £250
John Lewis' Murray chair is a good choice for those looking for an ergonomic design that looks sleek and nimble.
This is a chair that doesn't overpower a room. It looks elegant and could be a good choice for those with smaller office spaces.
As you would expect from John Lewis, the Murray chair combines high quality with ergonomic design. It has adjustable armrests, a tilt lock on the backrest, an adjustable seat height of 45 cm to 54 cm and lumbar support.
The castors are designed for use on carpet flooring, so we think that this is a good option for home offices which may have been recently converted from a bedroom.
At £250, we felt that the options were lacking when it comes to adjustability and flexibility. We would have liked to have seen more features such as the waterfall seat (featured in the Orangebox Eva or the SIHOO Ergonomic office chair) to protect leg muscles and improve circulation.
However, if you purchase from John Lewis you will benefit from its exceptional customer service and you should feel confident that parts will be replaced quickly if required.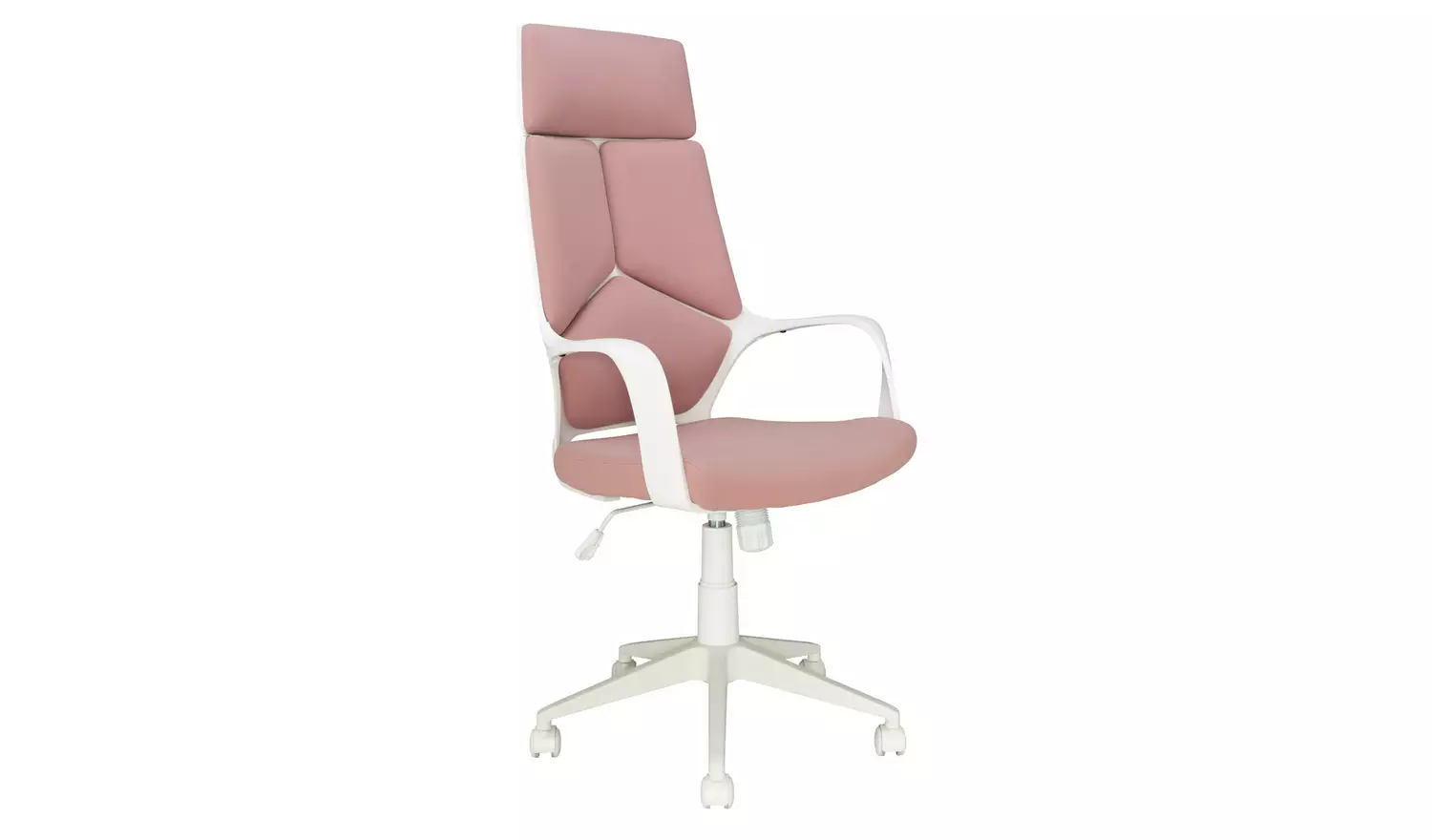 Price: £100
The Argos Home Alma High Back chair looks pretty, there's no doubt about that.
With a choice of pink or grey colour options, this is a chair that has been designed specifically for ultra-feminine office spaces. It's also one of the cheapest office chairs that we tested.
Can you really see a difference in quality when compared to the higher-end office chairs? Well, we have to say that we were impressed.
With a high back and headrest, this chair has been well designed and offers more support than we expected.
The adjustable seat height ranges from 48 cm to 58 cm, making it one of the largest chairs that we tested. In fact, it was one centimetre higher than the Orangebox Eva, which prides itself on being compatible with adjustable height desks.
However, the low price point does show itself on a couple of features.
The tilt mechanism of the chair was fairly stiff, making it difficult to recline back. We also felt that the padding of the seat and the armrests could be improved.
This is a hard chair to sit on and you may find that you have to incorporate additional cushions to make it more comfortable. It's fine for a few hours, but any longer and you would start to fidget.
We would recommend this as an option for someone who may be working from home one or two days a week and are looking for something suitably stylish.
At a Glance Comparison
Let's take a quick look at each product to see how the best office chairs compare against each other:
Office Chair
Price
Adjustable Headrest
Lumbar Support
Seat Height
Adjustable Arm Height
Load Capacity
Cherry Tree Furniture Executive Recline
£97
n/a
Tilt lock
n/a
113 kg
Argos Home
Alma High Back Chair
£100
n/a
Tilt lock
48 cm to 58 cm
n/a
110 kg
IKEA Markus
£179
n/a
Tilt lock
n/a
Unknown
SIHOO Ergonomic chair
£180
45-degree swivel and 10 cm up and down adjustment
5 cm up and down support, 3 cm front and back adjustment
41 cm to 51 cm
Lifting stroke 1 cm
150 kg
John Lewis & Partners Murray Chair
£250
n/a
Tilt lock
45 cm to 54 cm
n/a
113 kg
Orangebox Eva
£486
n/a
A self-weighing mechanism automatically provides the right amount of resistance
45 cm to 55 cm

Arm height adjustment: 10 cm

Arm rotation: 15° inward & 170° outward rotation

150 kg
Herman Millar Mirra 2
£826
n/a
Tilt lock, adjustable lumbar support
40.6 cm to 52.1 cm
Fully adjustable arms
Unknown
Final Thoughts
As you can see, there is much more to choosing an effective office chair than simply price. Throughout our testing process, we found that you really can get what you pay for.
The best office chairs are those which have a variety of functions designed to work with your body type and these features can make a big difference to protecting you from any niggles or minor injuries which can lead to more significant health problems.
We feel that comfort is vital when it comes to choosing the best office chair – after all, you spend considerable amounts of time sitting down during the day.
Therefore, you need to find an office chair that has ample padding. You need to feel confident that this padding won't disintegrate with prolonged use, and that your chair will support you as effectively in a year or two as it will on the very first day.
If budget is no issue, we would highly recommend the Orangebox Eva. It's a stunning looking chair which is designed specifically with your needs in mind.
Thanks to the innovative design, you will find all the adjustment and customisation options you need to build yourself a one-of-a-kind chair that supports every part of your body.
The sloping seat is a particularly strong feature and it's great to see this replicated on the SIHOO as well.
We also liked that the Eva is compatible with adjustable height desks.
If you read our recent review on standing desks, you'll know that we love the ability to adjust how we work at the click of a button. Having a chair that works alongside these desks is a remarkable feat.
However, the Orangebox Eva is a luxe chair, and with that comes a high price. That's where the SIHOO comes into its own. At under £180, it blends affordability and high-end features.
The adjustable headrest was impressive, as was the lumbar support and armrest height. Rather than basic up/down options, you have the choice to adapt forward and back as well.
This offers more flexibility and allows you to tailor the chair to your body.
The final chair that requires special mention has to be the Cherry Tree Furniture Executive Recline chair with the in-built massage function.
Whilst it's a gimmick, there's something to be said about having the opportunity for a backrub whilst working. Sure, the motor is loud, and you definitely wouldn't want to have it running whilst you're on a conference call, but it is an easily useable feature which adds a spot of luxury.
---