For the enthusiastic home cook, a non-stick pan is a versatile piece of kit that makes a range of cooking techniques an absolute dream, but with so many on the market, choosing the best one can be a bit of an ordeal.
With that in mind, we've compiled our best non-stick pan review to make your life that little bit easier.
First, we take a look at our top choice, the ProCook Professional Anodised Non-Stick Frying Pan, before giving an overview of other non-stick pans which provide excellent value for money.
For the sake of price comparison, all the pans reviewed here are 28 cm models, but each brand offers a range of sizes to suit your needs.
Our Pick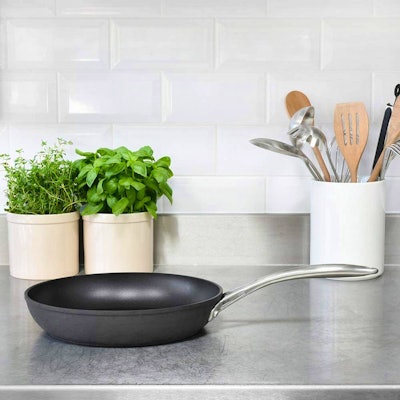 The top spot in our best non-stick pan review goes to ProCook, a UK manufacturer well respected for its kitchen and catering products.
Since it's not as popular as household brands like Le Creuset and Robert Welch, ProCook's products come in at a lower price point without compromising on quality, and its Professional Anodised Non-Stick Frying Pan offers exceptional value for money.
The body of the pan is made from aluminium, typically thought to be the best frying pan material as it's affordable, lightweight and an excellent conductor of heat.
The downside to aluminium is that it can easily tarnish, making your pan look worn over time. It's also quite soft and prone to accidental damage.
ProCook has sidestepped this issue by using anodised aluminium, which essentially means the metal has been hardened for added durability and strength.
The result is a strong, sturdy pan that evenly distributes heat, allowing you to cook without hotspots.
It's also incredibly lightweight, the 28 cm pan weighing only 1,117 g. This, combined with the ergonomically designed stainless steel handle, makes it the ideal pan for flipping pancakes or tossing a stir-fry.
ProCook uses CoolTouch® technology on its pan handles and this does exactly what it claims to do. Handles stay cool and safe to touch when used on the hob, though if you're placing your pan in the oven, do be sure to use gloves when taking it out.
The non-stick coating is a PFOA free PTFE, applied as a triple-layer, on which delicate foods cook thoroughly without catching, and those perfectly fried eggs can be slid out of the pan with ease.
As its non-stick coating works so well, you'll find very little or no food residue left after use, so wiping it clean is a piece of cake.
A stainless steel base means the pan can be used on any type of cooking top, including ceramic, halogen and induction hobs. It takes a little longer to warm up than when used on a gas hob, but given its performance once hot, we don't see this as a deal-breaker.
Flared sides help with evaporation, so fried foods turn crisp and sauces reduce down quickly. It's also oven-safe up to a temperature of 260°C, so you can easily finish off a baked dish or keep food warm without removing it from the pan.
All in all, it's hard to find fault with the ProCook Professional Anodised pan, particularly when you consider its cost.
There are some reports of the non-stick coating wearing down too quickly, but this often comes from misuse and incorrect maintenance.
ProCook offers a 25-year guarantee on all its products, which shows confidence in its quality. However, there is small print associated with this, and if the damage is deemed to come from incorrect use, your guarantee will be void.
In short, if you take care of it properly, this pan's performance and lifespan should well exceed expectation for its price.
Runner Up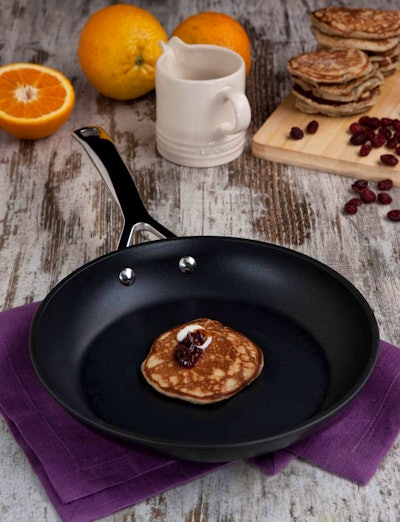 Our best non-stick pan runner up may be almost twice the price of our top pick, but we think the Le Creuset Toughened Non-Stick Frying Pan is well worth the investment.
In all honesty, there's not much between the two when it comes to design and functionality.
Just like the ProCook model, this Le Creuset pan is made from anodised aluminium and gives a very good distribution of heat, so all your ingredients cook thoroughly and evenly regardless of where they sit on the surface.
It also has a triple-layer PTFE coating which, if cared for properly, gives it a long-lasting, truly non-stick quality.
With very little oil required, food moves easily around and out of the pan, and the super-smooth surface takes no effort at all to clean.
Its riveted cast stainless steel handle has a sturdy feel and stays cool to the touch when in use. There's also a hook for hung storage, a useful feature since stacking non-stick pans can damage their coating.
It's a little heavier than the ProCook pan, but the weight is well balanced and gives a robust feel. It also ensures the pan sits firmly on any cooking top and has maximum contact with the heat source.
It claims to be both metal utensil and dishwasher safe, but we don't recommend using either. As with all non-stick pans, it's best to use wooden or silicone instruments and wash by hand to protect the coating from damage.
This pan looks and feels of a really high standard. Yes, it's a little on the expensive side and, in part, you're paying for the name, but if you've ever owned a Le Creuset product, you'll know it has a well-deserved reputation for quality.
Also Awesome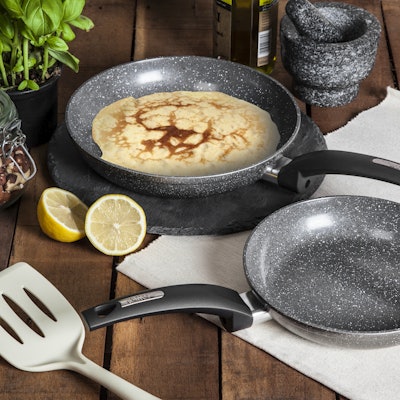 Tower is a British-based manufacturer of houseware products, and we think its TruStone cookware range offers great value for money.
As the cheapest of our top three recommendations, the Tower TruStone Frying Pan offers highly comparable quality, both in terms of cooking performance and non-stick properties.
The body of the pan is a multi-layer construction. A forged aluminium core heats up quickly and ensures good heat distribution, whilst the reinforced exterior gives a robust quality that feels built to last.
A steel base also makes the pan suitable for use on all hob types.
The non-stick coating is a PTFE reinforced with titanium for added durability.
It claims to be scratch resistant and metal utensil safe, and whilst we don't recommend the use of metal tools, it certainly seems like it stands up well in this area.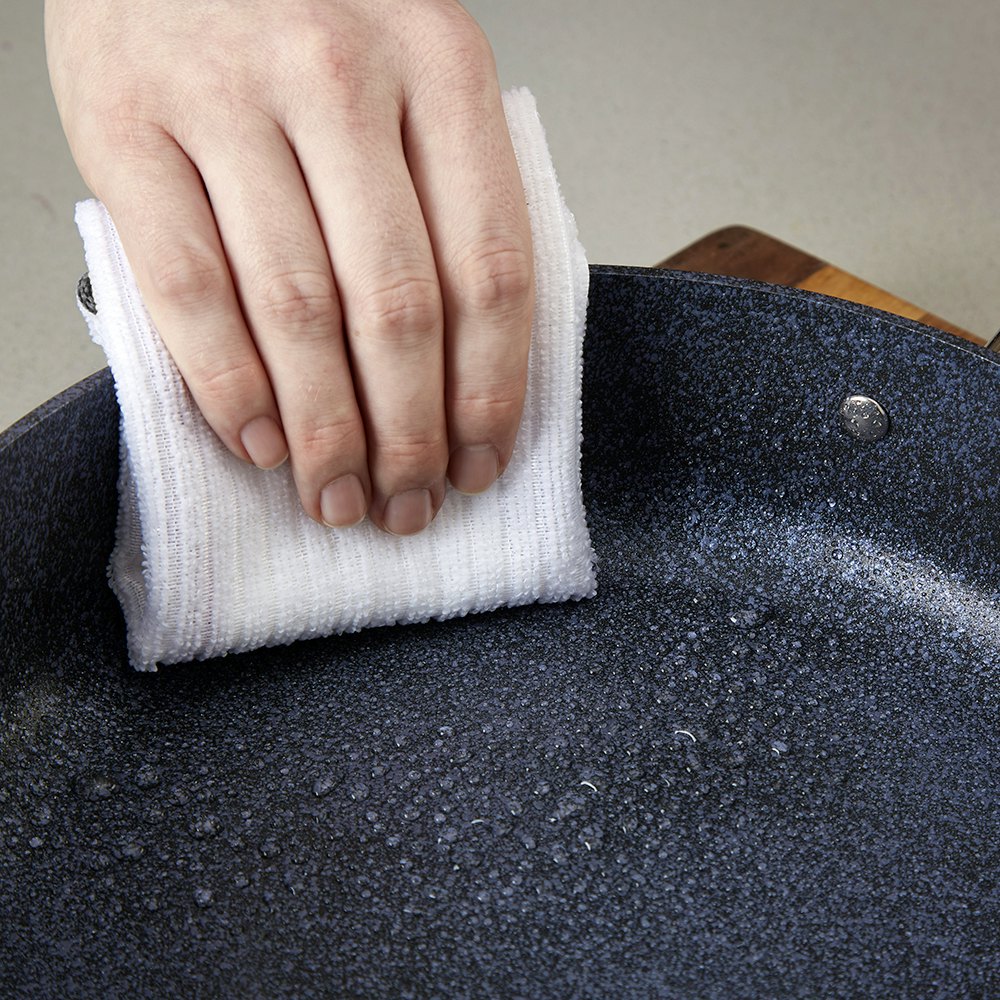 More importantly, the coating really is non-stick, and with just a drop of oil, food cooks thoroughly and evenly without catching.
Its non-stick quality is also evident when it comes to cleaning, with a simple wipe down being enough to make the pan appear unused.
The stainless steel handle feels sturdy, but whilst there is a slight curve to it, it's not as ergonomically designed as the ProCook or Le Creuset handles, so there's a small compromise on comfort here.
However, as the lightest of our top three picks, it's easy to hold with a well-balanced distribution of weight between handle and body.
It's oven safe up to a temperature of 280°C, the highest of all the pans we've reviewed, and can be placed in a dishwasher. Again, this is something we recommend you only do sparingly, if at all, and considering how easy it is to clean, it really isn't necessary.
At a very affordable price point, the Tower TruStone Frying Pan is a great buy, with the only real downside being the slight compromise on comfort when it comes to the handle. That said, if you only tend to use your pan flat on the hob, this isn't an issue worth quibbling over.
The pan comes with a one year guarantee as standard, but you can extend this to 10 years by registering your purchase.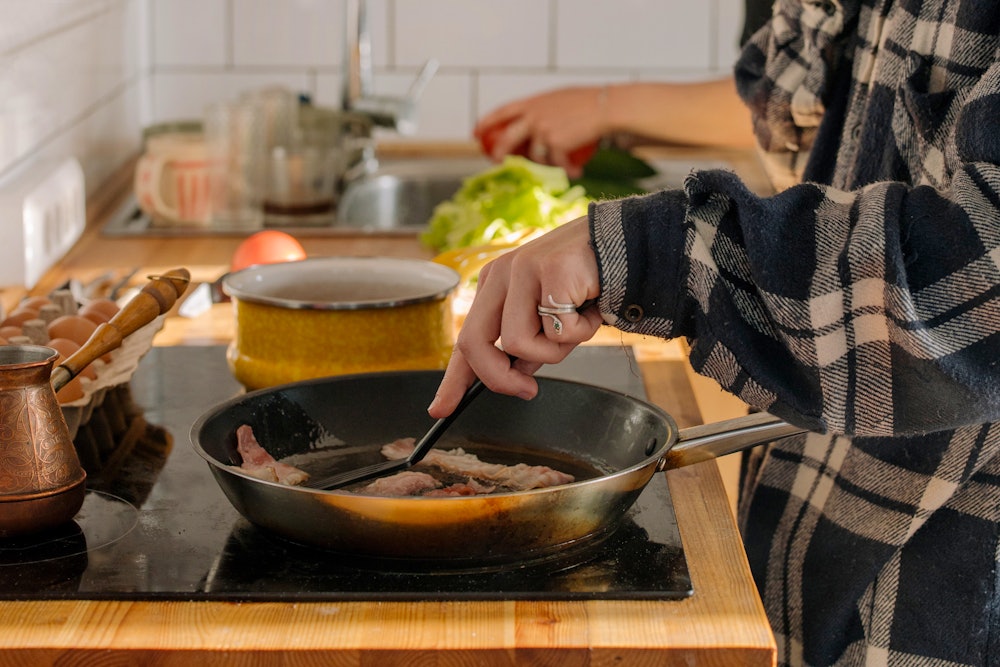 What Are Non-Stick Pans and Why Should You Buy One?
A well-equipped kitchen should have a range of utensils to suit different cooking techniques, and no setup is complete without a good non-stick pan.
The benefits of non-stick cookware are found in the coating that lines the surface of the pan.
Unlike an uncoated stainless steel pan, on which food can often catch and burn, the non-stick coating allows you to cook common ingredients with relative ease.
Eggs, fish, pancakes and stir-fry dishes are all well suited to non-stick cookware. They can be turned, tossed and removed from the pan without sticking, making the cooking process far more efficient, and maintaining the integrity of these delicate dishes.
Non-stick pans are also incredibly easy to clean. The coating means no food residue is left after use, so there's no need for soaking or heavy scrubbing.
They're also popular with health-conscious cooks since they require less oil. However, it's a common misconception that you don't need any oil at all to cook with a non-stick pan.
A certain amount of fat is required to keep the non-stick coating in top condition. If you cook regularly without it, you'll significantly reduce the lifespan of your cookware.
Whilst they can be used to prepare a wide range of foods, it should be noted that non-stick pans aren't suitable for all cooking techniques, since excessive heat will cause damage to the coating.
So, for example, if searing steak, you should use a cast-iron skillet or something similar that is capable of withstanding higher temperatures.
What Are the Downsides?
Convenient as they may be, there are downsides to non-stick pans.
Their coating is easy to damage, making them far less durable. Even the best non-stick pan will have a much shorter lifespan than stainless steel or another non-coated equivalent.
Since they are so susceptible to damage, they also require careful maintenance. So, whilst they bring a level of ease to the cooking process, if you don't look after them, you'll be buying replacements every couple of years or so.
There are also limitations if you have an induction hob at home. Many non-stick pans were originally designed for gas and electric tops only. That said, as induction has become more popular, a lot of manufacturers have begun to engineer pans that are suitable for all hob types.
Perhaps the biggest downside to non-stick pans is the associated health risks. These stem from the use of Perfluorooctanoic Acid (PFOA), a chemical once common in the production of PTFE coatings (which we'll discuss in the section below) and linked with adverse health effects.
However, most manufacturers have phased out the use of PFOA and PTFE is now considered safe. All of the pans reviewed here are PFOA free.
What Will My Non-Stick Pan Be Made Of?
Non-stick pans essentially have two parts to their makeup. The material which the pan itself is made from, and the type of coating used to provide the non-stick surface.
In terms of materials, non-stick pans differ little from regular pans, both being made from common metals like aluminium, stainless steel or copper, though aluminium is generally considered the best frying pan material and you'll find that many stainless steel pans actually have an aluminium core.
When it comes to the coating, there are two popular types – polytetrafluoroethylene (PTFE) and ceramic.
PTFE
PTFE is a manmade polymer produced from the gas tetrafluoroethylene.
When manipulated, this gas forms a solid substance with slippery, wax-like properties and is widely regarded as the best frying pan material for non-stick.
You're probably already familiar with PTFE under the brand name Teflon®. Produced by chemical company, Chemours, Teflon® is widely used by manufacturers of non-stick pans and has been PFOA free since 2013.
Ceramic
Ceramic coatings are applied in the form of a gel, known as a solution gel (or sol-gel), derived from naturally produced inorganic material.
As a chemical-free alternative to PTFE, it is considered by some as the healthier, more environmentally friendly option; however, these claims are widely contested.
Ceramic coatings are less durable and lose their non-stick qualities faster than PTFE, ultimately giving them a shorter lifespan.
How to Look After a Non-Stick Pan
It's a well-known fact that non-stick cookware doesn't last forever, but a few steps towards good care and maintenance can help prolong its use.
Prepare your pan properly – This is known as seasoning. Hand wash the pan, thoroughly rinse and dry it, then rub a small amount of oil across the surface. Doing this before each use will help maintain the non-stick coating.

Don't use excessive heat – Non-stick pans are best used on low to medium heat, as high temperatures can cause the coating to break down and degrade. You should also heat your pan slowly to avoid a sharp change in temperature.

Avoid metal utensils – Despite some non-stick pan manufacturers claiming scratch-resistant properties, it's best to avoid using metal tools altogether as they can damage the delicate surface. Use wooden, silicone or plastic utensils instead.

Wash by hand – Dishwashers subject your pans to high heat, detergents and contact with other kitchen utensils, all of which can result in lasting damage. A lot of non-stick pans are now advertised as dishwasher safe, but for maximum longevity, it's still best to wash by hand with a soft sponge in warm, soapy water. If you do put your pan in the dishwasher, do so sparingly.

Allow your pan to cool before placing in water – Submerging or rinsing your pan with water while it's still hot can also damage the non-stick coating, as it's not built to withstand sudden changes in temperature. Leave it on an unlit hob to fully cool down first.

Store it carefully – Be sure not to place your non-stick pan underneath your other cookware. If you do stack your pans, use a protective mat or a tea towel to shield the surface.
Things to Consider When Choosing a Non-Stick Pan
Choosing the best non-stick frying pan is no easy task. First, because there's so many of them on the market and, second, because each brand uses its own terminology to describe the various aspects of its pans and the benefits they bring.
To make your decision easier, look past all the marketing spiel and focus on the following:
Usability
A good non-stick pan should make your life easier and be suitable for the range of dishes you love to cook. If you have flare in the kitchen and like to toss the contents of your pan, you'll want one that's of a comfortable weight, with a sturdy ergonomic handle that's easy to grip.
Also, pay attention to the design of the pan. Flared sides allow for more evaporation, whereas higher sides are good for simmering dishes.
You may also want to go straight from hob to stove without having to transfer your dish to another pan; if so, check if it's oven safe and to what temperature.
Durability
This mostly comes down to the non-stick coating used on the pan. Whilst ceramic non-stick coatings have grown in popularity owing to their eco and health-friendly credentials, as a rule of thumb, they don't last as long as their PTFE counterparts.
The concerns around PTFE are less of an issue since manufacturers stopped using PFOA, and pans that use this coating are now considered safe.
Ultimately, the choice is yours, but if you're after a pan that will maintain its non-stick properties for a long time, PTFE coatings are the way to go.
Heat Distribution
You want a pan that cooks your food evenly, and this means it needs to heat up evenly across its entire surface.
Good heat distribution will also help with the pan's longevity since hot spots can cause damage to the non-stick coating.
Anodised aluminium is commonly considered the best frying pan material for heat distribution, and most stainless steel models have an aluminium core for this very purpose.
Check what material your chosen pan is made of; if there's aluminium involved, you're likely to get a well-heated surface.
Hob Type
If you cook on an induction, halogen or ceramic hob, you need to make sure the pan is not only compatible but that it also performs well on your hob type.
This isn't too much of an issue these days, since most models are now built with all cooking surfaces in mind, but it's still worth double-checking before you buy.
Guarantee
Guarantees on non-stick pans are a bit of a murky area. Typically, they cover faults in the construction of the pan and limited issues with the non-stick coating.
If damage to the latter is considered to be the result of incorrect use or improper care, you won't be covered.
That said, a guarantee is still a good indicator of the confidence a brand has in its products, so look for one that gives you enough peace of mind. Just be sure to read the small print.
Other Non-Stick Pans We Reviewed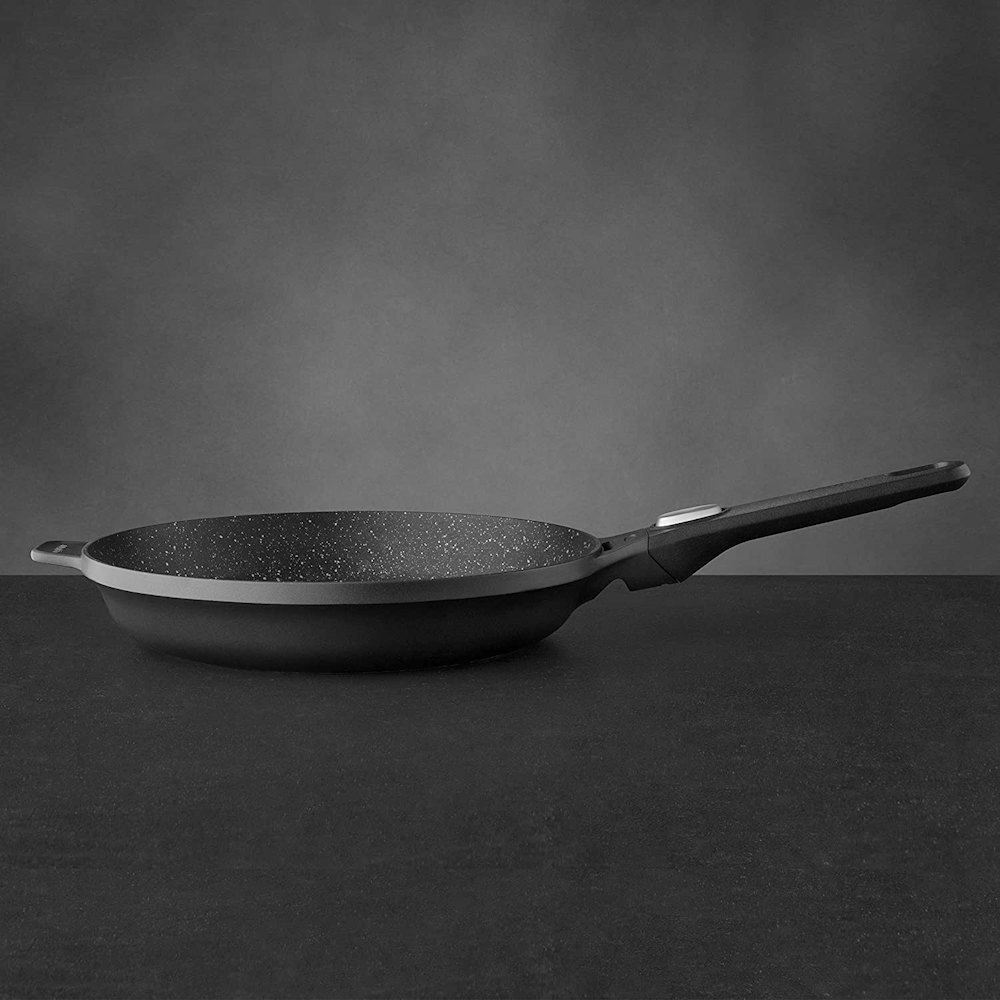 Price: £52.22
The BergHOFF cast aluminium pan has a ceramic non-stick coating, providing a slick surface that's both effective for shallow cooking and easy to clean.
Like all of the top runners in our best non-stick pan review, it can be used on any type of hob, including induction hobs.
At 1,740 kg, it's one of the heavier pans we've looked at, but this doesn't impact on its usability. Its weight provides a good, robust feel and ensures full contact with the heat source.
A handy feature of the BergHOFF Gem is its detachable handle, released with a simple one-click mechanism.
This transforms the pan into an oven-ready pot, perfect for whipping up a frittata or a delicious breakfast of baked eggs.
Price: £59.99
As its name would suggest, the GreenPan Venice Pro is marketed as the best non-stick frying pan for the environmentally conscious cook.
GreenPan pushes its eco-credentials with its toxin-free Thermal Infinity ceramic coating, enhanced with diamonds for added durability.
Suitable for all hob types, strong and sturdy, and with excellent heat distribution, it's a good addition to the home kitchen.
However, despite its claims, there are issues around the longevity of the pan, with users stating that the non-stick coating does not last.
This is an issue of you're making frequent use of the pan, but if you're only pulling it out now and again, and would prefer a coating made from a natural material, it's definitely worth considering.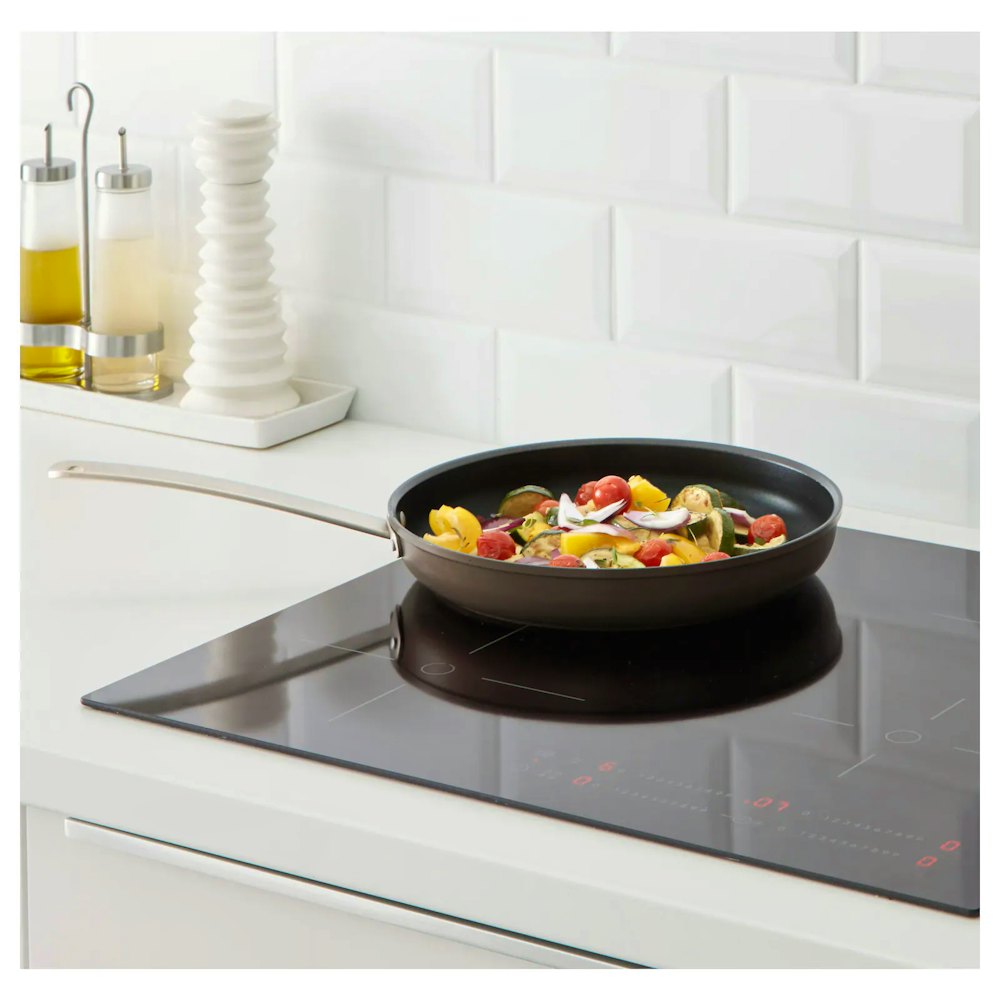 Price: £27
The IKEA TROVÄRDIG ranked exceptionally high in terms of value for money in our best non-stick pan review.
As one of the cheapest products we've looked at, you might expect a compromise on quality, but the downsides are few and relatively minor.
Compared to its competitors, the pan takes a little longer to warm up, but once it does, it maintains and evenly distributes heat thanks to its thick aluminium construction.
The Teflon® coating gives a smooth, non-stick surface, whilst high sides make it an ideal pan for simmering as well as frying.
The IKEA TROVÄRDIG is also ovenproof, but frustratingly, we couldn't find any information as to the recommended maximum temperature.
Its guarantee is a little short, at just five years, but considering its £27 price tag, we think that's a fair trade-off.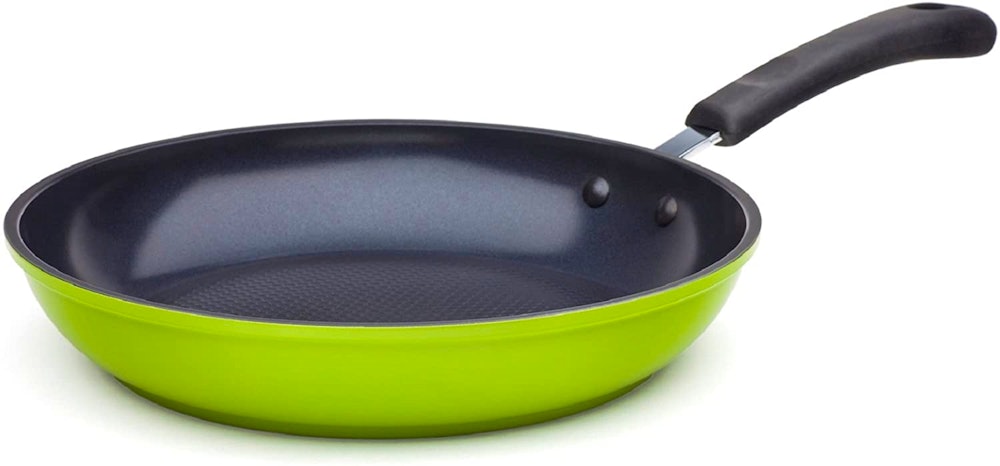 Price: 28.99
As an alternative to GreenPan products, the Green Earth Frying Pan by Ozeri also boasts a 100% toxin-free ceramic non-stick coating, called GREBLON®.
This particular model also has a texture to the cooking surface, designed to form pockets of air underneath food items to help with heat distribution.
It's a question of taste with this pan, as the outer sides are a lime green, which may not be to everyone's liking, but it certainly supports the brands eco stance.
Its construction is far less sturdy than other pans we've reviewed, and the silicon covered handle, whilst comfortable to grip, can become loose over time.
As for its non-stick properties, unfortunately, we're yet to find a ceramic coating that performs as well as PTFE, but the Green Earth pan does give it a good go. Just don't expect it to last you more than a couple of years.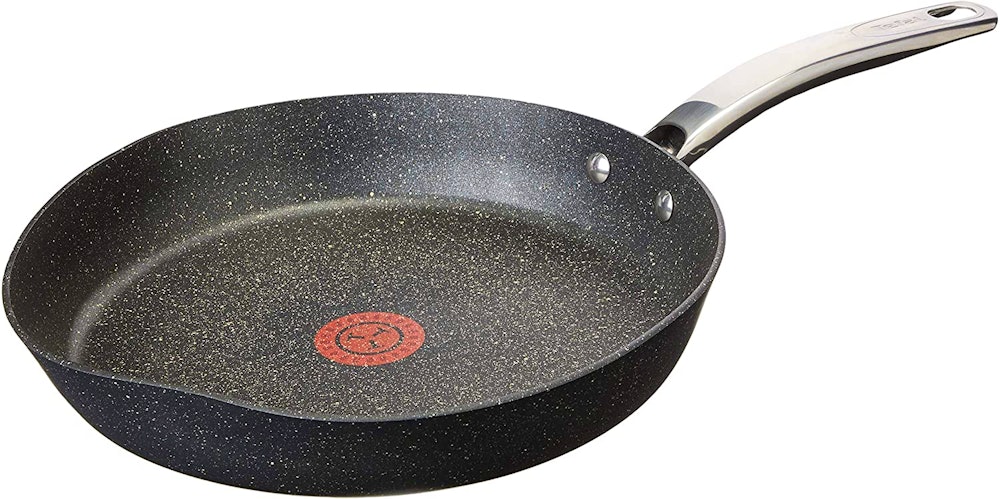 Price: £29.99
Tefal pans are instantly recognisable thanks to the red dot in the centre of the cooking surface.
This is actually Tefal's Thermo-Spot®, a heat indicator that lets you know when your pan has reached optimum cooking temperature.
It's a nice touch but, in all honesty, we see it as more of a marketing gimmick than a valuable feature.
Tefal also claims its Titanium Excellence PTFE coating is far stronger and subsequently more durable than other non-stick coatings, however, we have no evidence to support this.
The Tefal pan lacks the stylish design and quality feel of our top picks and only comes with a two-year guarantee, but at £29.99 it's still a very decent pan for the price.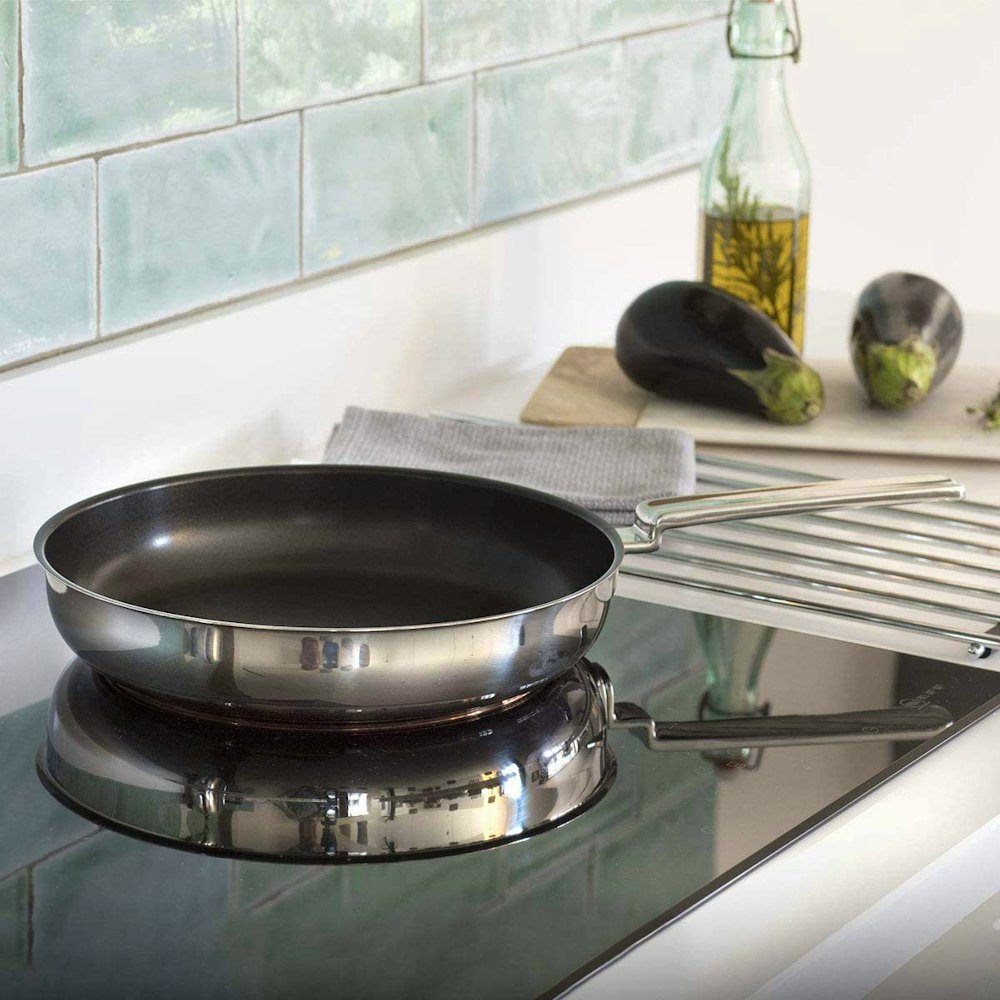 Price: £74
If you're a fan of Robert Welch products and don't mind paying a bit more for your cookware, the stylishly designed Campden Non-Stick Frying Pan also offers quality performance.
Made from stainless steel with a copper centred tri-layer base, it's quick to warm and provides excellent heat distribution free from hot spots.
Its construction makes it a little on the heavy side, so it's not the easiest pan to flip pancakes or toss ingredients in, but if you're not one for cheffy techniques, this really isn't an issue.
Its top selling point is the non-stick coating, made from a type of PTFE known as Excalibur®, widely believed to be the most advanced, most durable and most wear-resistant coating currently available.
Of course, this quality comes at a price, but with a 25-year manufacturer guarantee and a 10-year guarantee on the Excalibur® coating, if cared for properly, this pan should prove itself as long term value for money.
At a Glance Comparison
| Product | Price | Metal | Coating | Weight | Hob Type | Oven Safe to °C | Guarantee |
| --- | --- | --- | --- | --- | --- | --- | --- |
| ProCook Professional Anodised Non-Stick Frying Pan | £44 | Aluminium | PTFE | 1,117 g | All | 260 | 25 years |
| Le Creuset Toughened Non-Stick Frying Pan | £82.80 | Aluminium | PTFE | 1,410 g | All | 260 | Lifetime |
| Tower TruStone Frying Pan | £32.85 | Aluminium | PTFE | 860 g | All | 280 | 1 year as standard, 10 years on product registration |
| BergHOFF Gem Non-Stick Frying Pan | £52.22 | Cast aluminium | Ceramic | 1,740 g | All | 200 | 1 year |
| GreenPan Venice Pro Non-Stick Frying Pan | £59.99 | Aluminium | Ceramic (Thermal Infinity) | 960 g | All | 220 | Limited lifetime |
| IKEA TROVÄRDIG Non-Stick Frying Pan | £27 | Aluminium | PTFE (Teflon®) | 1,290 g | All | Unknown | 5 years |
| Green Earth Frying Pan | £28.99 | Aluminium | Ceramic (GREBLON®) | 1,270 g | All | Not suitable | Unknown |
| Tefal Titanium Excel Frying Pan | £29.99 | Aluminium | PTFE (Titanium Excellence) | 783 g | All | 250 | 2 years |
| Robert Welch Campden Non-Stick Frying Pan | £74 | Stainless steel | PTFE (Excalibur®) | 1,640 g | All | 250 | 25-year manufacturer/10 year Excalibur coating |
Final Thoughts
When purchasing a non-stick frying pan, it's important to keep one thing in mind – it will not last you as long as your uncoated cookware.
Their main benefit is, unfortunately, what gives them a limited lifespan, as non-stick coatings are delicate and wear down over time.
Even the best non-stick pan will only maintain optimum performance for a few years.
However, their versatility and ease of use make them a valuable addition to any kitchen, and with proper care, you can make sure you get the longest possible usage out of whichever model you choose.