If you have a smartphone and you need to keep track of receipts, documents or other paperwork, we recommend investing in a dedicated mobile scanning app.
Mobile scanning apps and OCR apps are specific tools which are designed to help you keep track of your paperwork in an easy to manage way, incorporating editing and sharing functionalities.
In our latest review, we take a look at some of the best mobile scanning apps available to download to your iOS or Android devices.
As part of our review process, we have tested each app against the same criteria using an iPhone XR. We've used each app to scan in a business card, a car parking receipt and a handwritten shopping list.
We are looking to see ease of use, clarity of the image and ability to save/edit the resulting image.
Our Pick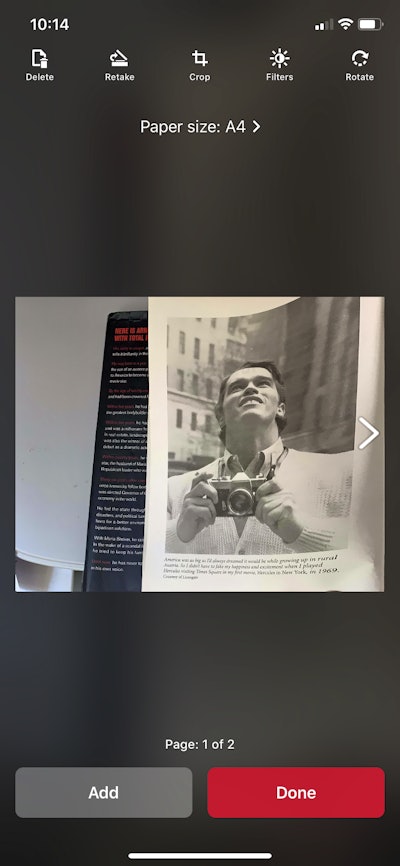 First impressions of the Abbyy FineScanner are impressive – it can recognise text in 193 different languages and convert to MS Word. It also incorporates OCR technology, ensuring clarity of the scan.
There are multiple ways that you can save your document, with various cloud options available including Dropbox, Evernote, Google Drive, OneDrive and Yandex.Disk. You can also set up an auto-send option which gives you a choice of automatic saving as a small or large JPEG or PDF.
This all means that we felt confident before starting the scanning process that this mobile scanning app had all the functionality we needed.
Whilst the initial app is free, you do need to pay for the added features and benefits. A full price subscription is £71.88, although we were offered a 70% discount, reducing this to £20.99 for a whole year.
Abbyy FineScanner offers the option to scan a singular document or a whole book. This is impressive because it allows you to scan both pages of a book simultaneously. For those with lots of scanning to do, this can be beneficial.
Auto-scan is available and you immediately have the option to check the crop quality of edge detection.
Within the initial scan function, you can choose to add a filter (B&W, Grayscale, Colour or Original) and you can choose to rotate the image.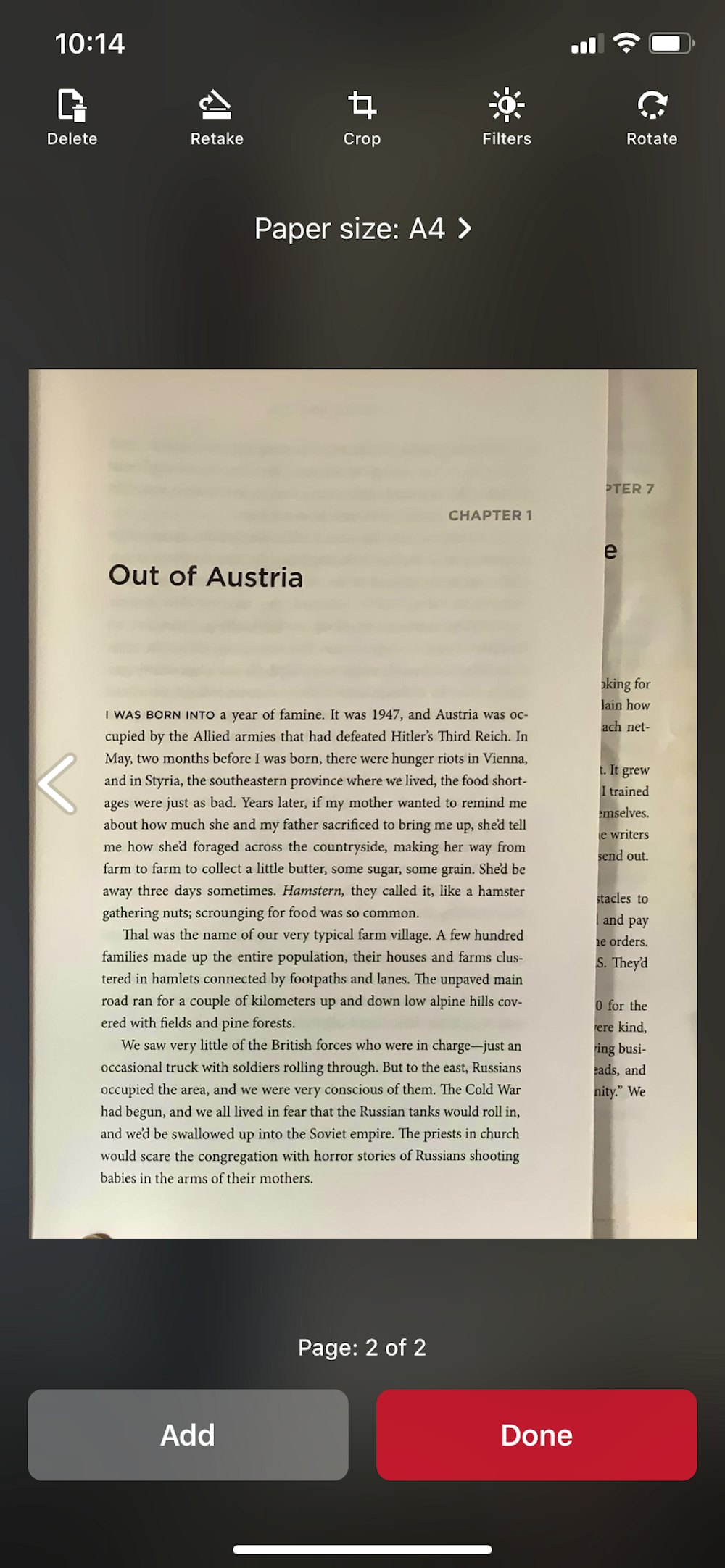 You can also choose your paper size; with options available within the UK A3-A6 settings as well as the US Letter/Legal/Tabloid options.
Once we chose to save the scan, we could rename it in a way that suited us, before adding specific 'tags' – such as personal, work, book, contract, finance, magazine, note or presentation. This means that you can start to immediately organise the storage of your document.
The free app has its downfalls and you will almost certainly need to upgrade – you can only scan five documents before being asked to buy the premium subscription.
However, if you too can benefit from the reduced offer of just £20.99 for the Pro subscription, we think this is a really good option to invest in.
We also highly rate the new Abbyy FineScanner BookScan technology. Although it took a minute or two to process the image, it immediately separated the two pages into two separate images, allowing us to edit/save each page separately.
The text was clear and readable and, broadly speaking, the edge detection was hugely effective. There were a few scans where we had to retake the image, but we feel that was down to user-error above anything else.
The saving options of the Abbyy FineScanner are impressive. You can retain the original scan, create a PDF, share by email, send it to your preferred cloud service, open in another app or even send directly to your wireless printer.
Overall, the Abby FineScanner app is an impressive tool that offers affordability with functionality. We would highly recommend it.
Runner Up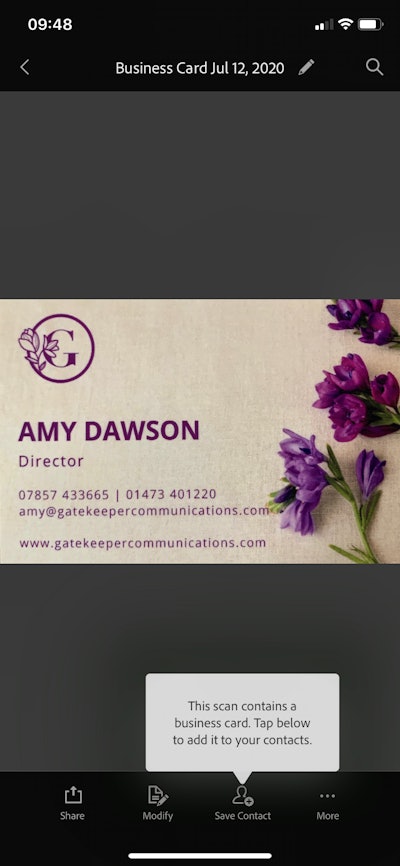 We rate the Adobe Scan app highly for its ease of use.
It allows you to choose what type of file you are scanning in, with choices including whiteboard, form, document or business card.
The edge detection function works seamlessly and, once the image has been scanned, you can choose to crop the image to your preferred specifications.
You can even automate your settings to adjust the borders after each scan or adjust later using the specific tool.
Once your scan is complete, you can move into the editing functionality. You can change the colour, clean up any marks or creases, crop, or rotate.
Once you are ready to save your document, you can save it as a PDF and choose your save options. If you have Adobe Acrobat Reader or Adobe Fill & Sign on your phone/tablet, you can open the image direct which can be beneficial if you are looking to annotate or sign the document.
However, if you wish to do anything beyond this, you will need to have a full Adobe subscription.
We like the fact that you can save a contact within the business card setting – for those looking to use mobile scanning devices whilst out at networking events or business functions, this can be a highly valuable feature.
We felt that the user interface was really simple to use, and we appreciated that you could scan multiple documents before moving into the edit/save function. If you have a lot of items to scan, this could be a valuable time saver.
This is a good app and we felt that the user experience was positive, but we felt that you could only make the most of it if you are a regular Adobe subscriber.
The scan function was clear and easy to use, but it relies on also having Acrobat Reader downloaded to your phone/tablet along with a paid-for subscription to benefit from some of the features available within the app.
Also Awesome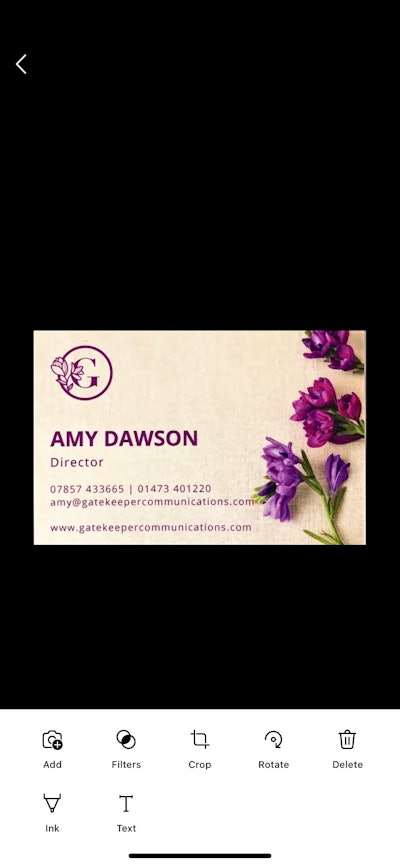 Like the Adobe Scan app, users of Microsoft Office Lens begin by choosing what type of scan they are doing; options include a photo, business card, document or whiteboard. This means that you can retain core functionality and the best possible image as the app tailors its approach to what you are trying to scan.
The edge detection is hugely impressive and you can make immediate edits to the document with options including filters, crop, rotate, ink and even adding text.
The quality of the image is sharp – words are clear and easy to read. If you are scanning in a business card, OneNote will recognise the contact details and add them to your contact list.
It is frustrating that you have to save each image to OneDrive before opening it into a different app (such as MS Word). This additional step does feel cumbersome, but it does result in a more accurate functionality and, what's more, it's not an additional paid-for feature.
As long as you have a Microsoft account, everything is included. For small businesses, this can be a huge advantage because you can have all the features that you need without having to pay anything extra.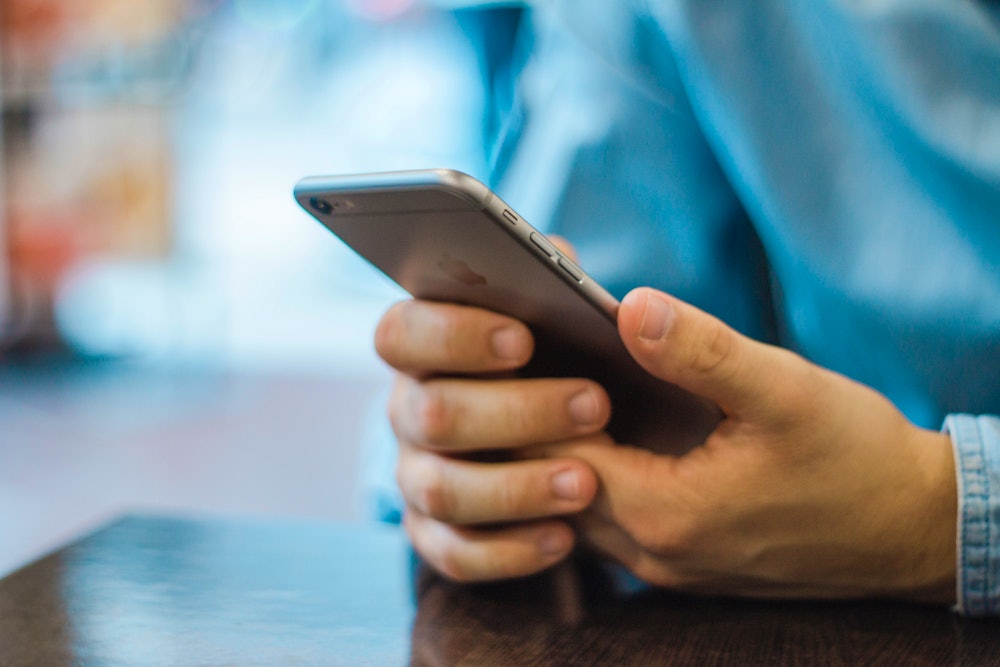 What Is a Mobile Scanning App?
In recent years, we've become accustomed to having everything facilitated digitally, but in some circumstances, you may still have to use physical paperwork.
From business cards and receipts through to government or NHS paperwork, there's still a long way to go before we can say that we operate in a truly paper-free office environment.
However, that dream is coming ever closer thanks to mobile scanning apps and Optical Character Recognition (OCR) apps.
Whilst there is still a place for stand-alone scanners and all-in-one scanner/printer combinations, many small businesses and micro-businesses are now making use of scanning apps that run directly from your smartphone.
These apps offer more than just camera functionality. They allow you to scan images and import them directly into documents. They also allow you to turn the image into a file that you can edit.
These nifty little tools are just as helpful for freelancers and busy sales teams as they are for individuals wanting to remember family recipes or funny pictures drawn by the kids.
What Is the Difference Between a Mobile Scanning App and an OCR App?
You may be wondering why you need an app at all. After all, surely the basic camera functionality on your phone should be enough? Well not quite.
When it comes to corporate paperwork, you need to ensure that your documents are scanned in clearly and effectively.
Mobile scanning apps can be used to document lengthy contracts, expense reports and even medical records. Therefore, you need to have confidence that your document is being carefully scanned (and stored) in a way that is easy to read.
An Optical Character Recognition App (otherwise known as an OCR app) goes beyond mere scanning. It converts printed characters into high-quality digital text.
This means you can easily search and edit your document in a word processing application once it has been scanned in.
What's more, it's an accessible tool that can be used for those with vision impairments as OCR software can be used in conjunction with computer voice-over functions.
When Might You Need to Use a Mobile Scanning App?
There are many reasons why you might choose to use a mobile scanning app. Here are a few suggestions:
1. Making Copies of Important Documentation
There are inevitably moments in life when you may need to send original documentation for verification.
Perhaps you've recently got married and you need to show a copy of your marriage certificate to a mortgage lender. Or perhaps you need to show a copy of your passport or driving licence to your HR department.
Whatever the case, you should always ensure you have a copy of your important documentation as a vital backup.
Using a mobile scanning device can ensure that your documentation is scanned with clarity and is easily sent or stored wherever you need it to be.
Thanks to OCR technology, you can feel confident that text is scanned with focus and that the edges of the document have been identified.
2. Business Cards
If a new acquaintance passes you a business card during a networking event, you can scan the card, automatically adding the person to your contact list.
You can even automate your settings to automatically create a new connection on LinkedIn.
3. Note Taking
If, for example, you are attending a training workshop, rather than spending time jotting down notes, you can simply scan whiteboards or presentation slides to store the information.
This will allow you to focus more time on listening to what is being said, rather than trying to write as quickly as possible.
4. Reminders
You may receive regular invitations to attend events (whether corporate or personal). The best mobile scanning devices will not just scan your invitation but can set reminders into your calendar so you know when and where you are supposed to be.
What Features Do the Best Mobile Scanning Apps Have?
To help you decipher the best mobile scanning app for your needs, here are key features you should be looking for when choosing which to download:
Auto-Scan
A mobile scanning app with auto-scan tools can be very useful.
It may seem silly – after all, there's not much effort involved in pressing a button on a screen. But users may find it efficient because it allows your device to take a photo of whatever is held in front of the camera.
This means that you can focus on holding your device steady, leading to a better image.
We believe that this is a highly beneficial function – once you are used to it, it becomes a tool you can't live without.
Colour Correctness
As with any photo editing app, you may wish to have an app that allows you to retain control over the colour of the document. You may want to adjust the brightness of the image or revert to grayscale.
At the moment, this is a feature that is lacking in some mobile scanning apps but, as they continue to develop, we feel this will become more prominent.
Easy to Use Interface
When you use an app, you need to feel confident that you understand how the interface works.
UX is an important aspect of any app or mobile site and different users will have their own opinions on what works well.
As you start to play with different mobile scanning apps, you'll start to develop your preferences for what you are looking for within a user interface.
Edge Detection
A key benefit of using a mobile scanning app over simply taking a photo of a document is the ability to detect the edge of pages. If you're trying to scan a legal document then this can be vital in turning something amateur into a professional-looking image.
Whilst mobile scanning apps are generally fairly good at detecting the edge of the page, there can be some adjustments needed.
You may wish to look for an app that has a 'crop' feature included that could allow you to make any minor amendments to the scan once it's complete.
Editing Capabilities
If you're looking to turn a scanned image into an editable document, you need to consider an app's OCR capabilities. This ensures clarity of the text and allows you to search for key terms, as well as make adjustments using word processing software such as MS Word.
Think about what you want your mobile scanning app to do.
You may simply be looking for something which allows you to scan and save into a logical place, in which case you can look for a more basic app.
If you know that you need to regularly edit documents, then you should pay close attention to the editing capabilities available within the app.
Multi-Lingual
If you work for global business, you may wish to invest in a mobile scanning app that has multi-language capabilities.
Can you scan in a document in one language and easily convert it to another? Can it read other languages other than its default setting?
Whilst this may be a niche feature, for those who travel regularly for work this can be a huge timesaver.
Options to Save in Multiple Formats/Save to Different Locations
Make sure you check the save functionality of the app.
Can you save a scanned image into multiple formats? Can it remain as a JPEG but also be saved as a PDF? Can it be converted into a Word document?
You may also wish to consider the save locations available within the app. The benefit of using a mobile scanning app is that you can choose how to store the resulting image. Can you save the documents directly to the cloud or your company's server? Can you choose how to save the document name and where to store it? Does it link with external apps such as Dropbox or Google Drive?
Price
What is the price of the app? Whilst many mobile scanning apps are free of charge, there may be many additional in-app purchases required which can add up to become quite costly. You may find that to upgrade to an OCR version of an app, you have to pay an additional price.
Search Functionality
The benefit of an OCR app is that it converts images into text, allowing you to search for key terms. Therefore, you need to have confidence that the search functionality will allow it to work in the way that you need.
For example, can you only use one search term or can you search for multiple things at the same time?
Other Mobile Scanning Apps We Reviewed
Although we've included our top picks at the top of this article, here are some other highly rated mobile scanning apps which you may be interested in downloading.
Price: Free
Tiny Scanner is a free mobile scanning app.
Our first impression was that the edge detection wasn't great – although it says it has an auto-scan function, we found it difficult to use.
The app found it hard to focus on the business card and the resulting image looked like a photocopy taken from the 1980s. You can choose to convert the image to colour or grayscale.
Once you're happy with your image, you can decide to save your image as a PDF or JPEG.
There are multiple options for saving your image; it syncs with Dropbox, Google Drive, Box, OneDrive and Evernote. You can even decide to fax your image – although you would need to download an additional app for this.
As Tiny Scanner is a free app, it is powered by adverts which do detract from the user experience. It's not a pleasant app to use and the quality of the scan seemed exceptionally low.
If you're looking for a free mobile scanning app, we think you'd be better off using Microsoft Office Lens which is free but is a much higher quality.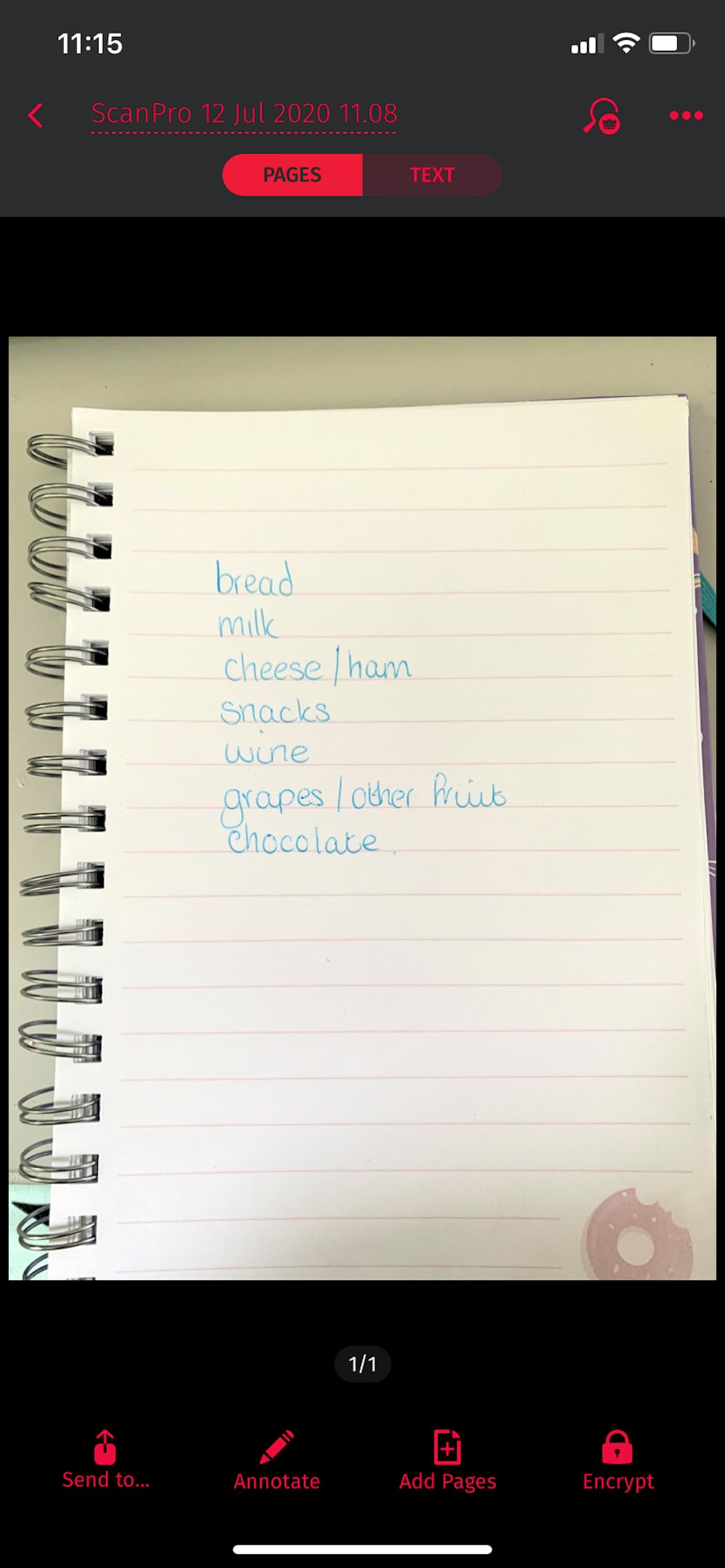 Price: Annual subscription £33.99 per year / £5.99 per month
ScanPro is the new name for Scanbot – a mobile scanning app that boasts a 4.8-star rating on the App store.
With a free and a pro subscription option, ScanPro promises to deliver cloud synchronisation, password protection and PDF conversion. With just one tap, the app can send files via email or as a fax.
It also allows you to upload directly to cloud services such as iCloud, Box, Dropbox, Evernote and Google Drive, amongst others.
Images are scanned in at 200dpi and you can also scan in QR codes. The app prides itself on its edge detection and you can scan both single and multi-page documents.
As you may expect, options within the free basic subscription are limited, but pro users can benefit from electronic signatures and OCR text recognition, as well as the ability to search and organise documents.
The UX is positive. It's a well-thought-through app that looks visually appealing as well as having good core functionality.
Upon the initial scan, you can choose the colour correction, as well as crop or rotate the image.
We also like the fact that within the ScanPro app, you can create your own sub-folders to save your images. For those who may be considering using a mobile scanning app for work and pleasure, this can be an effective way to organise your images.
You can also decide what to do with your images – as well as emailing, printing and sharing, we appreciated the 'set reminder' function. If you're scanning in an image that relates to a specific event (perhaps a birthday party invitation) this is a fantastic feature.
The ScanPro scanned in an image well, and when it comes to the Pro subscription, you can search the text and the OCR supports up to 60 languages.
We like the fact that you can add significant smart tags to your documents; ranging from metadata through to date formats and geo-location settings. It makes the search functionality highly effective.
In our view, this is the best app by far for those looking for organisational features as well as scanning capabilities. It ranks favourably against the Abbyy FineScanner in terms of capability and we appreciated the visual impact of the app.
This is a beautiful looking app that has been carefully thought through.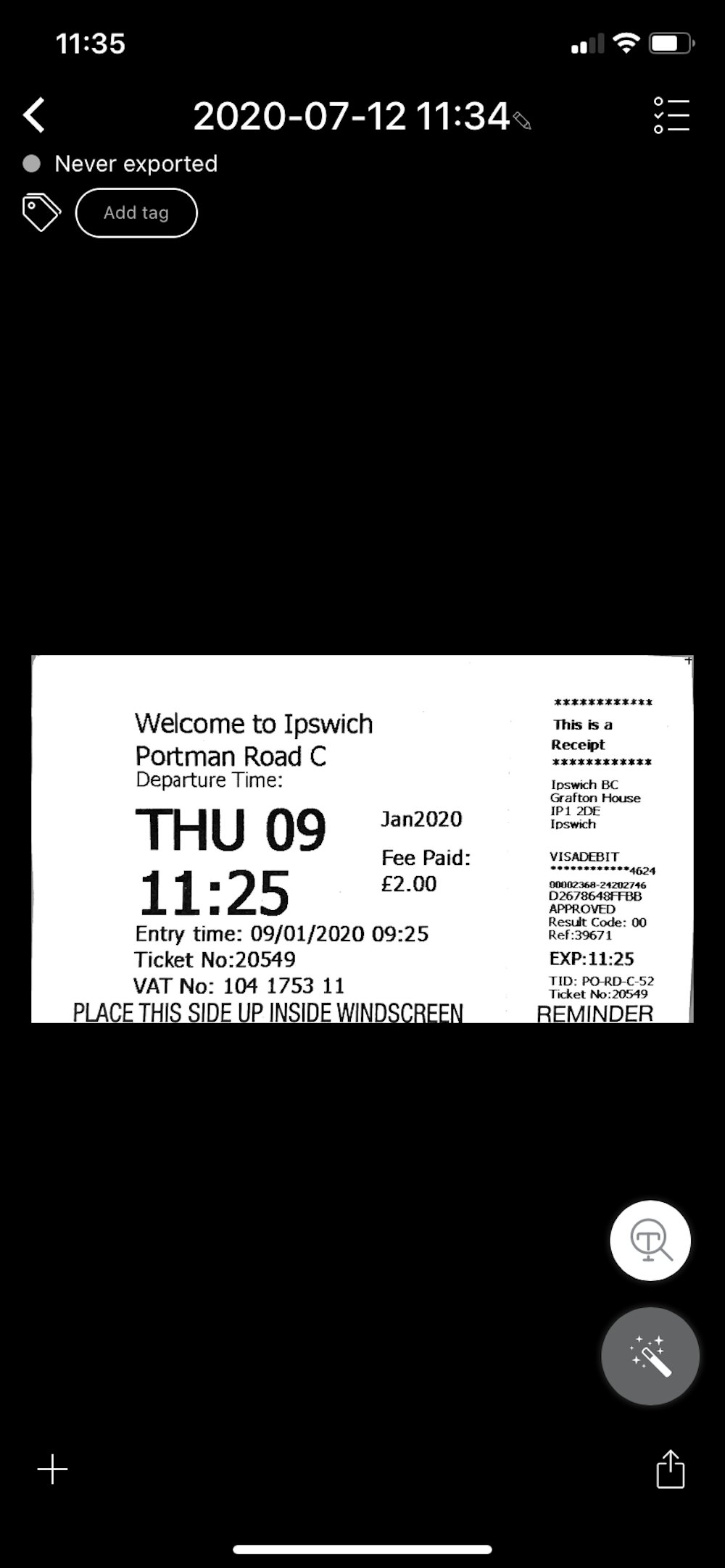 Price: £7.99 as a one-time fee, or £2.79 for a monthly subscription which incorporates back up and synchronisation
This is another popular mobile scanning app on the App Store. The developers describe Genius Scan as the best way to quickly scan paper documents and export them as multi-page PDF files.
It's been so popular, that it has previously been selected as Apple's 'App of the week'.
With that in mind, we were hugely excited to trial this scanner to see if it lives up to the hype.
The features list is impressive; with document detection and background removal you can feel comfortable scanning your image on even the messiest of desks.
It offers distortion correction (handy for those receipts that have been lying at the bottom of your handbag) and it also allows you to make the most of its batch scanning capabilities.
When it comes to PDF creation, Genius Scan allows you to merge (and split) documents as well as create multiple page PDFs – all at the touch of a button.
Like ScanPro, users benefit from effective organisation options including document tagging, metadata and content search as well as customer naming schemes.
It also boasts an impressive export functionality with sync to email as well as cloud devices. These include Dropbox, Evernote, Expensify, Google Drive, iCloud Drive, OneDrive, FTP, SugarSync and WebDAV.
So, does it live up to its promises? Simply put, yes.
The edge detection and auto scan worked impressively well. You can easily edit the document and change it to a variety of formats.
We like the way that you can take multiple images and add them together (in your preferred order) allowing you to make multi-page PDFs. If you're looking to sync your expenses together and then upload to a site such as Expensify, then this function is great.
You can even choose to password-protect specific images that add to the effective functionality of the app.
Unlike other scanning apps, there is plenty of functionality within the basic free subscription. This gives enough flavour to see how well it works before deciding to subscribe to a pro feature. We thoroughly enjoyed using this app and rate it highly.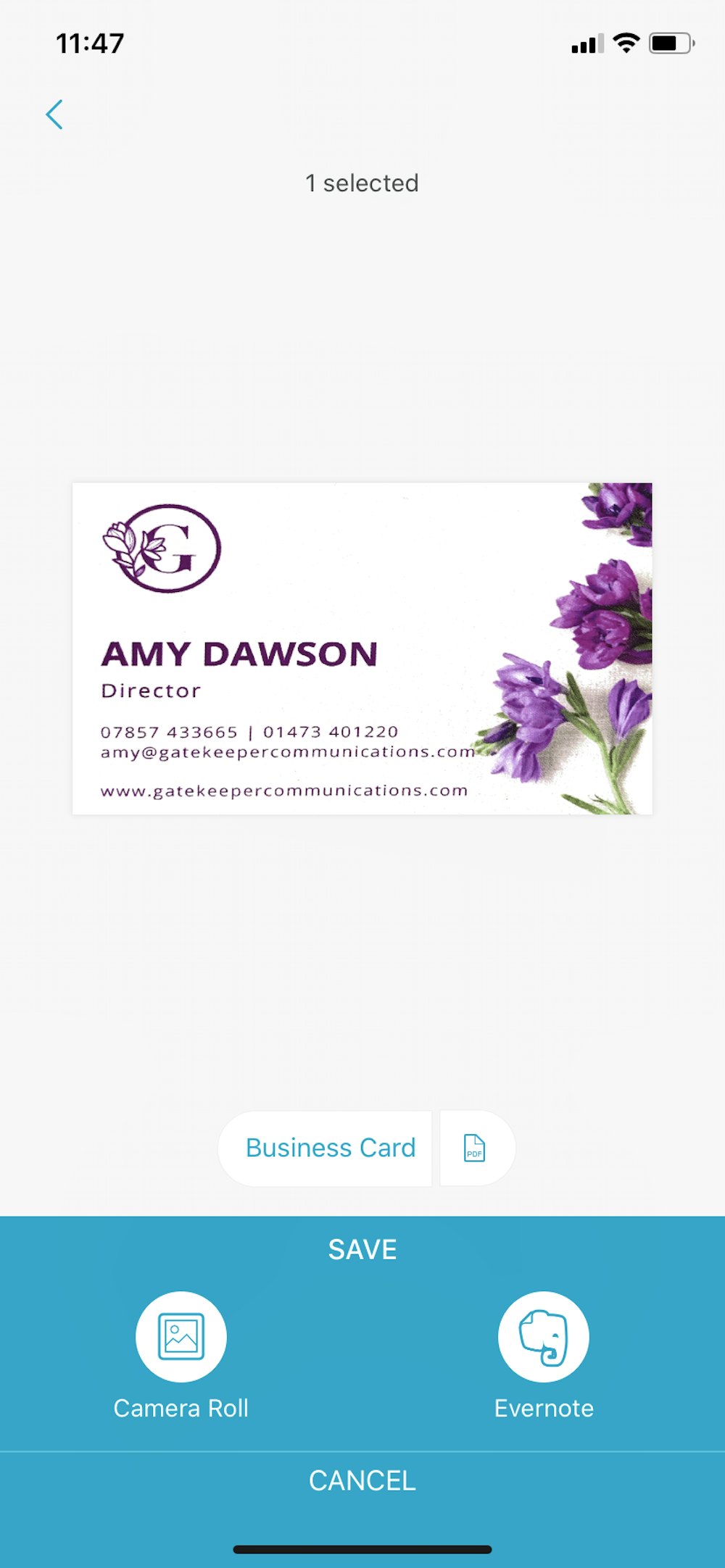 Price: Free
If you are an Evernote user, Evernote Scannable is an effective app that allows you to sync your images directly to your Evernote account.
Like other mobile scanning apps, Evernote Scannable is designed to save you time and can scan instantly clear images. It is designed to help you become truly paperless.
The scanning application is swift. It immediately offers effective edge detection on a business card and recognises automatically what you are trying to scan. Like other mobile scanning apps, it can sync with your contacts, allowing you to store the connection in your contact list.
When it came to scanning a handwritten shopping list, it was able to easily read the writing and you can instantly share with others. If you're trying to send a quick message to a family member already at the supermarket, this can work wonders.
We did struggle slightly with the user functionality of the app – unlike others, it didn't seem as intuitive and although we were able to figure out how to use it, it's possibly not one that we would choose to go back to. Not when we could use options such as Genius Scan, ScanPro or Office Lens which seemed much easier to use.
At a Glance Comparison
To help recap on the various mobile scanning apps, here are the key features at a glance:
App Name
Available On
Price
Sign-In Options
Auto-Scan?
Editing Capabilities?
Colour Correctness?
Multiple Save Formats?
Additional Information
Adobe Scan
Android

Apple

Free – Adobe subscription required for further aspects
Google
Facebook
Apple
Adobe ID
Yes
Yes
Yes
Yes
May require Adobe Acrobat Reader
Abbyy FineScanner
Android / Apple
Free basic app

Pro subscription is £71.88 per year

n/a
Yes
Yes
Yes
Yes
BookScan feature is impressive
Microsoft Office Lens
Android / Apple
Free
Microsoft account
Yes
Yes
Yes
Yes
Images need to be saved to OneDrive
Tiny Scanner
Apple / Android
Free
n/a
No
No
No
PDF / JPEG
 
ScanPro
Apple / Android
Pro subscription is £34 per year
n/a
Yes
Yes
Yes
Yes
 
Genius Scan
Apple / Android
Free

Pro subscription is £7.99 one-off payment

n/a
Yes
Yes
Yes
Yes
Allows you to create multi-page PDF documents
Evernote Scannable
Apple
Free
n/a
Yes
Yes
No
Yes
 
Final Thoughts
It has genuinely surprised us to find out how much variation there is when it comes to the best mobile scanning apps. Previously, we'd stuck to just using the camera functionality on our phone, but we may now be converted.
It's not surprising to see that the multi-featured apps are generally based around subscription services, but it is good that they link in with many services that you may already have.
If you're a creative cloud subscriber, it's a no brainer to go with the Adobe Scan app. Likewise, if you're an Office 365 user and you want something that will offer full functionality whilst syncing up with your Office suite of products, it makes sense to use the Microsoft Office Lens.
For those needing something a bit more sophisticated, it's a clear choice between the Abbyy FineScanner and the ScanPro apps. Both offer additional capabilities and effective user experience.
The multi-lingual options are impressive and, as we mentioned, if you're working for a global brand, you should invest in a mobile scanning app that will take different languages into account.
A final shout-out should also go to the Genius Scan app. It was incredibly impressive to see so many features available, even within the basic subscription model. The app was easy to use and even if you do decide to upgrade your package, at just £7.99 it is affordable and offers a variety of functionalities.