It may be easy to simply give your child or teenager a pair of earphones that have likely come with your phone. But there are some key differences between child and adult headphones.
In our latest review, we compare some of the wired and wireless headphones designed specifically for children.
We explore the sound quality, comfort levels and overall durability to help you decide on the best headphones for your kids.
Our Pick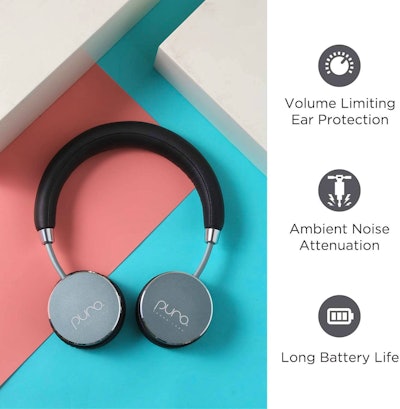 Puro Sound Labs BT2220
The best headphones for tweens
These headphones are an ideal choice for older children looking to combine style with substance. Although pricey, they are a fantastic lasting investment.
£89.99 from Amazon
Although these were one of the highest-priced products that we tested, it was clear that these headphones offered superb sound quality whilst still retaining the safety precautions that you would expect from a set of kids' headphones.
Our first impression was that they certainly looked stylish. With Bluetooth connectivity and wireless connections, these headphones will immediately appeal to older children who may be more concerned by appearances.
With colour options available in Sapphire Blue and Cool Grey, they certainly look more grown-up than some of the other headphones that we tested.
But how well did they perform?
Well, we were extremely impressed. The manufacturers promise simple connectivity through one-touch Bluetooth pairing, and this delivered.
They were quick and easy to set up, allowing us to immediately test the sound capabilities.
And this is where the Puro Sound Labs BT2200 come into their own.
As well as limiting sound to 85db, these headphones include noise isolation to keep your child's surroundings as quiet as possible.
This makes them a perfect companion if you are considering flying to a holiday destination – your child can listen to their favourite music or film without being troubled by the loud engine noise.
But what about the all-important comfort levels?
Well, with an adjustable headband and ear protectors, the headphones were extremely comfortable and, what's more, they can fit adult-sized heads as well.
They also felt strong and sturdy, able to cope with whatever your child may (literally) throw at them.
In our view, these are an investment set of kids' headphones, but could easily last several years. Due to the style and functionality of them, we would recommend them for older children or tweens.
We fully expect to see these on many Christmas lists later this year.
Runner Up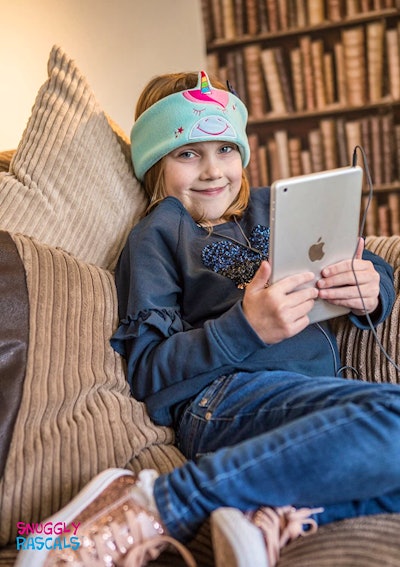 Snuggly Rascals
A close second: The best headphones for young children
Designed with comfort in mind, we're sure young children will love the array of designs available. We love this innovative product.
£14.99 from Amazon
At the opposite end of the pricing scale is Snuggly Rascals; an innovative set of kids' headphones that are specifically designed for younger children.
Unlike other sets of headphones that rely on an overhead band, these over-ear headphones use a washable fleece headband to keep the ultra-flat speakers in place.
We were floored by the choice available within this range of kids' headphones. Your child can choose from a range of designs including unicorns, pigs, baby shark, monsters, owls and even a phenomenal Gruffalo version.
It's equally impressive that the fleece headband is washable.
It's no wonder that Snuggly Rascals were awarded silver in the 'Innovation of the Year' category at the MadeforMums 2018 awards.
So, why are these so well regarded?
The unique design means that comfort is at the heart of this set of childs' headphones.
For younger children, having a Velcro-fitted headband means that they are more likely to keep these on, whilst loving the variety of styles available.
Reviewers have praised these headphones, saying they are particularly effective for children impacted by autism and other sensory disorders.
We felt that these could be highly effective if you are travelling; the flat speaker design means that they remain comfortable on the head for hours on end.
If your child is resting against a car or train seat, they can snuggle in close to you without being impacted by the speakers.
For us, the only drawback was that they are a wired headphone set.
In an ideal world, we would have loved to have tested these on our five-year-old at bedtime. She loves falling asleep to an audiobook, but because of the wires, this would be a safety hazard.
If these were wireless, they would truly be a perfect set of headphones for young children.
Also Awesome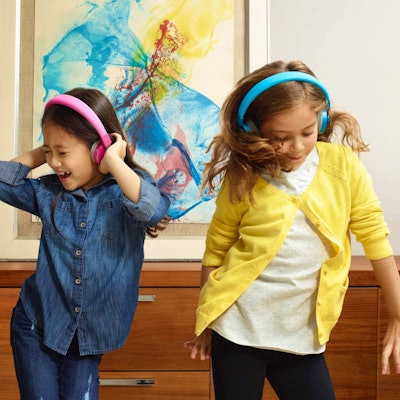 Designed especially for children aged 4 years and up, the LilGadgets Untangled Pro Headphones are a great product for children.
The wireless capabilities prevent tangling, and with five colour choices available, your child can find a set that matches their style.
These headphones have been designed with children in mind, and it shows. The headphones have adjustable headbands but also include breathable mesh material to enhance comfort levels.
If you've ever worn headbands on a hot summer day, you'll understand how vital this is.
The volume limiter is set at 93db – ideally, we would prefer this to be a bit lower, but the limit is there and works well.
There is also a 13db passive noise reduction capability, which does mean that your child can lower the volume and still maintain clear sound levels.
Ultimately, what makes these a great option is the SharePort technology.
Unlike cheaper kids' headphones that may rely on headphone splitters, the unique SharePort allows up to five devices to connect together wirelessly.
If you have multiple children, or you simply want to be able to listen in to what your child is listening to, then this is a fantastic feature. And thanks to the Bluetooth technology, you don't need to be standing next to the other person for the shared connectivity to work.
The LilGadgets Untangled Pro Headphones have a solid battery life – at 12 hours, they don't compare with the more expensive Puro headphones, but they do come with a 1.2 meter audio wire allowing you to reconnect if the battery does stop working.
We felt that these headphones really did work for the specific needs that children have. They look stylish and we think they could be a great choice for children aged 7 and up who are looking for something a bit more grown-up.
We would recommend these for families where sharing is a necessity.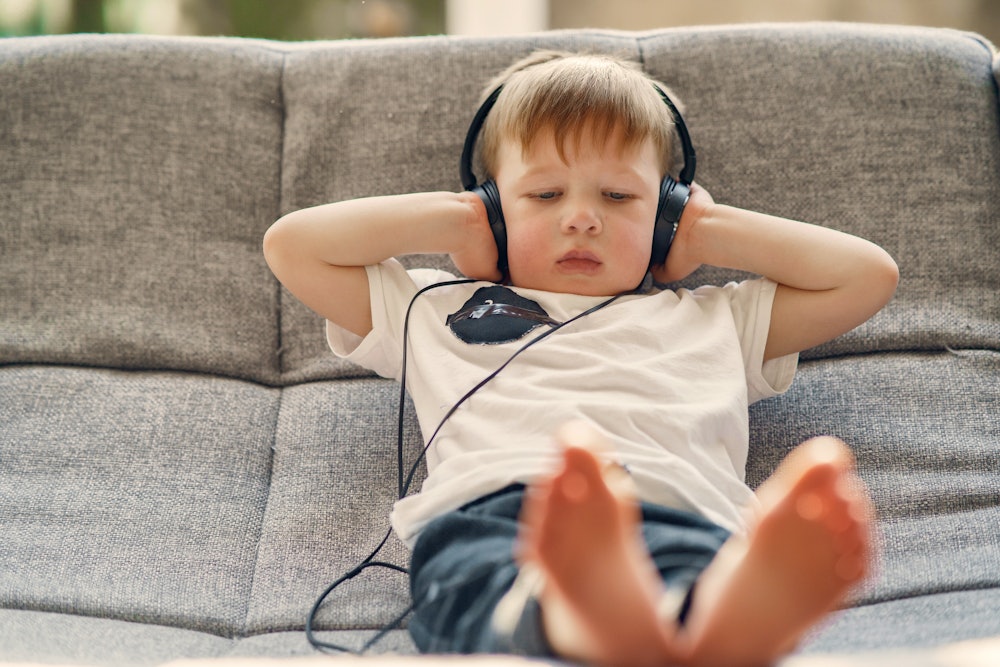 Why Would You Need to Purchase Headphones for Your Child?
All parents will understand the need to invest in a quality pair of headphones for their children; however, there are many reasons why you might choose to buy your child headphones:
You may wish to drown out the sound of PAW Patrol blaring out from your child's tablet.
You may be looking for a way to let your teenager play games with their friends or listen to their favourite music whilst you catch a few peaceful moments.
You may be travelling long distances and require a pair to keep your child entertained, whether you are driving, catching a train or flying to a holiday destination.
You may simply be looking for peace and quiet. Or you could be trying to find ways to help your child focus on what they are doing.
But the biggest reason to purchase a specific pair of child headphones is the ability to limit the volume and protect your child's hearing.
According to research from the World Health Organisation, many teenagers and young adults are at risk of permanently damaging their hearing as a result of continual exposure to loud noises through personal audio devices.
As a result, the WHO recommends that noises should be limited to a maximum safety level of 85db.
"Teenagers and young people can better protect their hearing by keeping the volume down on personal audio devices, wearing earplugs when visiting noisy venues, and using carefully fitted, and, if possible, noise-cancelling earphones/headphones. They can also limit the time spent engaged in noisy activities by taking short listening breaks and restricting the daily use of personal audio devices to less than one hour. With the help of smartphone apps, they can monitor safe listening levels."
Source: World Health Organisation
What Sets a Pair of Kids' Headphones Apart From Adult Headphones?
It may be tempting to simply share your pricey Beats headphones with your child, but you should think about whether the sound is suitable for your child's ears.
The best headphones for kids and tweens come with volume limiters as standard, giving you confidence that you are protecting your child from unexpected hearing loss.
Safety is a key aspect when it comes to the best headphones for kids. As adults, we may be used to dealing with long wires hanging around our necks, but for children, these wires can have serious consequences.
This is why many newer sets of kids' headphones tend to be wireless.
Another key difference between kids' headphones and adult headphones is the levels of comfort.
Whilst adults may be more concerned by sound quality (hence the proliferation of brands such as Beats and Sennheiser), children will be more focused on comfort.
Children tend to find in-ear headphones uncomfortable and easily displaced. That's why you are more likely to find a set of kids' headphones with headbands and heavy padding. They are designed to be comfortable for long-term use – ideal if your tween is heavily into gaming.
What to Look for When Selecting the Best Pair of Headphones for Your Child
With safety, durability and comfort key to purchasing decisions, here's a handy checklist of things that you should be looking for when researching children's headphones:
Are Your Child's Headphones a Comfortable Fit?
As we've just mentioned, many children tend to wear their headphones for hours on end. This may be because they are playing a computer game with their friends, or it could be because you are travelling long distances.
Whatever the reason, they need to feel comfortable.
Check that the headband is adjustable to adapt to growing children. Does it fit comfortably on your child's ears?
Is the material breathable? The last thing you want is a build-up of sweat and dirt which could lead to an ear infection.
Are They Bluetooth Enabled/Wireless?
Many of the newer sets of child headphones come Bluetooth enabled. This can be beneficial – especially if you are looking to use them for a variety of activities.
Perhaps your tween wants to wear their headphones whilst having a zoom chat with their friends. Or perhaps you have siblings sharing a tablet on a long car journey, in which case, Bluetooth connectivity can help you to avoid any arguments over who can listen to the device.
Wireless headphones may be pricier, but they are a lot safer for use by children than wired versions – especially if you are unable to physically supervise them during use.
Are They Sound Limiting or Sound Reducing?
Earlier on in this article, we mentioned that the WHO recommends limiting sound exposure to 85db.
Whilst many adult headphones will exceed this, many manufacturers of kids' headphones incorporate sound limits as standard.
This means that you can feel confident that no matter how long your child is using them, their hearing will always remain protected.
Be wary, though; not all childs' headphones have this feature, so check carefully before purchasing.
If you've had a walk around a toy shop and stumbled through the electrical department, you'll likely be aware of the wide range of accessories that can come with children's headphones.
Manufacturers know how to make their headphones appeal to children; whether they are PAW Patrol or Frozen branded or come with stickers and other gems designed to help your children get creative.
If you want to encourage your child to use their headphones more often, choose the ones that will appeal the most to them.
Are They Durable?
Any parent will know that the best pair of kids' headphones will be tough enough to stand up to the inevitable damage that will occur.
Will your chosen pair cope with being pulled off heads roughly and thrown onto the floor? If they are wired headphones, can the jack cope with being pulled around?
This is where more expensive brands can differ; they can often feel much sturdier and resilient to the daily play of a young child.
What Colours Are Available?
If your child is fussy, you may wish to let them choose their preferred colour.
The best kids' headphones come in a variety of colours and your child will enjoy picking their favourite.
This allows them to feel involved in the purchasing decision and is ideal if you have siblings and want to know whose pair belongs to whom.
The Other Kids' Headphones We Looked At
Although we've listed some of our favourite headphones at the top of this article, we know that everyone will have different requirements.
Here are a few more suggestions: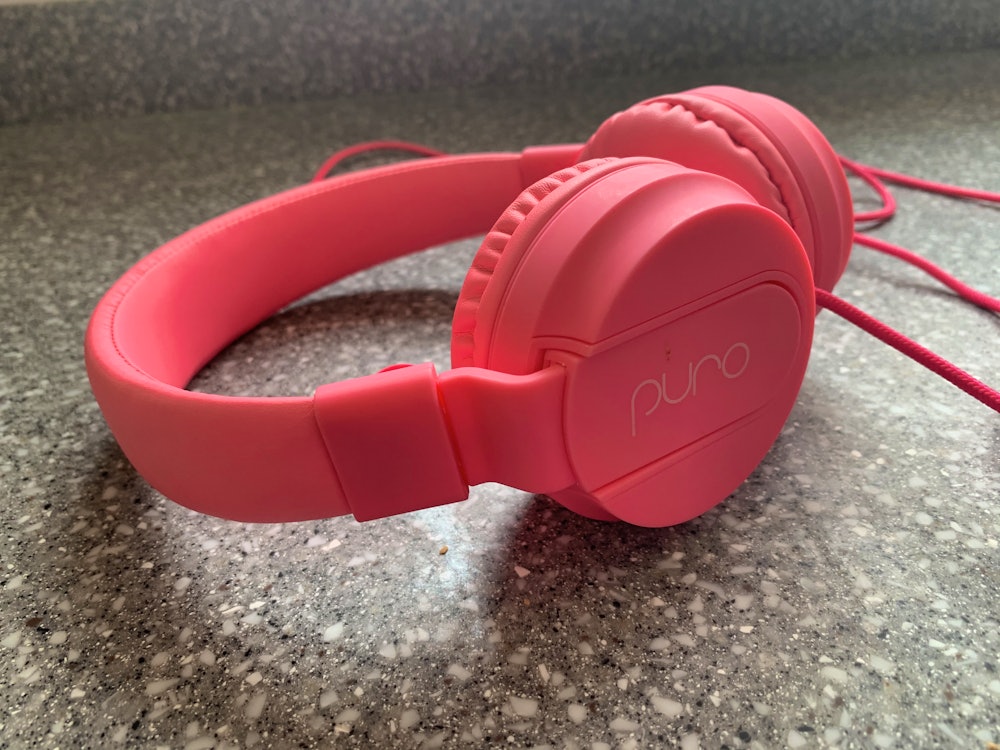 RRP: £19.99
Our first impression of these headphones was that they were a vibrant colour designed to attract the attention of any child. They look stylish and the quality feels high-end.
With an adjustable band and cushioned earpads, these headphones were a hit with my five-year-old daughter.
She loved being able to listen to her Kindle Fire, and as parents, we loved not having to listen to the sounds of the latest episode of Barbie's Dreamhouse Adventures.
So, did they live up to our expectations?
Well, with a volume limiter set to 85db, I felt confident that she wasn't going to burst her eardrums.
However, as my daughter does have mild hearing loss in both ears, I was concerned that she wasn't going to be able to hear effectively.
However, she assured me that she could hear perfectly well, which pleased us both.
The adjustable headband was easy to adjust to size and, surprisingly, the headphones fit me as well.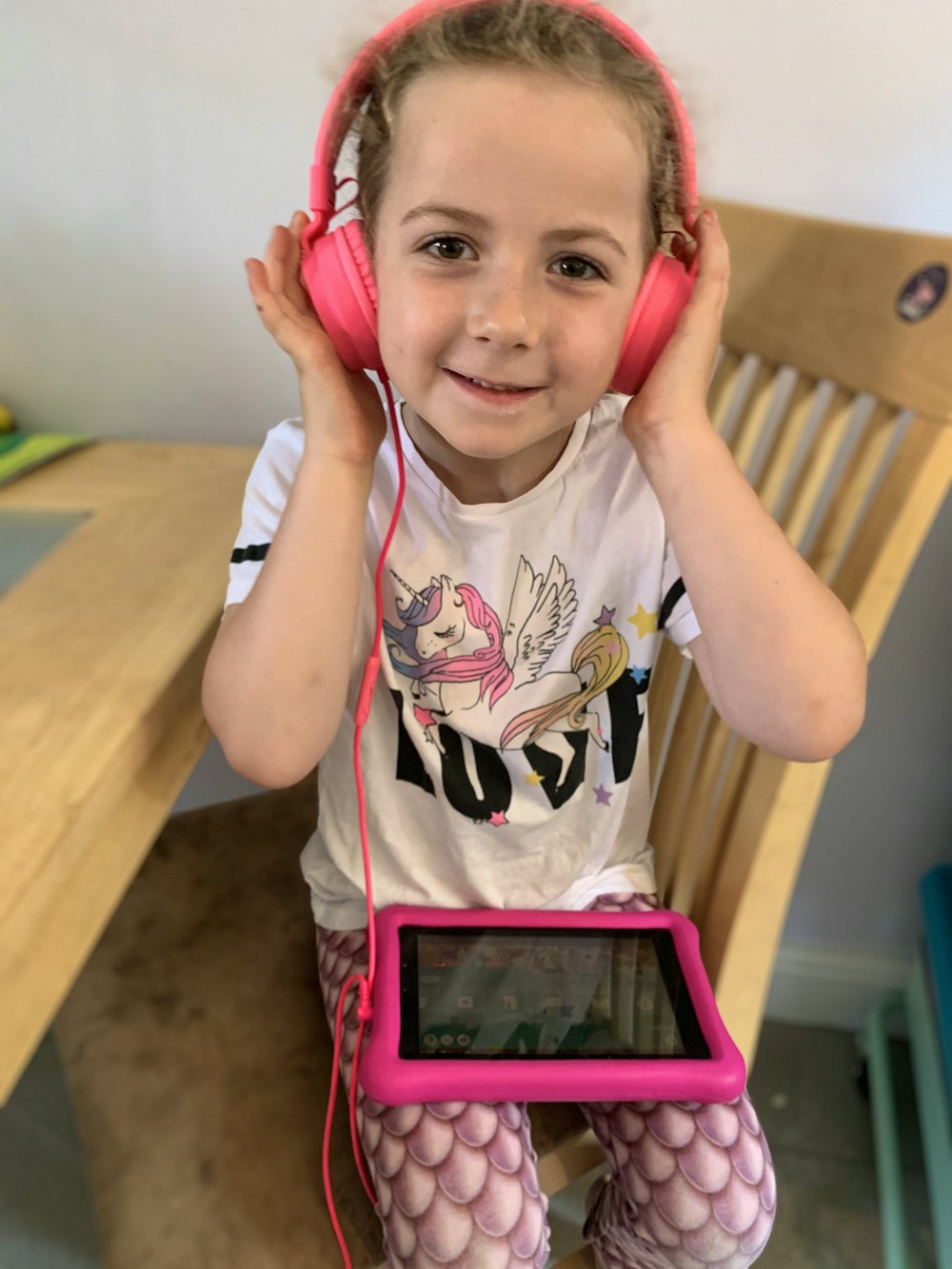 There is a 3.5 mm audio connection at the end of a 1.2 meter cord which also incorporates a remote control and microphone.
At the moment, she's too young to know what these are for, but it's good to know that these headphones will last as she grows older.
The collapsible design of the earpieces means that I would feel comfortable throwing these headphones in my bag on a day out, and they certainly feel a solid pair that aren't likely to break.
They feel like they will last a long time.
This is a good, basic set of headphones which live up to the quality expected from the Puro brand.
My only preference is that I would probably prefer a wireless pair. This is because the cord felt long enough for her to trip over as she started walking around the kitchen holding her Kindle Fire.
The vibrant colours certainly attracted her attention, and in my opinion, these are a fantastic choice for those looking for an affordable pair of quality headphones for young children.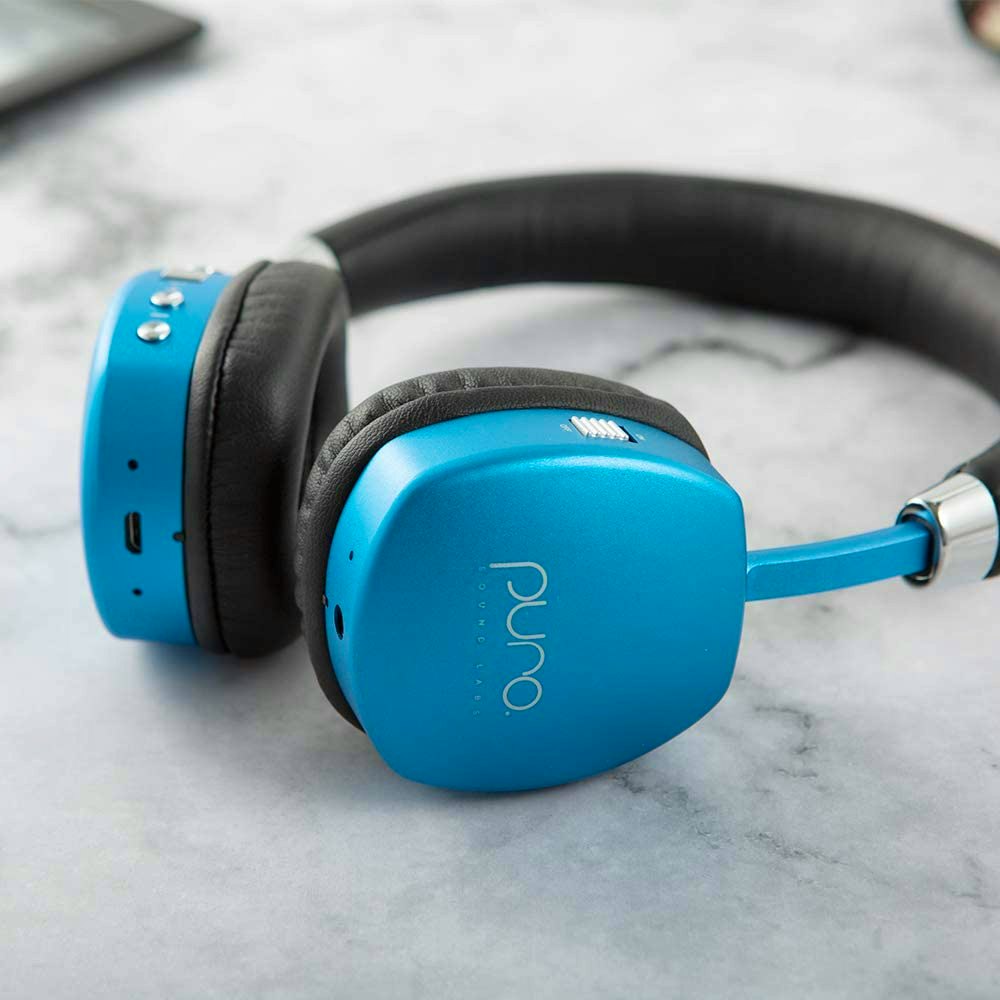 RRP: £99.99
Like the BT2200, the Puro Quiet noise-cancelling headphones are an investment piece.
Priced at £99.99, these are bought to last, and this is where Puro excels.
We were extremely impressed with these headphones; a key highlight being the choice to adapt between wireless and wired.
Thanks to a 3.5 mm limiter audio cable, you can choose between Bluetooth settings or wired capabilities. This is a handy feature and one which we think parents will appreciate.
As a dedicated noise-cancelling set of kids' headphones, we were keen to test their capabilities, and we have to say we were impressed.
With a quick switch of an ANC (Active Noise Cancellation) button on the earpiece, you can block out outside noise of up to 22db.
This means that your child can listen to exceptional sound quality without having to turn up the volume on their device.
As a safety feature, this is really useful, and compliments Puro's efforts to protect children's hearing.
As a luxe pair of headphones, you can feel the difference in quality when compared to cheaper child headphones.
The aluminium base ensures that these will stay looking good for as long as possible. They feel sturdy and resilient to rough play.
Speaking as a parent, I loved the way that they fold flat for transportation. Combined with the travel case, these are unlikely to get damaged in transit.
Would we recommend the Puro Quiet noise-cancelling headphones?
Yes, we would – they are comparable to the BT2200 which we've chosen as our top pick.
However, where this particular product fails to deliver is in its battery life. Whilst the product claims to have a 22-hour battery life, this is quickly drained if the ANC switch is accidentally left switched on.
This is a minor misstep on what is otherwise a superb product.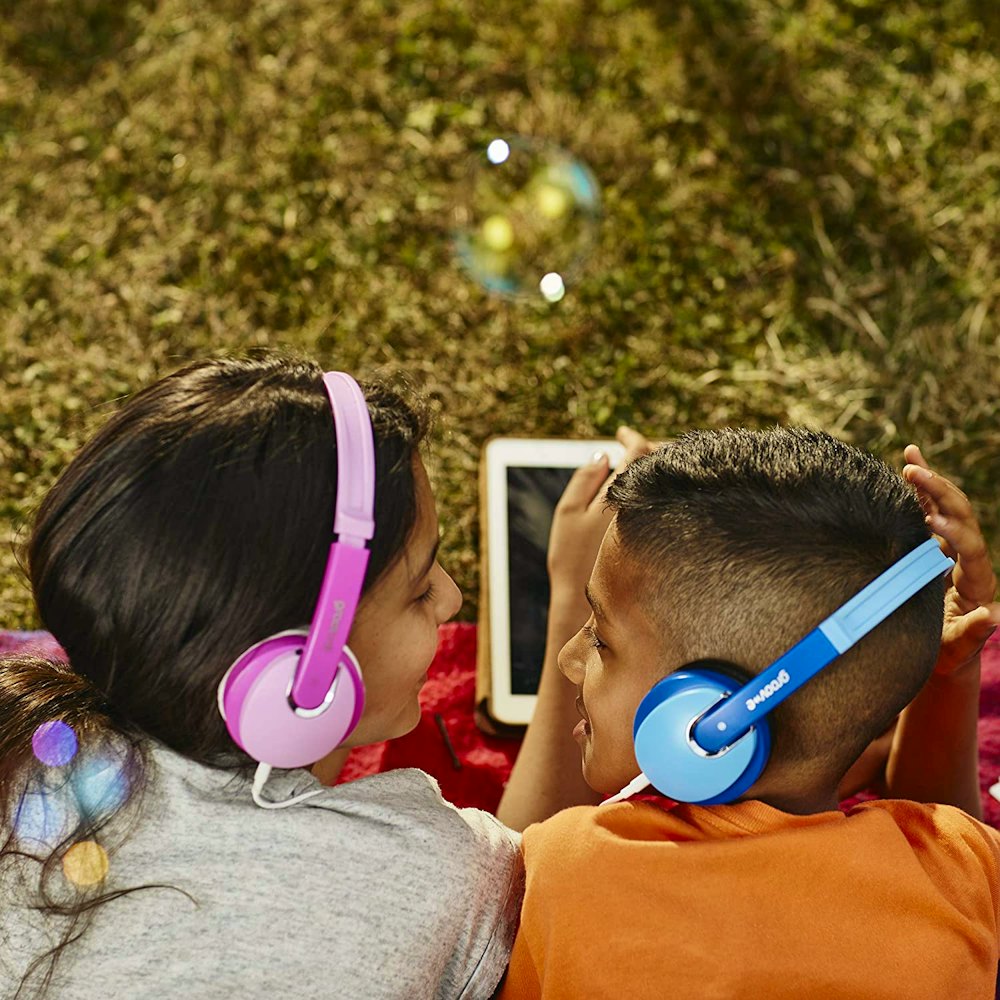 RRP: £8.99
At the cheaper end of the market, we have the Groov-e Kidz headphones.
These promise to offer comfortable cushioned ear pads, designed for lasting use.
They felt quite flimsy, but at such a low price, they are never going to have the same durability as a high-end pair of children's headphones.
We like the fact that they come in many different colours, although they are very gender-specific.
With a 1.2 meter cord length, your child has ample space between them and their device – something which is important if you want to try and protect their eyesight.
What we loved most about this pair of headphones, however, is the fact that you can purchase a separate headphone splitter that can provide sound to up to five additional sets of headphones.
This is a fantastic addition and makes a huge difference when using one device with multiple children.
At just £15.44 for one set of kids' headphones plus the headphone splitter, it's certainly affordable to most.
However, a massive issue with these headphones is that there is no volume limit.
We've spoken a lot in this article about the importance of limiting audio to 85db to protect your child's hearing. This particular pair can be as loud as 113db, so you need to have trust that your child will not play around with the volume controls.
Considering the audio volume is a primary factor in why you would choose to invest in specific headphones for children, it seems peculiar that the manufacturers haven't incorporated a volume limiter.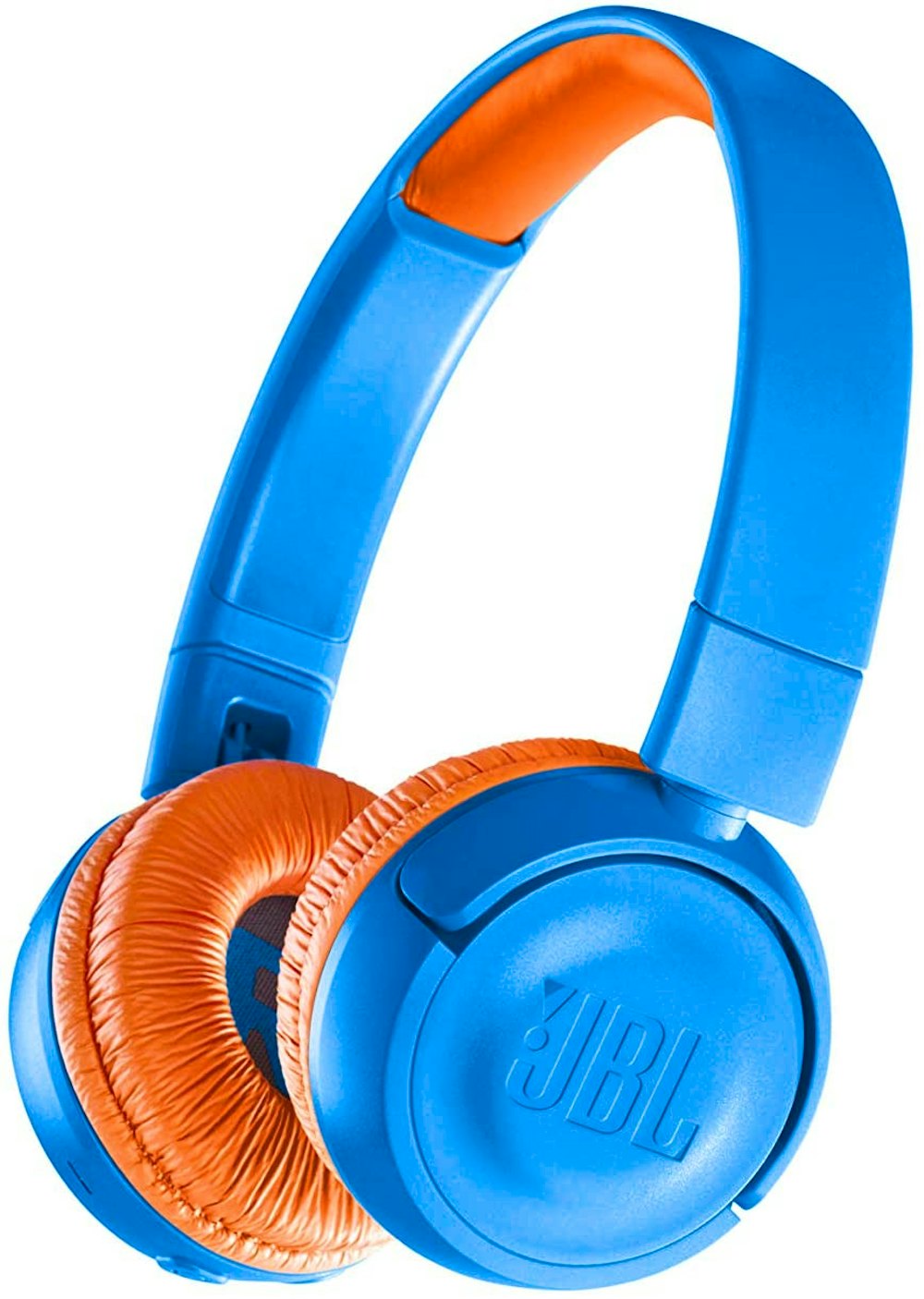 RRP: £39.99
When unwrapping the JBL JR300BT headphones, the first thing that stood out to us was the vibrant blue and orange. It is an ideal attention grabber for a child.
These are ideally placed for children looking to implement their own style. We loved the stickers that come with the set.
We were pleased to see that the JBL JR300BT comes fitted with a volume limiter as standard – the audio is capped at 85db to protect your child's ears.
The fit of the headphones was also good. Thanks to a cushioned band and lightweight earpieces, it is a set of kids' headphones that are designed to be worn for long periods.
The audio quality is good; the sound is clear. What would improve these headphones would be a noise-cancellation feature. However, at such a low price, this is just wishful thinking.
This is a wireless set of kids' headphones and the battery life is good – continual play lasts for 12 hours, making it comparable to the LilGadgets Untangled Pro Headphones.
One aspect we thoroughly appreciated was the quick charge button. In just ten minutes, you can add one hour's battery life.
This is an ideal compromise if you need to head out of the door quickly but need to charge your headphones. We only wish this feature was incorporated on more devices.
As a mid-priced pair of kids' headphones, these should surely be near the top of any list. They ranked well for looks, comfort and audio level, making them a good choice for your child's first pair of headphones.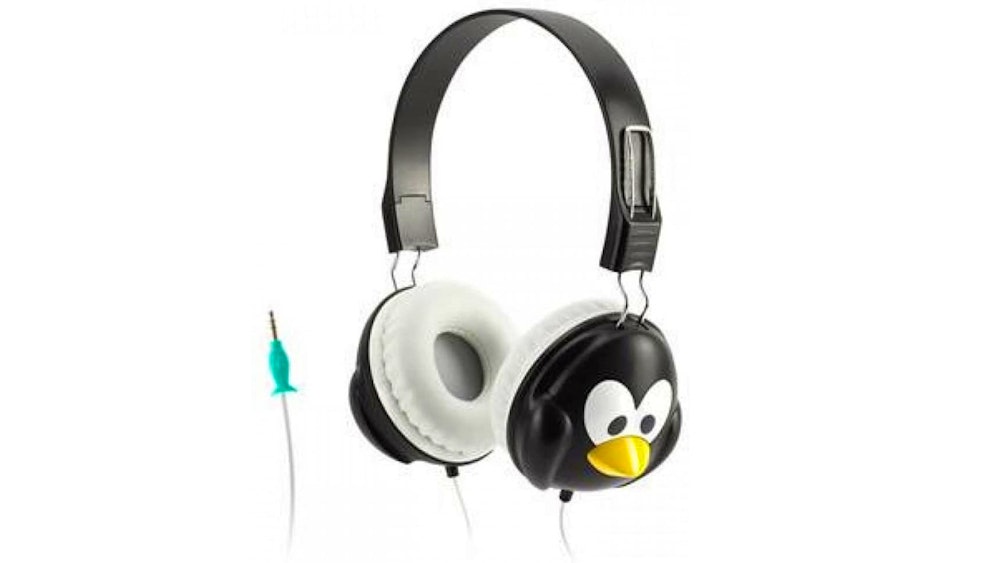 RRP: £9.99
These headphones are super cute. My five-year-old daughter was extremely excited to try these on as she loves penguins.
As a low-cost, budget pair of headphones, I was concerned that these would be more style than substance. After all, how good can they really be for under £10?
Well, they have a volume limiter, capped at 85db, so it's a promising start.
The audio quality could have been better but for such a budget pair, we always knew that the audio wasn't going to compare to more high-end sets of kids' headphones.
Where they fall down in comparison to other similarly priced items is that they didn't feel as comfortable as other pairs that we tried.
There is no padding on the headband, and minimal cushioning on the earpieces. We felt that these wouldn't be great for long journeys but are an ideal solution for shorter use.
The Griffin KaZoo MyPhones come in a variety of styles, from penguin through to owls and monkeys. They were attractive for younger children and we can see these being hugely popular with parents.
Ultimately, at this price, you know that they aren't going to last long. They may withstand rough play, but as your child gets older, they'll want to have something with more comfort or greater technical capabilities.
But that's fine. Not everything has to be bought as an investment piece, and at less than £10, it's clear that if these only last a few months or more, they haven't broken the bank.
We felt that they were an ideal pocket-money solution for kids' headphones.
At a Glance Comparison
Product
RRP
Colour
Volume Limit
Microphone
Wireless
Battery Life
Bluetooth Range
Warranty
Puro Sound Labs BT2200
£89.99
Sapphire Blue
Cool Grey
85db
Yes
Yes
18 hours play
30 feet
1 year – including a 30-day money-back promise
Snuggly Rascals
£14.99
Unicorn
Gruffalo
Pig
Monster
Owl
Kitten
Penguin
Panda
85db
No
No
n/a
n/a
2-year guarantee
Puro Quiet noise-cancelling headphones
£99.99
Blue
Pink
Grey
85db
Yes
Yes. Can also be used with a wire
22 hours play
 
1 year – including a 30-day money-back promise
Groov-e Bluetooth DJ Style Wireless On-Ear Headphones
£8.99
Blue
Pink
Red/Black
Violet/White
No
No
No
n/a
n/a
1 year
LilGadgets Untangled Pro Headphones
£42.95
Black
Blue
Green
Pink
Purple
93db
No
Yes. Can also be used with a wire
12 hours play
 
 
JBL JR300BT
£39.99
Blue/Orange
Teal
Pink
85db
No
Yes
12 hours play
 
1 year
PuroBasic
 
Blue
Pink
Red
Green
85db
Yes
No
n/a
n/a
1 year – including a 30-day money-back promise
Griffin KaZoo MyPhones
£9.99
Owl
Monkey
Penguin
85db
No
Yes
n/a
n/a
 
Final Thoughts
Overall, we were impressed with the quality of all of the kids' headphones that we tested.
We initially struggled because each set came equipped with a traditional 3.5 mm connection. In a household filled with Apple products, we needed the adaptor to allow us to connect to iPhones and iPads. However, it was easier to test these with our daughter's Kindle Fire tablet.
As you can expect, there were huge differences in the prices of the products that we tested, starting from £8.99 for the Groov-e Kidz, through to £99.99 for the PuroQuiet headphones.
The sound quality will differ as you move up the pricing scale; however, we were pleasantly surprised by the quality of the items towards the more affordable end of the market.
We discovered that, ultimately, a child may not be bothered by the crystal clear sound quality that you may come to expect from adult headphones. Instead, they are drawn more to the overall look and style of the product, and these opinions will change as your child grows up.
The top choice was the Puro Sound Labs BT2220. In our opinion, these were the best headphones for children.
They looked and sounded great. They also had the additional benefits of volume limiter and noise cancellation, further protecting your child's hearing. However, we felt that these were more suitable as a pair of tween headphones.
They are certainly an investment piece, but we felt that they were ones that would last for many years to come, which is why we chose them as our top pick.
We also want to give a big mention to the Snuggly Rascals.
We adored the innovative nature of these kids' headphones. From the fleece headband through to the choice of designs, they were such a fantastic choice for younger children, especially those with autism or other sensory disorders.
The only drawback we could see was that they came as wired. We would have preferred a wireless option so that we could use them at bedtime.
We were also surprised to find that volume limits do not always come as standard with kids' headphones. Considering that is likely the main reason why you are purchasing a specific pair of headphones for your child, this feels like a potentially dangerous misstep.
You must take your time to think about what would suit your child. Ultimately, there are many products available and we hope that this article will help you to find the best pair of headphones for your child.