A good iPad keyboard case can transform your tablet into a powerhouse of productivity.
iPads, particularly the latest Pro models, have far more functionality than most of us make use of. By simply attaching a keyboard case, you can use your device for almost any activity you'd normally complete on a Mac or PC, and you can do so on the go with the added benefit of a protective casing.
We've picked the Logitech Slim Folio Pro as the best iPad keyboard case for the 11 inch and 12.9 inch iPad Pro, but we've also thrown in some options for older models to help you find the right keyboard case for your device.
Our Pick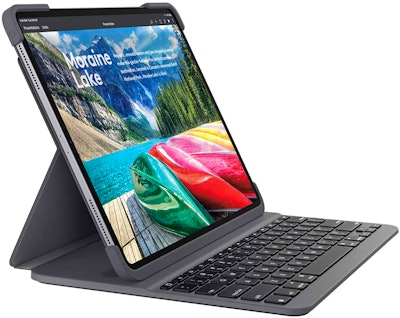 Logitech is a well-known brand in the world of computer accessories, and its Slim Folio Pro takes the number one spot in our best iPad keyboard case review.
Available for both the 11 inch and the 12.9 inch iPad Pro, it's designed with both functionality and security in mind.
Starting with the design itself, the Logitech Slim Folio Pro has a sturdy plastic outer shell that provides a good deal of protection for both the front and back of your iPad, with a bumper-like frame for additional drop resistance.
When attached, the iPad stands securely in place in a supportive magnetic groove, and the sturdy base makes it well suited for use on your lap.
There's also a consideration for the Apple Pencil in the Logitech design. You can safely charge your pencil on the go as there's a magnetic strap that holds it firmly in place when the case is closed.
When it comes to usability, the Logitech keyboard offers a great typing experience.
The brand uses a scissor mechanism under each key combined with a 1.8 mm key travel, very much akin to a traditional laptop keyboard. This gives a springy, tactile feel that assures you that each keystroke is registered.
The key pitch varies – it's 17 mm on the 11-inch model and 19 mm on the 12-inch model – but both have very usable key spacing that makes it difficult to miss or tap two keys at the same time.
One of the great features of this model, and one of the reasons why it ranks as our best iPad keyboard case over the Apple equivalent, is the row of iOS-specific keys, including media controls, search and home functions, and a screen lock button.
The benefit here is that these shortcuts really are true shortcuts. There's no need to remember the right two key combinations since they're all clearly labelled and require a single key press to activate.
The Logitech Slim Folio Pro connects to your device via Bluetooth, which is less convenient than Apple's own keyboard cases which use the iPad Pros Smart Connector capability. Essentially, what this means is that you'll need to charge your keyboard case, as opposed to those that use the Smart Connector to draw power from the iPad itself.
That said, charging is not a great issue. The Logitech keyboard case has a three-month battery life based on reasonable usage, and if you do run out of battery while you're out and about, there's a USB-C port and cable provided, so you can easily plug it into your iPad for power.
Bluetooth connections can also cause a slight delay when compared to the Smart Connector, but we didn't find this to be an issue with the Logitech Slim Folio Pro.
Whilst the positives far outweigh the negatives, there are a couple of downsides worth mentioning:
Logitech claims it has three 'modes' for different activities. What it actually has is a fixed 58-degree angle for typing mode and the option to either lay the keyboard and iPad combo flat for activities like drawing and note-taking, or to tuck the keyboard behind your iPad screen for reading mode.
Our other top contenders have more options when it comes to viewing angles, but we don't see this as a deal-breaker since 58 degrees is pretty much optimum for typing.
A second downside is that whilst the Logitech Slim Folio Pro offers fantastic protection, this means extra weight.
It's far bulkier when compared to our runner up, but we think this is a fair trade-off when you consider the peace of mind this case offers.
To sum it all up, the Logitech Slim Folio Pro is exactly what it claims to be – a high functioning keyboard designed for optimum iPad Pro compatibility, with a strong, if a little bulky, protective case.
Runner Up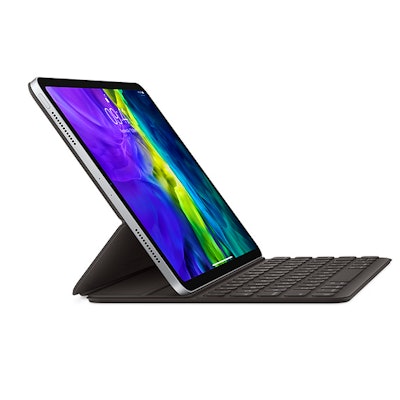 It may come as a surprise that in our best iPad keyboard case review, Apple's own design comes in as runner up.
There are a few valid reasons for this, most notably the price, but we'll discuss those in detail after we've looked at the features that make this model a great accompaniment for both the 11 inch and 12.9 inch iPad Pro.
For a start, the Apple Smart Keyboard Folio is incredibly easy to attach to your device. It's simply a case of connecting your iPad to the magnetic back cover of the case.
This quick and easy on-off design offers slightly more convenience than the Logitech Slim Folio Pro, which requires you to remove your iPad from a protective frame.
It's also a lot lighter than our top pick, with the 12.9-inch case weighing 407 grams, and has two viewing angles, although the exact degrees of these are unknown.
The top feature of the Apple Smart Keyboard Folio has to be its connectivity. Unlike the Logitech, which uses Bluetooth, this keyboard case uses the iPad Pro's Smart Connector. This means that you never have to worry about charging the keyboard as it draws its power from the iPad itself.
This is great for convenience, but as with every premium feature, there's a compromise, in this case, the absence of keyboard backlighting. We assume that Apple has left this feature out because a backlight uses up a lot of power.
Although this may be an annoyance for some, we didn't find it to be a major issue since the large screens on the latest iPad Pro models throw out enough of a glow to enable you to work in low light.
The keys themselves have a fabric-like coating, which you'll either love or hate. We were unable to find information on the key travel, but the material of the keys allows for very little. Essentially, typing on the keyboard feels very similar to typing on a flat surface.
Whether this typing experience is for you or not is down to personal preference.
The keys are very responsive and there's no lag whatsoever thanks to the Smart Connector connectivity, but if you're looking for something a little more tactile, you'd be better served by one of our other best iPad keyboard cases.
Sticking with the keys, this is where the Logitech has the upper hand. With the Apple Smart Keyboard Folio, there are no dedicated iOS keys. Instead, you'll need to remember shortcut commands.
A final downside worth noting is that, although the Apple Smart Keyboard Folio is lighter than our top pick, it doesn't offer the same level of protection.
The outer casing is great for avoiding scratches but will do very little to shield your iPad should you drop it.
Despite its flaws, the Smart Keyboard Folio has a lot going for it, and if you're a fan of all things Apple, it's likely a good choice for you.
Also Awesome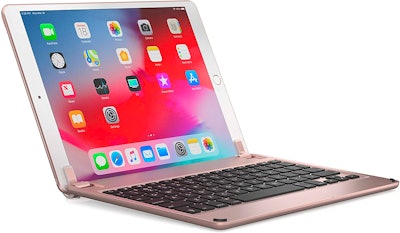 Byrdge 10.5
Best contender for a MacBook imitation
A Bluetooth keyboard case that looks and feels like a natural extension of your iPad, the Brydge 10.5 has a lot more to offer than just its stylish design.
£99.99 from Amazon
Byrdge has paid very careful attention to detail in the design of its iPad keyboard cases and offers a range of products that, at first glance, make it hard to distinguish your tablet from a MacBook.
Made from high-grade aluminium, the Byrdge 10.5 has a smooth, sleek and sturdy finish that perfectly compliments both the 10.5 inch iPad Pro and the iPad Air 3.
When closed, the keyboard case mirrors the iPad, with the same thickness and curved corners. It's also made to the device's exact outer dimensions, so the two sit flush with one another.
What we really love about the design, though, is the colour match. The Brydge 10.5 comes in a range of colours to suit your particular iPad, and whilst not a 100% perfect match, it's good enough to fool anyone that doesn't know otherwise.
Of course, a great design means nothing if the keyboard lacks quality, but that's not an issue here.
The typing experience is very much like that of a MacBook Air, albeit a slightly shrunken version. There's a good bounce to the keys and that familiar clicking sound lets you know your keystroke has definitely been recognised.
The Brydge 10.5 offers low, medium and high backlighting, easily altered through the dedicated backlight button which sits alongside all the other iOS-specific keys you'd find on a MacBook.
A great feature of this model, and one that makes it as close a replica of a laptop as you're likely to get, is its hinge design.
Two slots on either side secure your iPad in place with just the right amount of grip so as not to damage the screen.
You're then able to adjust the angle of the screen through the full 180 degrees, as you would on a laptop. This is a great feature since we all have our preferred viewing angle and those with fixed positions can be somewhat limiting.
However, whilst the hinge design has its benefits, it also means there's no protection for the back of your iPad. There is only the keyboard element itself which acts as a screen casing when closed.
This isn't a deal-breaker if you're careful with your device, but if you're accident-prone you probably want a model that offers greater protection.
As with the Logitech Slim Folio Pro, the Brydge 10.5 connects via Bluetooth so you will have to remember to charge it, but there's an estimated battery life of 12 months based on two hours of use per day.
If aesthetics are important to you, the Brydge 10.5 certainly delivers without too much of a compromise on features and functionality.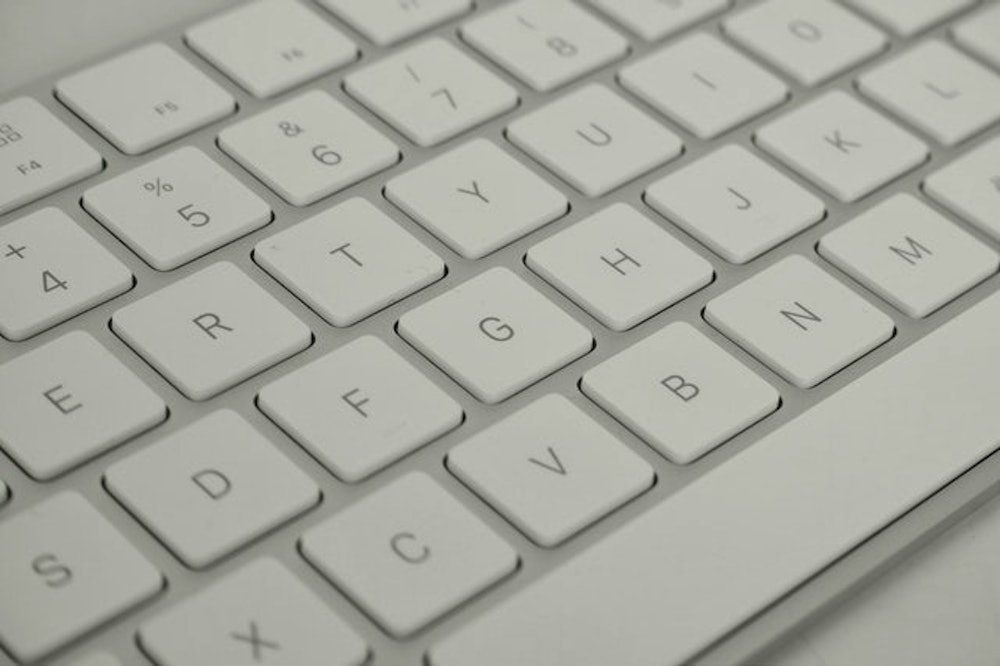 What Is an iPad Keyboard Case?
iPad keyboard cases are designed to offer the user a laptop-like experience combined with the portability of a tablet, whilst simultaneously providing a degree of protection for the iPad itself.
They differ from standard Bluetooth keyboards in two ways:
First, they attach securely to your device so you've always got a physical keyboard wherever you go.

Second, their design incorporates a protective casing to prevent accidental damage from the likes of drops, knocks and spills.
Keyboard cases are available for pretty much all iPad models, but they've become more popular, and ultimately more sophisticated, since the launch of the third and fourth generations of the iPad Pro.
These latest releases from Apple are pitched as a computer replacement, with enhanced functionality and an upgraded operating system that makes them more akin to a MacBook than a tablet.
What they lack, however, is a physical keyboard that completes the setup.
The best iPad keyboard cases aim to do just that, whilst removing the need for an additional protective casing.
Why Choose a Keyboard Case?
A keyboard case is just one option for typing with your iPad. You could also choose a separate Bluetooth keyboard or use the on-screen keyboard of the device. It all depends on how you prefer to use your iPad and what you intend to use it for.
The on-screen keyboard is not ideal for writing anything of length. It might be OK for a quick internet search or an on the go email reply, but it's not suited for regular typing.
Bluetooth keyboards are a great add-on for your tablet. They provide an experience highly comparable to typing on a Mac or PC and allow you to create an ergonomic setup on your desk space when used with an iPad stand.
However, this setup is not easily transportable and a Bluetooth keyboard does not give you the convenience of working on your lap.
Keyboard cases, by contrast, can be used on any flat surface and, when closed, become a highly portable all-in-one device.
The best iPad keyboard case designs also transform your tablet into a laptop, providing a stable typing experience on uneven surfaces.
So, if you're looking to increase your productivity whilst on the move, prefer to use your iPad without being confined to a desk, or want a convenient keyboard add-on that's both portable and protective, then a keyboard case is the best option for you.
What to Consider When Choosing an iPad Keyboard Case
It's not as simple as it sounds to choose an iPad keyboard case. There are multiple things to consider beyond the cost:
Is It Compatible?
The first port of call when choosing the best iPad keyboard case for you is identifying those that fit the model you own.
Remember, it's not just the overall dimensions that vary, it's also things like the position of the camera.
Narrow down your search by finding compatible products.
Keyboard Layout
Typing is second-nature to most of us, and we instinctively know where each key is positioned.
Make sure you purchase a QWERTY keyboard that has all the right keys in all the expected places. There will be some adjustments to accommodate for size but, for ease of use, you want a keyboard that replicates a familiar layout.
Key Travel and Pitch
As well as keyboard layout, these two factors will largely determine your typing experience.
The travel indicates how far a key needs to be pressed down before the stroke is registered, whereas the pitch is the distance from the centre of one key to the next.
Frustratingly, we've been unable to find this information for some of the keyboard cases we've reviewed.
If this is a major consideration for you and you find the information isn't readily available, contact the manufacturer to get the full technical specification.
Protection
One of the main selling points of an iPad keyboard case is that it removes the need to purchase an additional protective covering.
Make sure your chosen model has a solid casing and secure fixings that protect your device from any potential damage.
Weight
If you're opting for a keyboard case, it's highly likely that you want to maintain the convenience and portability of your tablet.
A case will always add some weight to your device, but you will want to ensure that it doesn't add so much weight that it becomes too heavy to be considered easily portable.
Viewing Angle
A traditional laptop will allow you to position your screen at whatever angle you choose, with full 180 movement.
Most keyboard cases don't incorporate this into their design so if you want a choice of viewing angles, be sure to check what your chosen model offers.
Battery Life
Keyboard cases that connect via Bluetooth require charging, and there's nothing worse than running out of battery at that crucial moment.
When checking the battery life, be sure to assess what that means in terms of actual usage. For example, most state battery life in terms of months based on around two hours of use per day.
Of course, if you want to eliminate this problem entirely, you should opt for a model that uses the iPad Smart Connector.
Things like iOS-specific keys and additional USB ports can come in very handy, as can a trackpad if you're working on iPadOS.
Think about how you use a traditional laptop and write a checklist of all the extra features you'd need from a keyboard case.
Other iPad Keyboard Cases We Reviewed
Alongside our top three picks, here's a list of other products that ranked well in our best iPad keyboard case review: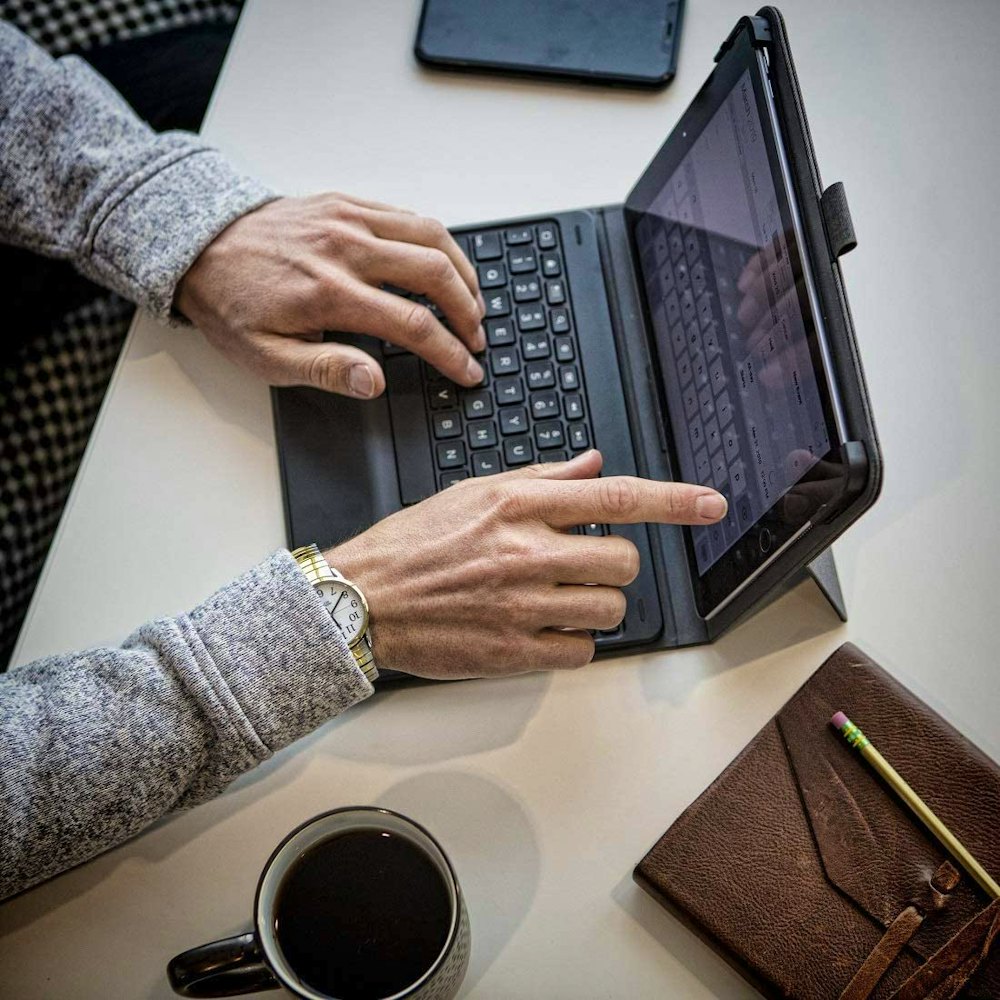 Price: £39.99
For the price, the ZAGG Rugged Messenger is a good buy if you prioritise protection over functionality.
Designed for the 10.5 inch iPad Pro, it uses a tough polycarbonate structure that's said to protect your device even when dropped from a height of six feet.
Unlike other products in our best iPad keyboard case review, this one comes in two parts.
There's a solid casing that the iPad itself sits in and a magnetic outer cover that comprises the keyboard.
The keyboard itself is of pretty decent quality, with a nice feel to the keys, and the option to choose from seven colours for backlighting, which is a nice touch for customisation.
There's a row of dedicated iOS buttons and it also offers dual Bluetooth capability so you can connect it to two devices at the same time.
Where it falls down is its stability. Like many keyboard cases, it holds your device in place magnetically, but there's no additional holding slot like with the Logitech Slim Folio Pro, and it can feel a little unsteady.
It claims to have multiple viewing angles but, again, these are achieved via magnetic connection.
To get your desired angle, you slide the outer back cover along the iPad casing. This design is fine for an angle of around 45 degrees or higher, but any lower and there's not enough support for the weight of the iPad.
It's also a little on the heavy side, but that's to be expected from the level of protection it offers.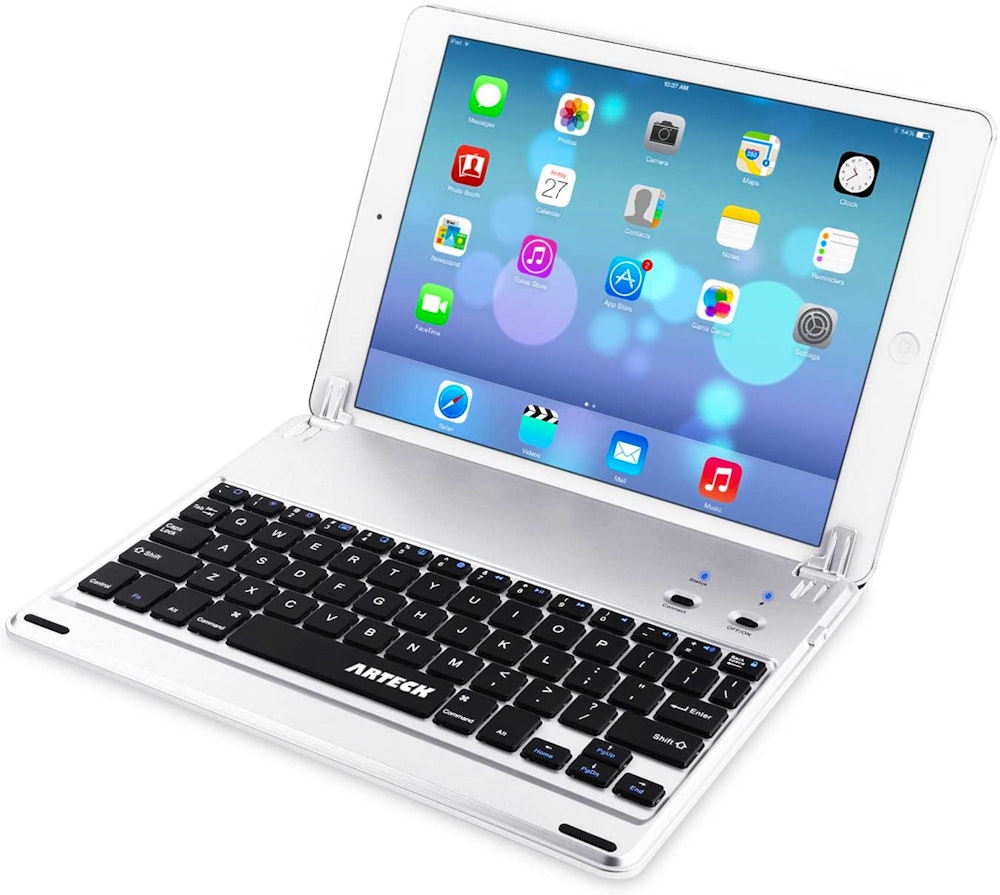 Price: £18.99
If you're looking for a budget model that fits an older iPad, the Arteck Ultra-Thin Folio Case is suitable for the 9.7 inch iPad Pro and the iPad Air 2.
Much like Brydge keyboard cases, it uses a hinge design to provide a sturdy connection and a viewing angle of up to 130 degrees, but don't expect the same quality finish.
The Arteck Ultra-Thin Folio Case has a noticeably cheaper feel, but when you consider the price tag, that's completely justifiable.
The keyboard has a familiar layout and offers a good typing experience, but there's no backlighting and no iOS-specific keys, though iOS shortcuts are overlaid on the numerical keys.
Again, in a similar vein to the Brydge, a significant design flaw is that, whilst the keyboard offers screen protection when closed, there's no back covering to the case, leaving the underside of your iPad open to damage.
All in all, this is a decent buy if you want to improve your productivity but are on a tight budget and don't necessarily need a keyboard case with premium features.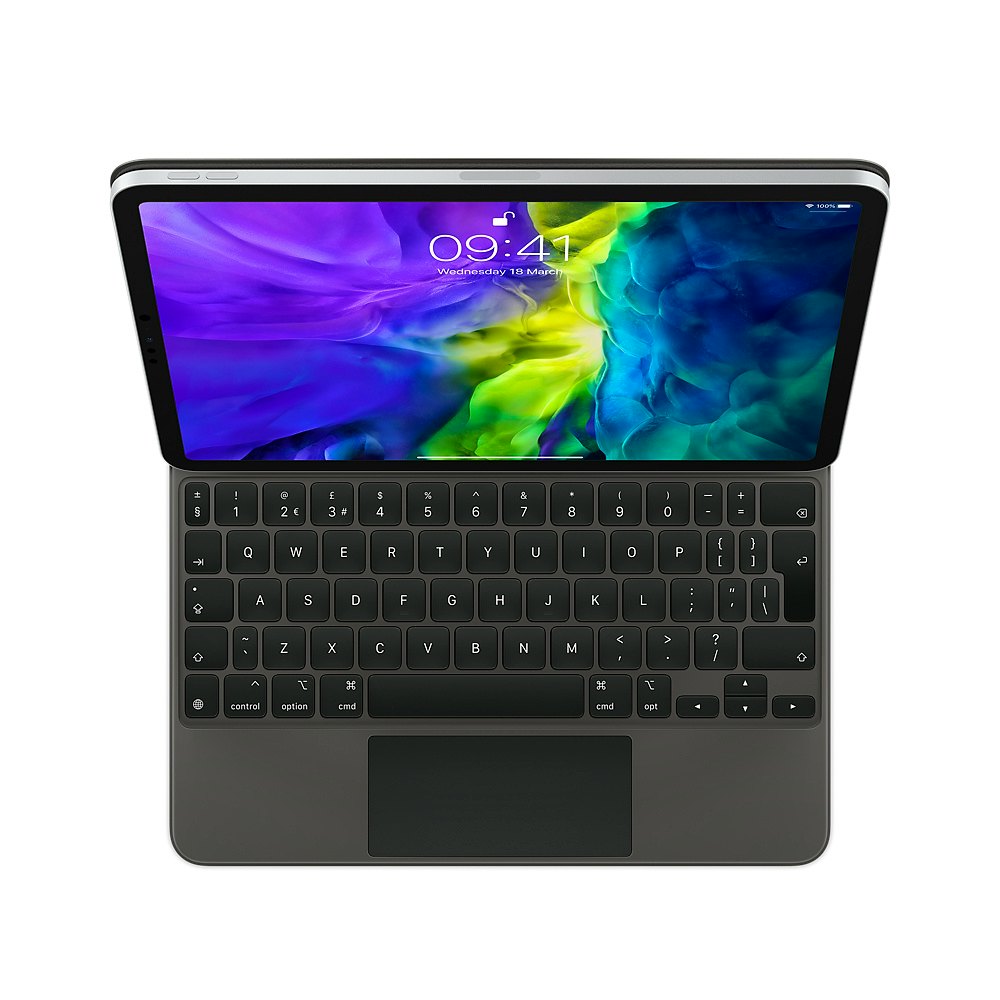 Price: from £299
As the most expensive product in our best iPad keyboard case review, the Apple Magic Keyboard is an investment for those that are serious about getting the most from their iPad, and a big one at that.
At £299 for the 11-inch case and £349 for the 12.9-inch case, it's comparable to the price of an entry-level laptop. However, it is an Apple product and, as you'd expect, it comes with premium features.
With the launch of iPadOS, Apple introduced an operating system that made the iPad Pro compatible with an external trackpad, and that's the key selling point of the Magic Keyboard.
Not only does it offer a great typing experience, with highly responsive scissor-switch keys and backlighting, but there's also a trackpad built right into the keyboard design.
As with the Smart Keyboard Folio, it makes use of the Smart Connector, but there's an added bonus in that it includes an additional USB-C port which can be used to charge the iPad, meaning you've still got use of the iPad port should you wish to attach other accessories.
Another key difference between the two is that the Magic Keyboard uses a magnetic hinged device. The iPad appears to float above the keyboard, and the hinge allows for multiple viewing angles between 90 and 130 degrees.
A downside is the weight, which Apple doesn't specify, but you can expect it to add significant bulk to your iPad.
Apple's Magic Keyboard is definitely unique in its design. Whether the additional features warrant its price tag, though, is really up to you.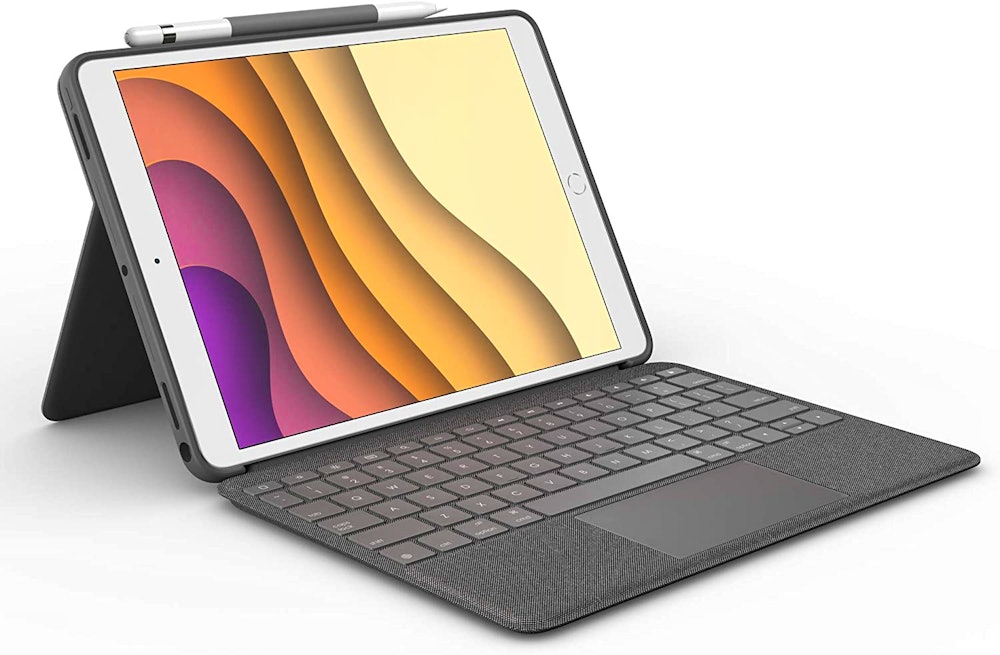 Price: £119.95
Logitech is never too far behind Apple when it comes to its keyboard cases, and the Combo Touch for the 10.2 inch iPad offers the trackpad experience at a fraction of the cost of the Magic Keyboard.
The keyboard itself isn't attached to the back part of the case. It clips into place using the Smart Connector on the iPad. So, not only is it battery-free, it can be attached and removed with ease.
The case backing has a 40-degree kickstand that offers stable support to the iPad when tilted for typing.
With a full row of dedicated iOS shortcuts, backlighting, highly responsive tactile keys and the added functionality of a precision trackpad that works on standard gesture controls, the whole experience closely mirrors an actual laptop.
Whilst not as protective as the Logitech Slim Folio Pro, what you're getting here is a trade-off between functionality and security.
At a Glance Comparison
| Model | Price | Compatibility | Connectivity | Battery Life | Weight | Key Travel | Viewing Angle | Extra Features |
| --- | --- | --- | --- | --- | --- | --- | --- | --- |
| Logitech Slim Folio Pro | From £109 | 11 inch & 12.9 inch iPad Pro | Bluetooth | Three months | 552 grams/707 grams | 1.6 mm | Fixed 58 degrees | iOS-specific keys; secure Apple Pencil holder |
| Apple Smart Keyboard Folio | From £179 | 11 inch & 12.9 inch iPad Pro | Smart connector | N/A | 297 grams/407 grams | Unknown | Two angles, degrees unknown | None |
| Byrdge 10.5 | £99.99 | 10.5 inch iPad Pro & iPad Air 3 | Bluetooth | 12 months | 522 grams | 1.2 mm | 0 – 180 degrees | iOS-specific keys |
| ZAGG Rugged Messenger | £39.99 | 10.5 inch iPad Pro | Bluetooth | Two years | 694 grams | Unknown | Multiple | iOS-specific keys; dual Bluetooth capability |
| Arteck Ultra-Thin Folio Case | £18.99 | 9.7 inch iPad Pro & iPad Air 2 | Bluetooth | 100 hours | 331 grams | Unknown | 0 – 130 degrees | None |
| Apple Magic Keyboard | From £299 | 11 inch & 12.9 inch iPad Pro | Smart connector | N/A | Unknown | 1 mm | 90 – 130 degrees | Trackpad |
| Logitech Combo Touch | £119.95 | 10.2 inch iPad | Smart connector | N/A | 650 grams | 1 mm | 40 degree kickstand | iOS-specific keys; trackpad |
Final Thoughts
When it comes to the best iPad keyboard case, there are really only three players in the equation – Logitech, Brydge and Apple itself.
Whilst there are cheaper alternatives available, generally speaking, you'll compromise on the typing experience, level of protection or extra features offered.
Having said that, if a keyboard case is a nice to have, rather than a must-have, you may well find these more than meet your requirements.
However good a keyboard case may be, though, it's important to remember that it won't provide the same experience as a Mac, PC or separate Bluetooth keyboard.
Keyboard cases have to account for the dimensions of the iPad so can never truly compare to a full-size keyboard, but if you want both productivity and portability, they're a great add-on to your kit list.