The Best Drawing Tablets
Drawing tablets are an increasingly popular tool among creative professionals, beginners and hobbyists alike, and there's a lot of them out there to choose from.
Whatever your requirements, picking the best of the bunch can be a daunting task, so we've done the hard work for you by reviewing the best drawing tablets based on value for money for beginner and intermediate users.
Although considered a fairly new invention, Wacom, the most popular brand of drawing tablet, actually released its first model way back in 1984.
As such an established company, it's no surprise that one of its more recent entries to market, the Wacom Intuos S, ranks top of the pile in our best drawing tablets review.
Our Pick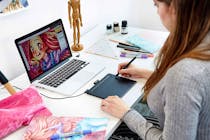 Wacom Intuos S
The creative industries' brand of choice
Renowned for the superiority of its products, Wacom has an extensive range of tablets to choose from. For professional quality at an affordable price, we rate the Wacom Intuos S as one of the best drawing tablets on the market.
Prices start at £67.93 from Amazon
If you're looking for an entry-level, user-friendly drawing tablet that provides a seamless experience, the Wacom Intuos S is it.
Compatible with pretty much all creative software programmes, this lightweight yet sturdy tablet works well for everything from technical drawing to digital illustration, as well as being a great tool for photo editing.
You have two options with this tablet. The standard model comes with USB connectivity or, for around £20 extra, you can upgrade to the Bluetooth version.
When it comes to usability, the Wacom Intuos S is one of the best drawing tablets available at this price point. With a 6 x 3.7 inch active area, 2540 LPI resolution and a reading speed of 133 PPS, it offers a smooth drawing experience with minimal lag.
There are also four fully customisable hotkeys across the top of the tablet. Whilst these are great for increased productivity, their position isn't exactly ideal since you have to reach across the active area to use them.
The greatest strengths of the Wacom Intuos S, though, are its drawing surface and pen.
The surface itself has a texture that provides just the right amount of friction to replicate drawing on paper, a great feature for those new to digital techniques.
The pen has one of the highest pressure sensitivities of all the best drawing tablets we've reviewed, at 4096. Wacom refers to it as a 4K pen.
Whilst other tablets have double the pressure sensitivity at 8192, generally speaking, 4096 is more than enough for even advanced users. Its ergonomic design offers a good level of control, and it's also battery-free. It takes power on as it's used so you never have to worry about recharging it.
Another feature we love about this tablet is its screen mapping capabilities.
You can store specific settings for individual programmes. Say you want to map your active area across a dual-screen for Photoshop, but a partial area of a single screen for Illustrator, you can save these preferences, removing the need to adjust your mapping every time you switch programmes.
Whilst not the cheapest of the drawing tablets reviewed here, the Wacom Intuos S is definitely value for money. As an added bonus, the package includes a choice of free software.
With the standard model, you get access to either Corel Painter Essentials 7 or Corel Aftershot 3. For the Bluetooth version, you can pick two programmes with the addition of Clip Studio Paint Pro.
There are some reports of users struggling with installation, but Wacom provides a decent level of customer support and continually updates the driver to iron out any glitches.
Runner Up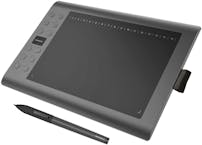 GAOMON M106K
Great specification at an entry-level cost
For its price point, the GAOMON M106K has some excellent features for both beginner and intermediate level users, and with very few drawbacks, it is a great alternative to the more costly Wacom models.
£52.99 from Amazon
The GAOMON M106K comes in a very close second in our review of the best drawing tablets, based on its comprehensive functionality and impressive specification.
As a slightly cheaper brand than Wacom, you'd be forgiven for assuming it is of lower quality than the more expensive brands, but that's not the case.
In fact, it has a much higher resolution than the Intuos S, at 5080 LPI, as well as an increased reading speed of 233 PPS. This makes for an almost lag-free and highly precise drawing experience.
Where the GAOMON M106K has the edge is its shortcut functionality.
With 12 customisable express keys, there's typically enough scope to shortcut most user requirements, and if you're looking for more efficiency, there's an additional 16 softkeys on the drawing surface.
The second bonus of the express keys is their position. They're located down the side of the active area (which measures a very decent 10 x 6.25 inches), so they're easy to access without reaching over the drawing surface.
This also means the GAOMON is easily adaptable for left-hand use. It's just a case of adjusting your user settings and rotating the tablet 180 degrees.
This model comes with a lightweight rechargeable pen, the ArtPaint AP20. The pressure sensitivity is somewhat lower, at 2048, but it still provides a good range of light to heavy lineage.
You'll typically get around 350 hours of pen use from a three-hour charge. One of the perks of the ArtPaint AP20 pen is it enters sleep mode when dormant for more than 10 minutes, giving a prolonged battery life.
The one downside of the GAOMON M106K, and the main reason it comes in second place behind the Intuos S, is the drawing surface. It lacks the friction provided by the latter, and its smooth texture is actually a little slippery. If you have limited experience using a drawing tablet, this can take some getting used to.
The installation process is straightforward, pretty much a plug in and play setup, and whilst it lacks wireless connectivity, the USB cable provided is a good length so there's a level of flexibility for positioning.
As with all the best drawing tablets, it can be used with a wide range of creative applications, including Adobe software. There are issues around its compatibility with Illustrator CS5, but GAOMON states it functions well with versions CS6 and above.
Overall, this is a great drawing tablet with a high specification for an entry-level price.
Also Awesome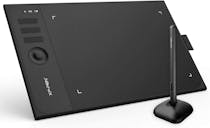 XP-Pen Star06
Best value for wireless connectivity
The XP-Pen Star06 has a top-notch technical spec and high level of customisation, all wrapped up with both USB and wireless capability.
£79.99 from Amazon
XP-Pen offers budget drawing tablets through its Star series, and our pick of the bunch is the XP-Pen Star06.
The £79.99 price tag is more than reasonable for a tablet with both USB and wireless capability.
From a two hour charge, you'll get around 16 hours of battery life, the bonus being that you can still use the tablet as it charges.
Its 10 x 6 inch active area and 5080 LPI resolution are on par with the GAOMON M106K, whilst its battery-free pen with 250 PPS is highly comparable with the Wacom 4K pen, though if you're working in wireless mode, the report rate drops to 200 PPS.
It also has a great pressure sensitivity at 8192. However, once again, its drawing surface falls short of the Wacom Intuos, just lacking the right amount of friction for a paper-like experience.
Six customisable express keys are located on the side of the active area for easy access.
An added bonus of the XP-Pen Star06 is that it also has a scroll reel, a really useful tool for quick zoom functionality or for easily changing your brush size. That said, the reel is incredibly sensitive so it takes some time to master.
There's a couple of nice additions to the package too. It comes with a drawing glove to protect the surface from grease marks and a pen holder that doubles as a handy nib removal tool. You'll also find eight additional nibs stored safely within the holder.
There's a very clean user interface which makes it easy to customise your settings. As with most of the best drawing tablets reviewed here, there are reports of driver issues, but continual updates are applied to resolve any major issues.
The only real downside to this tablet is the price tag, but if you're looking for wireless capability, it still provides excellent value for money.
What Is a Drawing Tablet?
A drawing tablet is essentially a device with a touch-sensitive surface that works in conjunction with a specially designed drawing stylus (or pen). Also known as graphics tablets, they are used to digitise the creative process.
Just as an artist would work with pencil on paper, or paint on canvas, the stylus is used on the drawing tablet surface and the information received is converted onto a computer screen.
Drawing tablets come in two types:
Display models have their own screen which acts as the drawing surface itself, much like an iPad or Surface tablet.

Flat models attach to a computer and make work instantly visible on your monitor.
The products reviewed in this article are all flat models since display models typically come with a much higher price tag and additional considerations.
Predominantly used for creative purposes, drawing tablets are widely used by illustrators, graphic designers and digital artists. They're also common in professions such as architecture, streamlining the process of turning ideas into digital blueprints.
Many photographers are also proponents of drawing tablets as they can eliminate the hand fatigue that can come from hours of editing with a mouse.
It is because of their widespread use in the creative industries that most drawing tablets are compatible with a range of software, including drawing programmes, design applications and photo editing tools.
Many are also compatible with writing tools like Microsoft Word, and web conferencing apps including Zoom and Microsoft Teams. As such, they have become increasingly popular with teachers and non-creative professional, owing to the rise in both remote working and distance learning.
Things to Consider When Choosing a Drawing Tablet
When it comes to making a purchase decision from the best drawing tablets available, the main consideration is value for money. We're focusing on value rather than price because, as with all technology, it's about finding the right specification for your requirements.
Here are the main things to keep in mind when searching for a tablet that suits your needs:
Active Area
When it comes to the size of a drawing tablet, it's the active area that counts, not the overall dimensions.
Of course, its physical size may impact your decision somewhat, especially if your workspace is limited, but of more importance is the space you have to draw.
The bigger the active area, the less disruption there is to your workflow. You should also consider the texture of the surface itself. Our top pick, the Wacom Intuos S, took the spotlight because it offers the closest experience to drawing on a paper surface.
Points Per Second
Points per second (PPS) is the measurement of how quickly a pen responds to your actions. Some brands refer to this as response or reports per second (RPS).
This should be a major consideration when choosing a drawing tablet, since the higher the PPS, the less delay (or input lag) you'll experience.
Pressure Sensitivity
This determines the variation of line weight. Basically, the higher the sensitivity, the more range you have between light and heavy strokes or lines.
The pressure sensitivity of the drawing tablets we've reviewed ranges from 2048 to 8192. If you're a beginner or hobbyist, 2048 is generally sufficient.
Resolution
Resolution for drawing tablets is measured in lines per inch (LPI) and refers to the level of detail you can achieve.
The right resolution for you will depend on your needs. Most entry-level models have adequate resolution for painting and sketching, but if your work involves intricate detail, like pattern design, you'll want to look for a higher LPI.
Shortcut Functions
Whether referred to as hotkeys or express keys, shortcut buttons can significantly increase your work efficiency, so consider which shortcuts are valuable to you and if there are enough keys to accommodate them all.
Also, make sure the keys are customisable to your preferences.
Pen
The pens that come with drawing tablets are either battery-powered, rechargeable or battery-free.
Those with batteries are heavier to hold and, of course, you'll need to remember to recharge or have extra batteries to hand. You should also consider how many additional nibs come with your initial purchase.
Software Compatibility
This isn't so much of a major consideration these days as all the best drawing tablets on the market are compatible with a wide range of creative software.
That said, their performance can vary across different programmes, so if you have a particular favourite it's worth double-checking that your chosen tablet works well with it. The same goes for operating systems.
There are a few other considerations to keep in mind if you're looking for an advanced model, such as tilt recognition and multitouch, but for most users, these are a nice add on as opposed to a must-have feature.
Other Drawing Tablets We Reviewed
As well as our top three picks of the best drawing tablets around, we've also gathered three good alternatives based on user recommendations and reviews:
The UGEE M708 has a great technical specification for its price, with a large active area (10 x 6 inch) and an impressive 8192 pressure sensitivity.
Its eight express keys are located down the side and are customisable to your preferred shortcuts.
One downside to this model is its indicator light. Positioned between the express keys, it flashes constantly when using the tablet, which can be a bit of a distraction.
The tablet comes with a range of accessories, including pen stand, drawing glove and cloth, so if you're looking for a complete starter kit, it could be a good option for you.
If you're a Mac user, you may find the UGEE M708 a bit limiting as its functionality is not as great as when used with Windows, with less customisation available. That said, it's still a good piece of kit for entry-level users.
An upgrade on the original 1060 Plus model, the Huion New 1060 Plus is another good option for a starter drawing tablet.
Its technical specifications are similar to the other best drawing tablets we've reviewed, although it rates higher on shortcut capabilities, with 12 express keys and 16 softkeys, all customisable.
A nice little feature is the supplied 8GB microSD card, which fits into the tablet itself. This means you can store a select amount of work and easily transport it for use on another computer (provided it has the relevant driver installed) – great for if you're using separate machines at home and work.
The Huion New 1060 Plus works well with all popular creative software, but you'll find its functionality only covers basic user settings. It's a good option for a first-time tablet user but you'll probably want to upgrade as you progress.
Another brand highly comparable with the likes of GAOMON and XP-Pen is VEIKK, and the A15 model offers good usability at an affordable price.
It has a battery-free pen with 8192 pressure sensitivity and 250 PPS, a standard 10 x 6 inch active area to work on, and 12 customisable express keys.
A quirk is its Type-C Interface USB port. With this, you can plug the USB cable in from either direction, great for right or left-handed users alike since it keeps the cable firmly out of the way no matter which way round you place the tablet.
At a Glance Comparison
Use the chart below for a top-level overview of all the drawing tablets we've reviewed:
| Drawing Tablet | Starting Price | Active Area (inches) | Resolution (LPI) | Points per Second (PPS) | Pressure Sensitivity | Shortcut Capability | Connectivity |
| --- | --- | --- | --- | --- | --- | --- | --- |
| Wacom Intuos S | £67.93 | 6 x 3.7 | 2540 | 133 | 4096 | 4 express keys | USB & Wireless available |
| GAOMON M106K | £52.99 | 10 x 6.2 | 5080 | 233 | 2048 | 12 express keys + 16 softkeys | USB |
| XP-Pen Star06 | £79.99 | 10 x 6 | 5080 | 250/200 | 8192 | 6 express keys + scroll reel | USB & Wireless |
| UGEE M708 | £59.99 | 10 x 6 | 5080 | 266 | 8192 | 8 express keys | USB |
| Huion New 1060 Plus | £53.47 | 10 x 6.25 | 5080 | 233 | 8192 | 12 express keys + 16 softkeys | USB |
| VEIKK A15 | £59.99 | 10 x 6 | 5080 | 250 | 8192 | 12 express keys | USB |
Final Thoughts
Hopefully, our review of the best drawing tablets currently available has given you some direction when it comes to choosing the right product for your needs.
Whilst there's not a huge difference in the technical specification of the products we've looked at, it's the subtle differences that can impact your experience, such as the pen type, shortcut capabilities and, most importantly in our book, the texture of the drawing surface.
It's for this latter reason that the Wacom Intuos S gets our top recommendation.
It's also a great tablet to start with if you're intending to upgrade in the future since the more advanced Wacom products stand out from the crowd in terms of their professional quality. If you're used to using a Wacom product to begin with, you'll have no problems advancing to the next level as you progress.
Ultimately, though, the choice is yours, and you will find a lot of great options above that might be suitable for your needs.
For further research, we recommend watching video reviews so you can see each model in action.
---