Here at WikiJob, we know how hard it is to find the perfect hand luggage for a flight, so we set ourselves the mission of finding the very best carry on travel bags of 2020.
The range of bags available was impressive, with many high-performing and popular options that left us spoiled for choice.
Our price comparisons revealed that good quality carry on travel bags are available for all budgets.
It was a close call but we crowned the American Tourister Bon Air Spinner our top choice for 2020.
Our Pick

The American Tourister Bon Air Spinner
With outstanding quality at an affordable price, the American Tourister Bon Air Spinner takes the top spot
This carry on case is an excellent all-rounder that is affordable and ticks all the boxes in the quest for the perfect travel bag.
£79.99 from Amazon
The American Tourister Bon Air Spinner is a lightweight case, despite being made from extremely strong polypropylene that is durable and hard-wearing.
The four 360 degree wheels and adjustable button locking handle make it easily manoeuvrable and smooth to push.
The case is securely fastened with a three-digit combination lock (so effective that we struggled to get into the case at first), and a clever zip lock that traps the zips, rendering them tamper-proof.
One of the things we loved about the American Tourister Bon Air is its neat, stylish appearance and the wide range of colours on offer.
A case in mint green, fresh pink or lilac certainly wouldn't be difficult to spot in the overhead compartment.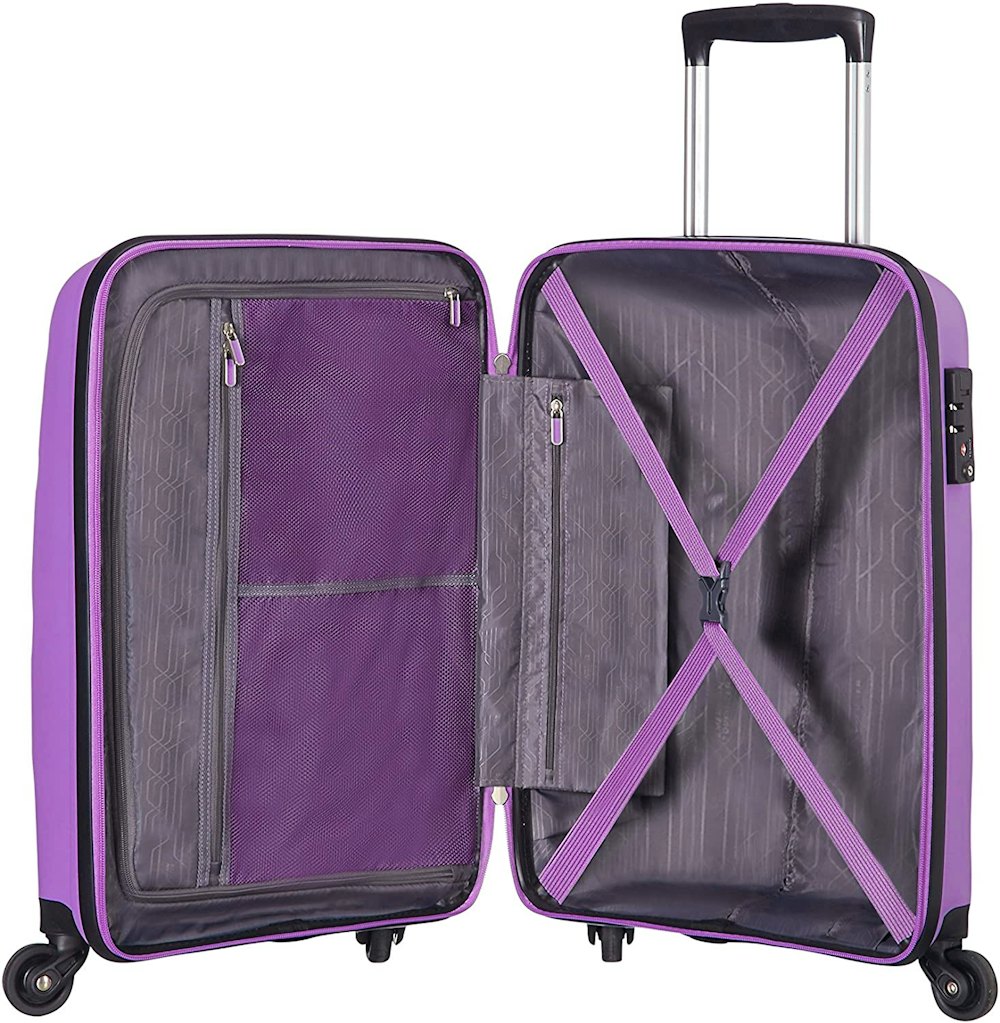 As well as an attractive exterior, the inside of this case offers a well thought out organisational system of mesh pockets, compartments and dividers that help you pack with ease.
At £79.99, the American Tourister Bon Air is an affordable carry on case that is priced lower than many of its similar competitors.
There isn't much to criticise about this well designed and functional carry on case and it is well-deserving of our top choice place.
Dimensions: 55 x 40 x 20 cm
Weight: 2.5 kg
Volume: 31.5 litres
Runner Up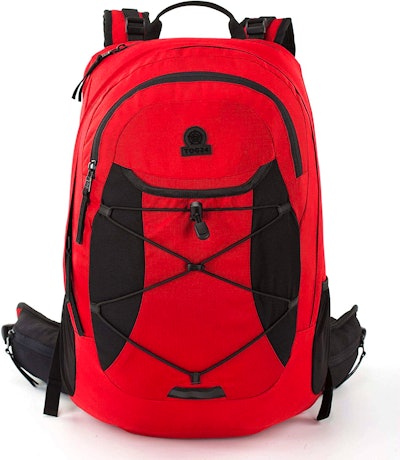 TOG 24 Snaith Backpack
The Snaith Backpack in Chilli – Our runner up
The Snaith backpack is a well thought out bag with clever design features that make it versatile and suitable for multiple uses.
£40 from Amazon
Our runner up spot went to an incredibly well-designed and technical backpack.
TOG24 seem to have thought of everything with this multifunctional backpack. The standout feature for us was the close attention to fit and comfort.
The bag is comfortable to wear and every strap has a huge adjustment capacity, so it would comfortably fit a person of any size or frame.
The padded shoulder straps are wide enough to distribute the weight of the packed bag, but not too big as to restrict shoulder movement. Along with the support of the chest strap and waist strap – both with click fasteners, the Snaith backpack sits snugly and securely without movement or rubbing.
Now for the best part: this bag has been cleverly designed with a firm mesh frame that sits between the bag and your back.
Furthermore, the back of the bag has been constructed with a sturdy but light metal frame that holds the shape of the bag firm, meaning that the contents are never resting on the wearer's back.
This prevents rubbing or sweating and allows for uninterrupted air circulation between the bag and your back.
For this reason, we think this backpack not only serves as a useful carry on bag but will also prove invaluable for travellers who are continuing their journey and moving from place to place.
The metal frame that holds the bag's shape does encroach slightly into the main body of the bag, forming a rigid wall at the back of the bag that will prevent contents being 'stuffed' in, but the bag does still offer a respectable 35 litre total volume.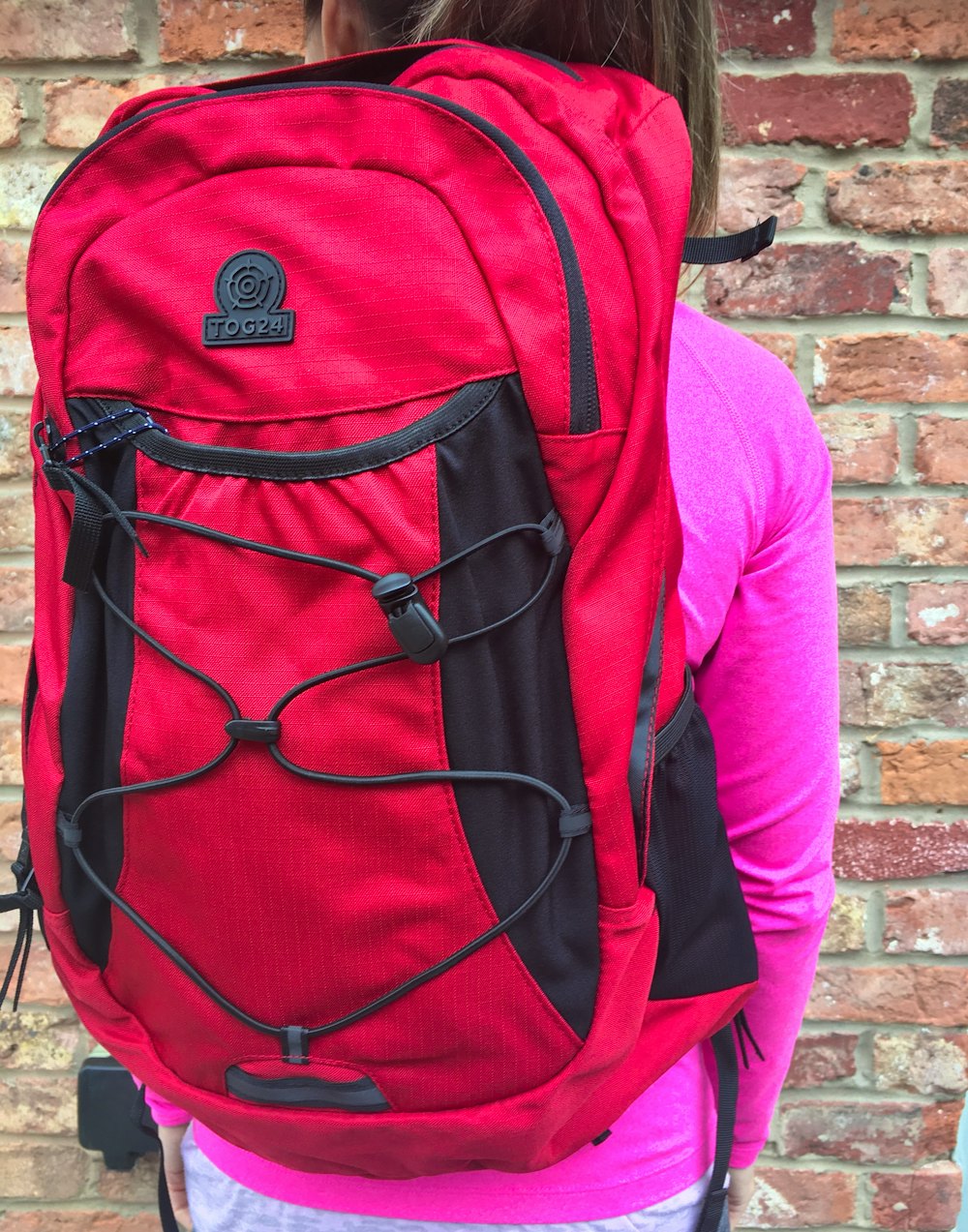 The main large compartment of the bag has a waterproof lining and an internal pocket, and a second large zipped section of the bag provides almost as much storage space again.
Externally, the bag has a large zipped compartment at the top, close to the carry handle that would be ideal for keeping your essential items separate from your other belongings.
The elasticated pocket at the front of the bag gives quick and easy access to non-valuables and is overlaid with an elastic drawstring cord to hold a rolled-up mat, blanket or coat. You could also hook carabiners to this rope for additional carry space.
Water bottle holders at both sides of the bag keep your drinks within easy reach.
As an added extra that we loved, there are also two small zipped pockets at the ends of each waist strap, so when the bag is fully strapped to you, these pockets are still easily accessible at the front of your body.
This overcomes one of the common drawbacks of this style of travel luggage, having to take the bag completely off your back to grab some cash or other essential item.
These pockets are also just big enough to hold a mobile phone and passport, making them a clever design feature that instantly makes this bag easier to use.
The Snaith backpack looks pretty good, too. It is made from water-resistant fabric that comes in three colour options: chilli, teal and black.
The addition of a pack-away rain cover is further reassurance that TOG24 know how important it is to keep your belongings dry. The branding of the Snaith backpack is subtle and displays the Yorkshire Rose that represents this British brand, and reflective trim is a great safety feature for the adventurous traveller.
Overall, the Snaith Backpack impressed us. It is a light and comfortable carry on bag that works just as well in the airport and during your trip as it does on the flight.
Dimensions: 49 x 34 x 12 cm
Weight: Unspecified
Volume: 28 litres
Also Awesome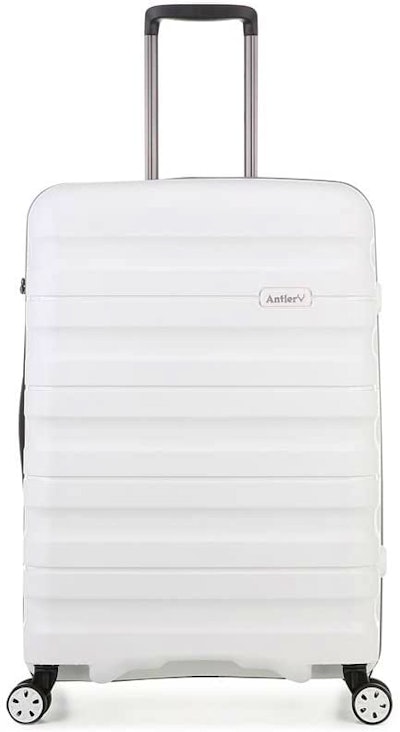 Antler Juno 2 Brights Cabin Case
One of the striking colours available in this high-quality range from Antler
The Antler Juno II Brights is another awesome option for a high performance carry on travel case. This case offers excellent quality and comes in a range of holiday-inspired colours.
£130 from Amazon
Antler claims that the hard shell exterior of its Antler Juno II Brights is 'virtually indestructible' and resistant to cracks and scratches. Despite this, it still comes in at just 3.1 kg in weight.
The case is mounted on four sets of double wheels for 360-degree manoeuvrability on all surfaces and we were delighted with how easily this case moved.
There are flexible handles on two sides of the case, as well as an extendable, lockable handle at the top of the case.
A bunch of well thought out security considerations include a TSA-approved combination locking system and zip lock.
The interior layout of the Juno II is less fancy than some of the other cases we reviewed, but it does the job, with a zipped compartment on one side, elastic support straps at the other and a mesh pocket flap at the centre.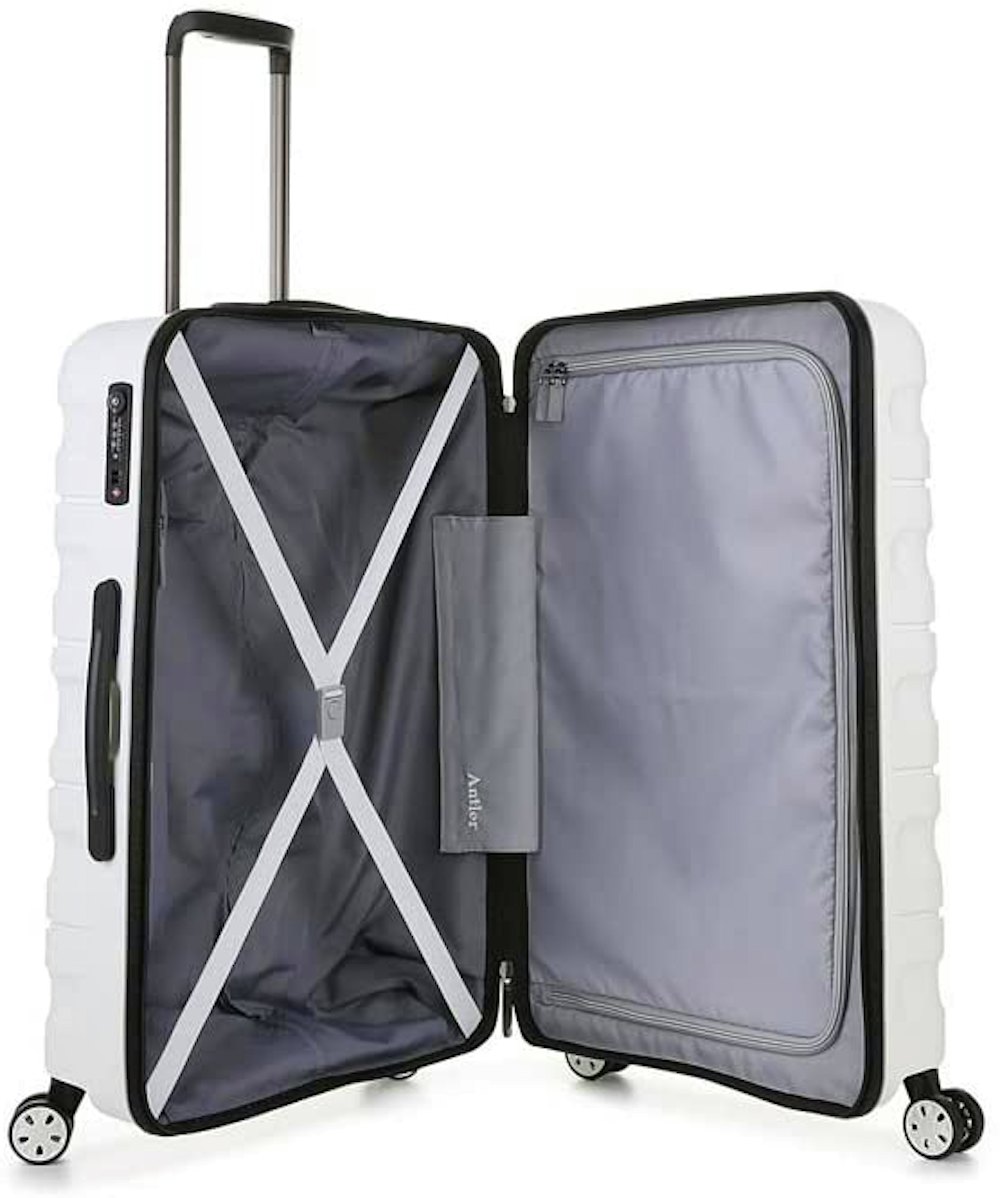 As well as offering top-notch performance, the Juno II also looks the part.
As the name 'Brights' suggests, this case is available in a wide range of bright colours including orange, pink, purple and turquoise, as well as offering a more conservative black option.
The possibly less-practical white colourway is available at a slightly lower price than the other options.
Antler is a well-established British luggage brand that has been making high-quality products for over one hundred years. This expertise is evident from the outstanding quality of the Juno II case.
It's very hard to find any faults with this impressive carry on case, the only reason it didn't make our top spot was due to the slightly higher price point (although this is in no way the most expensive case we reviewed).
We highly recommend the Antler Juno II, particularly for those with a generous budget.
Dimensions: 68 x 46 x 27 cm
Weight: 3.1 kg
Volume: 39 litres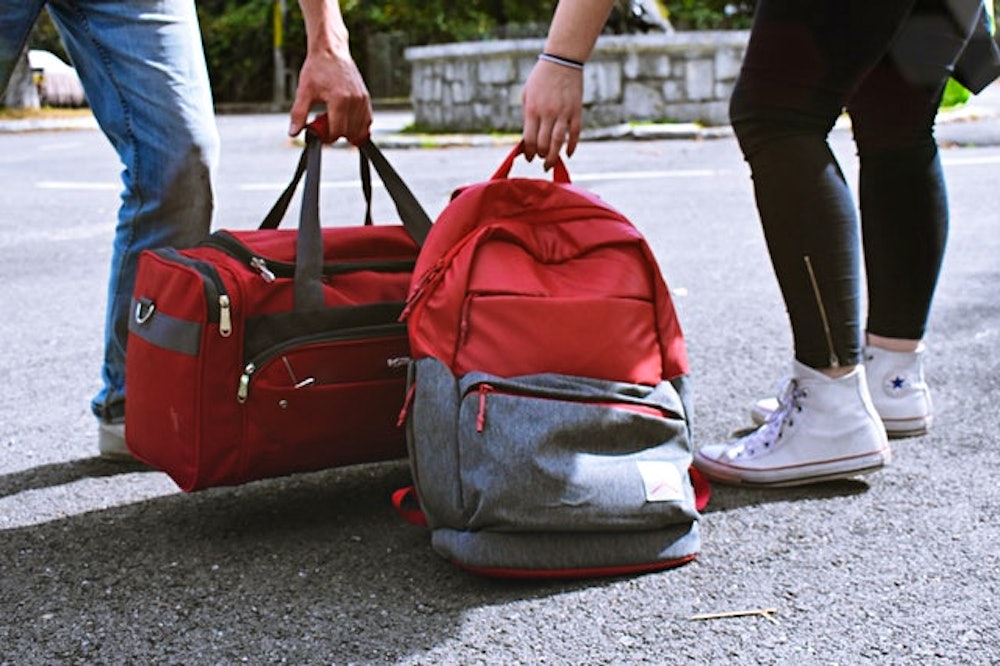 What Are the Benefits of Travelling With a Carry on Bag?
Although you can take any appropriately-sized bag on a plane, a carefully designed carry on case will make your life easier.
Designed to maximise the use of space while remaining compact enough to comply with airline regulations, a good travel case will allow you to pack more items and access your belongings easily on your flight.
They are usually made from robust and hard-wearing materials to protect the contents more effectively than a standard bag.
Carry on bags are often mounted on wheels so you can push or pull them easily without trying to carry a bulky, heavy bag throughout your journey.
For shorter trips, or if you're good at packing light, making good use of a carry on case can help you avoid checking in your luggage. This means you won't have to wait at the carousel upon your arrival, and you can exit your destination airport and start your holiday without delay.
Airline Regulations
Most airlines that fly from the UK have similar regulations about what size luggage is allowed in the cabin and the maximum weight limits.
Be sure to check with your airline before you travel, but as a guide, here are the current size and weight restrictions for some of the top companies that fly from the UK:
British Airways – 56 x 45 x 25 cm, 23 kgs
easyJet – 56 x 45 x 25 cm, no weight restrictions
Emirates – 55 x 38 x 20 cm, 7 kgs
First Choice – 55 x 40 x 20 cm, 10 kgs
Jet2.com – 56 x 45 x 25 cm, 10 kgs
Thomas Cook – 55 x 40 x 20 cm, 8 kgs
Tui – 55 x 40 x 20 cm, 10 kgs
You can see that they are generally very similar, but a breach of these regulations means you may be asked to check your bag into the hold, so it's worth double-checking before you go.
Bear this in mind when shopping for a new carry on travel bag too.
Key Features to Consider When Buying a Carry on Travel Bag
Here we've noted the key features that are worth considering when purchasing a carry on bag or case.
You may also have specific requirements to meet when choosing your luggage, so having a clear idea of what you do or don't want will help you make a decision.
Wheeled or Carried
The first thing you need to consider is whether you prefer a bag that you can carry on your person, or one with a wheeled base that can be pushed or pulled.
This will depend on your physicality and strength, how readily you need to access the contents of your bag and personal preference.
A backpack has to be removed every time you want to get something from it but does leave both hands free. A wheeled case takes the physical load so you don't have to, but will occupy one hand at all times and can be tricky to steer.
Size and Weight
The primary function of a carry on bag is to remain accessible during your flight. You'll be asked to check your bag into the hold if you contravene size restrictions.
Check requirements with your airline and invest in some luggage scales before you go.
Volume
Smaller cases are easier to handle, cost less (generally) and offer more convenience.
Whether you've mastered travelling light or not, choosing the correct volume will make your life easier.
Durability
Advances in the plastics materials industry mean that hard shell cases are now extremely durable while also being light enough to carry.
This means that luggage with a hard exterior is popular and affordable, and lasts for years.
Fabric bags still serve the parts of the market that prefer a soft and flexible (and often less expensive) option, but if you opt for a fabric or soft shell bag, check that reviews vouch for its durability. A split case is no fun when you're travelling.
Appearance
If you like to travel in style, you'll also want to consider how your luggage looks.
Gone are the days of plain black cases being the only option available. You can now purchase carry on bags and cases in a wide range of colours, materials and designs.
Ease of Access
Your carry on bag needs to be convenient and practical so you can access the contents easily when travelling through the airport and during your flight.
A good travel bag will have factored this into the design.
Look out for external pockets for your passport and documents, mesh compartments for storing your liquids and any other design features that will make your life easier as you travel.
Other Carry on Travel Bags We Reviewed
Although we have identified our top three carry on travel bags, there are lots more that are worthy of consideration in your search for the perfect luggage: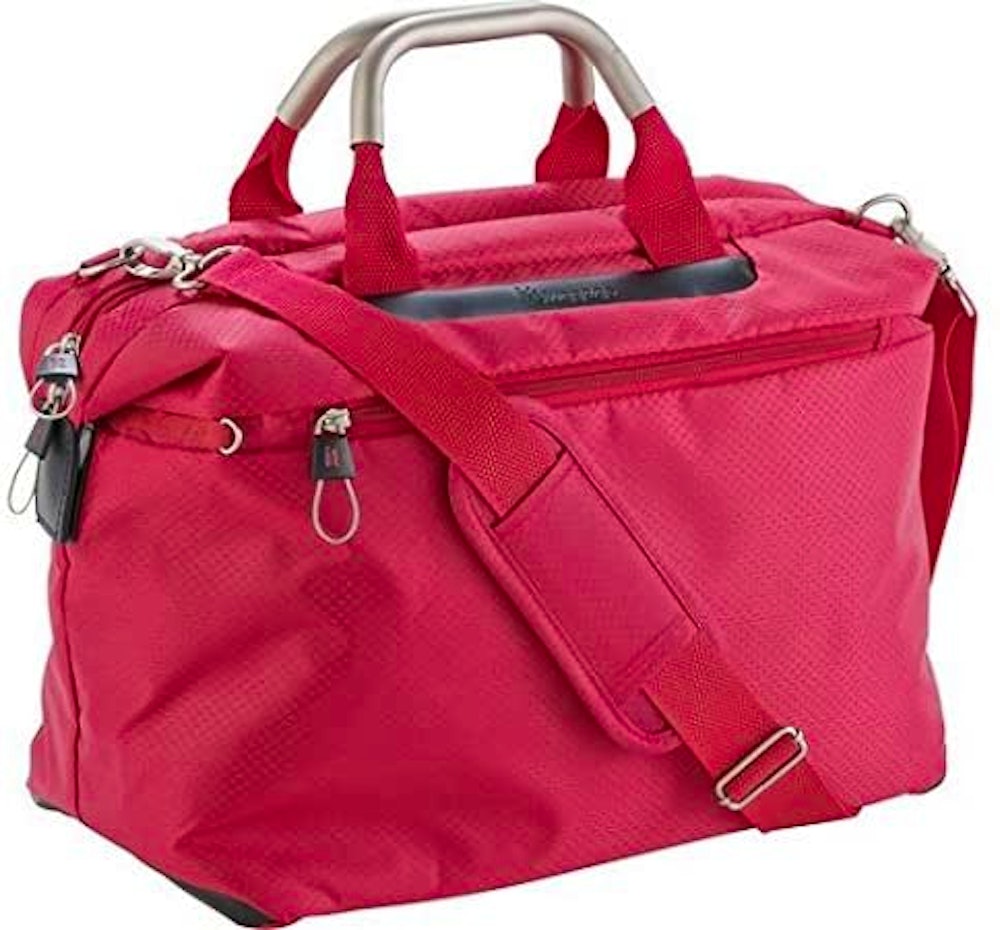 Price: from £21.99
IT pulled no punches when they named this product. It certainly does live up to its name, as it was by far the lightest travel bag of all the ones we reviewed, weighing in at an incredible 0.65 kgs.
Although this bag is not as big as many of the others we reviewed, it still provides a respectable 25 litres of capacity, perfect for those who travel light.
The soft, flexible design of this holdall style bag means it can fit under the seat in most aircraft (but do check your specific airlines restrictions), and it has an external and an internal pocket to keep your essential items to hand.
This carry on bag may not be quite as robust as a sturdier bag, especially for heavy use by a frequent flyer, but for an occasional flight or for someone who struggles to carry a more substantial or heavier bag, this could be the ideal solution.
Dimensions: 39 x 31 x 21 cm
Weight: 0.65 kgs
Volume: 25 litres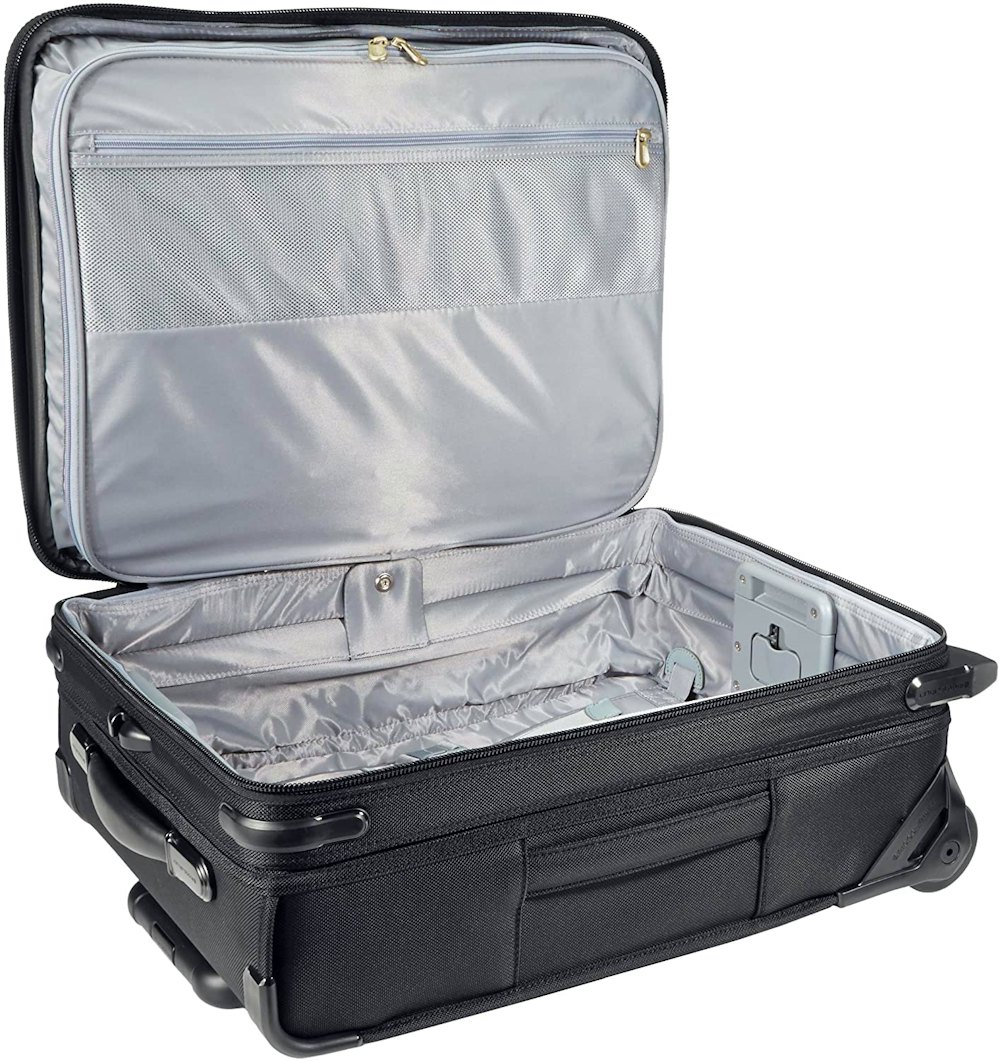 RRP: £449 (Deals available on Amazon)
Briggs & Riley are a high-end brand offering high-quality products.
The International Carry-On is proof of this, with a sleek look, fibreglass frame and 'Ballistic nylon outer fabric that resists wear, moisture, dirt and abrasions'.
It is designed to fit easily into overhead aeroplane compartments and has reinforced corners to protect from wear and tear. The case is on double swivel wheels that allow for 360-degree navigation and has an extendable aluminium handle as well as carry handles.
One of the standout features of this travel bag is the range of interior and exterior compartments that make packing a pleasure.
This case is designed to serve business travellers, with a tri-fold garment folder that can hold up to two suits and prevents wrinkling.
Although this is a standout, high-quality carry on case, perfect for frequent business flyers, the price point means that it is not a likely option for many every-day consumers.
Another point to note is that this case comes in on the larger side. Briggs & Riley list dimensions as 51 x 38 x 20.5 cm, but there are reports that the case is in fact larger than this, causing some issues with meeting airline size regulations.
Dimensions: 51 x 38 x 20.5 cm
Weight: 4.2 kgs
Volume: 59.3 litres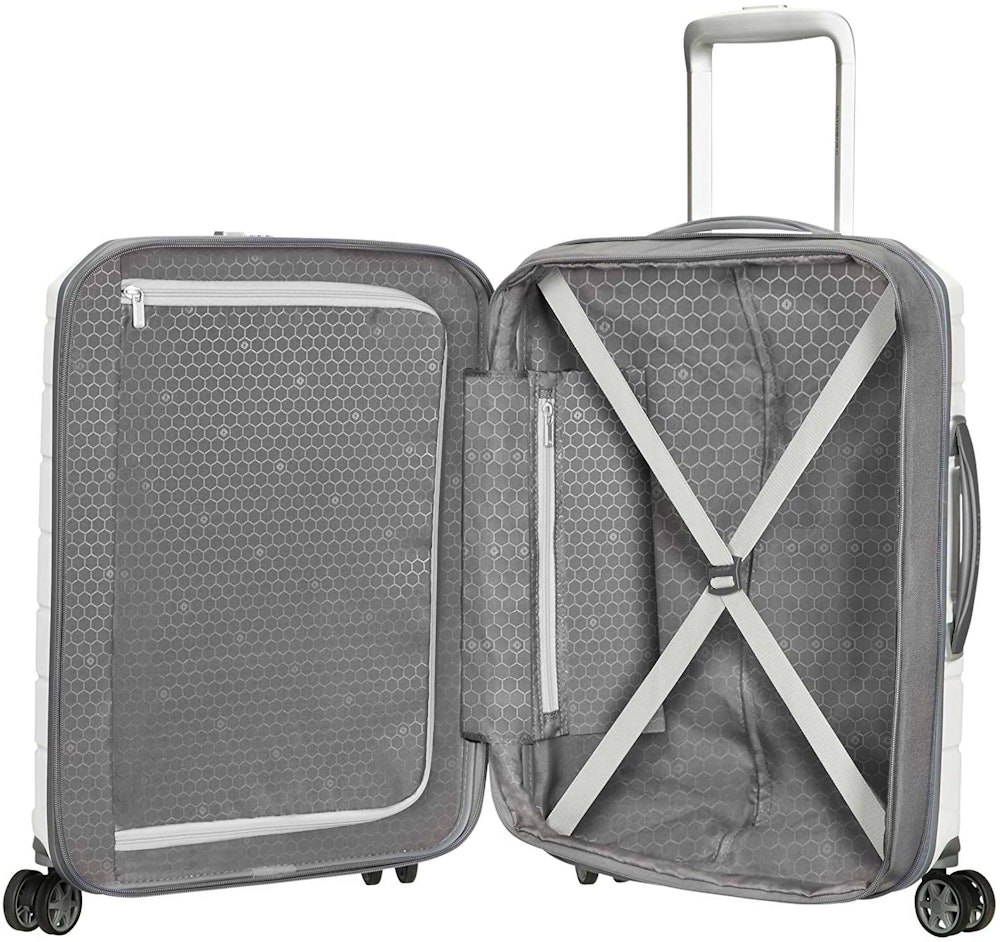 Price: from £165
The SAMSONITE Flux Spinner is another great hard shell carry on case.
Available in a range of colours and with a branded silver bar at the front, this case looks sleek and classic.
The base is mounted on four multidirectional wheels to make it easy to push and manoeuvre.
The interior layout is pretty basic, with elastic support straps on one side, a zipped compartment at the other and a small extra pocket in the centre.
Security features include a three-digit combination lock and zip fasteners.
Dimensions: 55 x 40 x 20 cm (expanded dimensions: 55 x 40 x 24 cm)
Weight: 2.6 kgs
Volume: 37 liters (44 litres when expanded)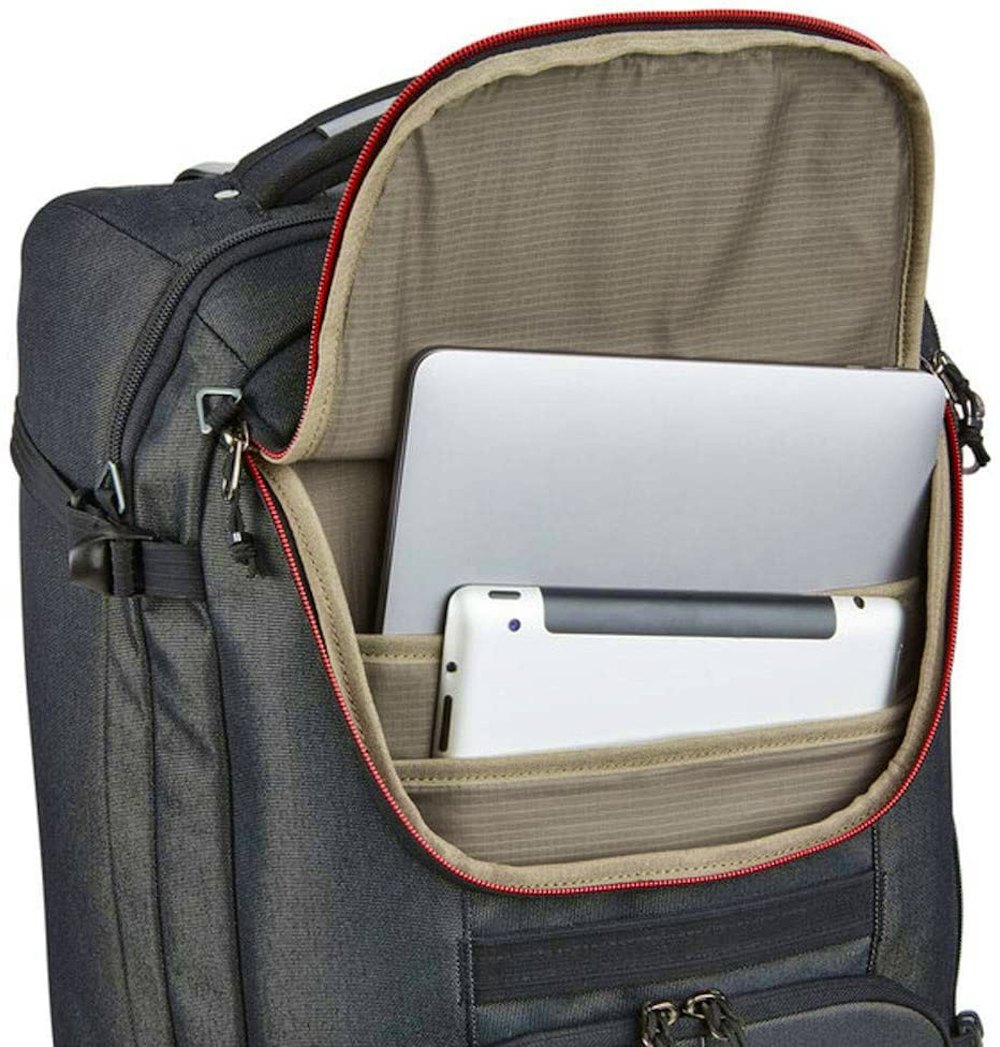 Price: from £102.83
The Craghoppers Wheelie is a well designed carry on case that sets out to make travel easier.
The padded tech pocket is a feature we love – it accommodates a laptop and a tablet in an easily accessible external pocket (if you love organisation, this is the case for you).
Security is a priority in the design features and the external pocket is slash-proof, lockable and RFID resistant (to stop unauthorised contactless payment attacks). Even the zips are puncture resistant and lockable.
This case looks good and comes in brick red, woodland green or black polyester.
We think this carry on case is best suited to a seasoned traveller venturing off the beaten track who is in need of a reliable bag with a particular focus on security.
Dimensions: 55 x 34 x 24 cm
Weight: 2.7 kgs
Volume: 40 litres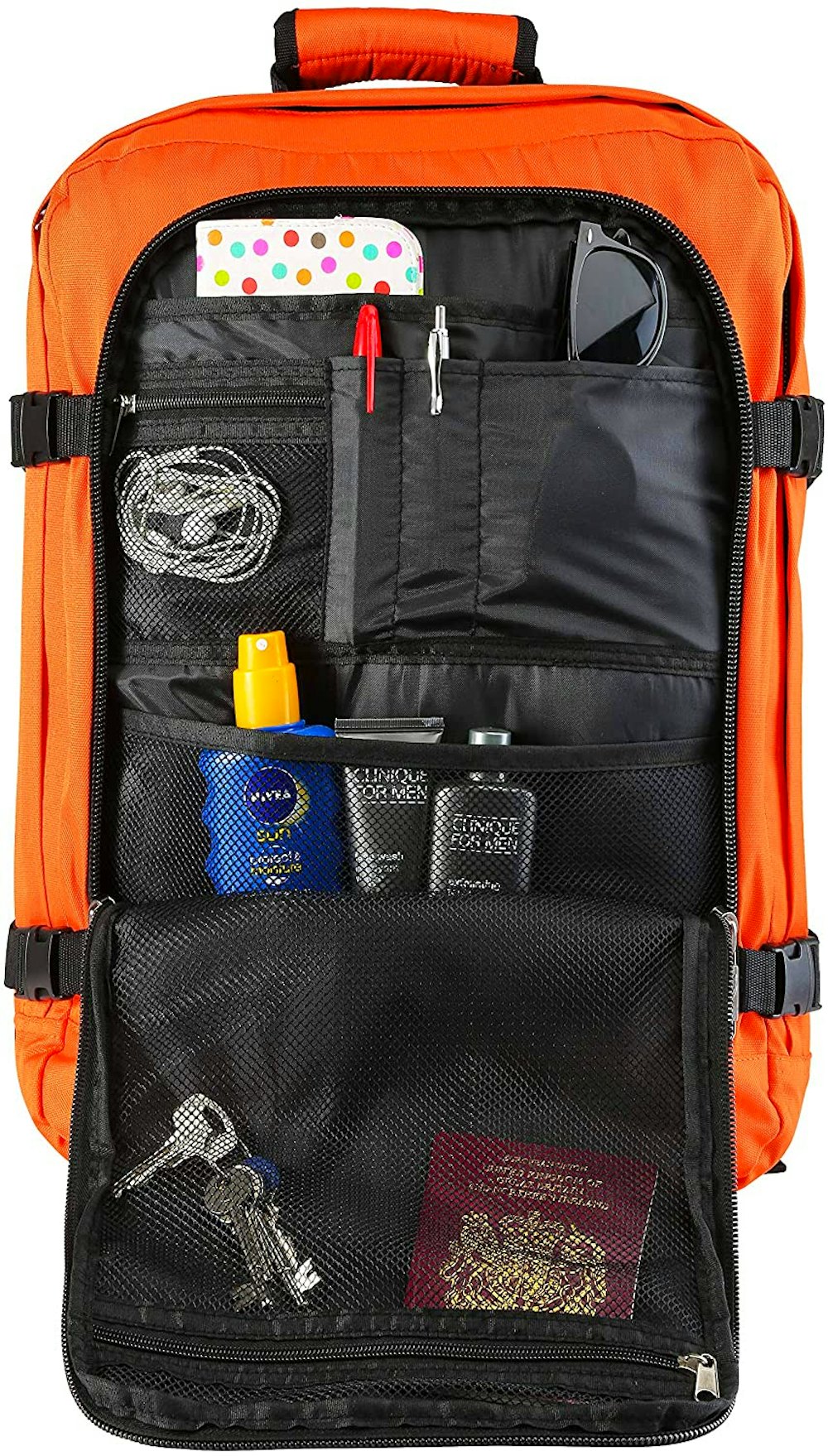 Price: from £29.99
The Cabin Max Metz is one of only two backpack style bags that made it onto our list.
Backpacks can be a little cumbersome and require a certain level of strength and fitness if you're to carry one around for any length of time.
This travel backpack, however, stands out for its neat design, sleek look and ideal size.
It comes in over 30 colour options and has three lockable zipped pockets for easy access to essential documents.
The Cabin Max Metz backpack is made from recyclable polyester; a feature we particularly love.
One of the other bags in this range is itself made from recycled plastic bottles (the Metz Re.Source).
Sadly, the extremely lightweight fabric used may have impacted the quality of the construction of this carry on backpack, with reports of the stitching coming undone during use.
Dimensions: 55 x 40 x 20 cm
Weight: 0.7 kgs
Volume: 44 litres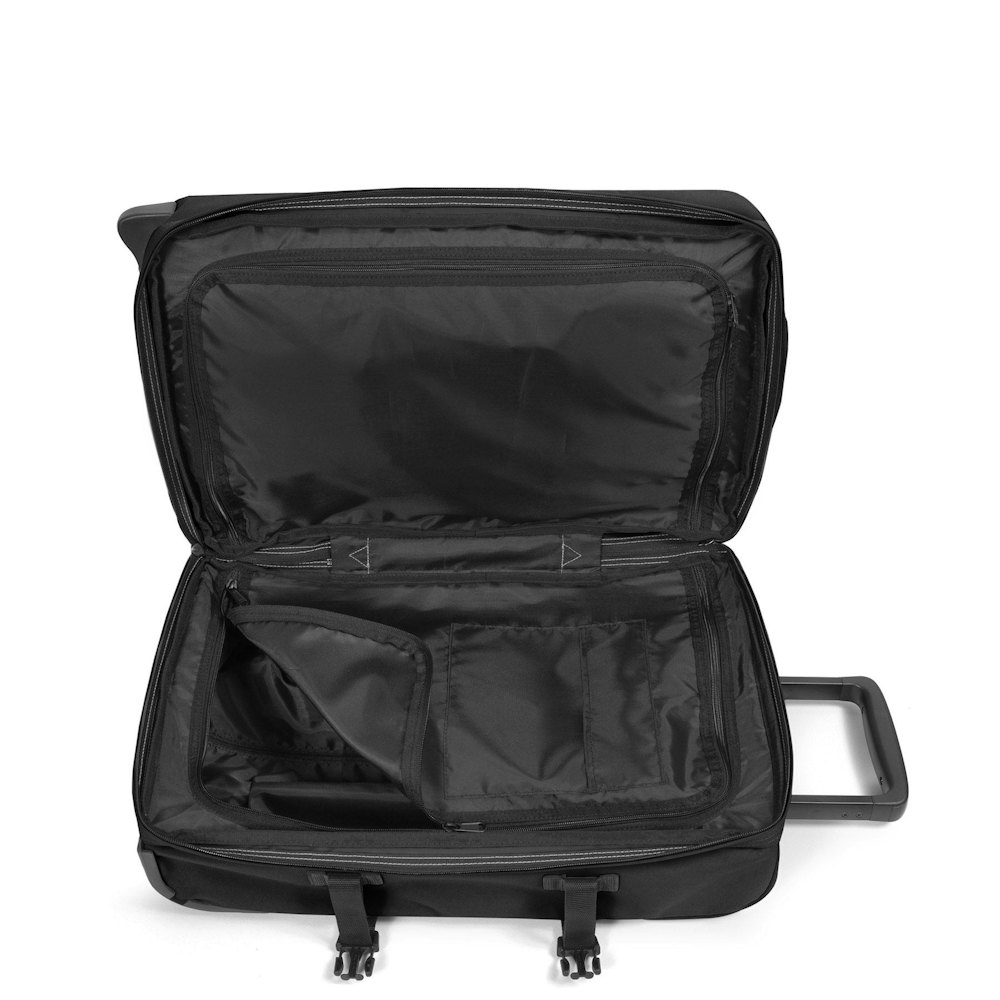 RRP: £100 (Deals available on Amazon)
This stylish-looking carry on travel case is a good basic option from Eastpak.
It offers much the same as other cases we reviewed – wheeled base, an extendable handle and zipped internal compartments.
However, there are no standout features that make this case a must-buy. The base has two wheels, rather than four, so this case has to be pulled along rather than pushed.
Although most online reviews are positive, some customers did question the strength of the nylon exterior of the case.
Overall, this is a stylish travel case at an affordable price, but it doesn't offer any standout or remarkable features that compel you to buy.
Dimensions: 51 x 32.5 x 23 cm
Weight: 2.5 kgs
Volume: 42 litres
At a Glance Comparison
The table below shows an overview of the carry on cases we've reviewed, to help you make your decision:
| Product Name | Dimensions (cm) | Weight (kgs) | Volume (L) | Style | Price | Summary |
| --- | --- | --- | --- | --- | --- | --- |
| The American Tourister Bon Air Spinner | 55 x 40 x 20 | 2.5 | 31.5 | Hard shell four-wheeled case | From £79.99 | Strong, secure, easy to push and available in a range of colours |
| TOG 24 | 49 x 34 x 12 | Unspecified | 35 | Fabric backpack | From £40 | Clever design, comfortable, versatile bag that works on the flight and beyond |
| Antler Juno 2 Brights Cabin Case | 68 x 46 x 27 | 3.1 | 39 | Hard shell four-wheeled case | From £130 (price varies) | Attractive colours, high quality, high performance |
| IT Worlds Lightest Small Cabin Holdall | 39 x 31 x 21 | 0.65 | 25 | Fabric holdall | £21.99 | Lightweight, small in size, negative reviews regarding quality |
| Briggs & Riley International Carry-On | 51 x 38 x 20.5 | 4.2 | 59.3 | Hard shell four-wheeled case | RRP: £449 | Excellent quality, large capacity, may be too big for some airline restrictions |
| SAMSONITE Flux Spinner | 55 x 40 x 20/24 | 2.6 | 37 – 44 | Hard shell four-wheeled case | From £165 | Expandable, sleek design, some quality issues from customers |
| Craghoppers 22" Wheelie | 55 x 34 x 24 | 2.7 | 40 | Two-wheeled fabric case | From £102.83 | Excellent organisation features inc. tech pocket. High-security design |
| Cabin Max Metz Backpack | 55 x 40 x 20 | 0.7 | 44 | Fabric backpack | From £29.99 | Huge colour range, environmentally friendly, lightweight. Some reports of poor quality construction |
| Eastpak Tranverz S | 51 x 32.5 x 23 | 2.5 | 42 | Two-wheeled fabric case | RRP: £100 | Affordable, stylish design. Lacking in innovative features |
Final Thoughts
The range of carry on travel bags available on the market means that there is a suitable option for all needs.
It's important to choose a bag that fits within most airline size restrictions and that suits your requirements and taste.
Whether you settle on a hard shell, fabric, wheeled or carried travel bag, we advise that you consider which features are important to you and carefully research the options available within your budget.
The right purchase will help you enjoy a relaxed and convenient airport and flight experience.