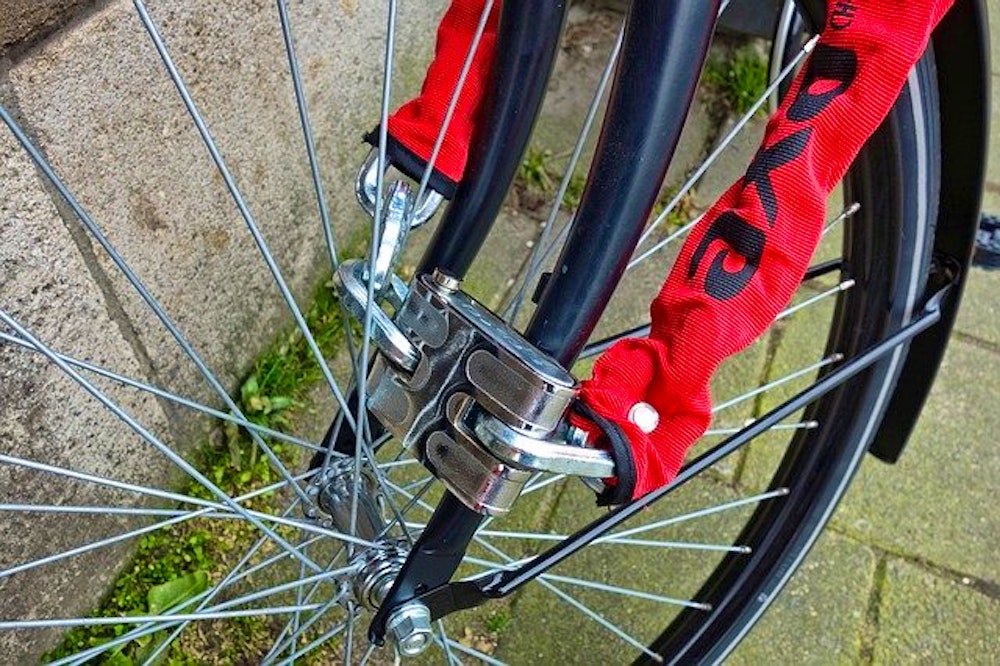 Why Buying a Good Lock Is Important
Bike theft is common in the UK. One bicycle is stolen every 90 seconds and as locks evolve and innovate, so do bike thieves and their tools.
If your bike is of any value, monetary or sentimental, invest in a lock that deters even the most determined of thieves by paying for the highest level of security you can afford, regardless of the value of your bike.
Of course, never forget that no bike lock, no matter how much you spend, is infallible to modern tools. Any thief, given enough time and ingenuity, can cut through a bike lock.
However, a good bike lock will give you long term peace of mind and, hopefully, direct the thief's attention away from your bike to one that is easier to steal.
Investing in a good quality bike lock will also ensure you get your money's worth for future bicycle upgrades. If you are dipping your toes into cycling with a low budget bike, we would still suggest you invest in a good lock that will last.
The outlook is good for security within a reasonable budget. There is plenty of interesting innovation in materials and lock mechanisms which mean medium to high-security locks are available at reasonable prices.
What Is a Sold Secure Rating?
Sold Secure is the UK's premier independent lock testing company.
It was established in conjunction with some UK police forces over 35 years ago and has since become the independent testing company for all security manufacturers.
Its mission is to reduce the risk of crime by testing security products using the most common methods of breakage used by bike thieves.
Only approved locks bear the Sold Secure Approved quality mark.
Sold Secure tests against activities such as:
Lock picking
Lock manipulation
Drilling and cutting
Bolt croppers
Wedging and pulling
For bike locks, there are three levels of Sold Secure rating:
Gold
Gold-rated locks are the most resistant when it comes to prolonged attacks. The locks are tested continually for over five minutes.
If you leave your bike in a high-risk place frequented by thieves (for example, central London) then this is the lock for you.
Silver
According to Sold Secure, products with a Silver rating last for up to one minute under manual attack methods.
These locks offer a decent level of protection for mid-range bikes. Some insurance companies will offer policies for silver-rated locks as well.
Bronze
Bronze-rated locks will deter thieves but not prevent a bike from theft completely.
Some independent testers have managed to cut through the toughest gold-rated locks in 45 seconds with diamond cutters, but these tests compare the most common methods used by thieves.
It's unlikely your local thief carries diamond cutters to a regular job but, in higher risk areas, it's not worth taking chances as some thieves are increasingly using methods like this.
All lock brands will provide their own security rating, but these function to support their own anti-theft bike replacement criteria, rather than giving the customer a fair comparison gage. As there is no consistency with testing these in comparison to other locks, skim past them and look at the Sold Secure rating when considering whether a lock's security level is right for you.
If you are also buying bike insurance, check with your provider which level of Sold Secure rating is required for your coverage. You may not need Sold Secure Gold.
If you are looking for a fair comparison for your lock, the dutch group ART independently reviews bicycle locks and are much tougher in which locks they award three or four stars to.
Neither company tests all locks on the market, but if you are serious about investing in a high-quality lock, look for a brand which has both ratings.
What Types of Lock Are Available?
Locks fall into four main categories:
D lock – These are common in cities. Hard-wearing and easy to fit around bike stands, D locks are most cyclist's go-tos. Most are designed to lock the frame and one wheel to a bike stand neatly with little room left for access by cutting tools.

Chain lock – These are sometimes easier to transport as they can be thrown into a backpack or worn around the waist, and with increased flexibility, there are more options for locking locations. Most chain locks on the market now have tackled any historical issues with weak links into shackles. They tend to be heavier than D locks.

Foldable lock – These have been on the market for over ten years but new brands are making them a more appealing option for those fed up of D locks crashing into their knees, damaging their frames or weighing down their backpacks. A folding lock gives you the same flexibility as a chain lock but with more portability and less potential for damage to your frame.

Cable tie locks – A cable tie (cafe) lock will never provide the kind of security needed for locking a bike out of sight in an urban environment, so we have only looked at one of these. If you are locking a bike on a train or outside a cafe leaned next to you, they do something to provide security for a very short amount of unattended time. They can also be used to secure front wheels in conjunction with a heavier duty D lock.
How to Choose the Right Lock for You
There are two questions you need to ask yourself before you buy a lock:
1. How Common Is Theft Where I Am Most Often Intending to Lock My Bicycle?
There's no need for guesswork here. You can check exactly how high risk your area is with a quick google search.
It is no surprise that certain areas of London account for some of the highest rates of bike theft in the country.
In general, in a rural or suburban area, medium-security should keep your wheels with their rightful owner; but, in any urban area, you should pay for the highest level of security you can afford if you want to try to avoid losing your bike.
2. Where Will I Be Locking It Up?
Look at the locations that are available for you to lock your bike at your most common destinations. Ask yourself the following questions:
Are bike stands available?
Are they busy?
What else could I lock my bike to if there is no space?
Will I be leaving my bike in many different locations or just one?
These questions will help you assess how far a lock will need to stretch to lock the frame, chain and wheel securely.
You want to give yourself locking location options without compromising on the security of your bike – the looser the lock, the easier it will be for a thief to pull and twist, use the bike frame as a lever to break the lock or access it with cutters.
The tighter the lock, the more secure it will be, but the less likely it is to be able to reach around a lamppost or overcrowded bike park at a busy station during rush hour.
Look around at the areas near where you live and work – how are other people locking bikes similar to yours, and with what type of lock?
Important Features to Look for in a Bike Lock
These are the criteria by which we assessed all the locks we looked at, in order of priority.
We've prioritised security and weight in our reviews, rather than price or design, but have also taken into consideration any practical features which might improve your experience of using the lock regularly.
Security – Sold Secure or ART Ratings
The most important thing to look for is an independent security rating. Get the highest Sold Secure rating you can within your budget for the type of lock you think you need and, if possible, a lock that also holds a rating from ART.
Weight and Size of the Whole Lock for Portability
If cycling a long way, or already carrying a weight whilst commuting, take note that some of the more secure locks will add weight to a frame, and the lighter locks are inevitably amongst the more expensive.
Choosing a lock which is difficult to mount or transport is also likely to mean you are back in the market for a new lock after only a month of use.
Size of the Shackle for Locking
The size of the shackle of a D lock or the circumference of a foldable or chain lock will be the defining feature of your locking options.
Not being able to find a place to lock up is the factor in lock choice that will cause the most regular irritation if not factored in at purchase. So, consider this carefully.
Locking Options
Some bike locks use traditional keys (either flat or cylindrical). These are most common on D locks and chain locks.
If you don't want to carry keys with you on your cycle ride, or you are worried they will get lost, you can get cable locks that come with combinations. Make sure you don't forget that combination, though.
Number of keys
Things like the number of keys are afterthoughts but are still worth considering.
You will usually get two keys supplied with your lock and can approach most manufacturers for replacements if needs be.
Customer Service
If you are spending significant money on your bike lock, you will want to know that you can approach the manufacturer for replacement parts if any parts of the lock fail.
Budget
When considering your budget, remember your lock should outlast your bike and that skimping on the quality of your lock could cost you dearly in future bike replacements or insurance schemes.
The Other Bike Locks We Looked At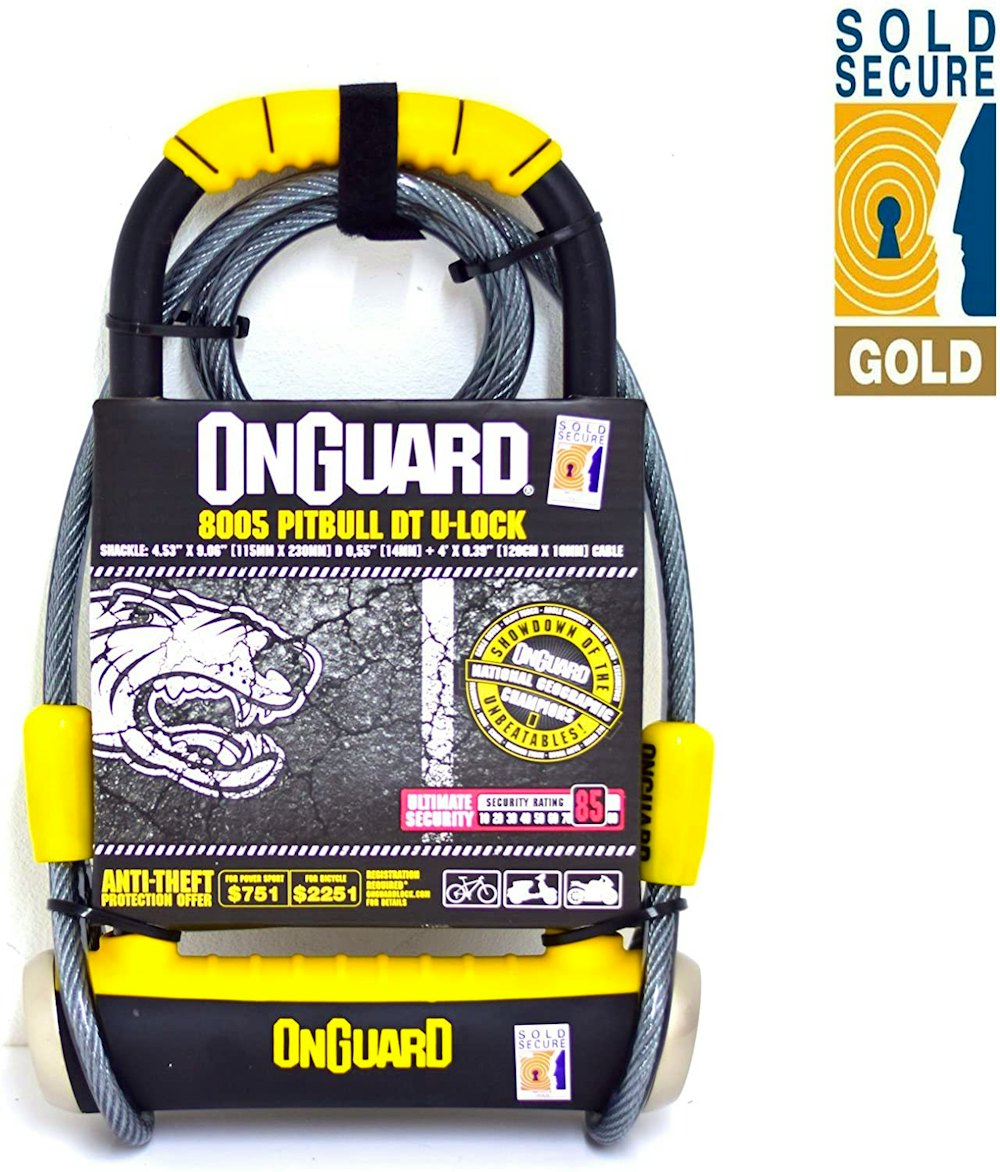 Price: £57.42
The OnGuard Pitbull D lock series is Kryptonite's biggest price competitor.
The most affordable Sold Secure Gold rated D locks, they are available in a range of sizes, but all offer the same features in terms of security.
At 1.87 kg, the ONGUARD Pitbull DT 8005 is heavy.
Mounts aren't mentioned, so this lock is likely designed for fitting into backpacks or suspending from handlebars. Not ideal for quick trips without a bag or long commutes where extra weight is cumbersome.
There are various challenges the ONGUARD Pitbull DT 8005 presents to other brands:
The locks come with a rubber vinyl-coated 120 cm cable for securing front or quick-release wheels.

OnGuard supplies each lock with five keys, two more than the Kryptonite and ABUS equivalent models, and one has an inbuilt LED torch.

The 14 mm shackle is made from hardened steel and locks in four places with an X4P Quattro Bolt Locking Mechanism, meaning the lock is very resistant to twists and tugs.

The key cylinder is pick, pull, drill and weather resistant.
However, there are reports of these locks seizing up and rusting and a fair number of reports of theft. Having said that, OnGuard offers a lifetime warranty on locks, as well as an antitheft scheme.
OnGuard locks aren't tested by ART so it's hard to compare it fairly to other Sold Secure Gold-rated locks.
All in all, Onguard Pitbull locks are the lowest price Gold-rated D locks for high to medium crime areas and are a good short-term solution for low-to-mid value bicycles.
At £53, the lock is only £17 cheaper than our top pick and, as we've already discussed, cheaper locks are a false economy. Consider the value, monetary and sentimental, of your bike before you go down the road of saving on a lock.
If you are a beginner cyclist with a low-investment second-hand bike you could easily replace, this is an ideal lock for you.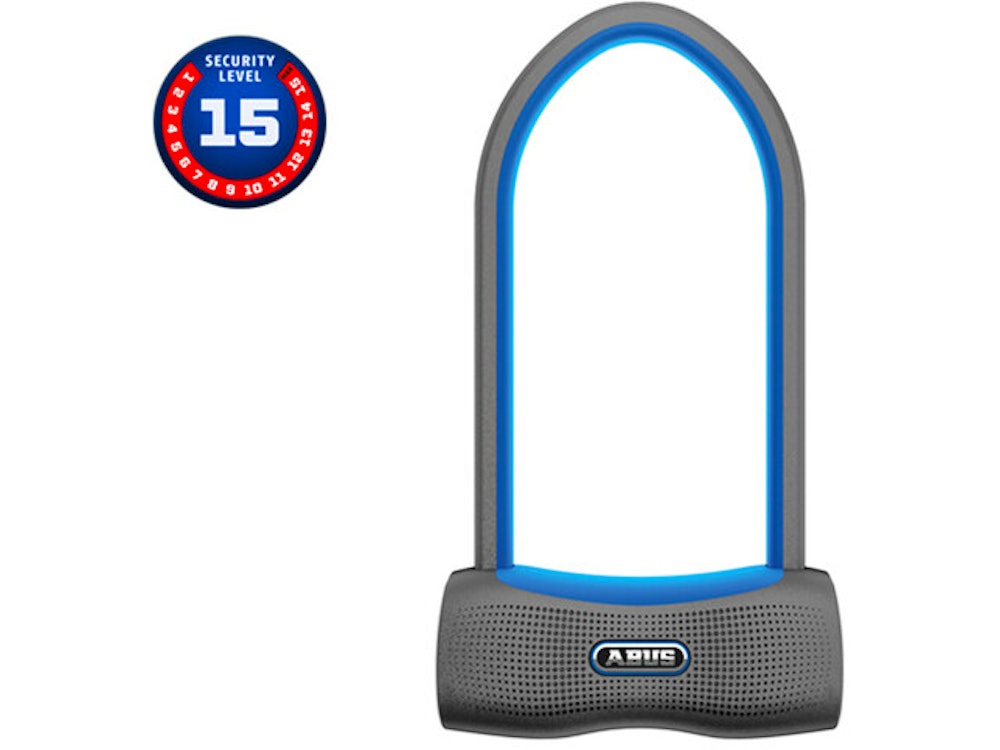 Price: £167.99
Almost identical to the Granit X-plus 540, ABUS 770A SmartX is ABUS' first smart lock.
Unlockable by Bluetooth, once the user arrives within a certain distance, the lock unlocks automatically. You can define how far away you're comfortable with being before your bike lock pops open.
It features the same cutter-deterring parabolic shaped cast-steel shaft as the Xplus 540 and, should you have already invested in this lock, your bike dealer can order the base unit as an add on.
Whilst the security rating (Sold Secure Gold and ART: 3 out of 5 stars) doesn't improve on the original analogue model, the alarm function does add some peace of mind for the user.
On the detection of micromovements, the lock will issue five loud warning beeps and an alert to your phone; if the movement continues, it will omit a much longer and louder alarm.
This is useful if you've parked your bike nearby and can get back to it quickly. It also has a GPS function so you can get back to your bike if you've parked it in an unfamiliar area.
It can be used by multiple users allowing you to set up bike-sharing, although we struggled to think of many scenarios in which this would be useful for a personal cycle.
Starting at around £160 for the standard size lock, before adding in the additional costs for mounts and cables, this isn't a cheap option for what is essentially a novelty upgrade on the Granit X-plus 540, and it's still a cumbersome size and weight, at 2 kg, despite being shorter than its analogue big brother. You may want to consider if keys are inconvenient enough to warrant the upgrade?
However, the extra usability, GPS and alarm function goes some way to justifying the price hike.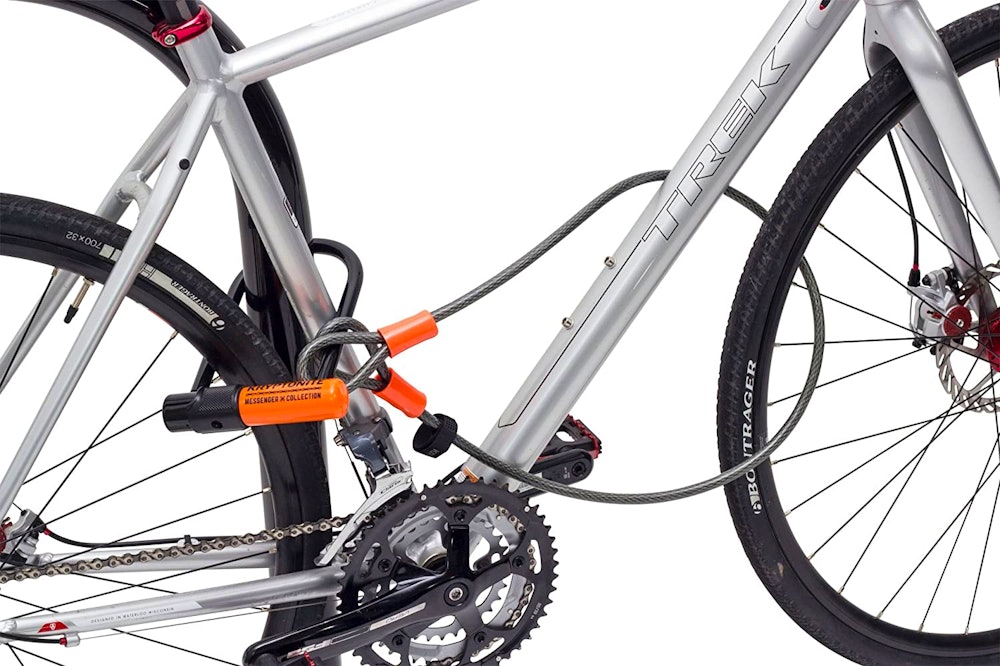 Price: £127.99
By far the strongest portable D lock on the market, the Kryptonite New York FAHGETTABOUDIT Lock Mini is a portable theft deterrent that fits in your pocket.
It has the same Sold Secure Gold rating and 4 out of 5 stars from ART, the highest ART rating of any lock we looked at.
If anything, this might be security overkill for a bicycle, as Sold Secure has also given it a Gold rating for use with motorcycles.
The lock is small which means it's easy to carry in a backpack or mount to your bike. This makes locking more difficult but also provides less space for a thief to interfere with a lever or bolt cutters.
Various third-party mounts are available, including ones which will mount it to your belt. It's small enough, at 8.3 x 15.3 cm to make a neat back pocket accessory.
There are two reasons this lock didn't make our top three, despite all the hype around it:
The price – For us, for a £50 upgrade, a lock would need to show a serious security upgrade on the New York Standard D lock, which it does only by a small margin.

The size – If using a lock every day to travel around town, this lock simply isn't going to work on its own; you'd need a larger D lock to give yourself ample opportunity to find a parking space wherever you go.
It also weighs 2.06 kg, making it the heaviest D lock we looked at.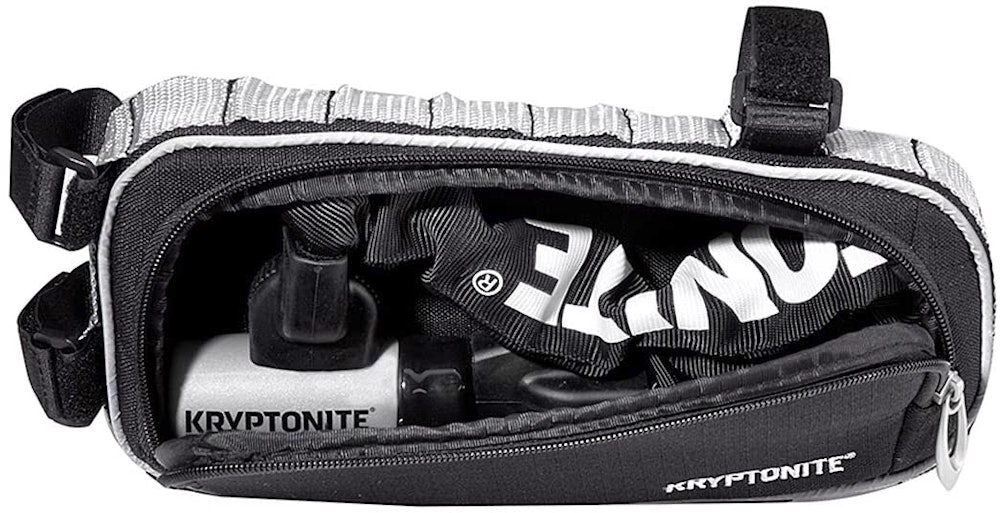 Price: £68.75
The Kryptonite Krpytolock Series 2 955 Mini is our pick of Kryptonite's chain locks. It is high security and highly portable, although heavy at 1.7 kg.
The shorter 55 cm chain provides extra security with tighter locking to bike stands and small lamp posts but it does limit your options when it comes to lock up locations.
The lock could easily and quickly be thrown into a backpack and, for those who prefer to mount a frame, a mountable transit bag is available from third party suppliers.
The 9 mm four-sided manganese steel chain links are covered in a durable weather-resistant nylon sleeve so there's no risk of rusting and weakening, and they're attached to a solid steel disc-like cylinder with an end link design that overcomes the usual weaknesses in chain locks.
It only comes with two ergonomic I keys, but these can be replaced through Kryptonite's key replacement scheme.
ART gave it a 2 out of 5 star rating but, as with other Kryptonite locks, anti-theft protection is available for bikes of value up to £300, as well as a lifetime warranty for the lock.
Price: £84.80
We love the idea of wearable locks as they are a great solution to lock transportation and portability and don't pose a risk to frame damage.
The Hiplok Super Bright Gold is the only other wearable lock which has a Sold Secure Gold rating.
The links into the shackle have been reinforced, meaning there are no points in the chain which pose a weakness to bolt cutters.
At 2.4 kg, it's one of the heaviest locks we looked at, but as it fits around your waist with a fully adjustable strap, this isn't as much of an issue as it would be with a D lock weighing down your frame or backpack.
It has one major selling point over other wearable competitors – it has an ultra-reflective water repellent coating. Reflective fabrics are much safer than high-vis colours and are very bright.
It is the same lock as the Hiplok All Black but that extra £27 for a reflective coating might well be a lifesaver in darker winter months.
Like Kryptonite, Hiplok offers a key replacement scheme, and the lock comes with three keys. Its 85 cm circumference means it offers plenty of locking options.
This is a serious heavy-weight lock for the protection of a good bike in a high-risk inner-city area.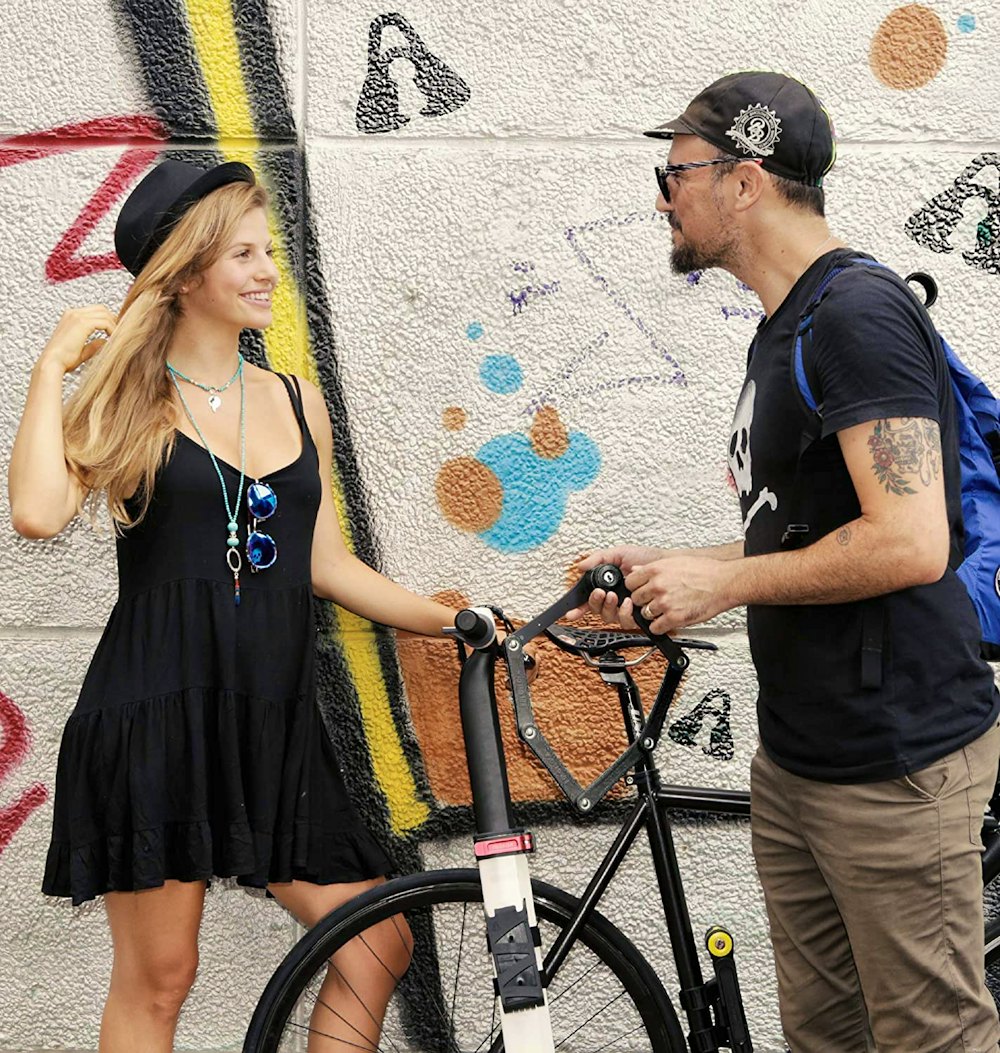 Price: £74.99
The FOLDYLOCK Compact is your answer to medium-security, versatility, portability and protecting your paintwork.
The FOLDYLOCK Compact made our list for its lightweight, neat design that doesn't compromise on security.
Whilst D-locks are consistently reviewed showing problems with mounting, the FOLDYLOCK Compact can mount either to water bottle hooks or with velcro tabs and doesn't rattle at all.
Its versatility means there are options when it comes to locking up and the chain itself is long enough to go around the front wheel, frame and a lamppost – no need for any fiddling with extra cables.
It folds away to a 19 x 6 x 4 cm package so will easily fit comfortably inside any frame. The weight, just over 1 kg (comparable to the lightest D lock), accounts for the steel links, but the plastic coating prevents any frame damage as well as ensuring the bike is completely weatherproof.
It comes with a Sold Secure Silver rating which, given the price, raises some questions over whether or not this lock is worth the benefits of the lighter load on your bike. However, it has few reports of theft.
It is half the price of ABUS Bordo Granit Xplus 6500, which is the only folding lock we looked at with a Sold Secure Gold rating.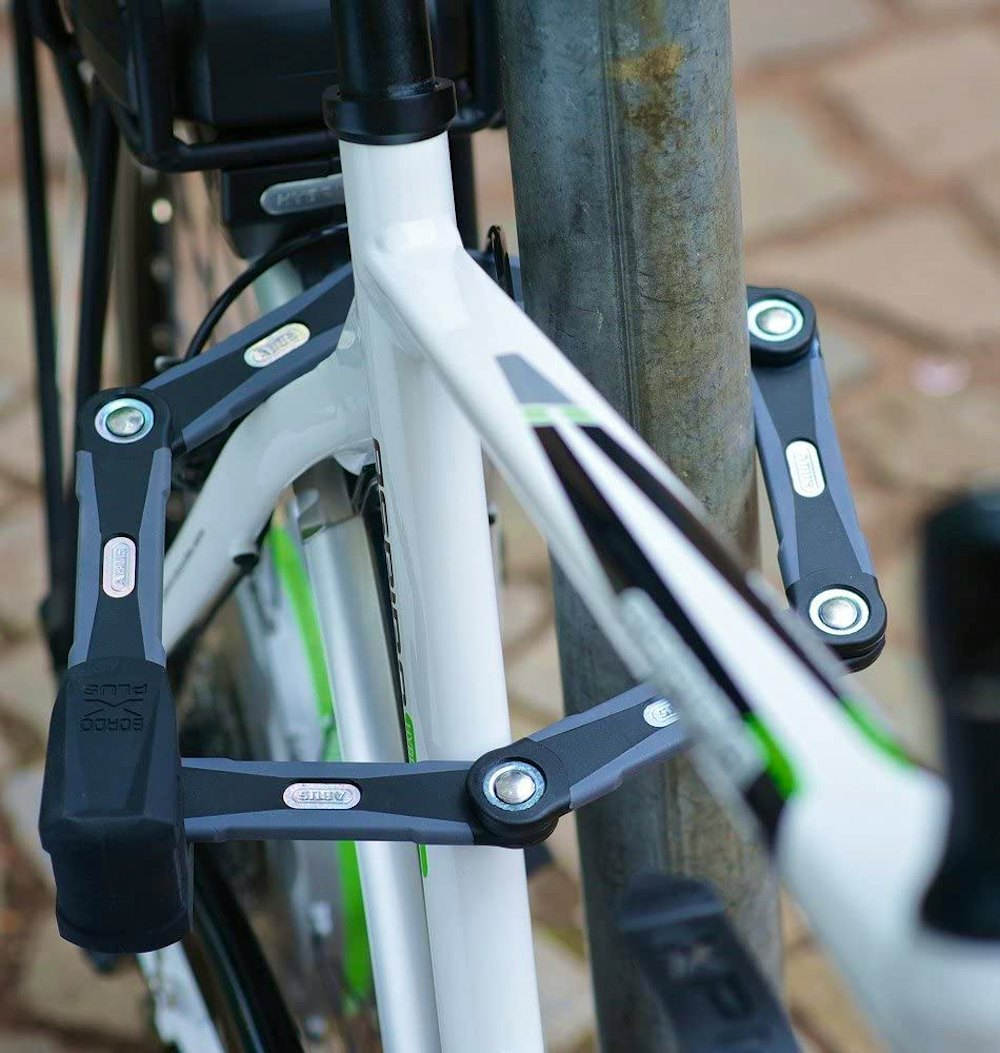 Price: £141
ABUS has been manufacturing folding locks for over ten years and this top of the range folding lock is the best selling of the Bordo Granit range.
It might look weaker than a D lock but it comes with a reassuring Gold Sold Secure rating, 2 out of 5 stars from ART and the added satisfaction of tidy foldable storage that will fit neatly inside any frame.
The 5.5 mm hardened steel links are covered in a soft silicone coating so they won't damage your frame. We loved the low-key, un-eyecatching design, but at £141.99, this lock is a big investment to make for improved portability.
Its 85 cm locking circumference will provide plenty of lock-up options.
At 1.76 kilos, even though it's portable, it's not light, so this is a heavy investment to make for something which is as, if not slightly less, secure than our top choice ABUS D lock. However, if portability is your priority, this is the most secure folding lock available.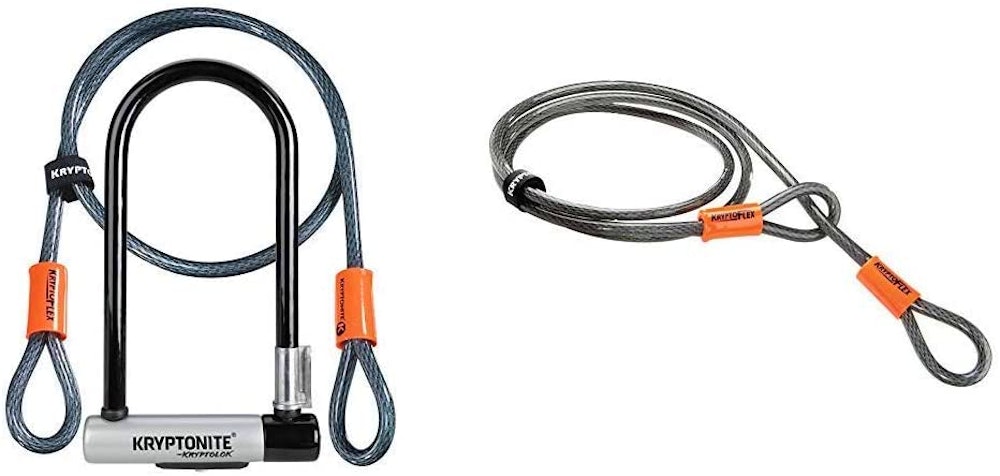 Price: £39.99
The Kryptolok Standard D Lock series locks are great, affordable options if you are looking for a good Sold Secure Gold-rated lock to use in conjunction with independently provided bicycle insurance.
Despite the lower cost and narrower shackle (which could be cut through more quickly than other D locks), it still comes with Kryptonite's anti-theft guarantee.
Most bicycle insurance companies will require you to buy and register a lock with a Sold Secure Silver or Gold rating, depending on the value of your bike. Some customers we spoke to said this lock was adequate for an insurance company to provide cover for a new bike worth over £1,000.
Without taking insurance into account, The Kryptolok Standard D Lock still has some advantages over its more expensive cousins:
It comes with a cable, which costs £15 if bought separately.

As with other Kryptonite products, the brand offers a lifetime warranty on the lock as well as compensation for theft if you register on the anti-theft scheme.
The Kryptolok series comes in mini, standard, long and also a wide size, at varying prices, each with their own limitations in locking.
It can be mounted using the unique Kryptonite FlexFrame bracket but this is a fiddly piece of kit that is difficult to install, and may result in a lock that waves around inside your frame.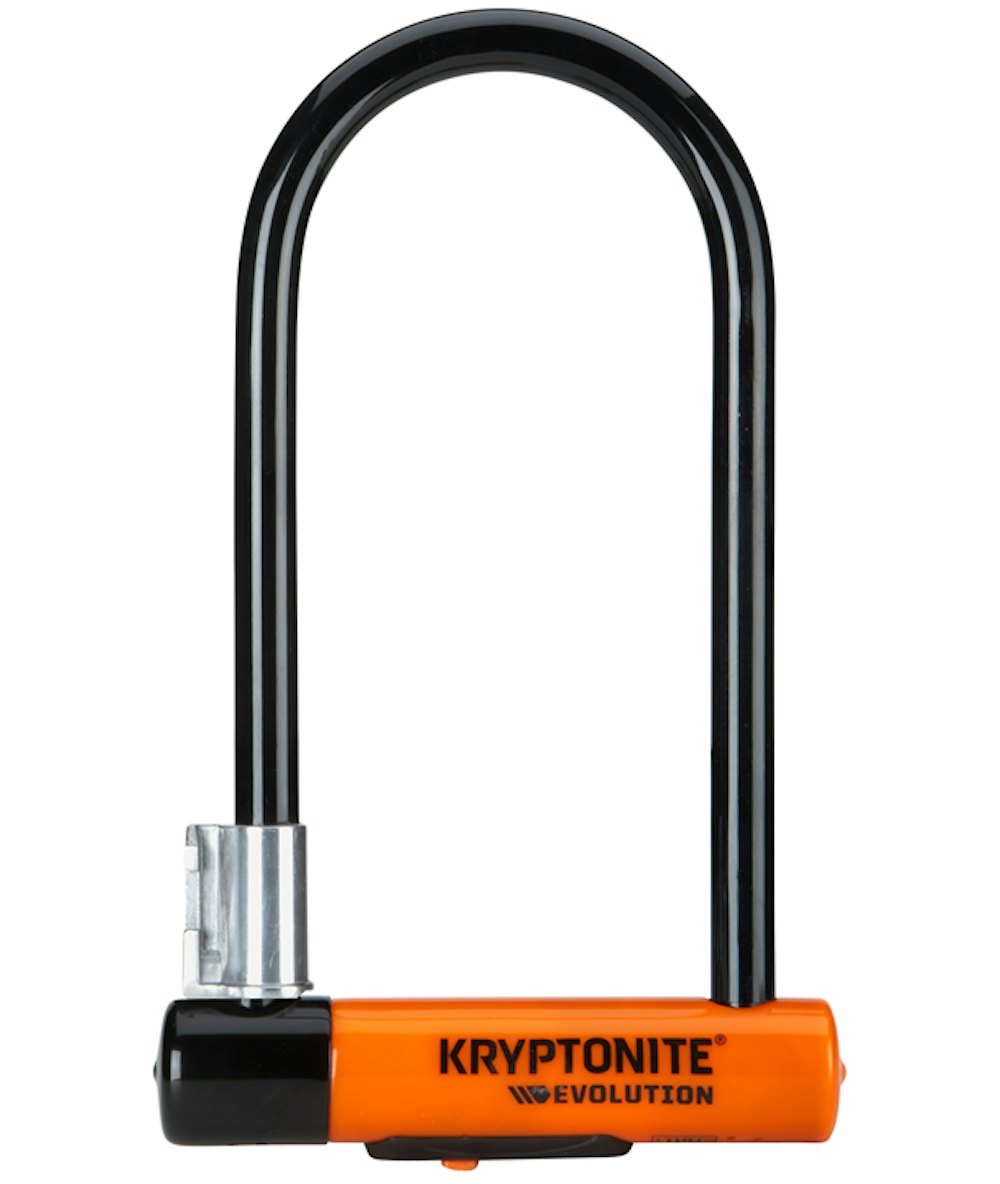 Price: £40
The next model up in the Kryptonite series, the Kryptonite Evolution Standard Lock, is probably the lock you'll see most frequently around the UK's bikeable commuter capitals.
Still with a Gold Sold Secure rating, the evolution series locks have some small but significant upgrades on the Kryptolok Standard – they come with three keys (not two), they have 14 mm shackles (1 mm wider than the Kryptolok Standard) and are only marginally heavier than the Kryptolok Standard series.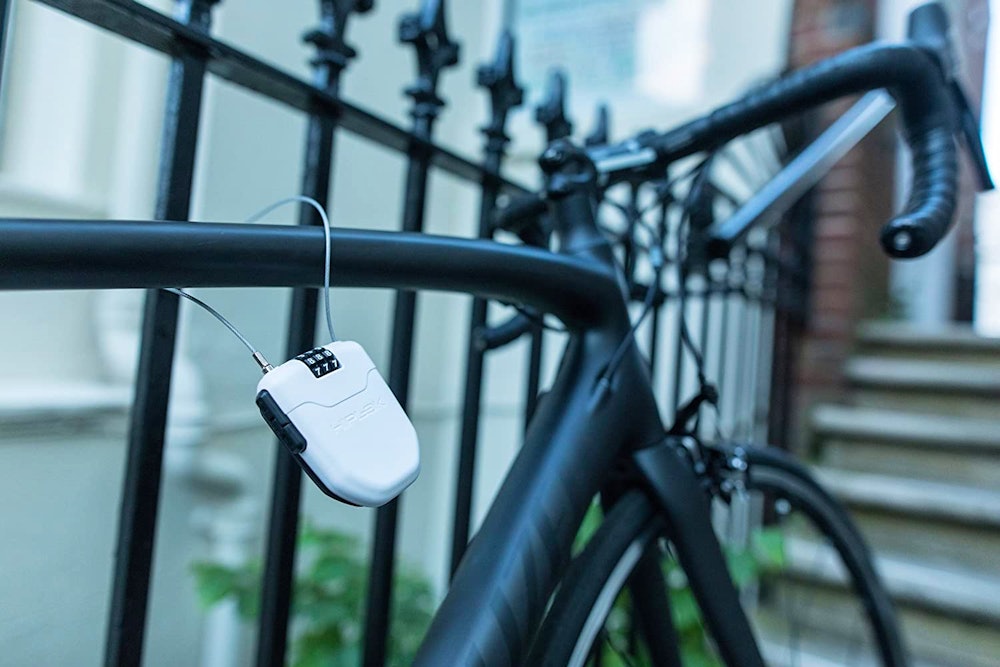 Price: £22.99
The HipLok FLX is a 1-metre retractable steel cable lock with a three-digit combination code and integrated 10 lumen rear light, making it a useful back up for those days your regular bike lights are out of charge or left at home.
It is designed to mount under your seat but can also lock onto your jersey, belt or back pocket, making it quick and easy to use.
The HipLok FLX is designed for countryside road trippers who want to pack light for long days out and it doesn't provide adequate security to leave a bike unattended in a high-risk inner-city area.
But, for the occasional dash into a cafe or to keep your bike secure on a train, this is the best of the lightweight locks we could find.
We'd buy it to use in combination with a Gold-rated D-lock and as a neat accessory that provides an extra level of security without overloading the frame.