How to Resign From Your Job Gracefully: 10 Tips
The day has come for you to resign from your current job. It might be because:
You have been offered a new and much-improved position elsewhere
Self-employment calls as you set up your own business or go freelance
You have decided to resign for other reasons, such as to escape a negative work culture
Whatever the drive is to leave, it is always in your best interest to handle the resignation process in a professional and constructive way to protect your reputation and support your future career.
10 Key Tips for Quitting Your Job Gracefully
Resigning from your job does not have to be a torturous process if you plan ahead and keep a positive mindset.
1. Organize Things With Your New Employer
If you are resigning to start a new job elsewhere, always make sure that everything is in place for that to happen before you hand in your notice.
Have you received written confirmation of your job offer, salary, accompanying benefits and start date? If not, what is holding that up?
If your new employer generally does not make their offers in writing, ask them to make an exception for you. State that you need written confirmation before you can resign from your current position. This protects you against any misunderstandings that may jeopardize your job move.
When it comes to references, has your new employer received these yet and are they happy with them? Could they rescind the job offer if they are unhappy with your references?
Is there any information or documents that they need from you, and at what stage do they need this?
It might be that certain information is required to make you a job offer, while other information can be handed over once you begin your new job. Check which of these scenarios apply.
2. Give Sufficient Notice
Generally, US employers require two weeks' notice, but it is always recommended that you check your employment contract to make sure.
Your notice period should ideally facilitate a smooth move from one job to the next with no unpaid period.
If you are expected to begin your new job on, for instance, the first day in May, then your notice should be given two weeks before this.
One thing to bear in mind is your employer's general policy on resigned employees.
Would they expect you to work for as long as it takes to complete current projects?
Will you be expected to take garden leave for your notice period?
Check the staff handbook and company procedures to find out.
3. Practice What You Want to Say
Resigning from a job is rarely a comfortable process to go through but a large part of that discomfort can be alleviated by knowing exactly what you will tell your boss about why you are leaving.
Before you speak to your boss, you should have the following things clear in your head:
Your reason for leaving
How much notice you are giving (for example, the standard two weeks or longer)
The last date of your employment with the company
Your reason for leaving could be as simple as that you have been offered employment elsewhere. Alternatively, you could go into more detail about why you sought new employment (for instance, higher salary or better employee benefits).
Practice what you will say beforehand but bear in mind that your boss may throw a curveball into the mix by making a counter-offer, perhaps a higher salary.
Decide what difference a counter-offer might make to your situation. Think this over fully before handing in your notice.
You probably have a good idea of how your boss will react to your resignation. Incorporate that into how you will approach them.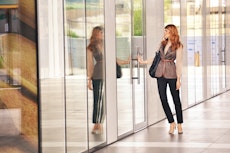 How to Resign Gracefully
4. Tell Your Boss First
If you have received a job offer, it may be tempting to tell your workmates. However, the first person that should know you intend to leave is your boss.
It is always best to tell your boss about your resignation in a face-to-face meeting. This may be uncomfortable for you, but it is the respectful and professional way to deal with the situation.
If your boss works in a different location to you and it is not possible to meet up, then the next best option is a video-conferencing call (for instance, Skype or Webex).
If that option is not available, then a telephone call to your boss to discuss your resignation is advised.
The least preferred option, if all else fails, is to email your boss. However, it might be a good idea to send an initial email to ask for a meeting or telephone discussion first.
If it becomes impossible to reach your boss, then contact your HR department or your boss's line manager instead. To find out which of these is most acceptable, check the staff handbook and company procedures.
5. Put It in Writing
The real value of a resignation letter is to avoid misunderstandings.
For instance, your boss is working off-site for a week. You tell her about your resignation via a Skype call. She does not process the correct paperwork or inform HR until she is back on-site, almost a week later. HR therefore take your date of notice as starting from that day, rather than the day you informed your boss.
Here is another example; You meet with your boss to hand in your notice. Your boss makes a counter-offer, which you refuse. Your boss, however, says to think it over. You assume that you have given notice on that day. Your boss thinks you may still reconsider and therefore does not inform HR.
Your resignation letter should state your intent to resign from your position, the date you gave notice of this intent, and the length of your notice period.
There is no need to explain your reasons for leaving or details of your new position or employer.
Check the staff handbook and company procedures to find out what the expected process is; for instance, who to hand the letter to.
The ideal time to hand over your letter of resignation is when you meet with your boss. Check whether HR needs a copy of the letter too.
6. Don't Be Too Honest
The likelihood is that your boss will ask why you are leaving.
You can give as simple an answer as "I have a new job" or you can go further into the reasons if you feel comfortable doing so.
However, it is never a good idea to turn this into an opportunity to criticize your employer or bad-mouth colleagues.
Equally, you do not have to tell your boss anything about your new position if you do not want to.
The best approach is always to act professionally and respectfully to your boss, your colleagues, your employer and yourself.
7. Ask Your Boss When You Can Tell Others
You may feel that it is up to you to decide when to tell your colleagues that you are leaving, but your boss may well appreciate the chance to be involved in that decision:
When will colleagues be told?
Meeting or email?
Told by you or your boss?
All told at the same time, individually or in groups?
For instance, your boss may want to break the news as part of a team email which also invites applicants to apply.
8. Finish up and Leave It Tidy
It may feel as if you do not need to work as hard during your notice period but, if anything, the opposite is true.
First, however unhappy you were in your current role, it is always to your advantage to act professionally and protect your reputation.
Who knows if your boss, or other managers working for your current employer, know or have dealings with your new employer? You may even wish to move back to your current employer at some point in the future.
The best plan, therefore, is always to leave your current employer and team with a good impression of you.
Next, look at your workload and decide:
What can you finish before you leave?
What can you handover to another member of staff?
What will you have to leave unfinished that cannot be given to anyone else?
What is a rolling task that recurs regularly?
What work-related appointments and meetings are arranged for after your leaving date?
The best result will always be to finish your workload before you leave, but where you have tasks that you cannot fit into the time-frame, you may be able to hand these over to other members of staff. It may be a good idea to discuss this with your boss.
If part of your workload will not be finished before you leave, you must leave notes on how to carry out those tasks and any progress that has been made up to that point. Contact colleagues who are affected by the progress of those tasks to let them know that your successor will be taking on that workload.
If you have a rolling task that recurs regularly, for instance, monthly reporting of figures, leave a reminder of this for your successor.
If you have arranged appointments or meetings that fall past your leaving date, decide whether these should be canceled, passed to a colleague, or whether your successor will attend instead.
If it is the latter, leave a reminder and related information.
Finally, bear a thought for your successor when leaving your workspace. It will be a simpler and more pleasant experience for them to start their new role if you have left a tidy desk or office.
Complete any filing, throw away rubbish, leave documents and equipment in an orderly fashion, and take your personal items with you.
9. Offer to Help With Your Replacement
There are three main ways you can help with your replacement:
You can leave the information on your role for them
You can train them
You can help with their recruitment
Depending on your boss's management style and whether you are part of a team, it may be that nobody knows your job better than you do.
Even with an HR-supplied job description, it can be difficult for a new starter to fully realize the extent of their new job.
Make life easier for them by leaving a procedural document for the role, including:
A copy of that HR job description
A schedule of what happens on which day (for example, diary meeting with the manager you support on a Monday), which week (for instance, monthly figures during the last full week each month) or which month (such as end of year accounts)
Who you report to and who reports to you
Where the staff handbook and company procedures can be found
Arranged appointments and meetings
The workload they are inheriting from you
Any other information they need to know to fulfill the role
If your replacement begins work during your notice period, it will be useful for them to shadow you and learn the role that way.
The advantage of this arrangement is that you can not only show them how to do the job, but you can also introduce them to the members of staff they will be working with.
Finally, your boss may find it helpful if you take part in the recruitment process for your replacement. You are the perfect person to explain exactly what skills and knowledge are needed to fulfill the role and make a judgment on which person will do it best.
10. Keep in Touch
You might wonder why you would want to stay in touch with a company that you no longer wish to work for.
You may wish to apply to your current employer for a job reference. Knowing who would provide that job reference – your current boss, other managers or HR – is important for any future career moves.
It may be that although you have changed your employer, you are still working in the same industry. Your boss or colleagues could be useful contacts to have.
Finally, you may wish to return to your current employer at some point in the future.
Keeping in touch with them can mean that you find out about job opportunities there before they become common knowledge.
Maintaining an ongoing relationship with your boss or colleagues can be a foot in the door should you wish to return.
What If Your Boss Counter-Offers?
You should always be prepared for your boss to counter-offer when you hand in your resignation.
Whether you accept or even consider their offer will rely on your reasons for leaving. For instance:
Are your reasons for leaving down to the company culture? This is unlikely to be rectified by higher pay or improved benefits.

Are you leaving because you want a pay rise? Your boss's counter-offer could be the answer.

Is your dream to go self-employed? Your boss is unlikely to be able to offer you anything to match that.
When planning how to tell your boss that you are resigning, think about what a counter-offer would mean to you.
Get Clear on What You Are Owed
It may well be that this is a conversation to have with HR instead of your boss, but do make sure you know exactly what you will receive when your current employment comes to an end and how your benefits will be affected:
Final salary payment
Payment for outstanding holiday allowance
Commission and bonuses
Company pension
Shares
Make sure you receive confirmation in writing of what you will receive and on what date.
Final Thoughts
Handing in your notice does not have to be a stressful experience if you plan ahead, make sure you have all the information you need to hand and treat everyone, yourself included, with respect.
Handle it well and you can move on to the next stage of your career with ease.
---