How to Write a Nonprofit Cover Letter (Template and Example)
When applying for a job, you will usually be required to send a cover letter in addition to your resume. Your cover letter gives you the chance to communicate why you are the right person for the position.
Although it is possible to tweak sections of a resume to highlight certain skills or experience relevant to the vacancy in question, a cover letter allows you to be more specific. It is also an opportunity to showcase relevant elements of your personality, goals and interests. By writing a cover letter that is both interesting and relevant to the position, you stand more of a chance of piquing the interest of the hiring manager and getting an interview.
In highly competitive industries where a single vacancy can draw hundreds of applications, a strong cover letter can mean the difference between your resume being looked over for consideration or discarded entirely.
What Is a Nonprofit Cover Letter?
When applying for a job, the aim of sending a cover letter to accompany your resume is to increase the chances of your application being noticed and get you shortlisted for an interview.
As with any vacancy, especially one that is likely to attract a significant number of skilled applicants, the hiring manager will be looking for cover letters that are noteworthy and relevant, rather than generic.
An outstanding cover letter will also mean that the company might have a genuine interest in meeting you prior to the interview stage. They will want to see how you measure up to what you have written.
It is important to find a balance between what you know they want to read and what you are genuinely able to put across in person. This is especially important when you are applying to a nonprofit organization, as a high level of authenticity is normally a prerequisite to success in this field.
Nonprofit organizations exist to further a social cause and provide a benefit to the general public. They are granted tax-exempt status by the IRS, which they do by requesting a 501(c) prior to operating. Their primary purpose is not to make a profit, and many such organizations manage by using volunteers. However, nonprofits can also recruit paid employees, providing their proposed remuneration is deemed 'fair'.
Many people desire to work for a nonprofit because they can use this career path as a way to:
Further a cause that they believe in
Meet like-minded colleagues
Gain a sense of achievement and belonging through their work
What Is a Nonprofit Looking for in a Cover Letter?
When you apply to a nonprofit organization, the reasons behind your application need to be clear and quantifiable. Inquiries or cover letters that are vague or abstract are unlikely to get a response from a busy nonprofit as they won't have the time or resources to chase leads that are not immediately promising.
Nonprofit recruiters want to see evidence that your reasons for wanting to work for them are genuine. They will also want to see that you have taken the time to research them and have an appreciation for their goals and the work they do.
Some key ways in which applying to a nonprofit differs from a corporate setting follow.
Alignment of Values and Goals
They want to see how their values and goals as a company align with your own, not that you have simply memorized them from their website.
You could try to use some practical examples of this, for example:
Volunteer work you have done
Campaigns you have previously worked on
Regular fundraising you do for a relevant cause
The aim here is to keep referring back to the organization itself and how you can fit with it. Relevance is key.
Matching Future Plans
Nonprofits tend to have cohesive goals in mind. They need to see how your plans for the future might line up with their own.
Many companies will want to know where a candidate sees themselves in five or ten years, but a nonprofit will be anticipating significantly different answers to those you might give in a corporate setting.
Try to answer this by referring not only to your career but explaining how this fits into the wider context of what the nonprofit is trying to do.
Driven by Purpose, Not Money
The goal of most nonprofits is to effect some kind of change, whether political, environmental or other. It is wise to keep in mind that, although you naturally wish to advance your career, nonprofits will usually be searching for someone who can consider the 'bigger picture' above their own interests.
This does not mean that the nonprofits do not seek candidates who are equally as bright and ambitious as those within the corporate sector, but they will likely be expecting this ambition to manifest itself differently.
The fastest way to get your application rejected by a nonprofit would be to state that you are motivated by money and power.
Specific traits a nonprofit will look for in a candidate are:
Honesty
Integrity
Accountability
Commitment to sustainability
Passion
Empathy
Many of these qualities are desirable in candidates across all industries, but nonprofits, who rely heavily on donations, volunteers and maintaining a positive reputation in the public eye, have to be especially careful about who they employ to advocate their specific cause.
When a vacancy opens up in any company, the hiring manager will want to fill it with the best candidate for the job. This is the person who will bring the most benefit to the company. A nonprofit will be seeking not only the best candidate for them but also someone who can benefit the wider cause that they represent.
To appeal to a nonprofit, you require a genuine interest in the organization's mission and a commitment to their cause. Unlike with applications in other sectors, a list of excellent qualifications and a cover letter peppered with industry terms are unlikely to impress.
Nonprofits require genuine people, and although it is desirable to be a high achiever, an experienced candidate who can convey how principled, empathetic and committed they are might stand just as much chance as those with top qualifications.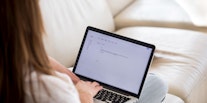 How to Write a Nonprofit Cover Letter (Template and Example)
What to Include in Your Nonprofit Cover Letter
As with any application, it is vital to read and understand the job description and keep this in mind when you are writing your nonprofit cover letter and checking over your resume.
Write your nonprofit cover letter in a clear, professional way, bearing in mind the following key points:
Who you are (relevant personal information, education, experience, qualifications)
Why you are the right fit for the organization
What you have to offer/how you will have a positive impact on the organization
Whether you have researched the nonprofit and understand their values and goals
Specifics (such as their mission statement, an award they have earned, or a recent project they have publicized)
How to Write a Nonprofit Cover Letter
Use the following steps as a guide to help you to write your own nonprofit cover letter:
Begin with a professional greeting.
State the title of the role you are applying for, and why this specifically interests you.
Tell them how you heard about the vacancy, unless it's a speculative application. Were you alerted to it via volunteering work or through your studies?
List relevant qualifications.
Showcase your key skills. Keep referring back to the nonprofit's niche.
List relevant experience (including volunteering, past jobs, research projects).
State some information you have found through research about the nonprofit (for example, mission statement, company values, recent successes, and why this means something to you).
Call to action. For example, add your contact details and state how you are looking forward to hearing back from them.
End with a professional sign-off.
As when writing a cover letter for a job in any sector:
Use a clear, professional-looking font (such as Calibri, Arial, Times New Roman)
Proofread and edit for spelling, punctuation and grammar mistakes
Make sure your contact details are correct
Example Cover Letter
Kayla Martinez
3312 East Street
Phoenix, AZ 85034

October 3, 2021

Mr S. Harmon Center for Biological Diversity P.O. Box 710 Tucson, AZ 85702-0710

Dear Mr Harmon,

I am writing regarding the Social Media Strategist vacancy at the Center for Biological Diversity. I was notified of this vacancy by my former English lecturer, who is aware of my passion for the environment and flair for marketing and writing.

I am a digital native who lives and breathes social media. I am familiar with the most popular social media platforms and I have a proven track record of success within digital marketing.

Most recently I have been working as an intern, managing the communications for a local wildlife rescue service. My work was instrumental in publicizing their latest campaign to record the activity of nocturnal animals, to halt damaging construction work on their habitat. We campaigned tirelessly (using grassroots tactics, online petitions and social media) and gained the attention of local press and news channels. We eventually succeeded in rerouting part of the construction work which has saved the lives of many species. I hope this will resonate in particular with your organization, as I know its roots lay in the surveying of owls in the wilderness back in 1989.

Before my internship, whilst studying I worked part-time for a medium-sized corporate organization. I helped them to redraft and publish their statement on sustainability and the environment.

In addition to my bachelor's in marketing, I recently took night classes in 'Social Change: How Can Digital Marketing Help?' – which I found empowering and fascinating. I am keen to put the skills I have learned into practice. For my bachelor's, part of my thesis was about how marketing can help fashion brands to commit to being more environmentally friendly. I think marketing is a powerful tool that should be used for the greater good of the planet.

Your organization is of particular interest to me because I am passionate about endangered species and the environment. I realize that your campaigns have an unparalleled level of success (with over 80% of lawsuits you have initiated gaining favorable outcomes) and I would welcome the chance to use my excellent communication, organizational and negotiation skills to help in your fight against future threats to biodiversity.

If you wish to contact me about this application, or any future vacancies that may arise, my number is 602-509-6495 and my email address is k-martinez1991@gmail.com. I look forward to discussing this incredible opportunity with you further.

Kind regards,

Kayla Martinez
[Your name]
[Your address]


[Date]

[Hiring manager's name]
[Organization's address]

Dear [Name of hiring manager],

I am writing concerning [insert title of vacancy you are applying for]. This role appeals to me because [X] is something I am especially passionate about.

My dedication to [X] is the driving force behind this application. In addition to completing my studies in [X], I have spent many years/months volunteering as a/an [insert title]. After achieving a [insert grade/qualification], I feel the time is right to begin my career in a field that means so much to me.

During the time I have spent studying and volunteering, I have learned many valuable skills, met some incredible people and been lucky enough to be part of some remarkable projects. My favorite project was [X] because [insert reason that aligns with the vision of the company you are applying to if possible].

I am keen to find a place in an organization where I can continue to build on my skills and experience, as well as to find practical ways to effect real change in the world. I feel I would be an asset to your nonprofit organization, not only because of my passion and dedication to [X] but also because your mission statement/company values of [insert relevant statement and values] align with my own values and goals [insert reason your goals match].

I am looking forward to discussing this exciting and important opportunity with you further. If you would like to contact me by phone, please call me on [XXX XXXX XXX] or email me at [email@domain.com].

Thank you for taking the time to read my letter and resume, and for considering me for this vacancy.

Yours sincerely,

[Your name]
Final Thoughts
Nonprofit organizations may attract empaths who thrive on making a difference and effecting change. However, they cannot function on sentiment alone.
Drafting a clear, relevant cover letter is vital if your goal is to secure yourself an interview for a role within the competitive nonprofit sector and take a step closer to finding a fulfilling, meaningful career path.
---