Best Job Boards for Freelancers
In 2020, according to Statista, 59 million people were doing freelance work in the US.
This is a developing trend that has seen a year-on-year increase, and remote working is following the same pattern.
As a remote worker or freelancer, finding the appropriate projects is imperative to allow you the lifestyle you want from your work, and a job board could be the answer to preventing that hustle from becoming a drag.
Whether you are a freelancer for the escape from the 9 to 5, or you are a digital nomad preferring remote work, the right job board will get you the projects you need, when you need them.
An online job board is a search engine for jobs.
They display job openings created by recruiters and organizations and let workers apply for them from the posting.
Some job boards offer a wide range of roles across a broad range of industries, while others are more specific to a particular skill set.
Freelancers and remote workers might not find the right roles in traditional job boards.
Contracts and ways of working might not align with the 9 to 5 corporate world.
Therefore, looking for a job board for the freelancer and a remote worker is a better option.
Finding a reliable job board with openings suitable for your lifestyle and skill set will mean that the constant hustle to find relevant work is less of a concern.
Why Does It Matter Which Job Board You Choose?
Not all job boards are created equal, so it does matter which board you choose for several reasons.
The first is efficiency. Job boards that allow storage of resumes and portfolios for easy sharing with potential employers are great for details passed with a single click.
The quality of employers and available roles are also important, as this means you are more likely to find a project that meets your salary expectations without having to spend hours combing through the entry-level positions that you are essentially overqualified for.
If you are choosing a broad-spectrum job board, you might have to work a harder to find the roles that are specific to your skillset.
This could be alleviated by using an industry-specific board, but then there is the risk that there might not be as much choice (and stronger competition).
It is important to consider that while some job boards have no cost for workers (the fees are paid by employers posting the roles), there are several boards that either take a fee from your rate, or ask for a subscription.
Features to Look For When Choosing a Job Board
To make the right decision regarding the right job board for you, there are a few criteria that you should consider.
Deciding what you want from your work projects is a great starting point.
You will be looking for roles that match your skill set and salary expectations, of course.
Relevance
Industry-specific job boards are great for those who want to find quality work in their niche.
However, do not dismiss more generic job boards if you want more choice of employers.
If you are creative, there is no point in registering for a job board that caters to coding or programming, for example.
Choose a board that has a good selection of roles that fit what you are looking for.
Filtering Criteria
Searching through potentially thousands of roles to find ones that match what you are looking for is a drag.
Therefore, whatever job board you choose needs to have efficient and effective search and filtering functions.
Look for boards that have remote location options, and can be filtered by employment type (full-time, part-time, freelance) for the most effective searching.
Profile Creation
In most cases, job boards will ask you to complete a profile and upload a resume and cover letter.
This not only makes it simple to apply for a role you are interested in but provides a searchable database where potential employers can find your details and contact you if they have a position that matches your requirements.
Creating a profile might take a few minutes initially; however, it can save a lot of time in the long run.
Pitching?
In some cases, freelancers are expected to make a pitch for a role and effectively bid on the opening.
This might not be the way you want to be considered for a role; therefore, it is worth looking at what the application process looks like when you use the board to see if pitching and bidding are a part of it.
Advice and Suggestions
Does the site consist purely of pages of job openings, or does it also provide useful job-related advice?
The depth of help you can receive from the site might help you hone your skills or develop new ones and allow you to learn more about what specific employers are looking for in their freelancers and remote workers.
Some job boards will also suggest potential roles that you might be interested in based on your resume and profile, with notifications when something suitable is posted.
Legitimacy
As mentioned earlier, not all job boards are created equal, and, unfortunately, not all freelance and remote positions advertised are legitimate.
It can be difficult to spot a scam job; however, if a role sounds too good to be true, it is worth researching before you commit to anything.
Some job boards are set up to discourage scammers, either by charging for postings, or through screening posts.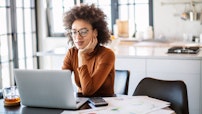 Top 10 Job Boards for Freelancers and Remote Work
Best for: Sharing your professional profile
LinkedIn is the best-known professional networking site globally, and millions of jobs are posted on the job board.
The search parameters to filter the available roles are simple and easy to use, and with one click, you can share your whole LinkedIn profile with recruiters.
With an up-to-date LinkedIn profile, recruiters receive your resume and so much more. You can update your profile to become a portfolio and share your best work.
LinkedIn provides lots of resources aimed at helping professionals secure their next role and offers skills tests; therefore, you can demonstrate your competence and ability for relevant roles.
LinkedIn is excellent for freelancers and remote workers because the roles are diverse, and top employers use LinkedIn to source candidates for job openings worldwide.
You can search and apply for jobs for free, but there is a Premium version that gives extra support for applications, including letting you know which jobs you would be a top applicant for.
Best for: Freelancers
Upwork is one of the largest freelance marketplaces globally and covers almost all industries with a focus on project work.
While short-term projects are the norm, there are opportunities for long-term contracts for both entry-level and experienced professionals.
As a worker, applying for roles through Upwork means bidding for positions, and the site gives a rating depending on how well you have completed work before the higher the rating, and the higher the payment rate you can achieve.
There is often a lot of competition for roles, so this can be frustrating to newcomers.
Upwork is a commercial marketplace; therefore, fees are charged to users when they are accepted for a role, and this can be up to 20% of your earnings.
It offers a great range of opportunities made for freelancers, however.
Best for: Wide range of freelance jobs
This simple-to-navigate site is as described: a job board specifically for a range of freelance jobs.
With roles available from design to writing to programming and everything in between, Freelancer.com has had more than 16 million job postings since its creation.
Popular with top employers and suitable for freelancers of all experience levels and backgrounds, Freelancer.com allows for a quick and easy profile setup.
Therefore, employers can browse to find the right freelancers for their projects.
The job search function is detailed and allows for simple filtering to present you with the right roles that suit your needs.
Freelancer.com is a commercial marketplace, so you can expect to pay fees of about 10% of your earnings on any roles secured through the site.
Best for: 'Traditional' job roles suitable for remote workers
Indeed might be a job site best known for traditional job searching.
However, the sizable database of employers and a search function that includes remote and freelance options make it a valuable resource for those who care less about 9 to 5 positions.
Indeed has an in-depth profile creation for workers, including storage of resumes in a searchable database.
Not only can you save a search to perform it again later, but you can also get notifications when jobs are posted that match your requirements.
There is a lot of advice available from Indeed, and applications are made through the site.
It is free to use for workers, and recruiters have to pay to upload a job post.
Best for: All remote working
Since 2007, Flexjobs has been placing remote workers into interesting roles in more than 50 career categories.
Roles on the site are suitable for freelancers and virtual workers, and there are projects, part-time and full-time contracts available.
Flexjobs is a subscription service, with costs starting at $14.95 per month.
As member freelancers and remote workers can take skills tests to prove competency, however, get advice from articles and participate in webinars, and receive exclusive discounts from partnered businesses.
Searching and applying for roles is simple, and the site is built to be accessible for both entry-level and experienced workers.
There are even executive and management-level remote jobs available.
The monthly subscription provides a guarantee that all job postings are screened to improve legitimacy, and this popular platform is employed by employers from a wide range of industries, including big brands and start-ups.
Best for: Tips and advice
Wikijob is the best place to find industry-relevant job advice on everything from writing a resume to getting through an application process, from interview advice to assessing pay and benefits and even next steps when you are ready to leave a role.
As a job board resource, Wikijob provides several opportunities by sector, allowing for the uploading of a resume to our searchable database.
For freelancers and remote workers, the advice you can find here will be invaluable in ensuring you are receiving the best from your business.
This includes details on health insurance, retirement savings and other money management tools, and information regarding what to expect when you apply to work for a specific employer.
Best For: UK-based freelancers
This UK-based job board has all the 'traditional' job board perks, including: saved searches, suitable job suggestions and notifications, the opportunity to upload a resume and cover letter, and one-click applications.
The search function is simple to navigate, and you can filter by salary requirements, location and contract type (freelance, part-time, full time).
Reed is free for workers, and employers have to pay to advertise there; therefore, job postings are often more reliable and less likely to be scams.
Jobs posted on Reed are more likely to be structured around the 9-5 mentality; however, there are numerous industries covered and plenty of remote and freelance opportunities.
In the US, Monster offers similar functions.
Best for: Extensive choice of remote work options
We Work Remotely claims to have the largest remote working community in the world, with more than 2.5 million visitors per month.
Job postings from top employers like Google and Amazon attract remote and freelance workers to the site, and it is simple and straightforward to navigate.
There are no costs for workers to use the site, and less than legitimate job postings are removed because there is a $299 set price for an employer to post a role there.
We Work Remotely does not offer profile creation or the opportunity to save a resume.
Instead, there is a link in the job posting that takes you directly to the employer's website to complete the application.
We Work Remotely is known for having a great community feel, with social media channels, a Slack community for professionals, and even a podcast, and it remains a popular place to find excellent freelance and remote gigs.
Best for: Creatives
Behance is a Pinterest-like social network created by Adobe, where creatives can share pieces from their portfolio with the community.
Illustrations, animations, web design, and art are all shareable on the platform, and profile creation means that interested employers can contact creatives directly.
The job postings on Behance are usually either full-time, freelance, or internship positions and often involve brand books, logo creation, and other design projects.
Employers who use Creative Cloud Enterprise can post roles for free, and the site is free to use for creatives.
Best for: Tech roles
StackOverflow is a community site for developers and designers to ask and answer questions, share insights, and discuss innovations.
Profiles for users are often searched by employers looking for new tech staff, and the development of a jobs board aimed at developers, programmers, and engineers is a part of that community.
StackOverflow jobs are often aimed at more experienced tech professionals, and there is a wealth of both freelance and remote positions that are suitable for those with knowledge and experience of almost every software and hardware available.
Job posts on StackOverflow have a specific reach; they are shared onto relevant discussion threads, and the opportunities are less likely to be scammed because employers must pay to advertise.
Final Thoughts
Maximizing your chances of finding good, well-paid, and interesting opportunities as a freelancer or remote worker is much simpler when you use a great job board.
Finding one or two boards that suit your niche and have roles that work for you is the important step, whether these are broad-spectrum boards covering many industries or more specific to the type of role you are looking for.
The search and filter functions of the site will help make job hunting more efficient and save time in the long run.
Do not forget that the best employers for you will be found on the best job boards.
Do not dismiss paid boards when you are considering your options, as these can sometimes be treasure troves of opportunities that might be missed by people who are not willing to pay for the service.
The sweet spot in the right job boards is as individual as you are; therefore, find what works best for you.
---