How to Become a Flight Attendant
Traveling all over the world, and getting paid for it, sounds like a dream job to many. If this is you, then becoming a flight attendant (or cabin crew) may be the next logical step.
While the pilot keeps the aircraft going, it is the flight attendants who keep everything running smoothly inside.
They make sure their passengers are settled and safe, that they get meals and drinks, that they are comfortable, and reach their destination happy and satisfied with their trip.
They also respond to any emergencies along the way in a cool and competent manner.
What Is a Flight Attendant?
A flight attendant is a part of the cabin crew that works on commercial flights and many private aircraft. They, along with other members of their crew, are responsible for their passengers' wellbeing and safety.
They are trained to respond to emergencies during the flight, as well as medical issues. They make sure their passengers have food and drink and any special needs are met.
They must do all of this in a hospitable, pleasant and calm manner.
What Is a Flight Attendant Job Like?
Being a flight attendant can be a good career, for the right sort of person.
There are several aspects of the job that you should look at before deciding if it is the right one for you:
Hours and Working Conditions
Flight attendants do not work a typical eight-hour day. The hours can be long and susceptible to change.
Flight attendants often work for 12 hours or more.
Depending on your route, you may suffer from jet lag frequently after your shifts. You need to be able to overcome this quickly and be ready for your next shift.
During the first year of being a flight attendant, you will likely be on reserve, which means being called on at short notice to fill in on a flight.
You will need to quickly adjust any plans you may have and get to the airport on time.
You will also be on your feet for a good portion of your shift. You may be asked to lift some possibly heavy items into overhead bins and open and close the airplane doors.
Salary
Flight attendants working in the US can make an average $2,600 base salary a month, according to Indeed.
The US Bureau of Labor Statistics notes that the median income of a flight attendant in 2019 was almost $57,000.
A flight attendant's salary can be dependant on seniority, experience and location. Working out of a major hub will offer more routes and more airlines to choose from.
Flight attendants for Southwest Airlines can make just over $4,000 a month base salary, while flight attendants working out of Los Angeles make the most.
Benefits
Flight attendants get a wide array of benefits, including a housing allowance, life insurance, vision insurance and more.
Benefits will vary depending on the airline. When not actively working, most flight attendants will get paid a small amount per day.
Duties
A flight attendant's role begins before they are in the air:
They go over their passenger lists and note any passengers with special medical needs or reduced mobility, special meal requests, or children traveling without an adult.

They meet with their crew and the pilots to discuss any issues about the flight, including possible delays or weather issues.

They do a check of everything they will be using during the flight, such as galley equipment, seat buckles and overhead bins.

Flight attendants welcome the passengers onto the plane and help get them seated. They assist with any special needs and make sure all baggage is tucked away.

They make sure the plane is secure for takeoff, that all doors are closed, all passengers have their seatbelts on and that all crew are seated.

Flight attendants bring the drink and food carts around to the passengers, as well as duty-free items and any forms that need to be filled out for landing.

They ensure that all passengers disembark in an orderly and safe fashion and assist those needing help.

They then have paperwork to fill out about the flight, check supplies that are left and make way for the cleaning crew.
Who Are the Top Flight Attendant Employers in the US?
According to reviews on Indeed, the best airlines to work for are:
Southwest Airlines
Delta Airlines
American Airlines
United Airlines
Spirit Airlines
These rankings are based on reviews given by current and former employees.
Investopedia's rankings are a bit different.
Investopedia ranks Southwest Airlines as the best place to work, noting that the company has never laid off an employee and is noted for its flexibility and show of appreciation. The company also offers guest passes, a partial match on the 401k and health benefits for a low price.
Delta Airlines comes in second, offering spouses, children, parents and friends free or reduced-price travel on its airlines. It also offers a good retirement plan with an automatic 2% contribution and a 100% match up to 6% of salary. It also offers profit sharing and multiple insurance benefits.
While it is a smaller company, Jet Blue offers a good package of insurance, retirement and profit-sharing. Employees also receive discount rate standby seats on other airlines.
At United Continental Holdings, employees can enjoy some of the highest pay rates in the industry. Among other benefits, there are also bonuses for customer satisfaction and on-time arrival.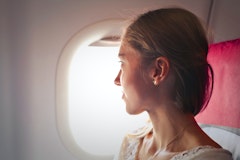 How to Become a Flight Attendant
What Top Skills Are Employers Looking For?
Not everyone is suited to be a flight attendant, but for the right person with the right skills, being a flight attendant can be a dream job.
Luckily, many of these skills are transferable so you likely already have them from previous work experience.
Strong Communication Skills
One of the most important skills for a flight attendant is communication.
Flight attendants have a lot of information to communicate during their shift and many people to communicate this information to.
They need to be clear, concise and understood, otherwise not all instructions may be understood and passenger safety could be at risk.
Many airlines look for multilingual flight attendants so they can easily communicate with many different nationalities.
Most airlines require English, both written and spoken but the more languages you have, the wider range of jobs you will have to choose from.
Flight attendants need to be well-spoken with a clear, strong and friendly voice.
People Skills
Flight attendants need to be good with people as they will spend most of their shift tending to the needs of their passengers.
You need to communicate well and be sensitive to the special needs of some passengers. You need to be able to keep calm, be personable and often solve several problems at once.
Team Player
Running an aircraft is a team effort.
A flight attendant's cabin crew is not likely to be the same with every flight, so you need to be able to work with many different people in a positive and productive way.
Passengers want to see that they have a strong, cohesive crew working their flight.
Flexible and Adaptable
Flight attendants need to be highly adaptable. Flights get canceled or rescheduled all the time and often flight attendants may get called into work on short notice.
Airports can be closed due to severe weather or threats of violence.
You may also be working on reserve and be called at any moment to take a flight. It means that your plans are likely to change often and you need to be ok with that.
Responsible
Airlines want flight attendants that are responsible and take their duties seriously.
You need to be on time, well-rested and ready to work, even if called upon suddenly.
Thoughtful and Positive
You will find you have passengers with many different needs, and you need to attend to all of them. Some passengers may not be as pleasant as you hope they would be.
Always be thoughtful and look for ways to make their trip comfortable while always remaining positive and pleasant.
What Qualifications and Experience Do Flight Attendants Need?
Most airlines require their flight attendants to have a high school diploma or the equivalent.
You would likely be in a better position with a college degree in something relatable such as tourism or hospitality.
It can also be a good idea to have some customer service experience, such as retail, working at a hotel, working at a call center or even a restaurant.
Flight attendants deal with the public so much that it's an asset.
Additional Requirements
Even if you meet the above criteria, there are still some other requirements that applicants need to meet:
Physical Requirements
Regulations require that flight attendants be between 5'0'' and 5'11'' in height to reach the overhead storage bins. Most airlines also have a specified 'reach' length that applicants must pass by reaching up in the overhead bins.
Applicants must also have correctable vision of 20/40 and be in good physical shape.
A lot of being a flight attendant involves being on your feet for long amounts of time. You need to have the stamina to do this, while still being positive and pleasant.
You will also need to be able to bend and lift heavy objects, push the food and drink cart, close airplane doors, and more.
You also should not be sick often as airlines rely on their flight attendants to fill their shifts.
Age
All airlines require applicants to be 18 years of age or older, although that is the base age and many require an age of 21 or older.
This likely has to do with alcohol being served in flight.
Security Check
Applicants must pass a 10-year background check as well as an FBI fingerprint check.
You must also hold a valid passport for your home country.
If you want to work for an airline based in another country, you must be a permanent resident of the country they are based in and have a resident visa.
Training
Most airlines provide flight attendants with between three and six weeks of training before being certified by the Federal Aviation Association (FAA). Flight attendants must be certified to fly.
Personal Appearance
Flight attendants must appear clean and well-groomed, practicing good hygiene. Uniforms must be clean and in good shape for each flight.
Some airlines have their own policies regarding piercings and tattoos, so check the airline you are applying to.
Application Process to Be a Flight Attendant
If you have decided that being a flight attendant is the right career for you, you need to start by finding out who is hiring.
Check out the websites of the major airlines, especially the ones that operate out of the airport you live closest to.
You may find that you need to move towns or cities if you find yourself far from a busy airport.
You can also check places like WikiJob, Indeed and Glassdoor for job postings.
Sometimes, before busy periods, airlines may hold job fairs where they will accept a bunch of applications at once. This can happen before the summer season and before the winter holidays.
Create a resume and cover letter that are tailored to the flight attendant role. Highlight any relevant experience you have, such as customer service work.
If you get an interview, by phone or in person, prepare well and come across as personable and responsible.
Some interviews will be done in groups to quickly rule out those who will not get a callback.
What Is Flight Attendant Training/Flight Attendant School?
Flight attendants undergo in depth training because they are responsible for the safety of many people and there are many aspects to their job.
Because training can take many weeks, most airlines will house their trainees in a hotel with a monthly payment for the training. Attendees will also likely receive an allowance for food.
During these weeks, there are several key things that trainees will learn:
Airline and airport codes and vocabulary
How to run through a safety demo including fastening a seatbelt, inflating a life vest and how to use an oxygen mask
How to open and close airplane doors
How to perform security checks on all equipment used
Practice emergency landings
Learn to deal with difficult passengers
How to properly help special needs passengers
In depth first aid training
There is also a written test that applicants will need to pass before qualifying as a flight attendant.
You will then be certified by the Federal Aviation Administration (FAA). The FAA regulates all aspects of civil aviation in the United States.
What Happens After You Qualify?
It may seem like you are now ready to dive in. Realistically, it may be a while before you take on long routes or choose your flights.
New flight attendants begin in reserves, being called upon when airlines are short or someone cannot work. This is sudden and with little notice.
With more flying and more training comes seniority. Seniority will result in the ability to choose the more desirable routes and to establish a regular one.
If you get tired of being a flight attendant, your skills will transfer well to other areas. You could look at other areas of travel, such as being a travel agent, or working on a cruise ship or in a hotel.
Final Thoughts
Being a flight attendant can be a great way to see the world, while getting paid.
It comes with many perks and benefits, such as discount flights, good insurance, and housing and food allowances.
People will always want to travel and where there is travel there is a need for aircraft crew.
It also comes with its own lifestyle and you need to be sure it's one you can live with. You need to adapt well to change, be able to handle a lot of people during a shift, while remaining calm and personable and being physically up to the tasks.
If you decide being a flight attendant is for you, there is much to take in. Do your best and enjoy the friendly skies.
---