The Best Cover Letter Generators
You read through the job description – you're perfect for the role. A resume is required – yours is done and needs little editing. Finally, they need a cover letter – you sit at your screen and your mind goes blank.
A cover letter is an essential piece of the recruitment puzzle but applicants often struggle to condense their experience and skills into a short piece of writing that flows rather than reads like a list.
The letter is crucial to introducing yourself to the employer and encouraging them to take a look at your resume, but despite this, it is often treated like a boring assignment or rushed in the excitement of wanting to get an application in quickly.
What Is a Cover Letter Generator?
A cover letter generator (or builder) is an online platform that takes you through a step-by-step process to help you produce a comprehensive cover letter for a job.
This can be a specific job, or you can create a general letter to be edited as you apply for different roles.
The generators provide you with a framework to help make the task of writing the letter less daunting.
They offer:
Templates to help you produce a professional-looking document
Pre-loaded content
Guidance on structure
Keyword suggestions
Help with accuracy
The software turns plain paragraphs into an attractive, formatted letter that can be downloaded ready to send. Users can choose from different templates depending on the look and feel they require.
Different cover letter generators offer different services – some are paid, some are free.
Services can include:
Spell checking
Suggestions for skills you should talk about based on the job you are applying for
Paragraph suggestions
Suggestions for your working style
Why Should You Try Using a Cover Letter Generator?
A cover letter generator can help you put something together that gives you a great chance of getting the job and ensures you don't miss out on the opportunity by spending too long writing.
Here are our top reasons why you should try using a cover letter generator:
Cover letter generators help to keep you focused and lay out your letter in a clear and concise manner.

It can be a chore to keep personalizing cover letters for each different job you apply for. With a generator, the sections are easily edited to alter the letter to your requirements.

A cover letter builder saves time; most of the online services ask a few questions before offering up a full cover letter as a base to work with.

Many generators have a spelling and grammar checker to help you pick up any errors.

Some generators give suggestions for skills based on the job you are applying for.

Many generators have ready-written paragraphs that are adapted based on the information you input, meaning you don't have to start from scratch wording the letter.

Some generators have dashboards so that you can track the jobs you have applied for and the stage of the application

Generators put your letter into layout so that it looks professional.

Some generators offer job-specific example text.

A good cover letter will make you stand out against other candidates going for the same position and complement your resume rather than detract from it.
Top 5 Cover Letter Generators and Why You Shouldn't Be Afraid to Use Them
Cover letter generators can help you stay on track and keep paragraphs focused.
The online platforms are extremely user friendly and take you through a very clear step-by-step process to create your personalized cover letter.
Many of the generators have been endorsed by major companies and designed in consultation with top HR professionals.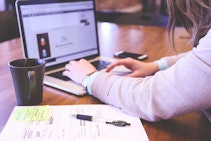 The Top Cover Letter Generators
Here are our top five cover letter generators and the reasons why we rate them so highly:
Cost: 2.85for14−dayaccessor7.95 a month
Winner of the 2018 SiteJabber Customer Choice Award and rated in the top 10 resume software by HRTech Outlook in 2019, Cover Letter Now offers HR-proven templates created by experts.
This generator breaks a cover letter down into sections (body, gaps in job history, call to action) and provides a choice of different paragraph tones and topics to go with each.
For example, for your opener paragraph, you could click to choose the 'I am very interested in the role' opener or the 'I am very well qualified for the role' opener, and the wording is adjusted accordingly.
This generator is extremely straightforward to use. Once the basic cover letter is in layout, you simply click on the individual sections to edit and personalize them further.
If you're unsure what to write, you can choose to see a pre-written example to guide you. There's also a built-in spell check to help make sure your work is accurate.
Cost: Cover letter generator free
Praised by ABC News sites, college career centers, local libraries and CNET, Resumizer is a free service; you can download as many cover letters as you need to.
At first look, the website might seem very basic compared to the other providers we have listed – and the templates are black and white only, but there are some big plus points to this cover letter builder.
Features include a space to input your web presence – like LinkedIn or your website – as well as details of your degree or other certification, your traits, skills, a big accomplishment to be included in the letter, and a photo, logo or picture.
Once the letter is in layout, you can play around with the font and click anywhere to start typing into the formatted document to make edits.
Unlike the other generators in this list, there is no option to set up a profile, so your work can't be saved on the site for you to come back to later. However, you can skip to the end and save the document in Word at any point and then work in Word to finish it.
Cost: 14-day trial 2.95ormonthlyplan7.95
Rated 'Excellent' on TrustPilot and featured by the likes of Forbes and NBC News, Resume Genius has a wealth of information about how to create the perfect cover letter and a detailed step-by-step guide on exactly what should be included in each section.
The provider asks questions like, 'choose a word others would use to describe you' and 'choose the word that describes you best', with a drop-down list of options.
Your answers are then included in the body text providing more keywords to personalize your cover letter.
You can download one letter free but for any more, you'll need to sign up for a trial or a monthly plan.
Once the cover letter is complete, you can click anywhere to edit the document.
Cost: 14-day full access 14.95ormonthlyaccess7.95
If you're asking 'how do I make a cover letter quickly', this is the site for you.
Live Career can turn around a cover letter in under 15 minutes and the experienced generator has done so over two million times for candidates across 180 countries.
A 2019 winner of SiteJabber's Customer Choice Award, Live Career offers enhanced formatting options once a template has been chosen.
Users can change the margins, spacing, line weight and more – great for applying to companies that have given specific requirements for cover letter format.
We think Live Career is the most user-friendly website in our top five – the user interface is fantastic. Everything you need to produce your letter is on one screen, and you can add or remove sections with the click of a button.
When editing sections you can choose to view pre-written examples and even writing tips.
Cost: 14 days' full access 2.95ormonthlyaccess4.95
Winner of a 2019 SiteJabber Customer Choice Award and featured in The New York Times and Forbes among others, My Perfect CV has fantastic pre-loaded content blocks that you can edit to personalize with your education and accomplishments.
After inputting the job you are applying for, the builder will provide a long list of suggested skills linked to the position and ask you to pick a few out.
It will also ask you to pick some of your top strengths from a list of suggestions and a working style from a list of definitions.
Your answers are included in the body of the letter.
Once the letter is produced, you can go in and edit each section, and there's also an opportunity to add sections not included initially.
There's a built-in spell check to ensure your work is grammatically correct.
Final Thoughts
All of the websites we have listed in our top five give you full access to try the cover letter generator service out before committing to buy. Therefore, it's a good idea to play around with a few different platforms to see which works best for you.
You can use the cover letter generators as much or as little as you need.
If you struggle with writing or need something quickly, you can rely on the generator to produce a concise, professional document within a few minutes.
If you are keen to ensure you are covering every requirement in the job description, you can use the generator to give you a basic outline of your letter and build it up from there yourself.
The cover letters that will be noticed are the ones that have been professionally made in a cover letter generator but then personalized to reflect your achievements, skills, experience and how you fulfill the requirements of the role being advertised.
The vast majority of cover letter builders out there have been put together by experts in the field. Utilize the knowledge on offer by reading the writing tips and example text offered up by providers.
The final product downloaded from a cover letter builder is usually a step above anything that could be produced in Word. The template layouts aren't fussy or overly colorful but the subtle design may be just enough to set yours apart from the pile of black and white letters on an employer's desk.
---