Resume Margins: A Comprehensive Guide
All products and services featured are independently selected by WikiJob. When you register or purchase through links on this page, we may earn a commission.
You've spent hours carefully crafting what you believe to be the perfect resume. You've gone over the spelling and punctuation with a fine-toothed comb and have done everything you possibly can to craft the resume of your dreams.
But, have you thought about your margins and spacing? Have you adjusted them and is it really that important?
What Is Standard Resume Margin Sizing?
For most resumes, it is typical to have margins set at one inch. If you are really struggling for space, it is possible to set your margins to a smaller limit, but they should never be less than half an inch.
This will ensure the text of your resume is set away from the edges of the paper. The reason for doing this is to enable the text to stand out and be more eye-catching to whoever is viewing it. It can also make your resume easier to read.
Why Does Margin Size Even Matter?
It would be easy to think that margin sizes aren't important. Surely the employer should be more interested in what your resume actually says, rather than the size of your margins?
The truth is, however, that formatting your margins to the right size can make it easier for employers to read your resume. It makes the information stand out from the page and avoids your resume looking too busy or disorganized.
All these points can mean your resume is more likely to be read by an employer when compared with one that doesn't have the right spacing or margins.
How Much Spacing Do You Need Between Resume Sections?
The main thing to consider when it comes to spacing is to ensure consistency. Rather than using a variety of different font sizes, opt for one size and signify section titles by putting them in bold.
Most people find that double spacing between sections is sufficient space for ensuring that the reader can easily see where one section ends and another begins. It also gives a more professional look to the overall document.
How to Adjust Resume Margins
The exact method for adjusting your margins and spacing will vary slightly depending on which application you use. Most people use Microsoft Word, Google Docs or Apple Pages.
Microsoft Word
Select the Layout tab.
Select Margins.
If you find an option that fulfills your requirements, select it from the available choices.
If there is no suitable option available, select Custom margins.
The Page setup box that appears will allow you to set your own margin sizes.
When you are happy with your margins, select OK.
If you are likely to use these margins for the majority of future documents, you can set them as your default margins by selecting Set as default instead of OK when you have input your preferred margin sizes.
Google Docs
Select File from the toolbar at the top of the page.
At the bottom of the dropdown menu, select Page setup.
This will cause a pop-up to appear. On the right, you will find a variety of margin boxes.
Type your preferred margins into the boxes.
When you are happy with your margins, select OK.
If you are likely to need the same margin settings frequently, select Set as default rather than OK.
Apple Pages
Select Document from the options at the right of the screen.
From here, you will be able to adjust each margin individually using the Document margins section.
Once you are happy, your margins will be adjusted automatically.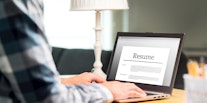 Resume Margins: A Comprehensive Guide
Additional Tips for Your Resume
Once you have decided on the margin sizes and spacing requirements of your resume, think about what else needs to be included.
Your resume is an employer's first impression of you. They will need to be able to quickly and easily see why you should be offered an interview.
There are a few steps you can take to help your resume make it through this first stage of the recruitment process.
Use the Right Font
While it might be tempting to use a fancy font, it is more important that your resume is easy to read.
This is why most people will choose a standard font and font size for their resume. It ensures that the reader will be able to easily scan the document for relevant information.
Bullet Points
Employers want resumes to be eye-catching and easy to read. Where possible, use bullet points and very short paragraphs.
This enables whoever is reading your resume to see the most important information at a glance rather than needing to spend a long time reading through it.
Highlight Your Skills
Before submitting your resume, take a little time to make sure that your skills are highlighted.
Think about the qualities that are most likely to be in demand for this role and how you can show you have the skills required to do the job to the best possible standards.
Consider Writing a Cover Letter
Not every resume will require an accompanying covering letter, but they can sometimes be helpful.
A cover letter gives you the opportunity to speak to the employer in a less formal way than the resume and allows for more of your individuality to be seen. It is particularly useful for people who have worked freelance or have a slightly patchier employment history as the cover letter provides an opportunity to explain this.
A well-written cover letter can persuade a potential employer to put your resume through to the next stage of the recruitment process, even if you don't necessarily tick all the experience or skills requirements.
Don't Make Your Resume Too Long
Ideally, a resume should be no more than two pages long (two sides of A4). Some people will even recommend keeping a resume to one page.
You should provide the most important information without losing the interest of the employer, so it is important to keep it as short and to-the-point as possible.
Frequently Asked Questions
Most people find that a one-inch margin is the perfect size for their resume.
If you are trying to condense your resume into two pages, you might find that adjusting your margins to half an inch will give you the extra space you need, while avoiding making your resume look cluttered.
Most employers prefer standard resumes compared to creative ones. That doesn't mean that you shouldn't submit a creative resume, but you may (ironically) find it harder to get your resume noticed.
This is especially important if you are submitting your resume online, as these will generally be filtered by an automated system. Creative resumes will often be discarded by these systems without being looked at.
If you do choose to submit a creative resume, the standard margin size is usually between half an inch and one inch, the same as for a standard resume.
An applicant tracking system (ATS) is an automated software system that tracks resumes and applications submitted online. More and more job applications are being made online, so this type of system is commonly being used.
When a company chooses to use an ATS, they input their candidate requirements. The software will then scan all the resumes for keywords and relevant information before choosing the resumes to put forward for the next stage of reviews and interviews.
Because more and more companies are using this type of software, it is more important than ever to ensure that your resume is properly formatted. Anything outside the norm risks being rejected by the software, as it will not fit the criteria that has been input.
This means that unusual margins or a creative resume approach can be rejected because it doesn't fit the template. This can happen even if the candidate has all the required skills and experience.
If you are sending your resume via email, it is always a good idea to send it as a PDF. This avoids any issues with software and means that no matter what system the employer uses, they will be able to view your resume.
Final Thoughts
Margins may not seem particularly important, and they're definitely less important than the actual content of your resume. However, it's important not to underestimate the professional value that carefully adjusted margins can give to your resume.
No matter how wonderful the content is, if your resume doesn't look professional, it might not make it through the first selection phase and won't be given the opportunity to shine.
Taking the time to make sure your margins and spacing are right can make the difference between receiving an invitation to interview and a letter of rejection.
---