Top Resume Action Verbs
What Are Action Verbs?
Action verbs, also known as dynamic verbs, describe the action of the object (person or thing) within a sentence.
They illustrate activities and occurrences, conjuring up an image of the action referenced and helping to immerse readers.
In the context of a resume, action verbs are the words you use when explaining your achievements in your previous roles, for example:
I established…
I devised…
I optimized…
Beginning sentences in your resume with an action verb helps to flag your direct contribution and impact.
Rather than simply describing your responsibilities and functions, action verbs allow you to outline your active role. They capture attention and help form engaging prose.
They can also help to frame your experience as an evolving story, highlighting each step in your career journey and making your resume more memorable.
What Is the Difference Between an Active Verb and a Passive Verb?
It is important to ensure that your verbs are active, rather than passive.
The active voice creates stronger statements, emphasizing the action and your role in carrying it out.
In the passive voice, the object of the sentence is placed before the verb. This creates a wordier sentence and, in the case of resume writing, weakens its impact.
You are writing in the passive voice if your resume includes phrases such as:
'I was awarded a promotion' (you are the object)
'Time management was recognized as one of my strengths' ('time management' is the object)
'Responsible for signing clients' (you are the object)
In the active voice, the object is placed after the verb, forming a more engaging sentence, as you are the subject:
'Earned a promotion to regional manager'
'Obtained recognition for time management'
'Signed an average of 50 new clients per month'
The key to creating a strong impression is to actively highlight your achievements in a manner that makes your resume both easy and engaging to read.
Using the passive voice negatively impacts your memorability, so stick to an active voice with dynamic action verbs.
Whilst a passive voice is useful if you want to draw attention to the object of the sentence, your resume should be used for selling yourself, so emphasize your contributions in the active tense.
As well as avoiding the use of passive verbs in your resume, cut any buzzwords or empty terminology.
Why Are Action Verbs Important on a Resume?
Hiring managers have vast numbers of resumes to screen, many of which will use the same phrasing to describe the candidate's experience, skills and competencies.
Many words have become fatigued through use, and no longer convey the attached sentiment with any vigor. They are, instead, skimmed over, leaving little lasting impact.
Simply having substantial work experience and the relevant skills for a job role is not enough – you must be able to rapidly convey your competencies to the recruitment team.
It is said that hiring managers make their decision within 10 seconds of looking at a candidate's resume, which puts pressure on the quality of your written communication.
A concise resume that clearly communicates your strengths and suitability for the role is key to being shortlisted.
To ensure that your resume stands out – and to communicate your talents in a dynamic way – seek to diversify your vocabulary using carefully selected action verbs.
The inclusion of appropriate action verbs can create a stronger, more compelling impression, as they help hiring managers to quickly understand the nature of your responsibilities and achievements during your previous roles.
By directly conveying your contribution, action verbs illustrate the potential positive impact you could have upon the business.
Applicant tracking software (ATS) systems are now widely used in companies' recruitment processes. These scan for keywords and filter resumes accordingly. Action verbs are often included in the keyword lists.
Top Tips for Using Resume Action Verbs
How should you go about including action verbs in your resume? Here are some of our top tips for creating impact:
Choose your action verbs carefully and don't overuse them – Select your action verbs thoughtfully and don't include too many across your prose. Action verbs should help to increase the readability of your resume, but excessive use will negate this. Be aware of your sentence structure. Action verbs must be employed in the correct way to be impactful; use them selectively to convey simple, direct messages.

Tailor your action verbs to the industry and job description – Your use of action verbs should be relevant and targeted. If there are certain action verbs included in the list of responsibilities for the role, make sure you mirror the use of these in the experience section of your resume. The ATS is likely to be screening for these words to judge candidate suitability.

Use action verbs to talk about your accomplishments – Action verbs can be used to the greatest effect when employed to convey your responsibilities and accomplishments. Action verbs can highlight your personal contribution and impact. Remember your resume should upsell your offering to employers.

Use action verbs to introduce and describe measurable results – Instead of stating that you are 'results-driven', evidence this through using action verbs to showcase your achievements. Hiring managers look for quantitative examples of the results achieved, so couple your action verbs with statistics or concrete outcomes.

Use action verbs to describe your achievements rather than your functions – Use achieving language in your resume, making sure that each description introduces an achievement rather than simply what you did. For example, 'responsible for performance management' becomes 'optimized the performance management process'.
Top 120 Resume Action Verbs to Land a Job
Effective use of action verbs in your resume can help you to convey to hiring managers the contribution you would make to their organization.
There are hundreds of action verbs to choose from, so choose wisely and make sure the ones you select are relevant and specific.
Avoid over-used or bland verbs.
Below is our list of the best resume verbs to use, split into helpful categories:
Action Verbs to Convey Improvement
Accelerated – 'Accelerated the rate of growth'
Boosted – 'Boosted sales across skincare product lines'
Consolidated – 'Consolidated our lead in…'
Enhanced – 'Enhanced the service offering'
Exceeded – 'Exceeded the set target…'
Expanded – 'Expanded the program to cover a greater number of schools'
Grew – 'Grew sales and marketing revenue…'
Improved – 'Improved performance across all eight KPIs'
Maximized – 'Maximized productivity by…'
Outperformed – 'Outperformed the other departmental teams'
Overhauled – 'Overhauled the existing manufacturing process, reducing inefficiencies'
Stimulated – 'Stimulated a 20% increase in sales'
Strengthened – 'Strengthened ties with academia'
Transformed – 'Transformed the administrative system…'
Upgraded – 'Upgraded existing company systems'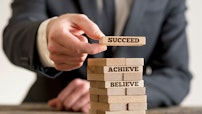 Top 120 Resume Action Verbs to Land a Job
Action Verbs to Display Achievement
Built – 'Built a new product management system'
Consolidated – 'Consolidated our market presence in South East Asia'
Constructed – 'Constructed a robust mechanism for…'
Contributed – 'Contributed to the establishment of a national code'
Created – 'Created a new accounting process…'
Delivered – 'Delivered on project goals ahead of schedule…'
Designed – 'Designed a more effective communications strategy'
Devised – 'Devised a 10-year growth strategy'
Earned – 'Earned an industry award for…'
Enabled – 'Enabled communication between diverse stakeholders'
Engineered – 'Engineered a software platform for…'
Established – 'Established a community center for local residents'
Generated – 'Generated 8% of profits...'
Honored – 'Honored with a…'
Initiated – 'Initiated a new program…'
Installed – 'Installed a new chair of the board'
Instituted – 'Instituted an outreach program…'
Invented – 'Invented a new product'
Launched – 'Launched a new product line…'
Obtained – 'Obtained recognition from senior partners…'
Orchestrated – 'Orchestrated a successful challenge to the incumbent…'
Prepared – Prepared a brief for the Select Committee on…'
Produced – 'Produced a report on the impact of technological advances…'
Succeeded – 'Succeeded in diffusing over 200 zoning law disputes…'
Upheld – 'Upheld the company's reputation in the wake of…'
Action Verbs to Illustrate Organization
Administered – 'Administered a testing program for…'
Aligned – 'Aligned the approach to…'
Audited – 'Audited the company approach to…'
Catalogued – 'Catalogued the firm's transactions'
Centralized – 'Centralized operations by…'
Compiled – 'Compiled the files needed for review meetings'
Configured – 'Configured the transportation strategy'
Coordinated – 'Coordinated the relief response for…'
Identified – 'Identified key candidates for learning and development opportunities'
Integrated – 'Integrated the media and marketing departments'
Mapped – 'Mapped our organizational network'
Optimized – 'Optimized delivery routes'
Organized – 'Organized a series of rallies…'
Planned – 'Planned two annual large-scale conferences'
Streamlined – 'Streamlined the recruitment process by introducing…'
Action Verbs to Highlight Communication
Addressed – 'Addressed leading academics at the conference'
Advised – 'Advised clients on how to cut their operational costs'
Advocated – 'Advocated for an integrated approach to coastal management'
Authored – 'Authored two academic papers, both published in reputable scientific journals'
Championed – 'Championed the rights of indigenous children…'
Clarified – 'Clarified our role within the process'
Collaborated – 'Collaborated with cross-sectoral stakeholders to…'
Composed – 'Composed emails, memos and briefs'
Consulted – 'Consulted with the public as part of the stakeholder engagement strategy'
Conveyed – 'Conveyed the findings of our research to government'
Convinced – 'Convinced senior management to implement my solution'
Corresponded – 'Corresponded with key donors'
Drafted – 'Drafted annual reports for circulation amongst investors'
Empowered – 'Empowered communities to use their voices to enact local changes'
Encouraged – 'Encouraged patients to register for clinical trials'
Illustrated – 'Illustrated the need for a continuation of core funding'
Influenced – 'Influenced customer behavior via social media campaigns…'
Negotiated – 'Negotiated a settlement with…'
Persuaded – 'Persuaded five large corporations to commit to reducing…'
Presented – 'Presented at the largest built environment symposium…'
Publicized – 'Publicized the charity's work with isolated communities'
Reconciled – 'Reconciled the conflict between corporate partners'
Action Verbs to Depict Problem-Solving Ability
Altered – 'Altered the promotional approach to reach a wider market'
Assisted – 'Assisted the deputy manager by providing…'
Decreased – 'Substantially decreased wastage in the production process'
Evaluated – 'Evaluated the benefits of micro-marketing'
Examined – 'Examined the need for a holistic coastal policy'
Hypothesized – 'Hypothesized that consumer behavior would be impacted by…'
Measured – 'Measured the outcomes for effective monitoring and evaluation'
Minimized – 'Minimized detrimental financial impact…'
Piloted – 'Piloted an experimental approach to communicating the value of the ocean'
Redesigned – 'Redesigned the refused stadium plans…'
Reduced – 'Reduced overhead costs by…'
(Re)programmed – Reprogrammed the company drives…'
Researched – 'Researched the impact of dredging upon the benthic zone'
Resolved – 'Resolved technical issues in the rollout'
Solved – 'Solved the algorithmic glitch'
Tested – 'Tested safety features against rigorous standards'
Action Verbs to Demonstrate Leadership
Advocated – 'Advocated for the inclusion of…'
Bolstered – 'Bolstered the confidence of my team'
Cultivated – 'Cultivated strong client relationships'
Developed – 'Developed the skills of my mentees…'
Directed – 'Directed the Investment department'
Drove – 'Drove the project forward…'
Elicited – 'Elicited responses from 16 senior cabinet ministers'
Engaged – 'Engaged the HR department with business processes'
Founded – 'Founded a non-profit to promote…'
Guided – 'Guided new hires through the onboarding process'
Motivated – 'Motivated a team of 30 employees'
Spearheaded – 'Spearheaded the movement to establish limits upon…'
Action Verbs to Exhibit Management Skills
Appointed – 'Appointed two new account managers'
Coached – 'Coached staff on how to deal with complaints'
Critiqued – 'Critiqued the inefficient approach to…'
Delegated – 'Delegated tasks to…'
Established – 'Established a reporting process…'
Facilitated – 'Facilitated the growth of the Consulting department…'
Hired – 'Hired new talent into the technology team'
Implemented – 'Implemented a new system for performance management'
Managed – 'Managed operations for the Chicago branch'
Mentored – 'Mentored five junior associates'
Oversaw – 'Oversaw the transition…'
Partnered – 'Partnered with a local community organization…'
Recruited – 'Recruited a new office team to oversee operations in California'
Supervised – 'Supervised a team of 15 associates'
Trained – 'Trained an average of four cohorts per year'
Final Thoughts
The use of action verbs should be carefully considered when writing or updating your resume, as they have the potential to vastly improve your chances of progressing in the recruitment process.
Your action verbs should be appropriate, tailored to the industry and relevant to the job description. When used correctly, action verbs have the potential to transform your resume – in terms of clarity, impact and memorability – and make a strong first impression upon the hiring manager.
In a recruitment landscape where competition is fierce and staff time is stretched, it is important to emphasize your accomplishments and direct role in delivering results for previous employees.
Using a range of action verbs to enhance a well-structured resume will help your resume stand out from the crowd.
---