The James Innes Group Review
All products and services featured are independently selected by WikiJob. When you register or purchase through links on this page, we may earn a commission.
Are you looking for a new job?
Is it time to refresh that CV/resume or LinkedIn profile in preparation for your next big opportunity?
Choosing a CV/resume writing service to present you in the best possible way can significantly increase your chances of securing that dream job.
But with so many options out there, which company should you choose?
James Innes Group (AKA The CV Centre) is one of the top CV/resume writing companies globally, with a presence in 12 countries worldwide.
Offering a broad range of services, not just the most commonly available CV/resume, LinkedIn and cover letter packages, James Innes Group have been leading the market for almost 25 years. But does that necessarily make it the best?
This article investigates who the Group is, what it provides and any potential drawbacks you may need to watch out for when investing your time and money in its products.
Founder and Company History
Founder James Innes established the Group which bears his name in 1998, building on his insights and knowledge around CV/resumes, interviews and careers to create the organisation as it stands today.
Dubbed 'The Jobs Guru', James Innes has authored five books, is a regular contributor to newspapers and media globally, including BBC and ITV, and has a weekly column in the Daily Star.
With a team of more than 100 writers, all trained to James Innes' specific techniques, the James Innes Group continues to build on the success of its founder as it develops in the modern marketplace.
Who Uses Its Services?
With graduate CV/resumes through to executive packages with founder James Innes himself, there is an option to suit every budget and career need.
Resume Services
Free CV/Resume Review
Send in your CV or resume, and one of the writers at James Innes Group will review it with you, offer tips to improve it and advise you on the best deal from its available packages.
CV/Resume Bundle
This is its standard level of service, suitable for graduates, junior staff, service staff and manual workers.
The bundle includes a CV/resume, LinkedIn profile and cover letter, with unlimited drafts until full satisfaction or two weeks of inactivity on the order.
Senior CV/Resume Bundle
Recommended for managers, staff in senior roles, STEM professions and other advanced fields, the Senior level bundle will be completed by one of the top 10% of writers.
These writers possess the most experience and insight into the James Innes CV/resume writing process.
Premium CV/Resume Bundle
The highest level available, unless you work with 'The Jobs Guru' himself.
For this bundle, your writer will be one of an elite, hand-picked team specialising in top-level career services. All of their work will be approved by James Innes.
If you are a director, executive, business leader, non-executive director, PhD or academic, then this is the tier for you.
James Innes Bundle
If only the best will do, you can book an appointment to work with James Innes on a one-to-one call, where he will review your career needs and help you work out your next moves.
James will then work with one of his Premium team to produce your CV/resume, LinkedIn profile and cover letter for you, in line with your consultation.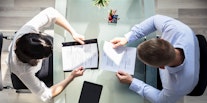 The James Innes Group: History, CV/Resume Services and Pros and Cons
How Does the Process Work?
Once you place your order, you will be put in a queue for the next available writer. The live average turnaround times are shown on the website and are usually between five and seven days.
Express options are available if you need that document a little quicker, ranging between six and 72 hours.
When the writer is allocated to your order, they will get in contact via the bespoke chat portal, letting you know they are starting work and requesting any further information. Once they have everything they need, your draft will be on the way.
As it is a collaborative process, it is unlikely your first draft will be perfect, but the James Innes Group promises to work with you until you are fully satisfied, with no set limit on the number of drafts they will complete.
Additional Products and Services
Application Form Support
If you need a writer to check the content on an application form, proofread or refine any content, this service is ideal to help you complete your applications.
Personal Statements
Selling yourself in a personal statement can be really difficult, especially when it comes to getting all of those essential criteria covered. James Innes Group writers can gather your information to do that for you – and this service covers university statements too.
Copywriting and Proofreading
If something needs checking, rewording or creating from some notes you have ready, James Innes Group has a suite of copywriting and proofreading services they can use to meet your needs – get in touch and its customer service team will put together a bespoke offer.
Career and Interview Coaching
These services are available to support you in your next steps, either finding them through career coaching or securing them through interview coaching.
With appointments of varying lengths available, one of James Innes Group's career experts will quickly identify where you need the most focus and guide you in your development.
Photo Editing
The James Innes Group has an in-house team of graphics experts on hand to provide digital mastery for your profile pictures and LinkedIn banners.
With this range of services, it can digitally enhance your headshot, clean up your background or produce a custom banner in line with your personal brand.
Career Consultation Calls
All orders are managed through James Innes Group's specifically designed Writer Hub, a chat portal where you can message your writer, upload documents and download your files.
For Senior, Premium and James Innes orders, if you wish to add a career consultation call to your order, you can speak to your writer in person for an additional fee.
Career Books
All five of James Innes' books are available as individual titles, or as a bundle, from the website.
Pros and Cons
Pros
The finished products look good, read well and will give you that boost you need to further your career.
Once you have a service with James Innes Group, you can access a range of additional customer-only services.
You can 'Meet the Team' on the James Innes Group website, with a number of the writers, customer service and development team represented so you can see who you are working with.
Cons
If you are in a hurry, a quick turnaround will cost you, so leave plenty of time to have your CV/resume written if you can.
Your writer can only work with the information you give them, so you will need to prepare your information in the first place if you want the best results.
You will need to pay more to get the best level of service if you have more than a few years of experience, but the investment to get a more experienced writer will be worth your while.
Final Thoughts
In a crowded marketplace with lots of alternative offers, it can be tempting to go for seemingly better deals.
But James Innes Group has stood the test of time and, with high reviews on average on Trustpilot, has excellent customer satisfaction too. They can certainly be considered a good option for all your career needs.
---