How to Write a Graduate CV (with Examples)
All products and services featured are independently selected by WikiJob. When you register or purchase through links on this page, we may earn a commission.
Writing a graduate CV fresh out of college can seem like a daunting prospect, especially if your work experience is somewhat limited.
There's no need to worry. Even if you have little or no direct work experience, you can still create a strong graduate CV that will grab an employer's attention. You just need to know how.
So, how do you write a graduate CV with no experience?
First off, remember that your graduate CV is meant to be a concise summary of you as a viable candidate. Above all, it should be well written, properly formatted and interesting to read.
It is perfectly acceptable for a graduate CV to be a page in length. After all, even resumes for the most experienced professionals should be no longer than two pages.
Although it's a lot of effort if you are making numerous applications, you should always tailor your resume for every job that you apply for, rather than sending a generic one.
A better-than-average graduate CV should always include:
A punchy introduction, written in the third-person, that communicates your stand-out skills and exactly what you can bring to the role
A summary of your main achievements to date
An outline of your work experience (including voluntary roles, where relevant)
Your academic studies, including key transferable learning experiences of benefit to the employer.
How to Write an Effective Graduate CV
Presenting Your CV
Remember, just like any resume, a graduate CV is a professional document. As such, elaborate fonts, colours and layouts only serve to distract from the content.
Therefore, it's always best to follow the formatting guide below:
Use accepted business fonts such as Calibri, Arial or Verdana and keep to the same font throughout your resume. Also make sure that all category headings are consistent and easy to understand.

Use bold text to define the structure of your CV so that it is easy for the employer to quickly decipher your academic qualifications, work experience, skills and ambition.

The content should be set out in simple, easy-to-understand sentences. Usually, to save space and for ease of reading, a list of bullet points is often best.
The only real exception to the rule is in your introduction, which is a short paragraph of text.
Let's look at the fresh graduate CV example below:
How to Write a Graduate CV
Notice how it has been carefully segmented into separate sections with bold headings. It's only a page in length, but like all strong graduate CV examples, it is super clear what the candidate has to offer.
Instantly, the employer knows that the candidate is proactive in seeking out career opportunities with the work experience they have undertaken, which is at the forefront of the graduate CV.
They can also see that their academic achievements mirror their work experience choices and that they are following a structured career path.
Notice how the skills are bullet-pointed as just one or two words to make it easy for the employer to see that they have the right attributes.
By including clear sections into your CV, such as professional summary, work experience, education and skills, you will immediately grab the employer's attention. Make sure that these sections are in a logical order.
The order you present your resume in may not be the same as the fresh graduate CV sample above because your education may be equally important.
Instead, you may decide to position the education and work experience sections side-by-side, as in the graduate CV example below: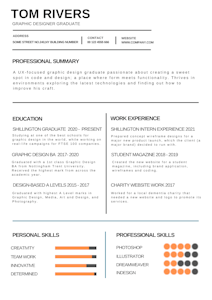 How to Write a Graduate CV
Key Skills to Include on a Graduate CV
Apart from the education and work experience sections appearing next to one another in the graduate CV example above, you will also notice another key difference.
The skills section is also divided into two; personal skills (also known as soft skills) and professional skills (usually more technical skills specific to the role).
It can be tricky to just think of these skills off the top of your head, especially when creating a resume for the first time, and so here's a handy list of personal and professional skills you could choose from.
Graduate CV Examples of Personal (Transferrable) Skills
Creative
Great team player
Curious
Inventive
Determined
Hardworking
Understanding
Nurturing
Examples of Professional Skills Seen in Graduate CVs
Project management
Programming
Accountancy
Market research
Data analysis
Software proficient (always best to list the software if a requirement of a job)
These are just examples – the best place to start with listing your skills in your graduate CV is to look at the person specification for the job you are applying for and highlight the core skills.
Be truthful, and only reference skills that you can confidently demonstrate.
Structuring Your Professional Summary
In graduate CVs, we recommend that you begin with a professional summary that makes it clear what your objectives are.
This is a short graduate CV statement that summarizes your main skills and experience. It is also an opportunity to explain to the recruiter your strengths and capabilities for the role you have applied for.
Remember, try not to make unsubstantiated claims in your resume. If you make a claim, back it up with relevant evidence from voluntary work, your studies or work experience.
The professional summary should be no longer than four or five sentences, and must be specifically tailored for the role applied for (every time).
Going back to the two graduate CV examples, it's clear to see that while their experiences are different, they are both following a similar pattern.
To illustrate the point, let's review the language they use and the key points they are making.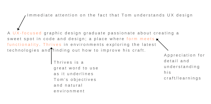 How to Write a Graduate CV
If we look at Emma's professional summary in her graduate CV example, we can see that she also draws the employer's attention to what makes her a stand-out candidate.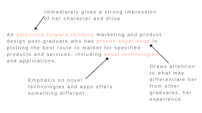 How to Write a Graduate CV
Directly underneath the professional summary, you may also wish to add in an objective. This is a very brief statement that outlines your intentions for your career such as:
Currently looking for a new graduate opportunity to develop my marketing skills while acquiring workplace expertise.
What Education Information Should you Include?
There is much debate about how much of your education you should include in your CV, but if space is an issue, keep to your degree, and A-Levels (if applicable), and vocational qualifications if you have them. GCSEs aren't going to add much value to your CV.
In the education section, you should include the name of the institution, plus the level and title of your qualification.
Only include the classification of your degree if you received an outstanding classification, such as a First or magna cum laude.
Demonstrating Relevant Work Experience/Career History
For new recruits, this is the section of your graduate CV that will present the most difficulty, as your work experience is likely to be limited.
If you have completed any internships, this is the place where it needs to go. You can also include voluntary work or summer placements.
If there are key elements of your course where you perhaps had a sponsored year working for a company, you may wish to include a section of key achievements or specialist projects, as in the graduate CV examples below:
Focussed Projects – Accounting Graduate CV Example One
Charity Accounting (Jan 2020) – Sorted the accounts for a charity as part of final year studies. Included account reconciliations, variance analysis and saving opportunities.
Sole trader project (Oct 2019) – Assisted several sole traders with accountancy advice as part of the University's 'start-up' clinic. Specifically focussed on tax returns, expenses and VAT.
System integrations (Jan 2019) – worked with a team of fellow undergraduates in reviewing potential app integrations for a medium sized business. Included proposing solutions that would mitigate impact on daily business operations.
Big data analysis (June 2021) – Rationalised AI data from several different resources to test the market analysis of a potential new product as part of final year dissertation.
Management consultancy (Jan 2020) – Completed a three-month internship at a boutique management consultancy specializing in value-added business solutions.
Supply chain improvements (Nov 2019) – Worked directly with a logistics business in creating a project brief for an app that would alert other companies to empty HGV vehicles for transportation.
Be sure to include the start and end dates of your employment or experience, your role and the company or project. You don't need to include information such as your reason for leaving or salary.
For each company, try to write three or four bullet points or a couple of lines of text (in the third person) about your duties and responsibilities, but try to make them as achievements-focused as possible.
So rather than saying something like:
'Demonstrated excellent communication skills when speaking with customers'
Say something like:
'Entered into successful negotiations with customers to secure new business'
As a tip, always start with your most recent employer or work experience and work backwards.
Interests and Activities
Although business professionals sometimes omit this section, it can be used to great effect on a graduate CV.
Here you can add a little more information about you as a person, such as gap year experiences, your memberships of clubs or societies, or hobbies relevant to the role.
This is also a great section to include any awards that you have received. However, only include this section if your interests say something positive about you as a person.
Here's a good example from a graduate CV below:
Hobbies

Captain of the local hockey team that is currently top of its league
A keen volunteer at a local charity that supports young care leavers in accessing education

Awards

Youth Leader of the Year Award 2020 at University
Hockey Player of the Season for two consecutive years (2018 and 2019)
National Volunteer Award for helping young people (2017)

Additional Information

Fluent in Spanish and have a good working knowledge of Portuguese
Common Graduate CV Mistakes to Avoid
We all make mistakes from time to time. It's how we learn. However, there are certain errors or omissions on a graduate CV that should be avoided at all costs.
Critical faults include spelling and formatting errors (more on this in a moment), jokey/inappropriate email addresses, wrong contact details and inaccurate grades.
Other common, although perhaps less fatal mistakes, are mentioning every job, achievement or activity; providing extensive information about each course module; or including irrelevant information.
Whether you should include references on your graduate CV is another area of contention. Some graduate CV examples include them, but most will not.
Generally, it is advised that you do not list your references on your CV. This will avoid past employers or teachers from being contacted multiple times by recruiters.
Some CVs include a brief statement such as 'References Available on Request', but employers know this so it's stating the obvious. If in doubt, leave this section out.
Tips for Graduate CV Proofreading
If you're concerned about any grammar mistakes, don't worry. If you follow these quick tips, your graduate CV will be word-perfect.
The best thing you can do is print a physical copy of your resume and then read it from back to front. So, you read the last paragraph first until you arrive at the beginning.
The reason why this method works so well is that it takes the copy out of context so that you can easily isolate sentences for grammatical errors.
It is also a good idea to read your CV out aloud. Vocalizing your resume in this way will also help you check that the sentence structure flows nicely.
Lastly, ask a friend to proofread your graduate CV, as sometimes you can get too close to the content to find any errors.
Final Thoughts
Once you have drafted your graduate CV, cross-reference it with the job description and person specification so you know that you have covered everything and go through the following checklist:
Have you included all of your relevant achievements, relevant work experience and relevant extracurricular activities?
Have you met all the employer's minimum requirements and demonstrated you possess their core competencies?
Is there anything obvious that you have missed?
Have you included your contact information?
Have you accounted for any gaps in the chronology of your CV?
---